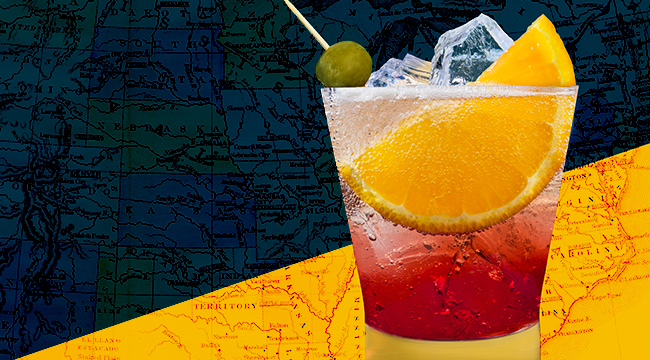 When most of us think about traveling, we tend to imagine the summertime. The humid, sunny summer days are perfect for road trips and vacations. But in June, July, and August doesn't it make more sense to stay home where everything is already idyllic?
That's why we believe that fall travel is hugely underrated. Depending on where you visit, you can see the red, gold, and orange hues of the changing leaves while enjoying a warming cocktail. Or you can chase the summer south and recapture the heat. The options are vast and the flights are far cheaper.
We asked some of our favorite bartenders to tell us their go-to fall drinking destinations. You can check out all of their answers below.
Louisville, Kentucky
Ben Rouse , bar lead at Henley in Nashville
"Louisville, Kentucky. I am a bourbon lover and the homeland of bourbon makes me feel all warm and fuzzy inside. I love the foothills of Appalachia from about the end of August through October — the air smells like brown sugar and the leaves are turning, making it the perfect destination for fall."

New England
Will Piquette, principal bartender at Alcove in Boston
"An apple orchard does it for me. Fresh apple cider, cider doughnuts, and nips of apple brandy to make picking apples a perfect fall afternoon. And then there's the fruits of your labor: apple pie for days! With so many different orchards in New England, trying a new orchard every year makes the experience that much more special."
Park City, Utah
Don Hernandez, beverage director at Holston House Nashville
"Park City, Utah. I fell in love with this place and the people, definitely a hidden gem. The change of the leaves blankets the mountains with tones of red, gold, and green. The air is crisp and refreshing and the clouds are always moving in big clusters — almost like watching a portrait being painted right before your eyes. The chill in the air lends itself to sitting on the deck with a nice dram of whiskey, a cold beer after a long hike, or a champagne toast at the St. Regis during sundown."
San Francisco, California
Evan Hosaka, lead bartender at Electra at the Venetian in Las Vegas
"I love San Francisco for its beautiful weather in September and October. Buena Vista Irish coffee is a definite hit during the fall season with Ghiradelli chocolate factory across the street. Napa Valley isn't a far drive away but during early fall, harvest time, its absolutely a drinking destination worth visiting."

Vermont
Kenneth Lingle, The Row Hotel at Assembly Row in Somerville, Massachusetts
"Anywhere in Vermont on a chilly day near a covered bridge watching the leaves during foliage. It doesn't get any more Fall in New England than that."
Texas Hill Country
Chris Gere, bartender at Brennan's of Houston
"Favorite US fall drinking destination? Because I just went to a wedding there, I'd have to say the Texas Hill Country around Fredericksburg. Lots of new wineries and breweries, with varying degrees of quality, but you can't beat the scenery. I like to call it Little Napa."
Napa Valley, California
Richard Hanauer, beverage director at RPM Restaurants in Chicago
"Napa Valley in the fall. The weather starts to turn cold and all the tourists leave, just in time for when the harvest is in and the winemaking process begins. It's the end of one season and the start of another – the grapes that were just harvested get turned into wine right in front of your eyes. Seeing the smartest minds in viniculture get to work, it's truly a magical experience. And as the old adage goes, it takes a case of beer to make a bottle of wine, so yes, we get to spend a lot of time drinking both beer and wine with the winemaking teams."
New York City, New York
Juyoung Kang, lead bartender at The Dorsey in Las Vegas
"Nothing beats NYC in the fall. Intermittent sun rays, slight chill winds, the hustle and bustle of commuters as they rush to work. Just makes you wanna sit outside in the park, with street vendor coffee in the Greek paper cup and grab an airplane bottle of your favorite spirit at the bodega, eat half your bagel give the other half to pigeons and read a newspaper for the first time in ages. NYC just makes you do things without you even noticing you're doing them. Besides what other city has a million and one bars to just hop into. If one's busy, you just walk down into the next one."

The Finger Lakes, New York
Jules Elkovich, Sommelier at Michael Jordan's Steak House in Uncasville, Connecticut
"New York's Finger Lakes are a staggeringly gorgeous fall destination. The fall foliage is in full show, harvest has begun at the orchard and vineyards, and there are harvest festivals and Oktoberfest celebrations to be found every weekend."
Denver, Colorado
Nick Barlow, bartender at Momofuku Las Vegas
"My favorite U.S drinking destination in the fall is going to be Denver, Colorado. Typically, during the second week of October, the Great American Beer Festival is held in the sacred halls of their convention center. If you've ever had Oktoberfest on your bucket list, this festival is a solid replacement. Last year it had over 3,800 different beers to choose from…And for you cocktail guys and gals, Williams and Graham Speakeasy will keep your more than satisfied."
Cincinnati, Ohio
Molly Wellmann, bartender Myrtle's Punch House in Cincinnati
"The Cincinnati Region is a spirited destination and a must visit this fall. It is a perfect blend of bourbon on the Kentucky side of the region, with New Riff Distilling and the new B-Line bourbon experience as well as the incredible cocktail culture and brewing heritage in downtown Cincinnati. This region where beer meets bourbon hosts great bars like Wellmann's Japp's Since 1879 and countless others."
Nashville
https://www.instagram.com/p/Bn-e_abA0Ek/?tagged=nashvilledowntown
Danwel Olivo, bartender at Conrad Fort Lauderdale Beach
"As whiskey is my drink of choice, my favorite fall drinking destination would have to be Nashville. An up-and-coming destination for whiskey lovers, Tennessee offers whiskey processed in-state that is aged at least two years and made from 51 percent corn."

Newport, Rhode Island
Spencer Elliot, head bartender at Cleo in New York City
"Hands down, Newport, Rhode Island. The summer crowds have left, the transient bar folk have gone and you're left with plenty of bar stools overlooking one of the largest sailing harbors in the US."