Love can be cruel. A longing heart can slow time to a crawl — blurring moments together into a disorientating haze of monotonous pining. Emotions grow convoluted, like the opening of this article, constantly contradicting themselves to the point of self-parody. Perhaps what we're really trying to say is love is a lot like Westworld. It's weird, hard to follow, and everyone pretends they know what it's all about but at the end of the day the suspicion in the back of our minds is that it's just stupid.
What does any of this have to do with chicken tenders? Very little. Except that while researching this piece I often found myself humming "Try a Little Tenderness" in anticipation of the golden fried perfection that is the chicken tender, a foodstuff that is my own one true love.
Full disclosure, before I was a handsome genius who writes for Uproxx, I was once, like many of my contemporaries, a down-on-his-luck, jobless millennial. My only joy came from killing industries and eating chicken tenders. So it was a natural fit for me to rank all of the fast food chicken tenders. And the scale today is… Jon Cryers! Who better to represent the unending love and passion we have for chicken tenders than Jon Cryer's Duckie, attempting to peacock his way into Molly Ringwald's heart in Pretty in Pink with his passionate lip-syncing of Otis Redding's "Try a Little Tenderness?"
Okay… truth be told, in hindsight Duckie was kind of an entitled dick. But problematic character arcs aside, it works for this article. C'mon! Chicken Tenders? Try a little tenderness? It's a match made in heaven, like fried chicken and dipping sauce.
8. McDonald's Buttermilk Crispy Tenders
These are…not great. Admittedly, McDonald's has upped their chicken game considerably in the last decade — we can still remember a time when the McNuggets weren't even 100% chicken — but the Buttermilk Crispy Tenders don't even compare to their smaller more processed counterparts. Dry, flakey, with a batter that appears to have pepper but is essentially flavorless, these just don't work.
Although the Chicken Tender is inherently more dip-able than the McNugget due to its more slender shape, you'll find yourself going heavy on the sauce here and that's a problem with McDonald's weird Soviet-esque rationing of sauce. We think the math breaks down to something like, every four tenders equals one sauce cup, but in an order of 10 tenders WHAT OF THE OTHER TWO TENDER'S RONALD?!?!
SCORE: ONE DUCKIE.

If disappointment had a flavor, it'd be McDonald's attempt at the chicken tender. Yes, okay we could just pay for extra sauce cups, but the point is a sauce shouldn't be a required part of the chicken tender experience, it should elevate it. If you can't make deep fried chicken work, you're doing something wrong.

7. Wendy's Chicken Tenders
Again Wendy's, we expected better. This is yet another week that Wendy's finds itself surprising low on a list you'd think they'd be killing. After all, Wendy's chicken sandwich is delicious. Their burgers are juicy and full of flavor! Even their fries are above average!
But Wendy's Chicken Tenders, a fairly new menu item, are dense and highly processed — not so much chicken as they are 'meat product' and severely lacking in flavor. The familiar Wendy's chicken batter is there, but we'll never understand why Wendy's removed the spicy nugget and introduced these chicken tenders, the genius of the nuggets were that they were an easy add-on to your existing order. You can't get a side of chicken tenders with your cheeseburger!
(Well you can but it will soon be apparent that you shouldn't!)
SCORE: TWO DUCKIES.

Better than McDonald's but only because the flavor reminds you of some of Wendy's better menu items. Again, the more processed nuggets should taste inferior to the slightly-less processed tenders, and yet here we are.
6. Jack in the Box Crispy Chicken Strips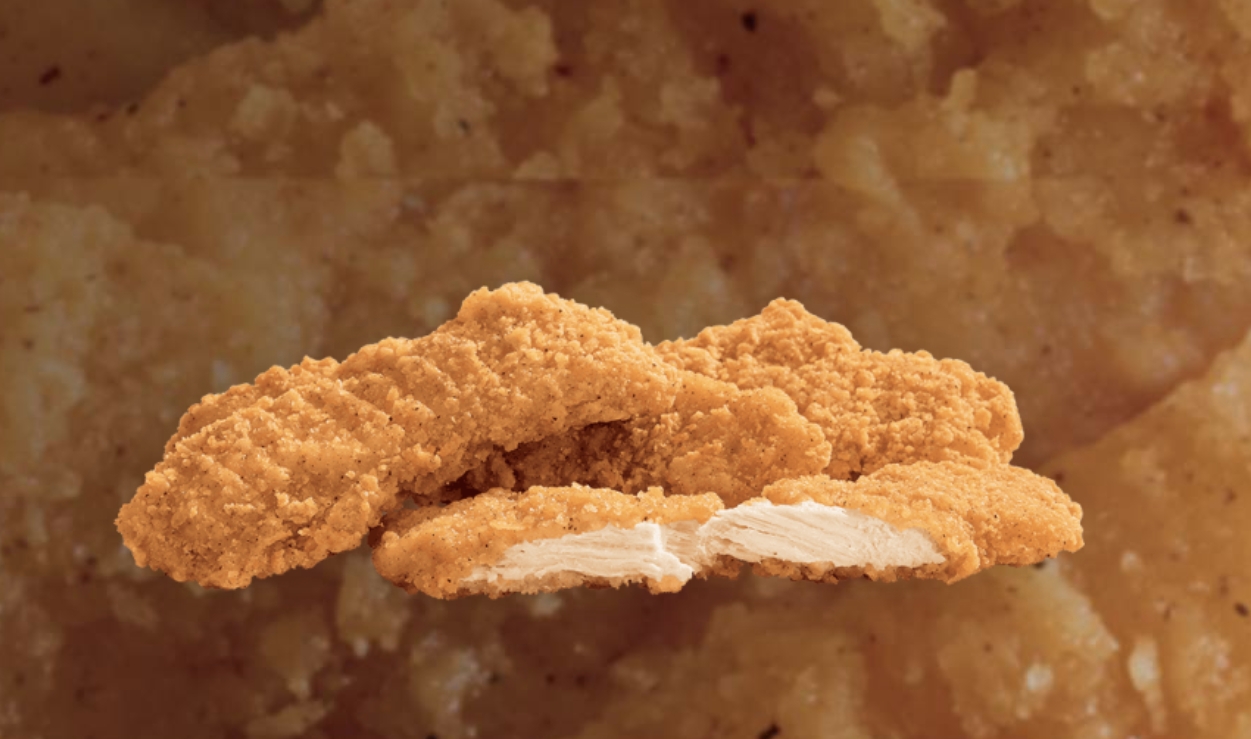 Really flat, mostly batter, the Jack in the Box Crispy Chicken Strips have the most accurate name of all chicken tenders on this list. They are very crispy, arguably chicken, and definitely strips! Okay, so the last tenders left us a little bitter, these are actually not that bad. They have a great flavor thanks to the well-seasoned batter that lends itself well to the inclusion of a buttermilk or bbq sauce. Our only major gripe is that they offer so little chicken, we'd love a chicken tender deluxe or something that could remedy this situation by giving is a thicker cut of juicy white meat.
SCORE: TWO AND A HALF DUCKIES.
Men, men, men, men, manly men, men, men. Get it? It's what every article needs, a Two and a Half Men reference! A well-textured chicken tender with a tasty batter, it'd have a higher rating if there weren't much better tenders to come.
Note: Jack in the Box tends to be a little inconsistent in terms of serving food that is fresh. Ask for them made to order and you'll thank us.
5. Chick-fil-A Chick-n-Strips
Chick-fil-A's Chick-n-Strips are simply put: good. If you already like the chicken at Chick-fil-A these are likely these rank highly on your own personal list. But the Chick-fil-A nugget is far superior because its bite-sized shape delivers the perfect balance of batter and chicken and the nuggets are juicier than the tenders.
Chick-fil-A has the most varied amount of sauces next to McDonald's, but there are no strict sauce laws here. Take as many as you can carry or get a sampling of each flavor to see which pairs best with your chicken tenders. It's a sauce utopia.
SCORE: THREE DUCKIES.
You can tell the chicken at Chick-fil-A is pre-marinated and the use of peanut oil leaves the chicken juicy yet crispy. Still, there is something lacking about these chicken tenders, they almost feel like Chick-fil-A's quick riff on the chicken tender, rather than an item that received proper attention.

4. Popeyes Handcrafted Tenders
The best thing about Popeye's chicken tenders is being able to choose between spicy and mild. The batter is incredibly crispy and full of texture but the amount of chicken inside is thinner than we'd like. It's a shame because these tenders have a great flavor and the flakiness of the batter gives them a homemade texture that works great for capturing the dipping sauce. The added kick of the spicy tenders adds complexity to the dipping sauce and leaves your taste buds longing for more.
Occasionally Popeye's will do a spin on the chicken tender for special promotions, our favorite is the wicked chicken, a fried breast filet that is chopped in semi-disconnected strips, it leaves you with a juicier bite of chicken and we wish this was a permanent fixture on the menu.
SCORE: THREE AND A HALF DUCKIES.

Delicious but with a few shortcomings that hold them back from truly being great. We think all tenders should come in spicy or mild, so extra points to Popeyes for not skimping out where so many have.
3. Kentucky Fried Chicken's Extra Crispy Tenders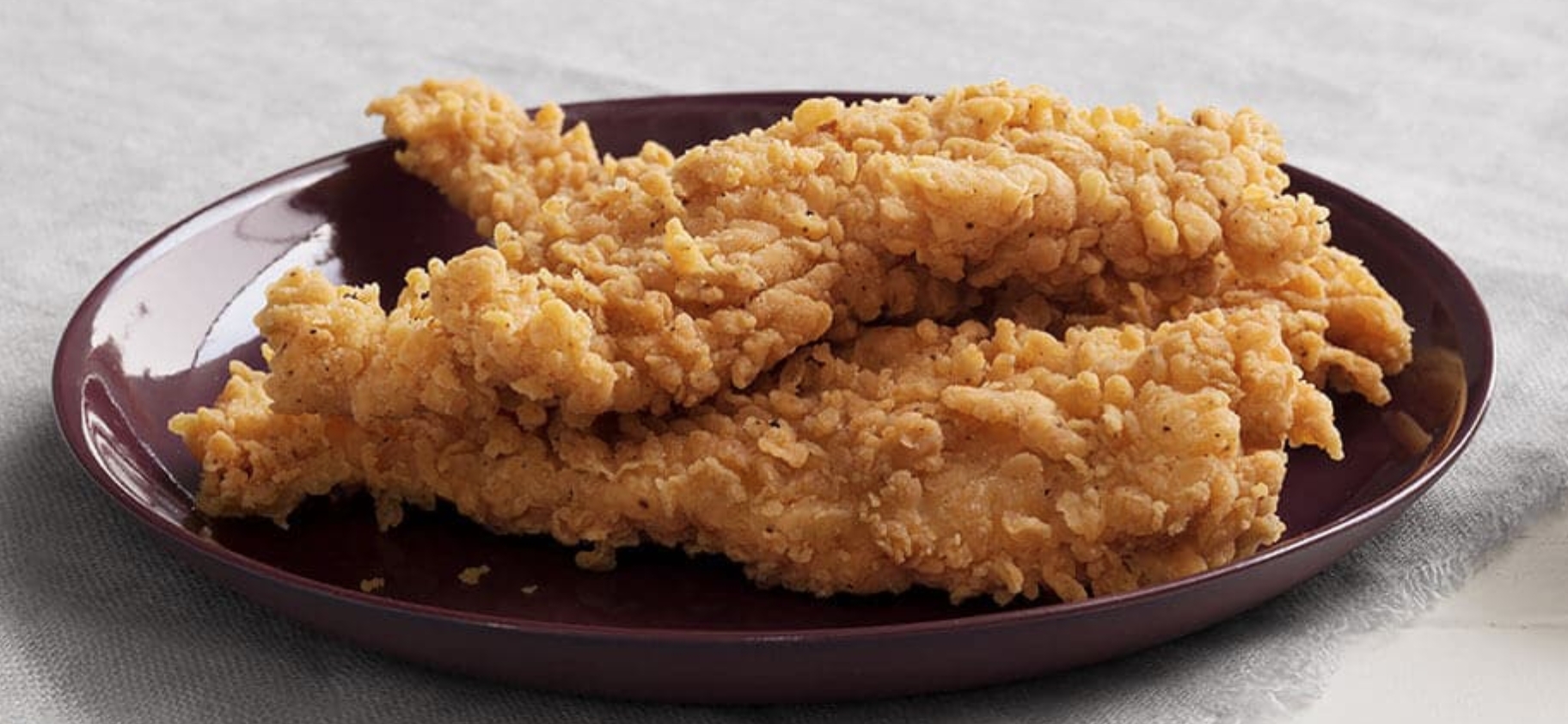 It hurts us to rate KFC higher than Popeye's, it's almost blasphemous, but the KFC Extra Crispy Tenders are superior to Popeyes in a quite a few ways. The batter is crispy, but not overly flaky, offering large chunks of tender white chicken breast with every bite. The chicken is well marinated, and the bits of black pepper in the batter are — get this — actually pepper!
Every once in a while, KFC will bring back original recipe tenders, which we think are superior in flavor, but the crispy chicken tenders are less oily which is likely why they are the permanent menu fixture.
SCORE: FOUR DUCKIES.

Okay, here is proof we don't secretly prefer nuggets to chicken strips! These tenders don't need sauce and that's the best thing about them. The chicken is always juicy and the batter and marinade are flavorful and have a complexity that is more than just…grease.
2. Carl's Jr. Hand-Breaded Chicken Tenders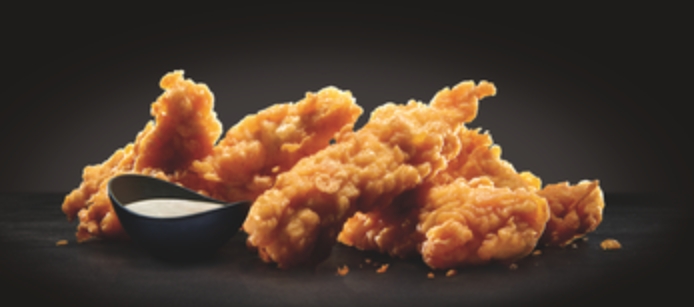 When you bite into a chicken tender you're going in with a few expectations. Oddly enough, we've grown accustomed to chicken tenders that don't really taste like chicken as much as they don't NOT taste like chicken. So it's strangely surprising to taste a chicken tender that is both undeniably chicken and thankfully tender.
Carl's Jr. went a little overboard with the batter but these have a slight edge over KFC's because they taste freshly prepared, where KFC can sometimes taste generically consistent.
SCORE: FOUR DUCKIES (PLUS A SMIDGE MORE).

Very delicious, but just shy of greatness. Carl's Jr's hand-breaded chicken tenders are heavily breaded and, unfortunately, that breading is prone to absorbing lots of oil. It holds them back from being truly great because sometimes they can be a soggy mess, batter slipping off the meat and straight into your sauce, splashing all over your shirt, pretty much ruining your day and making you look foolish.

1. Raising Cane's Chicken Fingers
Sneak attack! Raising Cane's is a considerable cut above the rest of the chicken tenders on this list, and with its menu of only chicken tenders its really no surprise — they've made a successful business on selling just one thing. The chicken at Raising Cane's is fresh and never frozen, marinaded for 24-hours and battered in a delicious blend of seasoning with the perfect amount of crunch in every bite. Paired with Cane's Sauce — a thousand island variation that has a deep savory finish (we think it's Worcestershire sauce, giving a bit of an umami quality) — you really taste the difference here.
SCORE: FIVE DUCKIES.

Full Cryer! This is the type of chicken tender you fling yourself around a record store for. When Otis Redding sang "Try a Little Tenderness" the stuttering chorus was most definitely a reference to the sound you make between bites of this chicken. Was Raising Cane's around when Try a Little Tenderness was in the zeitgeist? Probably not, but Otis Redding was a great singer, there is no reason to believe he wasn't also a time traveler or a seer who could look into the fast food future.