A lot has changed in the two-plus years since we last published our comprehensive best grilled chicken sandwiches ranking. More than half of the eleven sandwiches we reviewed straight up don't exist anymore! It looks like the grilled chicken sandwich, like the salad, is a dying breed in the fast food universe. That's unfortunate because even though the idea of a grilled sandwich doesn't inspire salivation quite like the thought of a juicy fried chicken sandwich does, they're actually pretty damn good. On top of that, they're significantly healthier than their fried counterparts.
That leaves fewer options for the people who want the convenience of eating a sandwich but would rather not eat something deep-fried. So what happened, are people not interested in healthier fast food options? Or was the issue the sandwiches themselves?
We think maybe it was the sandwiches. The six that have been discontinued include Dairy Queen's, Sonic's, Arby's, and the most painful for me personally, Wendy's. A majority of these sandwiches weren't very good to begin with — so even though there is less variety out there, it isn't a total loss. Plus, a couple of new sandwiches have hit the scene.
Here is where you can find the best fast food grilled chicken sandwiches in 2023, ranked from least delicious to most.
11. Subway— The Great Garlic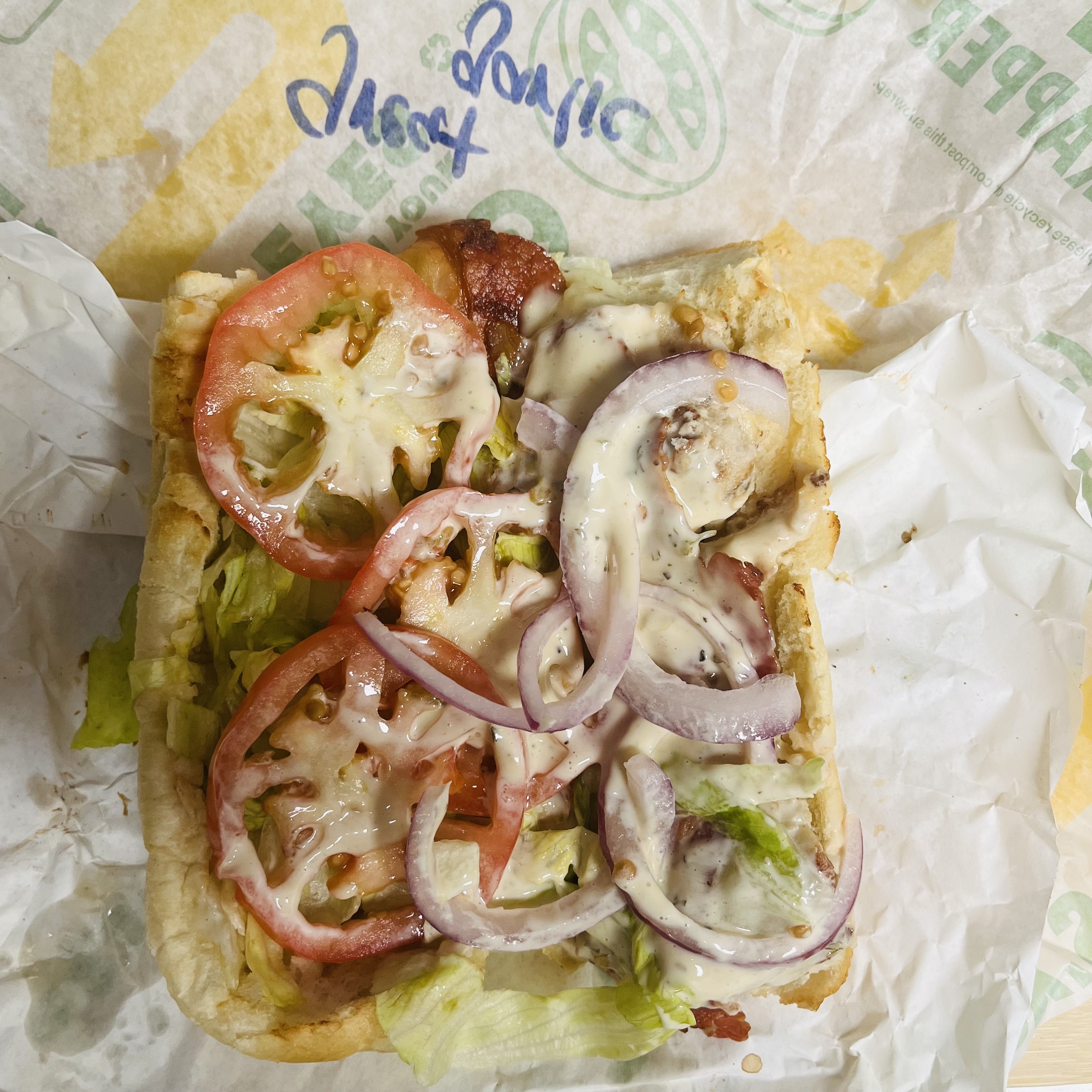 Tasting Notes:
I cannot speak enough about how much I find this sandwich absolutely vile. The sandwich features rotisserie chicken (not technically grilled, but not fried so we're counting it), bacon, provolone, lettuce, tomatoes, red onions, and a creamy roasted garlic aioli, sounds great right? Well, it's not. This sandwich has exactly one tasting note: garlic. It tastes so overwhelming that it's inedible.
Roasting garlic is an art, you want it blistered and slightly caramelized, offering a flavor that has a touch of sweetness, floral and caramelized earthiness, and a noticeable depth. It's supposed to elevate a dish, not drown it. This garlic aioli Subway serves is extremely bitter — which suggests it's not roasted, it's burnt.
The Bottom Line:
It sounds good, but if you order this, ditch that garlic aioli and replace it with one of Subway's other sauces, like the Baja Chipotle.
Find your nearest Subway here.
10. Subway — Mexicali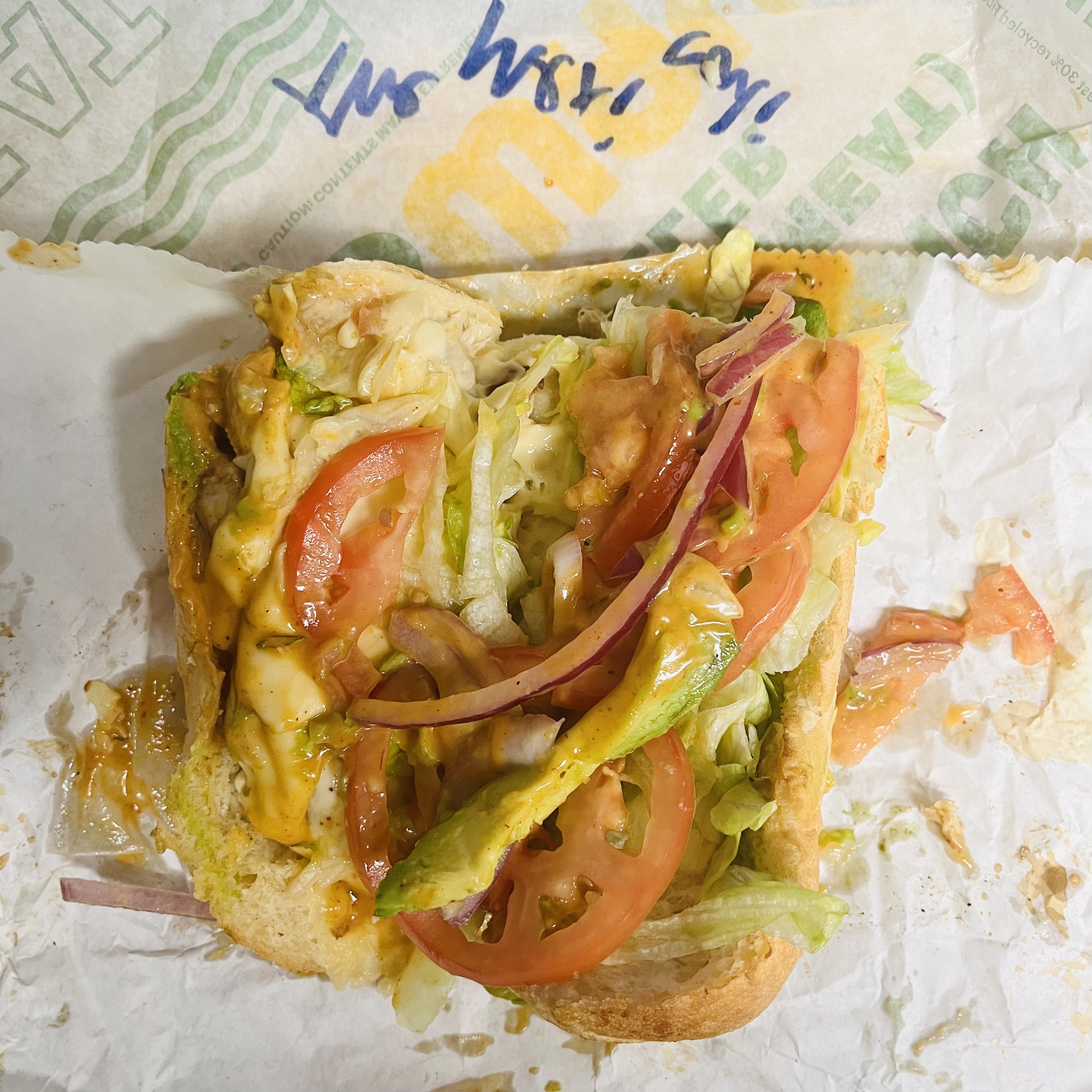 Tasting Notes:
Again, this isn't grilled chicken, it's rotisserie (Subway seems to have discontinued grilled chicken in any of their signature sandwiches), and it's not even tender juicy rotisserie chicken — it's dry and stringy.
We'll grade the chicken for you — it gets an 'F,' and everything else about this sandwich misses the mark as well.
Mexican food, and I'm totally biased here, is the best food on earth. The flavors are rich, complex, and excite the palate as they dance across your tastebuds. The Mexicali has none of that. There is avocado, which is great, but everything else about this sandwich is bland. Lettuce? Why not cilantro? Tomatoes? Okay, but how about jalapeños? Why is this sandwich so lacking in flavor?
The only saving grace is the Baja chipotle sauce, which tastes fine, but… I mean why not just have some sort of salsa? Do you know how many people would order their sandwich with salsa if it was an option?
In short: Subway makes me so f*cking mad.
The Bottom Line:
Run away from Subway, find your nearest taqueria, and order a f*cking torta.
Find your nearest Subway here.
9. Jack in the Box — Sourdough Grilled Chicken Club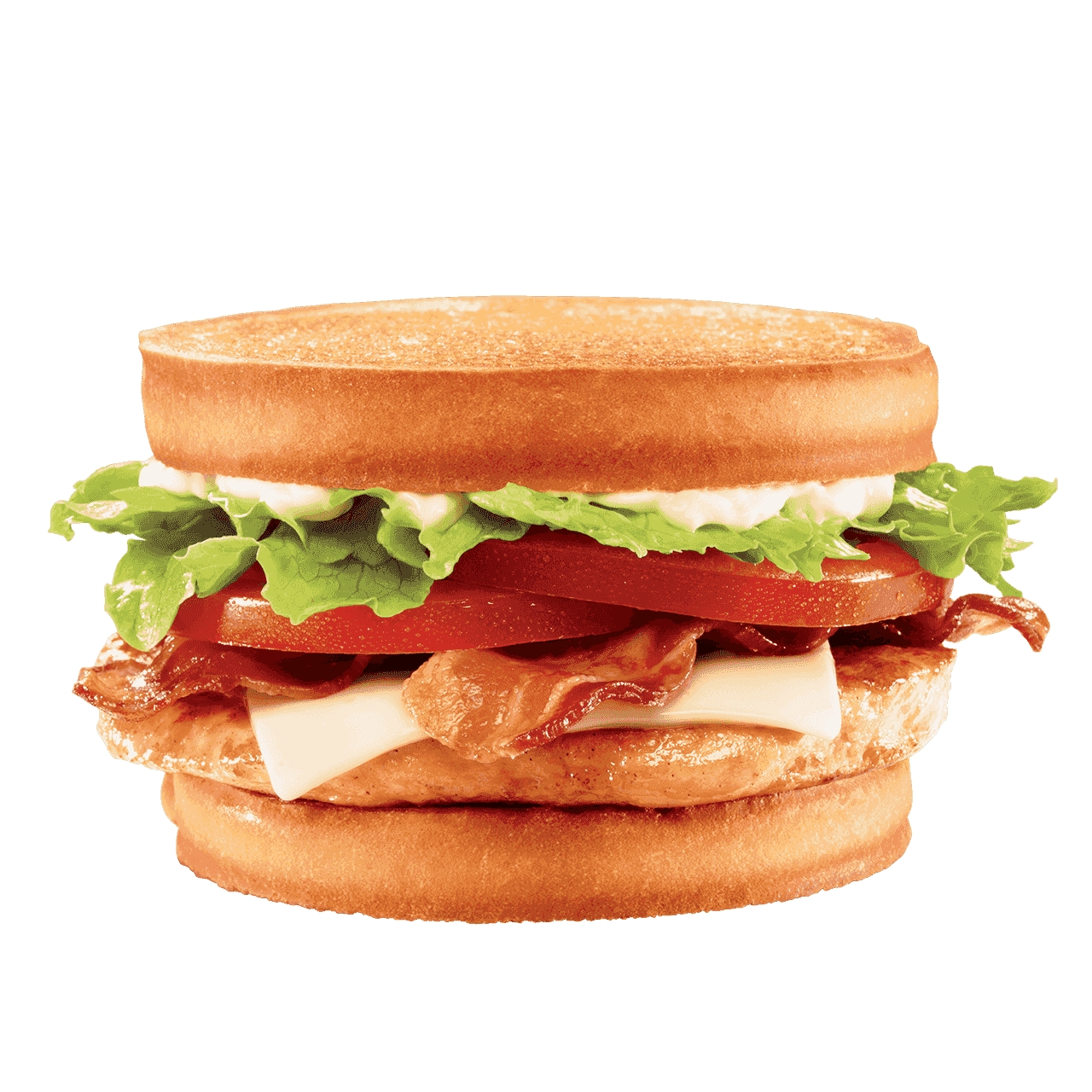 Tasting Notes:
It hurts me to rank this one near the bottom of the list, but Jack in the Box could do better so I'm going to call them out! A few elements of this sandwich absolutely work, the sourdough bread is great, it's airy and chewy, and adds a nice subtle sour tinge to each bite. The filet is fine, it's not as juicy and tender as I want it to be, but the flavor is good enough…
It's everything else about this sandwich that misses the mark.
It's smeared with mayo, which is fine if not a bit unimaginative, but the lettuce is inedible, it's dry and flavorless, the tomatoes aren't as juicy as the press photo would suggest, and the bacon is too thin to really make an impact. The Swiss cheese, excuse me 'Swiss-style cheese,' adds a bit of nuttiness to the flavor, but mostly just tastes like some kind of altered American cheese and doesn't really compliment the other flavors of this sandwich.
You can make a few improvements yourself — skip the mayo and douse this thing in either Jack's BBQ, Ranch, Honey Mustard or my personal favorite, Frank's Red Hot.
The Bottom Line:
It just needs a few tweaks and it can be a significantly better sandwich. Hopefully, Jack in the Box makes those tweaks rather than straight out discontinuing it.
Find your nearest Jack in the Box here.
8. Chick-fil-A — Grilled Chicken Sandwich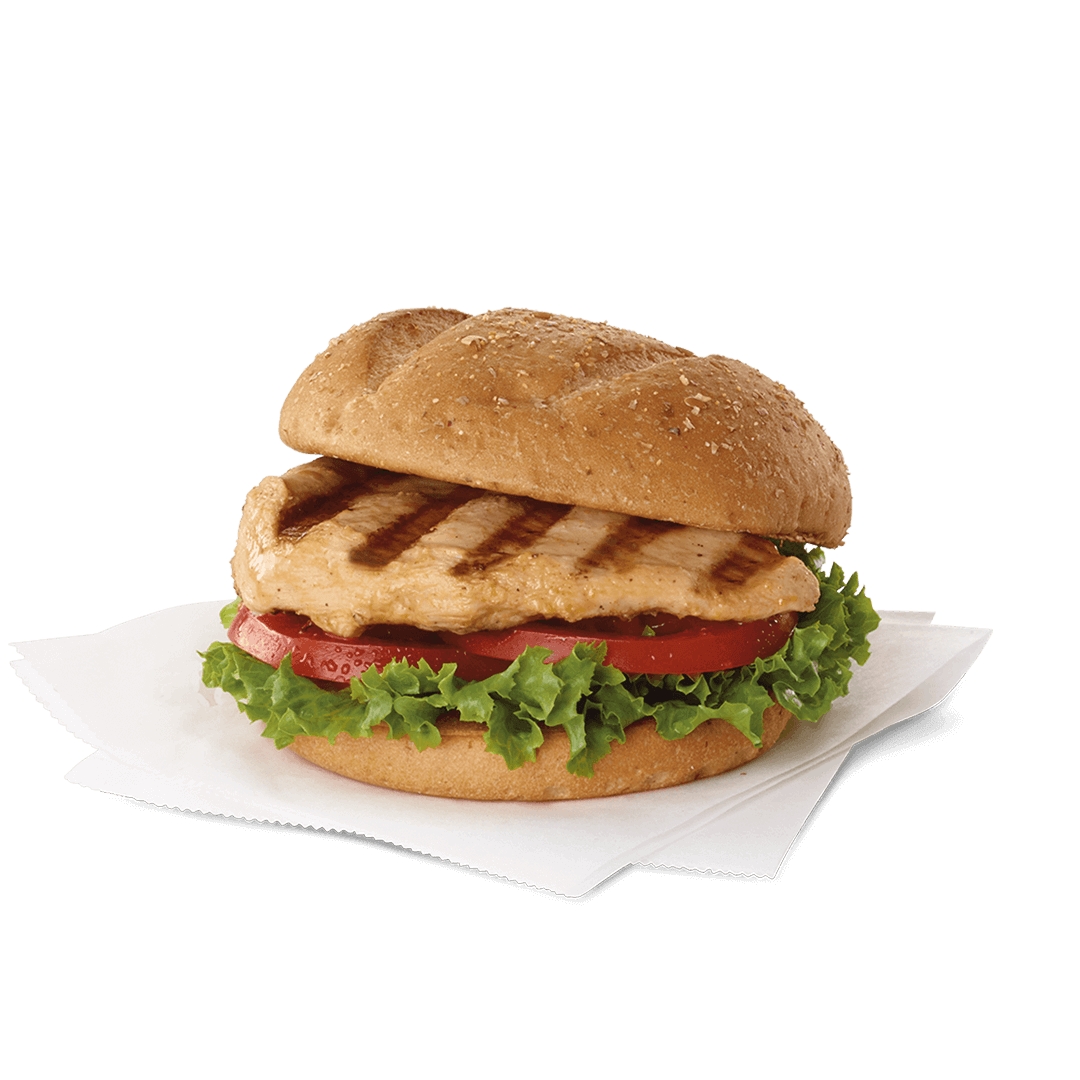 Tasting Notes:
If you're a big Chick-fil-A fan this one is going to feel like it's ranked very low, and it is, but Chick-fil-A offers much better grilled chicken sandwich and this one is just a bit too bare bones to rank any higher for us. This sandwich features a grilled chicken filet on top of tomatoes, green leaf lettuce, and a toasted multigrain bun. That's it!
The chicken is delicious, it has a balance between charred flavors with some brightness from lemon and a floral herbal flavor, it's some of the best seasoned grilled chicken in all of fast food, but it's dry like the desert. Yes, you can fix that by choosing your favorite Chick-fil-A sauce and dipping it or smearing it on the top bun, but that's not how the sandwich comes, so we have to take it and rank it as it is. Ultimately, it tastes too empty to rank any higher.
The Bottom Line:
Delicious chicken, poor construction.
Find your nearest Chick-fil-A here.
7. Carl's Jr — Charbroiled BBQ Chicken Sandwich
Tasting Notes:
We're officially in the category of grilled chicken sandwiches that taste good. I don't have any notes of improvement for Carl's Jr's Charbroiled BBQ Chicken, it's a solid grilled chicken sandwich that is worth ordering if you love BBQ sauce.
Carl's Jr has some of the best BBQ sauce in the game, it's tangy, smokey, sweet, and obliterates the dry texture you're going to get with a charbroiled chicken breast filet. The chicken has a great flavor, I'm tasting salt, black pepper, and that delicious charred flavor, but as a result of the cooking method, it's a bit dry. Trust me, the BBQ remedies that.
Rounding on the sandwich is tomato and lettuce and while the lettuce is low quality offering more texture than flavor, the tomatoes are deliciously juicy and ripe, bringing brightness to counteract the darker smokey flavors.
The Bottom Line:
If you love BBQ sauce, this is your sandwich!
Find your nearest Carl's Jr here.
6. Carl's Jr — Charbroiled Chicken Club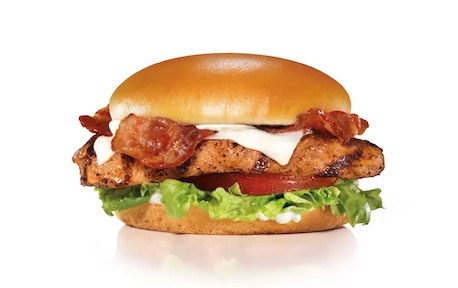 Tasting Notes:
It's the same chicken that's in the Charbroiled BBQ so it's good, juicy, charred, and flavorful, and the build here is much better. You've got smokey notes from the bacon, a nice infusion of salty and creamy Swiss cheese, and a buttery brioche bun that is soft and easy to chew through. Here is the thing though, instead of BBQ sauce you get mayo, which is fine but… this sandwich would taste better with BBQ.
Why isn't bacon on the Charbroiled BBQ sandwich? Bacon and BBQ is an unbeatable combination!
While the rule here is to take these sandwiches as they come, I'm going to rank the Charbroiled Chicken Club just a bit higher than the BBQ because I think the addition of bacon and cheese makes this a more satisfying sandwich. But between you and me, switch out that mayo for BBQ.
The Bottom Line:
Bacon, chicken, cheese, what's not to love? (The mayo, mostly.)
Find your nearest Carl's Jr here.
5. Panera — Signature Take Chicken Sandwich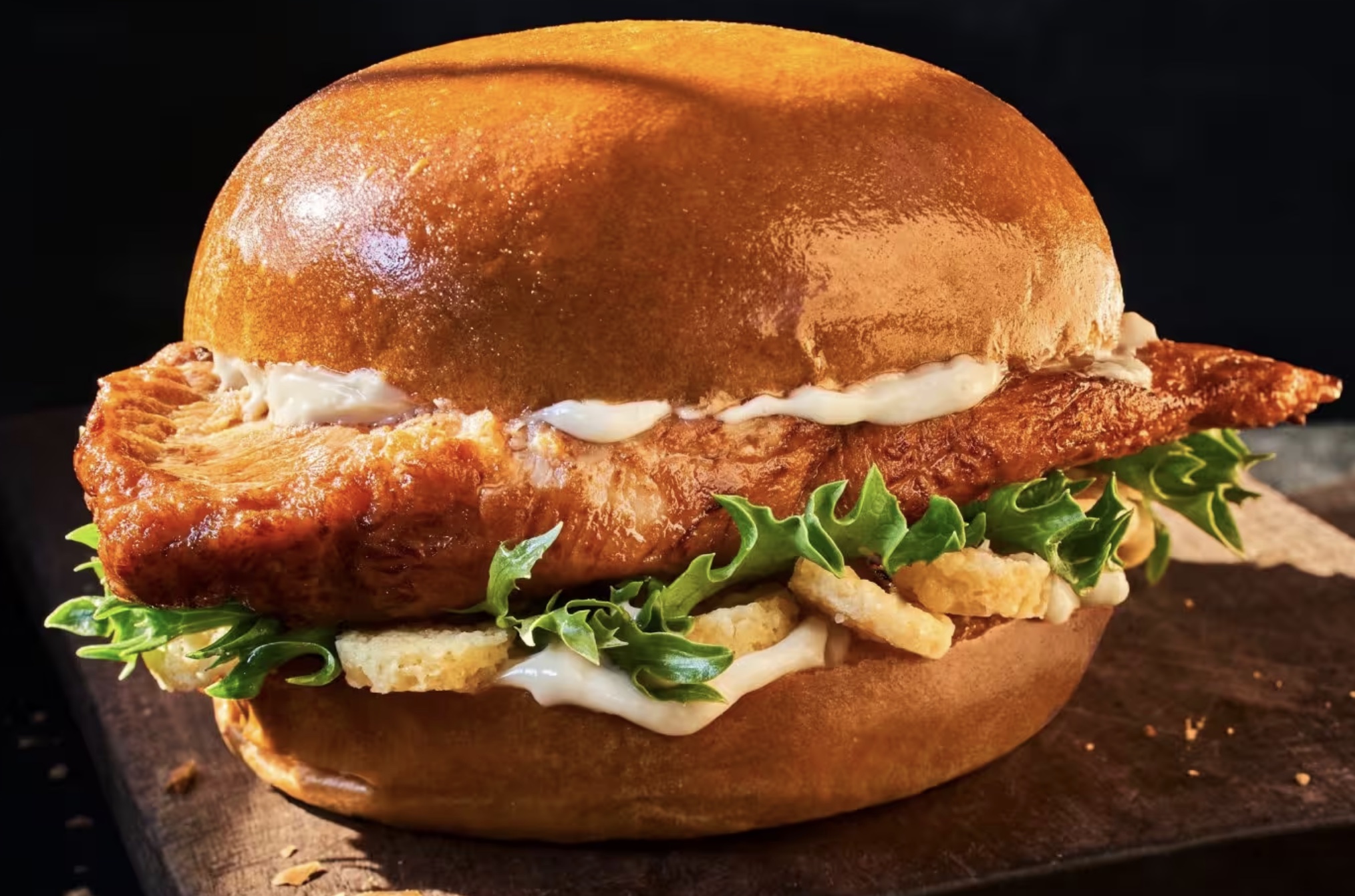 Tasting Notes:
Last year Panera unveiled two new chicken sandwiches and they instantly shot up our favorites list. This sandwich is simple, it features a seared chicken breast filet (not technically grilled but we're counting it) atop a layer of slightly bitter and earthy greens, parmesan crisps, and a garlic aioli sauce-smeared brioche bun. It's simple, direct, and delicious.
The chicken is tender with a sort of citrusy zest to it and the parmesan crisps, while not particularly flavorful, add a great textural mouthfeel. The garlic aioli is fragrant and savory and elevates the dish. Subway take note — this is how you make garlic aioli!
By searing the chicken, Panera has managed to offer a nice semi-crispy crust to the meat, giving you a similar texture to fried chicken without the crunch. It's an all-around winner and definitely worth seeking out if you haven't given Panera a try.
The Bottom Line:
Simple and delicious, Panera offers one of the best-tasting and newest non-fried chicken sandwiches in the fast food space.
Find your nearest Panera here.
4. Carl's Jr — Charbroiled Santa Fe Chicken Sandwich
Tasting Notes:
I have a bone to pick with Carl's Jr. This sandwich used to be served on a honey wheat bun and it added a sweet element to the flavor profile that really helped to make this one of my favorite grilled chicken sandwiches, but somewhere over the past two years Carl's Jr has gotten cheap and dropped the honey wheat bun and replaced it with brioche. It changes the flavor profile, and while it's still good, I can't help but miss the old sandwich.
Two things make this sandwich delicious, the Santa Fe Sauce, which tastes like a savory blend of mayo, smokey paprika, earthy curry powder, and a hint of cayenne on the backend to give it a spicy lift, and the mild green chili. More chicken sandwiches need a giant chili in them!
This chili isn't hot, at all, if you're looking for spice, look elsewhere, but what it does provide is a nice earthy, vegetal, and smokey top note to the sandwich that makes each bite a true pleasure. There is a delicious medley of natural flavors here, and on top of that you've got salty American cheese, and that char-broiled chicken. I rarely say this about any sandwich but: ditch the cheese, you don't need it.
The Bottom Line:
One of the most interesting and flavorful chicken sandwiches in all of fast food. The green chili here really brings something fresh and interesting to the fast food space.
Find your nearest Carl's Jr here.
3. Chick-fil-A — Grilled Chicken Club Sandwich With Pepper Jack Cheese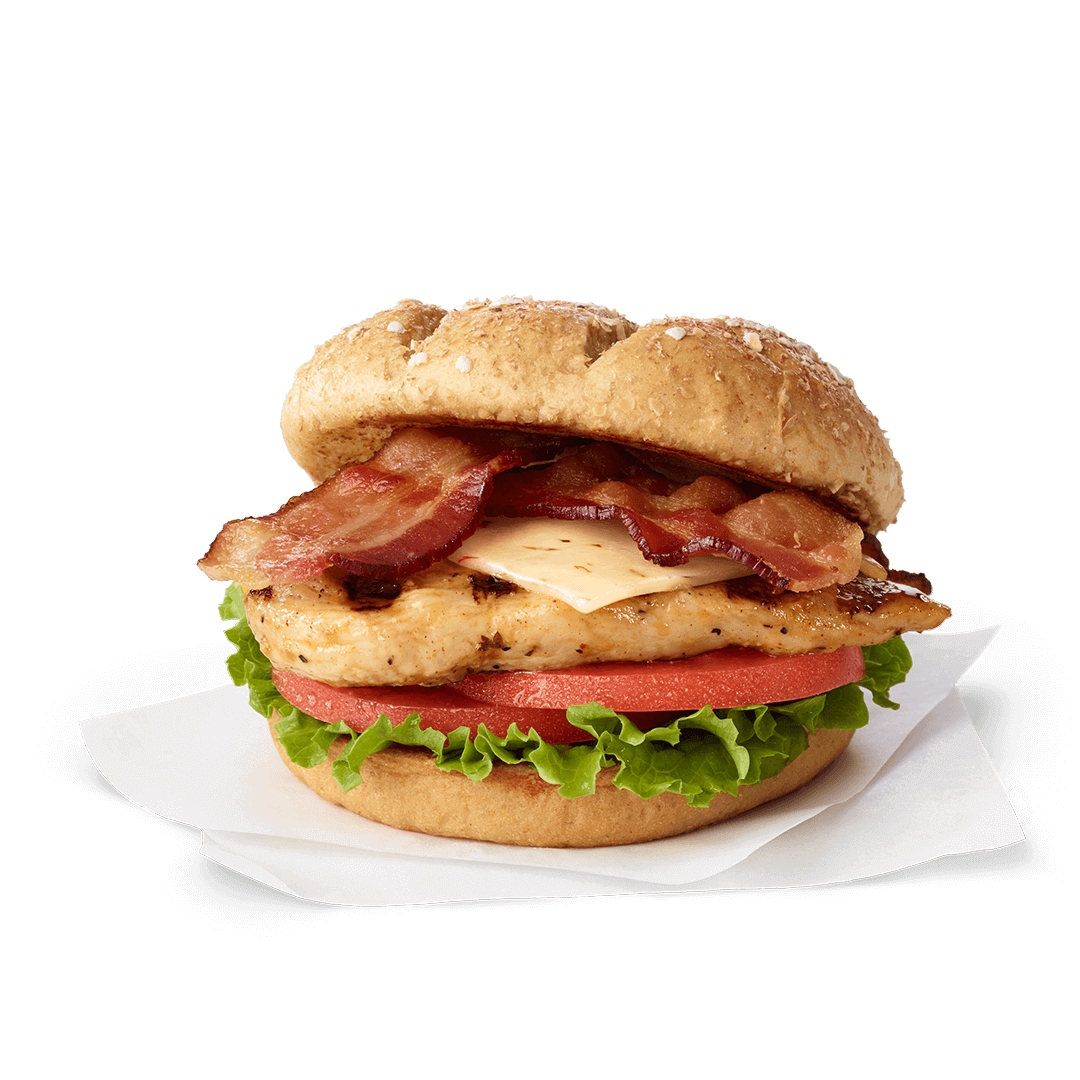 Tasting Notes:
The fact that this sandwich exists makes Chick-fil-A's other grilled chicken sandwich just seem sad in comparison. Joining the tender lemon and herb-marinated chicken are a few strips of smokey bacon, and a layer of cheese (your choice of Colby Jack, American, or Pepper Jack). My suggestion is the pepper jack — it's creamy, slightly sweet, and adds a small kick of spice to this already delicious medley of flavors.
Like all Chick-fil-A sandwiches, this thing comes sauceless, which is fine. It's delicious even without sauce, but Chick-fil-A suggests you eat this with some Honey Roasted BBQ and we agree — it strengthens the smokey notes of the bacon and pairs excellently with the citrus-marinated flavor of the meat. I'm going to suggest you try it with Polynesian as well. The Polynesian adds a touch of sweet and sour flavors that help to take your taste buds on a journey, and that's what good fast food should do.
The Bottom Line:
Hands down, Chick-fil-A's chicken filet is the best in all of fast food. If you're looking for the best chicken, this is your sandwich. But if you'd like something a bit more inventive, there are two more sandwiches we think you should try.
Find your nearest Chick-fil-A here.
2. Panera — Spicy Take Chicken Sandwich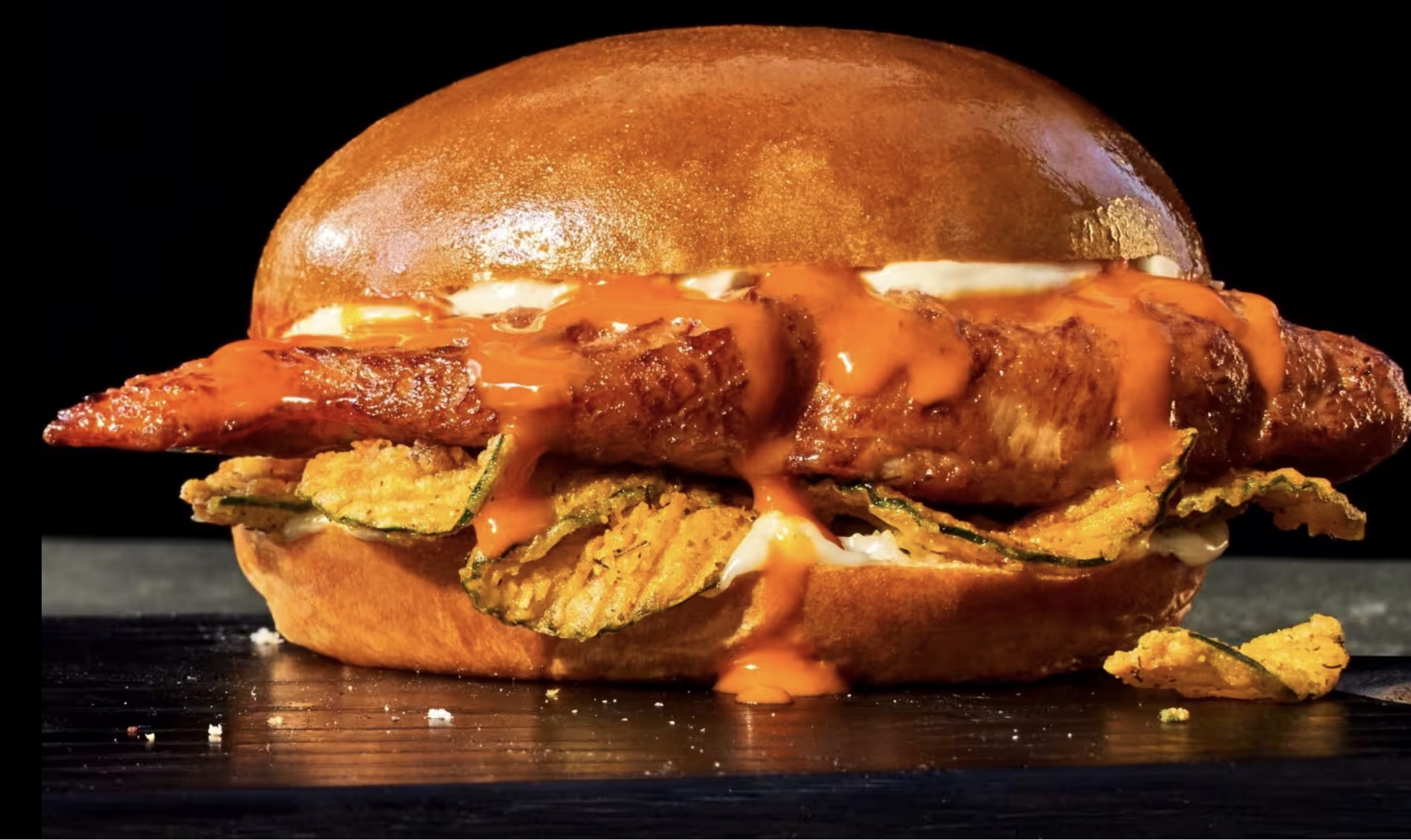 Tasting Notes:
Grilled chicken is marketed as a healthier fast food option, and smartly so, but Panera's Spicy Take chicken sandwich looks at that marketing, and goes in the exact opposite direction. Guess what? It works! Featuring a seasoned and seared chicken doused in a spicy buffalo sauce, this sandwich sports a double smearing of garlic aioli and a layer of thin cut crispy fried pickles. The result is an explosion of flavor that shifts from spicy and sweet, to floral and rich, with an earthy tang and a satisfying crunch.
This sandwich is executed perfectly and on top of that, you have the opportunity to add bacon and avocado. If that came stock on the sandwich, forget it, this easily gets the number one spot, but it doesn't, so we have to give the crown to the same sandwich we gave it to back in 2021.
The Bottom Line:
A must order, we never thought we'd say this but: get to a Panera as quickly as possible and try this sandwich!
Find your nearest Panera here.
1. The Habit — Grilled Chicken Club
Tasting Notes:
The Habit absolutely nails its chicken sandwich. There is an attention to craft here that the other sandwiches on this list just can't match. The chicken is hand-filleted, offering something that isn't quite as thick as the other filleted breasts on this list, meaning the chicken is juicer and more tender. It's well-marinated and perfectly seasoned, offering hints of bright lemon and earthy black pepper with each bite.
The idea of a thinner piece of chicken might not sound great to you, I get that, but remember that attention to craft I was talking about? The Habit anticipated that and added a layer of crispy bacon to the sandwich, which more than makes up for the thinner cut of meat, and on top of all of that, is a layer of freshly cut seasoned avocado, adding a creamy butteriness to this sandwich in both flavor and texture. It is sandwich perfection!
The sandwich has mayo on it too, just to make sure it doesn't come across as too dry, but it doesn't need it at all, so if you're looking to cut calories, look there! Everything in this sandwich is absolutely on point, and then it's served on some of the best, airy but chewy perfectly toasted sourdough in all of fast food.
Let me make one thing clear — I think The Habit makes mid-tier burgers, so if you share that view and you're reading this thinking "this can't be possible," trust me: try the sandwich, it'll change your mind.
The Bottom Line:
The only fast food restaurant where the grilled chicken sandwich is better than both the burger and fried chicken sandwich. This is fast food's greatest chicken sandwich, easily.
Find your nearest The Habit here.