Where would we be without the fast food snack menu? Whether you're looking for a quick bite or an indulgent add-on to elevate your combo, the snack menu is where all the most exciting fast food lives. Burgers and chicken sandwiches are great, but the snack menu is where you can get weird and wild. Do you want french fries smothered in sauce, cheese, spices and onions? Snack menu. Do you want mozzarella cheese sticks? Snack menu. Mac and cheese in the drive-thru? Snack menu. A soft-serve ice cream cone? Mother f*cking snack menu, fam!
Fast food might not be as easy on the wallet as it was five years ago (the dollar menu is all but dead) but every fast food menu out there has a few snacks and side orders that can elevate your meal into a next-level experience with just a few dollars. So let us help you beef up your next meal with our all-time favorite foods from the snack menu for under five dollars. We've made a similar list highlighting the best side orders at all the big chains in the past but a lot has changed since then, and while we have some returning items here, most of the stuff you'll find on this list are new picks.
Whether you're looking to elevate your meal or just looking for a quick and easy snack that'll fill you up on the cheap, these foods will help ensure that your next drive-thru experience is worth the money. Let's dive in!
Arby's — Jalapeño Bites
Price: $3.99 (Five piece order)
Why We Love It:
Every meal would be elevated with just a little heat, and Arby's Jalapeño Bites strike that perfect balance between being hot enough for spice lovers, and mild enough for first-timers who are looking to dip a toe in the hot waters of spice land.
Tasting Notes:
Crunchy, with a light and crispy batter. The cream cheese filling is sweet and tangy which works as a counterbalance to the mild heat of the slightly sweet jalapeño pepper. The more of 'em you eat, the more the heat builds.
The Bottom Line:
A perfect add-on to any of Arby's delicious sandwiches, and great as a standalone snack, no sandwich required.
Find your nearest Arby's here.
Burger King — Onion Rings
Price: $3.79
Why We Love It:
I dunk on Burger King a lot, and if you've ever eaten there you'll know it's for good reason, but BK legitimately has the best onion rings in all of fast food.
They're so good they're worth a trip to Burger King. Too bad nothing else is.
Tasting Notes:
Most fast food onion rings have too much breading, but the breading here is light and crispy (is it panko? We think it's panko) which puts emphasis on the sweet onion flavor.
The Bottom Line:
The best onion rings in all of fast food. Not greasy spoon burger spot good, but close.
Find your nearest Burger King here.
Carl's Jr — 2 for $5 Mix And Match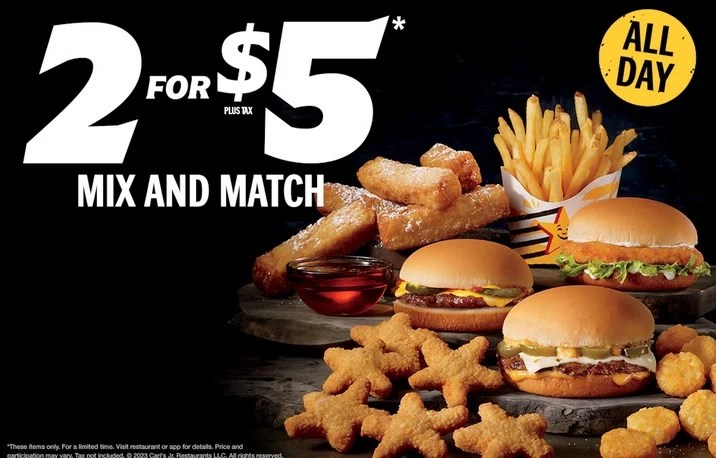 Price: $5
Why We Love It:
Okay, technically this isn't a snack menu item so much as it's a concept, but it's too good a deal to ignore! Right now Carl's Jr. is offering a two for $5 match value bundle during breakfast, lunch, and dinner hours that allow you to pick any combination of foods from this list: Spicy Chicken Sandwich, Spicy Lil Cheeseburger, Cheeseburger, Fries, Hash Rounds, or French Toast Dips.
Any combination of these foods will give you more than a snack, that's a full-on meal, so here is our suggestion: The Spicy Lil Cheeseburger and an order of Chicken Stars.
Tasting Notes:
The Spicy Lil Cheeseburger is a new menu item that combines Carl's Jr's charbroiled beef with pepper jack cheese, jalapeños, and the brand's sweet and spicy Santa Fe Sauce.
The spicy flavors pair excellently with Carl's Jr's charred beef with a significant kick of heat that makes the mouth water. Seriously, biting into this burger is addicting. We hope Carl's Jr launches a full-size version of this burger on the menu soon.
A perfect match for this heat bomb of a burger is the Chicken Stars. Yes, we know the star shape is off-putting but have you had these recently? They're buttery, crunchy, and delicious. A seriously underrated nugget in the fast food landscape, and we should know, we just blind taste-tested them all.
The Bottom Line:
Carl's Jr on the cheap — this is the best way to explore the menu right now.
Find your nearest Carl's Jr. here.
Chick-fil-A — Mac & Cheese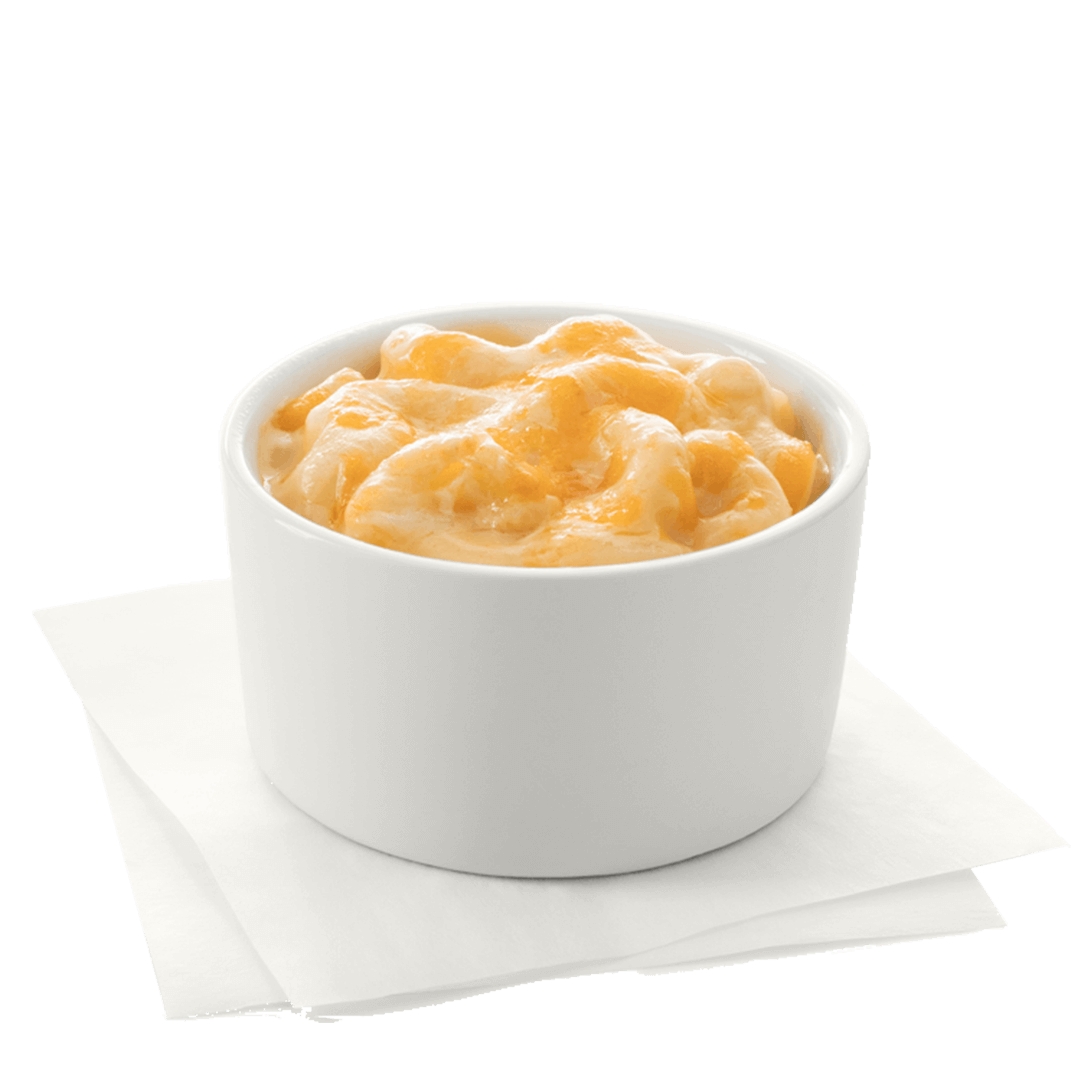 Price: $4.55
Why We Love It:
Like everything else on the menu, Chick-fil-A tackles mac and cheese with an attention to detail that elevates its past your typical from-the-box grocery store mac.
The mac and cheese is baked in-store using a blend of Parmesan, cheddar, and Romano cheeses, with a layer of crispy baked cheese on top of the noodles, providing a fantastic mouthfeel that tastes homemade.
Tasting Notes:
The blend of cheeses is sharp and salty with some complex nutty notes and a tinge of sweetness on the backend.
The Bottom Line:
Better than your favorite boxed Mac & Cheese you make at home and a great pairing partner for an order of nuggets or strips.
Find your nearest Chick-fil-A here.
Chipotle — Chips and Guac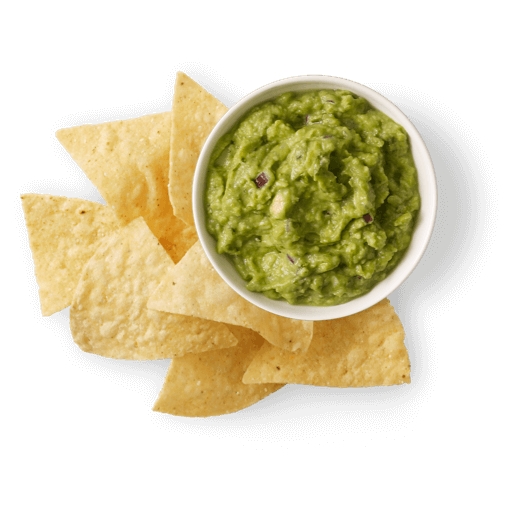 Price: $4.50
Why We Love It:
Chipotle's menu is expensive, so our options here weren't that robust. If you're looking for the best way to stretch your dollar at Chipotle we suggest you order a single taco and get your rice and beans on the side.
That'll give you a soft or crunchy taco with the meat of your choice (we suggest barbacoa) and a side of rice and beans. That's a meal! But assuming you're already ordering a full meal at Chipotle, there is only one way to truly elevate your burrito, bowl, or order of tacos: add chips and guac.
Admittedly, $4.50 is incredibly steep for chips and guacamole, but on the bright side, you're getting a pretty solid house-made guacamole recipe, as well as house-made chips. It's fresh and flavorful and would actually cost you more if you attempted to make it at home.
Tasting Notes:
Sometimes those chips have far too much lime on them, but they are well-salted and crispy. The guacamole mixes buttery and vegetal avocado with sweet red onions, and bits of jalapeño peppers, and has a bright citrus finish.
The Bottom Line:
Fresh guacamole, fresh tortilla chips, what's not to like? Chipotle puts more effort into its guacamole and chips than any other fast food brand that has it on the menu.
Find your nearest Chipotle here.
Del Taco — Snack Taco Del's Deal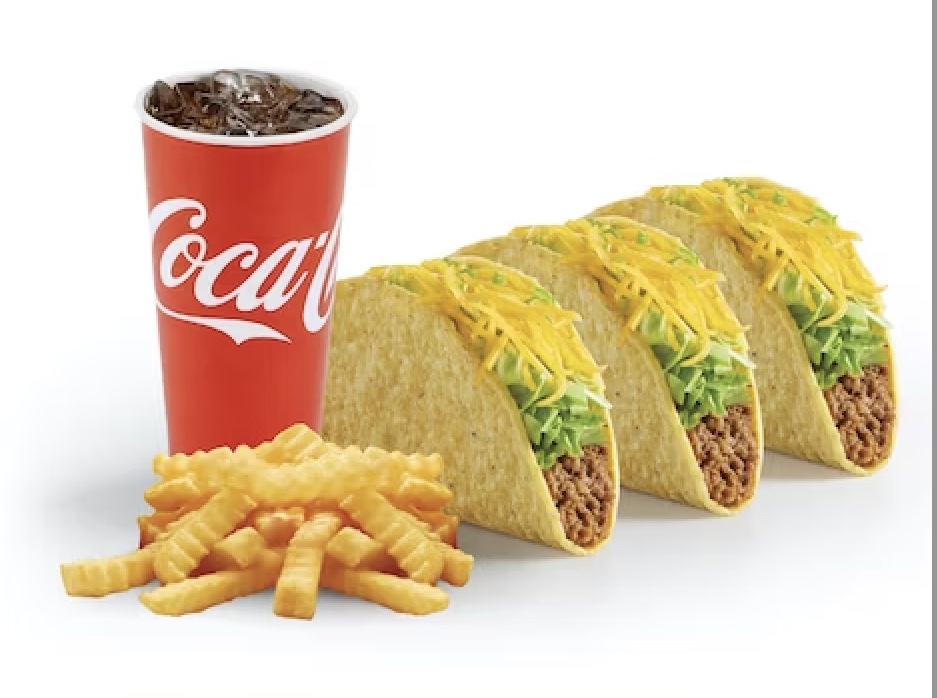 Price: $5
Why We Love It:
Right now Del Taco has all sorts of menu snack combinations that'll get you a full meal for just $5. Our pick is the Snack Taco Del's Deal, which gets you three crunchy or soft beef tacos, a side of French fries, and a drink of your choice.
Best of all you can mix and match those tacos!
Tasting Notes:
Don't let the cheap price fool you, Del Taco's crunchy tacos are better in every way than Taco Bell's similarly priced tacos. The ground beef is well seasoned, with a mix of garlic powder, black pepper, and a hint of cumin. The cheddar is fresh and hand-grated in-restaurant, and the lettuce is… well it's just fine.
We suggest the crunchy taco over the soft but here is a pro tip for you if you do go for the soft shell: throw in a couple of fries into each taco. That'll add a salty and buttery component to each bite. You'll have fewer fries to dip in ketchup or hot sauce, but it'll make for a better taco.
The Bottom Line:
A collection of delicious snack items that form a full meal for those looking to get fed on the cheap.
Find your nearest Del Taco here.
El Pollo Loco — Birria Crunchy Taco A La Carte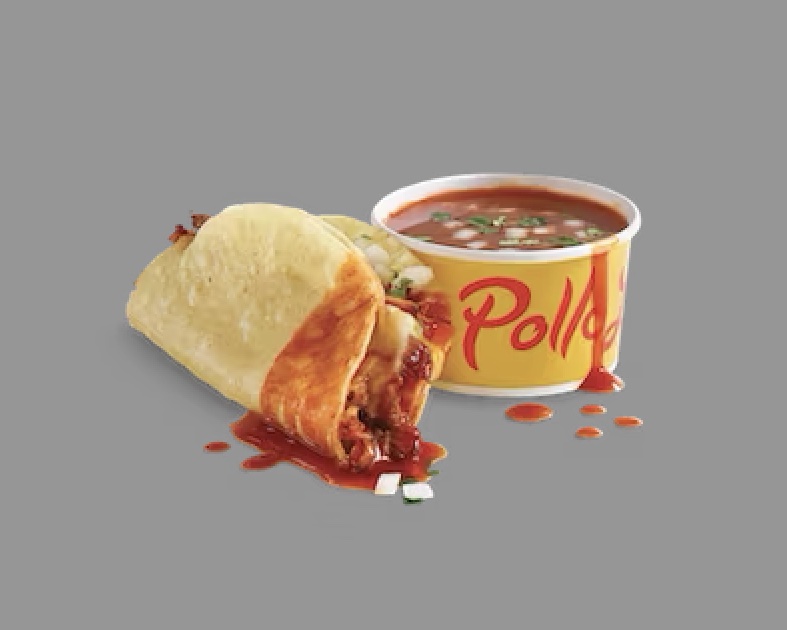 Price: $4.19
Why We Love It:
Okay, it's not the sort of birria taco you're thinking, but hear us out here, this still has the potential to be a delicious add-on to your meal.
Instead of the taco being fried in the birria consomé, you'll have to dip this yourself, and while it doesn't quite capture the magic of a true birria de res taco, it gets close enough in the ballpark that it'll scratch any craving you have for birria while giving you more consomé than a single authentic birria taco will provide.
Meaning you can dip the rest of your meal in it too!
Tasting Notes:
This shredded beef taco is encased in a lightly fried crispy taco shell that soaks up the birria consomé nicely. Monterey Jack cheese, onion, and cilantro provide a nice bed of creamy, spicy, and fresh flavors that compliment the tender and lean beef.
The consomé is very savory and enhances the savory notes of the shredded beef.
The Bottom Line:
The taco is a fine addition to your meal, but the real draw is all that leftover consomé you can dip the rest of your meal in.
Find your nearest El Pollo Loco here.
In-N-Out — Animal Style Fries (with chilis)
Price: $3.40
Why We Love It:
Fries with extra food on top — what I simply call "nacho fries" — are so damn good you'd think they were at every food establishment that carries fries. We're getting there, there are certainly more fry-based dishes at the big chains (see Arby's, Rally's, and Wendy's, who have just added new French fry dishes) than there have been in the past, and yet nobody is doing it as good as In-N-Out.
Part of the secret menu, Animal Style Fries feature a bed of fries smothered in grilled onions, In-N-Out's special sauce, and layers of melted American cheese. But don't just settle for the stock Animal Style fries, kick things up a notch by adding chilis to the mix.
Tasting Notes:
Salty, tangy, and incredibly savory thanks to the fragrant and flavorful grilled onions, with a hint of very mild sweet spice courtesy of the peppers. The people who talk trash about In-N-Out's fries have never had them Animal Style.
The Bottom Line:
The ultimate elevation of French fries.
Find your nearest In-N-Out here.
Jack in the Box — Mozzarella Sticks
Price: $3.50
Why We Love It:
Seriously? Why do we love fried cheese? I don't think we really need a reason here. Jack in the Box has pulled mozzarella sticks from the menu at least three times in a decade, this latest iteration is hands down the brand's best recipe. Here is to hoping they stick around on the menu for a long time.
Tasting Notes:
The breading is chick and crunchy, with a mix of Italian herbs. The cheese is salty, creamy, and stringy, providing the perfect cheese trail with every bite.
The Bottom Line:
Every meal is better with a side of mozzarella sticks.
Find your nearest Jack in the Box here.
KFC — Chicken Nuggets
Price: $4.99
Why We Love It:
The fast food landscape is full of chicken nuggets but most of them out there are that highly processed meat slurry type that you'l find in the frozen aisle at your local grocery store. Chick-fil-A used to be one of the only brands on the scene making an actual effort with real breast meat nuggets, but now KFC has thrown its hat into the ring, and you know what? They've knocked it out of the park.
Tasting Notes:
Moist, tender, and crispy, with a medley of flavors that pull together onion, garlic, pepper, paprika, thyme, oregano, and basil. That's right, these are original recipe nuggets, baby!
If you ride for Extra Crispy style KFC chicken I'm sorry but you're wrong, OG recipe is where it's at.
The Bottom Line:
KFC's best flavors in a bite-size bone-free form.
Find your nearest KFC here.
McDonald's — Oreo McFlurry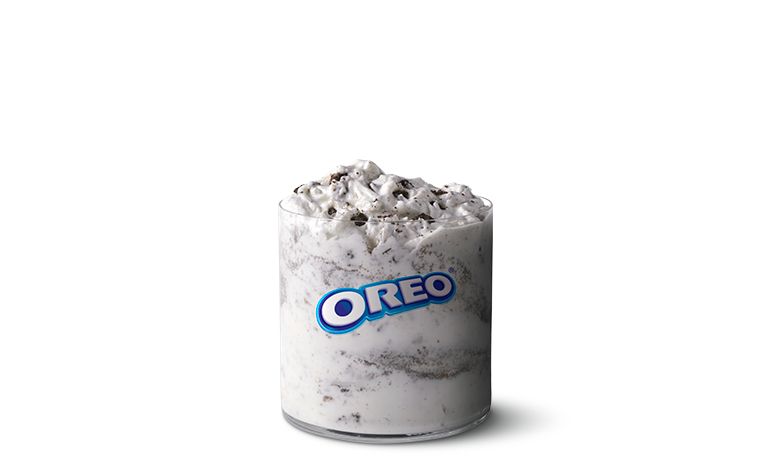 Price: $4.19
Why We Love It:
Assuming the soft serve ice cream machine works (they break down so often I'm starting to think we're being lied to), there is no finer way to enhance your McDonald's meal than to add a McFlurry. And there is no finer McFlurry than the Oreo.
Tasting Notes:
Creamy, rich, and chocolatey with an unbeatable mouthfeel. Imagine an airier cookies and cream ice cream and you're in the ballpark of a McFlurry.
The Bottom Line:
Name a better way to elevate your meal than a decadent sweet dessert.
Find your nearest McDonald's here.
Popeyes — A Biscuit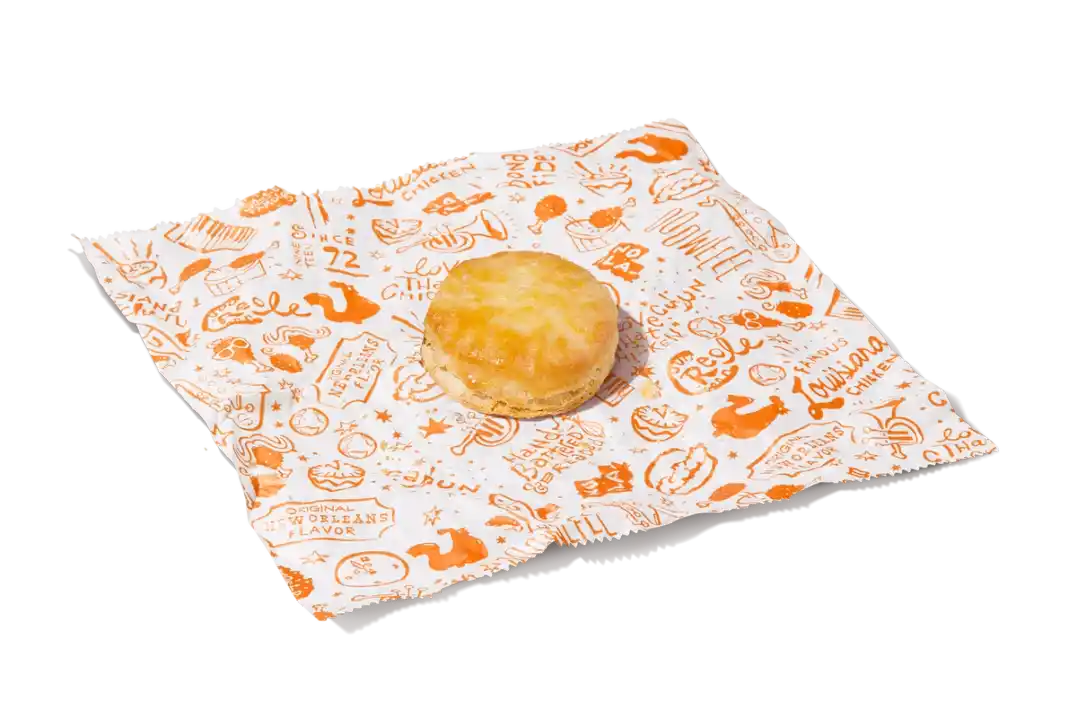 Price: $1.55
Why We Love It:
Love is a strong word. Here is the thing, I wanted to include Popeyes chocolate beignets on this list but they've been discontinued. That leaves us with biscuits as the only cheap snack.
Tasting Notes:
It's more butter than it is bread. Popeyes biscuit tastes like pure butter — so expect a savory slightly salty treat. If you like your add-ons on the sweeter side, order the biscuit with a side of honey.
The Bottom Line:
It's not a chocolate beignet, but we'll take it.
Find your nearest Popeyes here.
Raising Cane's — Texas Toast (BOB Style)
Price: .99¢
Why We Love It:
Raising Cane's menu is bare bones, you've got chicken tenders, fries, coleslaw, and Texas toast, that's it! So the best thing to add to your meal is obviously Texas toast. To make it better order it BOB style, which stands for buttered on both sides.
Tasting Notes:
Heaven. It's garlicky and perfectly toasted on both sides offering a sweet buttery crunch and a soft inner.
The Bottom Line:
Until Raising Cane's adds something else to the menu, this will be the all-time best snack and side order you can get at Cane's.
Find your nearest Raising Cane's here.
Starbucks — Dipped Madeleines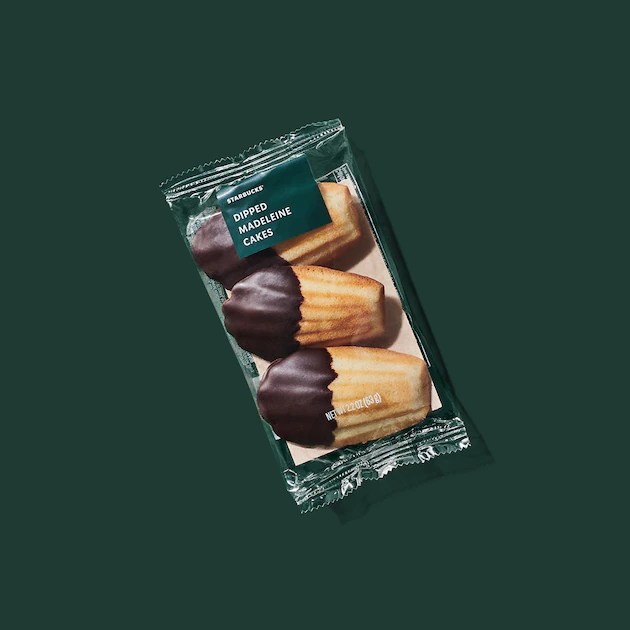 Price: $3.99
Why We Love It:
There are going to be a lot of Starbucks fans who might be upset with this one, and I get it, you ride hard for the bake case, but a bake case can be hit or miss depending on what time you hit your nearest Starbucks. These chocolate-dipped Madeleines, on the other hand, never miss!
Tasting Notes:
Super soft, vanilla dominated with rich sweet chocolate.
The Bottom Line:
What's better than madeleines? Madeleines dipped in chocolate.
Find your nearest Starbucks here.
Taco Bell — Yellowbird Nacho Fries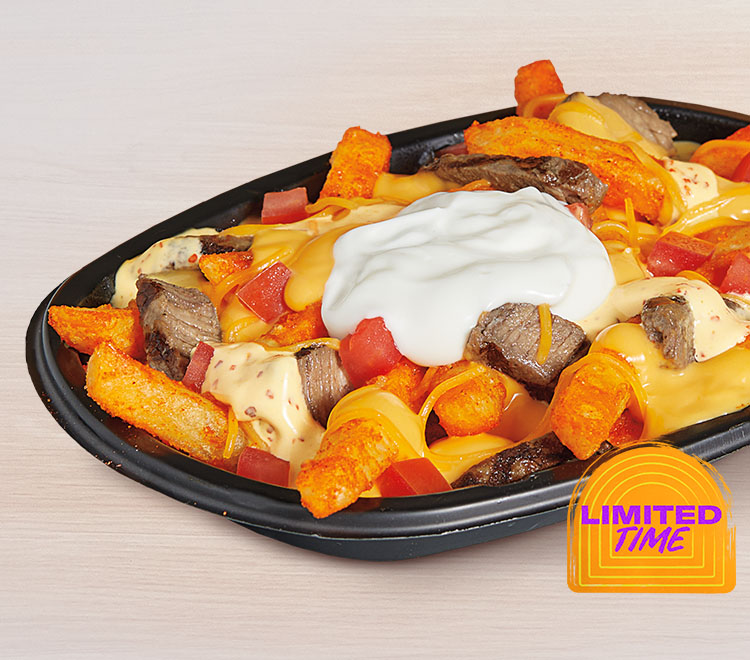 Price: $4.99
Why We Love It:
Listen, Taco Bell's Yellowbird Nacho Fries are only available for a limited time, I cannot stress this enough: you need to try these ASAP.
The dish is a collaboration between Taco Bell and Yellowbird hot sauce (of Hot One's fame) and finally combines Taco Bell flavors with a delicious hot sauce. I'm sorry Taco Bell fans but those sauce packets you love with the funny slogans? They're garbage.
Tasting Notes:
The fries are crispy and seasoned with the same flavors that make Taco Bell's ground beef so addicting: paprika, chili powder, black pepper, and a whole lot of salt. The fries are crispy on the inside (they seem slightly breaded) and served with salty nacho cheese sauce, cheddar cheese, steak (the worst part of the dish), and tomatoes that provide some juicy brightness to the dish.
The Yellowbird sauce is citrusy and spicy, adding fruity habanero notes and some serious spice to this perfect dish.
The Bottom Line:
Taco Bell flavors with some delicious hot sauce added on top, which is (sadly) rarer than it should be.
Find your nearest Taco Bell here.
Wendy's —Baconator Fries
Price: $3.99
Why We Love It:
For a menu as great as Wendy's, the fries are a weak point. But a quick way to make an order of fries better is to smother them in cheese, and throw bits of bacon on top. Wendy's has the best fast food bacon in the game, so this dish truly elevates these fries, taking them from something basic to something delicious.
Tasting Notes:
Very salty, with two types of cheese (shredded cheddar and cheddar cheese sauce) and crunchy bits of sweet and smokey bacon.
The Bottom Line:
A savory smokey elevation of Wendy's fries.
Find your nearest Wendy's here.