Last week we blind-taste tested some of our favorite fast food French fries (guess who won), which resulted in a handful of emails from people telling me that "seasoned fries" are superior to the classic salted variety. I'm not sure that I completely agree with that assessment — salted fries walked so seasoned fries could run and there is a reason there are more salted fries out there than seasoned — but there is no doubt that the curly and seasoned type can be as good and in some cases better than plain old salted.
So who makes the best? Because I will use any excuse to eat fries for work, I knew I had to find out. So we're back it, blind taste testing the best curly/seasoned fries in the fast food universe in search of the most flavorful. Our seasoned/curly fries today come from Arby's, Carl's Jr., Jack in the Box, Popeyes, and Rally's. But before we get into all of that, allow me this mini-rant:
We need a better name out there than "seasoned fries." The category of seasoned fries is a weird one, it consists of fries of many different shapes, from curly to waffle to straight, all battered in some way with a mix of spices that can include paprika, black pepper, garlic, and onion powder. But aren't all French fries, even the salted ones, seasoned? We should call them something else, like "zesty fries," or "fun fries, "or hell make them all curly — we just want some consistency here!
Is this going to stop us from eating them? Absolutely not. Does this matter to anyone who isn't a food writer? Probably not. Okay, I'll shut up, let's eat some fries.
PART I — Methodology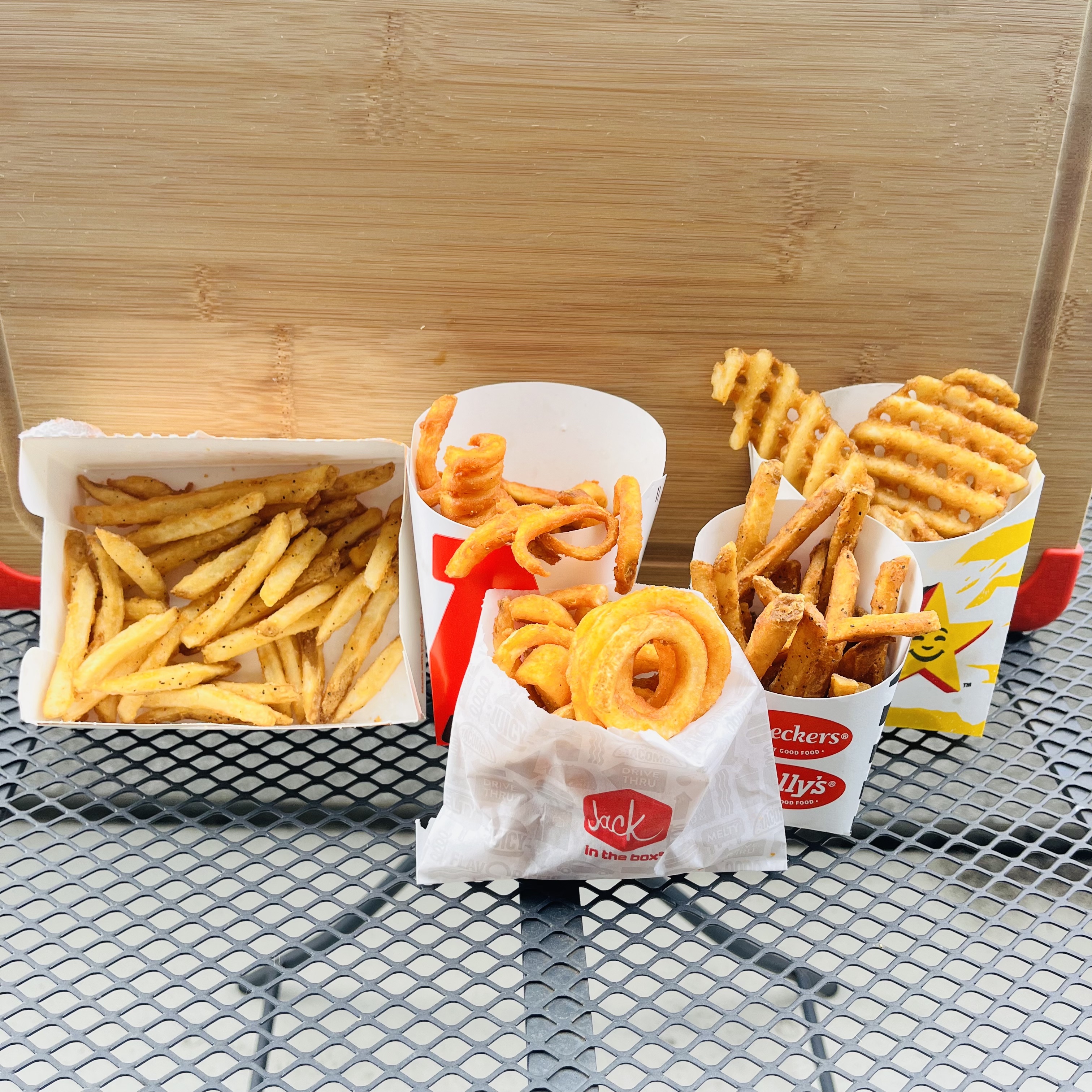 This was the hardest fast food blind taste test I've embarked on so far. When I tasted burgers, chicken sandwiches, and salted French fries blind it was incredibly convenient. Almost all of the fast food joints selected were relatively close to one another. For this one… they weren't. Four of them were close enough but Rally's, which I knew I had to include considering not many chains sell seasoned fries to begin with, was completely out of the way. So I had my girlfriend head out to Rally's while I scooped up the other four (three of which were on the same street).
By the time we arrived back home with the fries, 30 minutes had passed (and she arrived about 8 minutes before I did), much longer than I wanted. I'm sure time is going to have an effect on at least some of these fries. But luckily we hit up all of these fast food restaurants at 10:30 AM, a time more likely to have hot fresh fries. as most restaurants were switching over from breakfast or barely opening their doors. Each seasoned French fry order was lukewarm to hot. I would've preferred to have them all piping hot but this was the best I could do.
As with my other blind taste tests, I wore a blindfold for this test but I have to admit, given all the different shapes, it was pretty easy to pick out Carl's Jr's waffle fries from the lineup. As for the others, I tried to grab a sizable handful so I wouldn't focus too much on the shape. Here is how it went down.
PART II — The Taste Test
Taste 1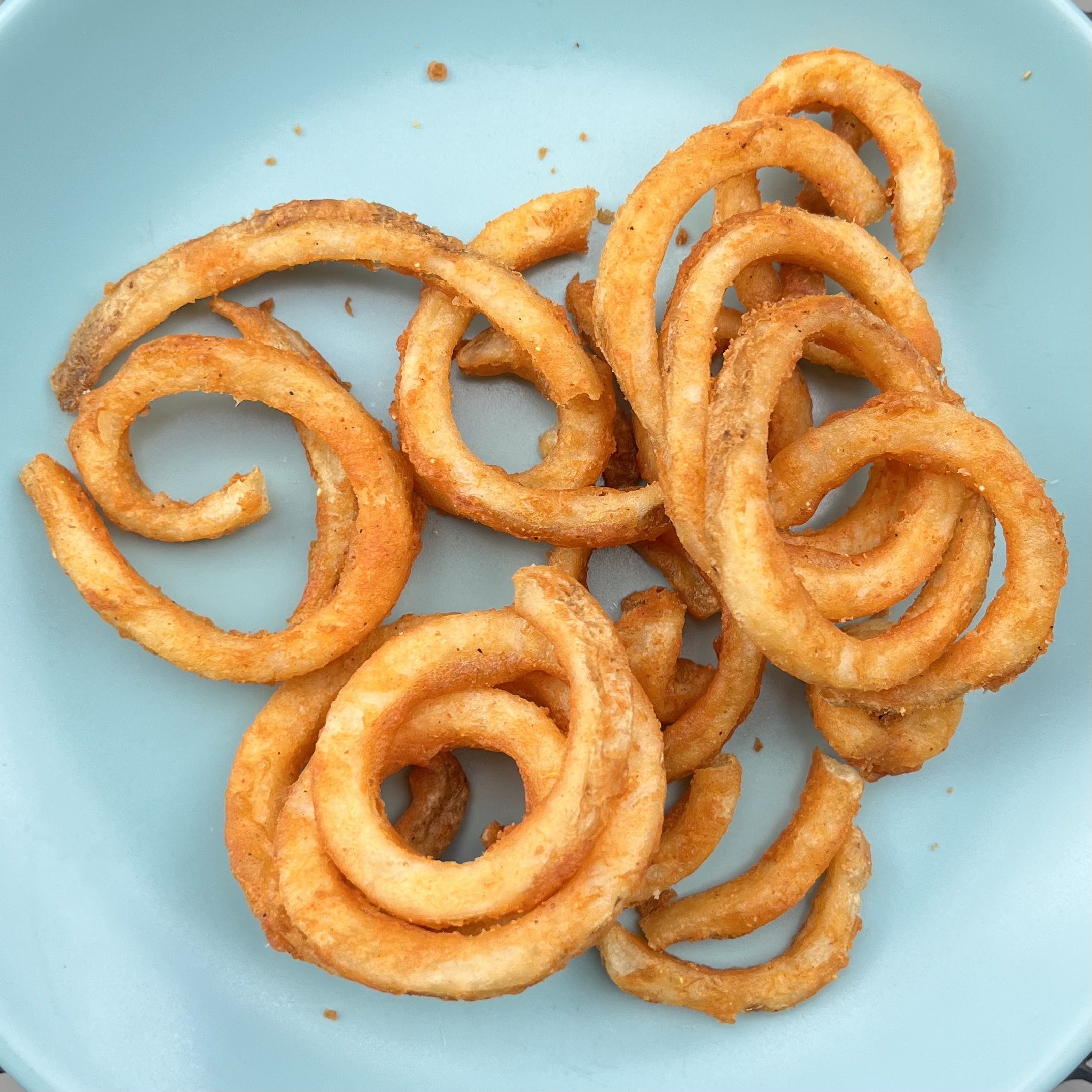 A great balance between onion, garlic, and fluffy and buttery potato. The breading the fries are dusted in here comes across as light and not overly distracting. It has crunch but isn't so crispy that you can't taste any of the actual potato. A great start!
Taste 2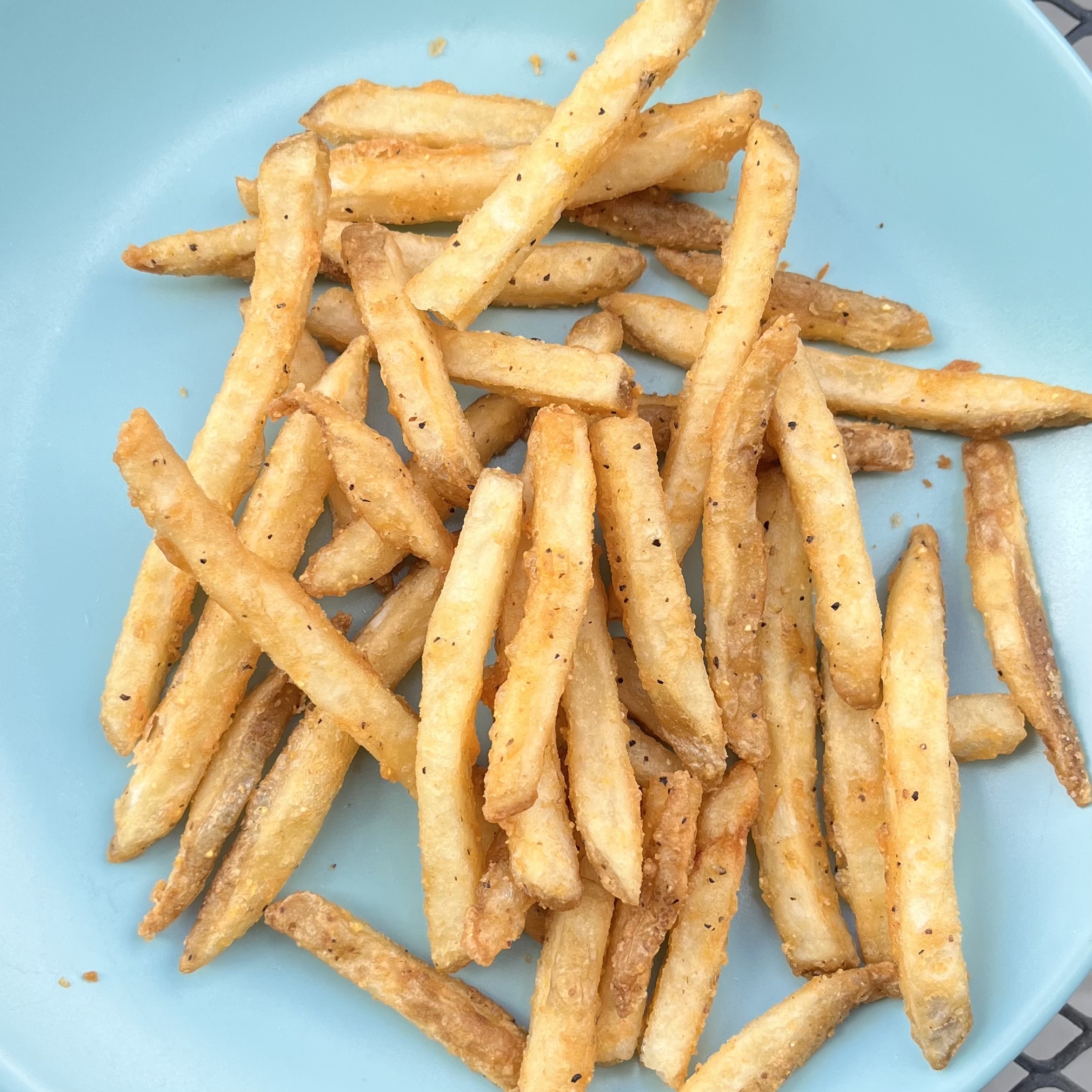 With a softer chew than Taste 1, this fry is a lot less crispy but the flavor is on point. I'm getting more prominent black pepper notes which are mingling with garlic powder in a really nice way. There is a sort of smokey aftertaste to this fry. I'm liking this one a lot, it presents all the flavors as a journey though I wish it was just a bit more crispy.
Great flavor; a so-so mouthfeel.
Taste 3
Heavy on the breading here, this fry is the crispiest so far, by a lot. I'm not tasting a lot of potato here, but I'm getting a strong blend of spices. Garlic and pepper dominate, with a sort of lingering oniony aftertaste. They're incredibly addicting, but they come across as a bit over-fried to me.
Taste 4
This is without a doubt the waffle fry, it is by far the softest of all of the Tastings so far. The flavor leans more on onion here, I'm getting prominent spice from the blend of onion and black pepper with a hint of garlic on the backend and a whole lot of potato flavor. The potato itself is a bit bland once I make it past the seasoned outer layer.
I love the flavors here, but I think it needs a touch of salt to really elevate it. I can't believe I'm writing "needs more salt" about fast food fries.
Taste 5
Awful. Stale, oily, and dirty tasting. While the fries are warm, they taste stale and old, like they've been sitting under a heat lamp for too long. They have a rancid flavor to them that makes them nearly inedible.
I've never hated a fry more. I never even thought it was possible to hate fries this much.
PART III — The Ranking
5. Rally's — Seasoned Fries (Taste 5)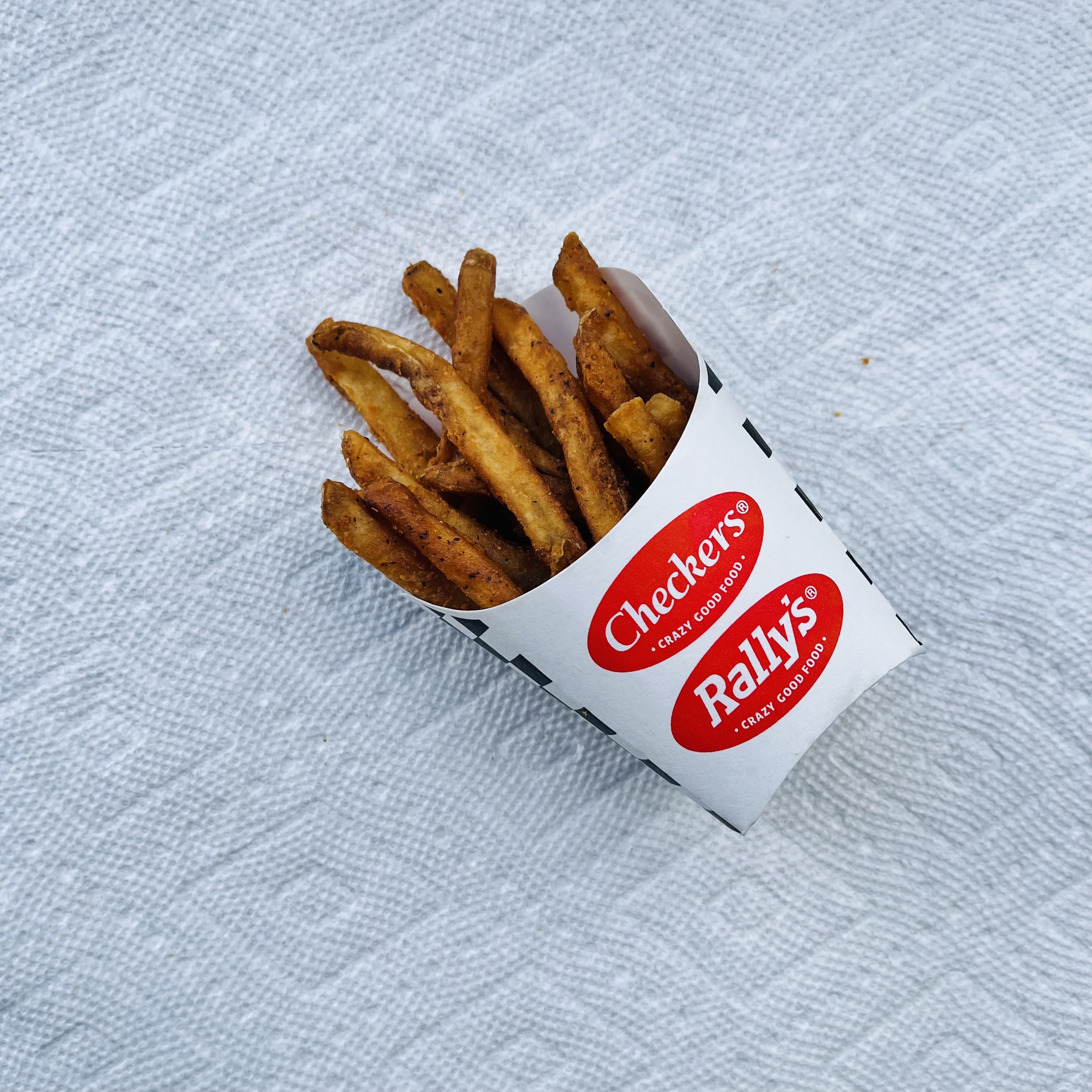 I know there are a lot of Rally's fans out there but I have to ask — what happened to your taste buds? Seriously, did you consume so many Mother Crunchers and Big Bufords that you've burned off your flavor receptors? Because these are the worst fries I've ever eaten in my life, and yet they're cited as a favorite of so many.
Now granted, I might've just gotten a bad batch, but I've had these fries before, and even at their best they've always tasted a bit dirty — like the oil wasn't changed out in the year that I'm eating them in. Rally's may have the best names for their sandwiches, but they need some serious quality control.
The Bottom Line:
If you want the worst seasoned fries ever, go to Rally's.
Find your nearest Rally's here.
4. Arby's — Curly Fries (Taste 3)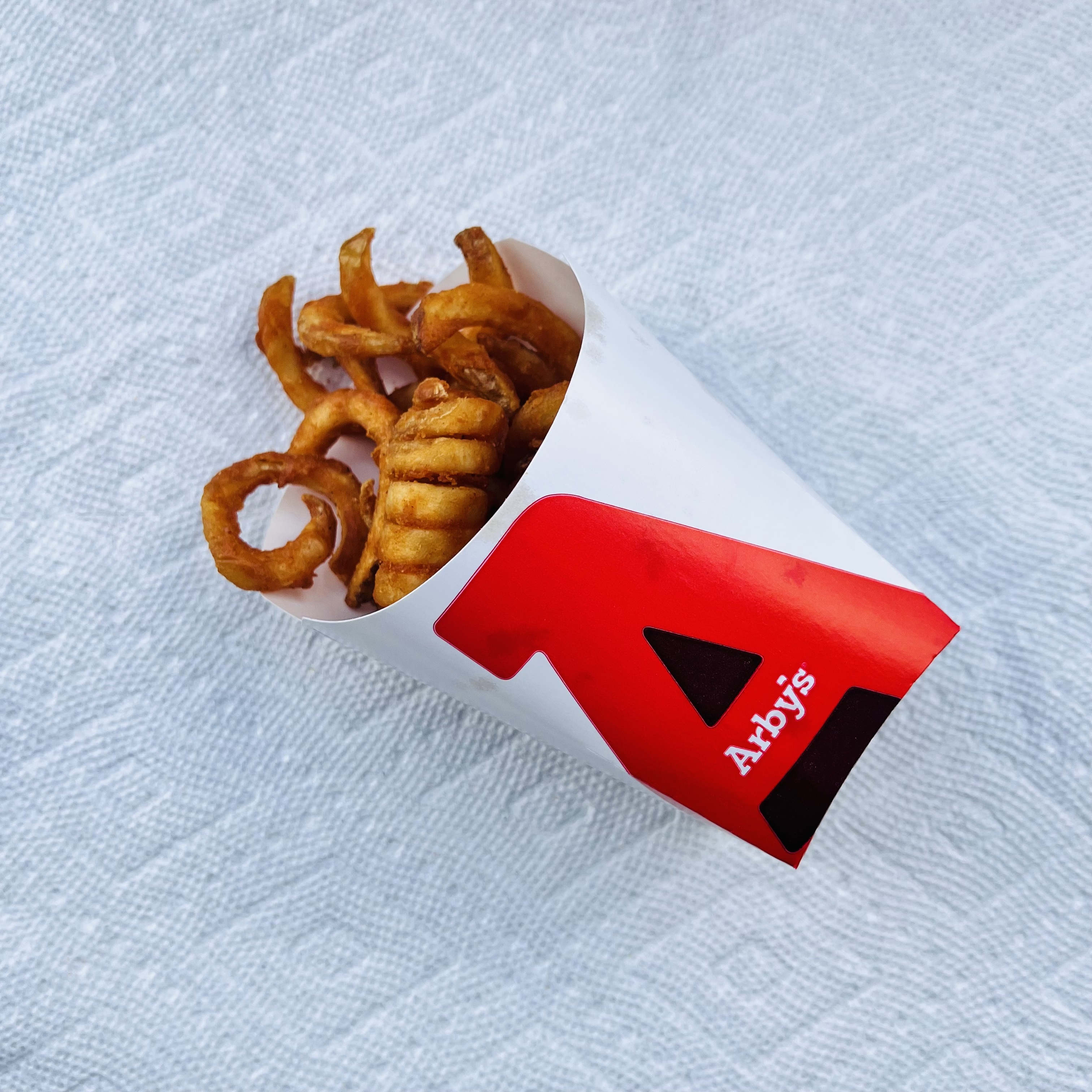 Arby's is often cited as having the best curly fries, if not the best fries, in all of fast food and I get it, but I don't agree. Call me crazy but I like my seasoned fries to taste at least somewhat like potatoes, and these just don't. They're overly battered to the point that all I can taste here is the seasoning.
I'll give you the flavor — it is an amazing blend of spices, but at the end of the day I'm just not getting enough potato in the mix, and I need that.
The Bottom Line:
If you like heavily battered and seasoned fries, Arby's might just be your favorite, but if you want seasoned fries that have a great balance between breading, flavors, and fluffy potato, these are going to miss the mark.
Find your nearest Arby's here.
3. Carl's Jr. — Waffle Fries (Taste 4)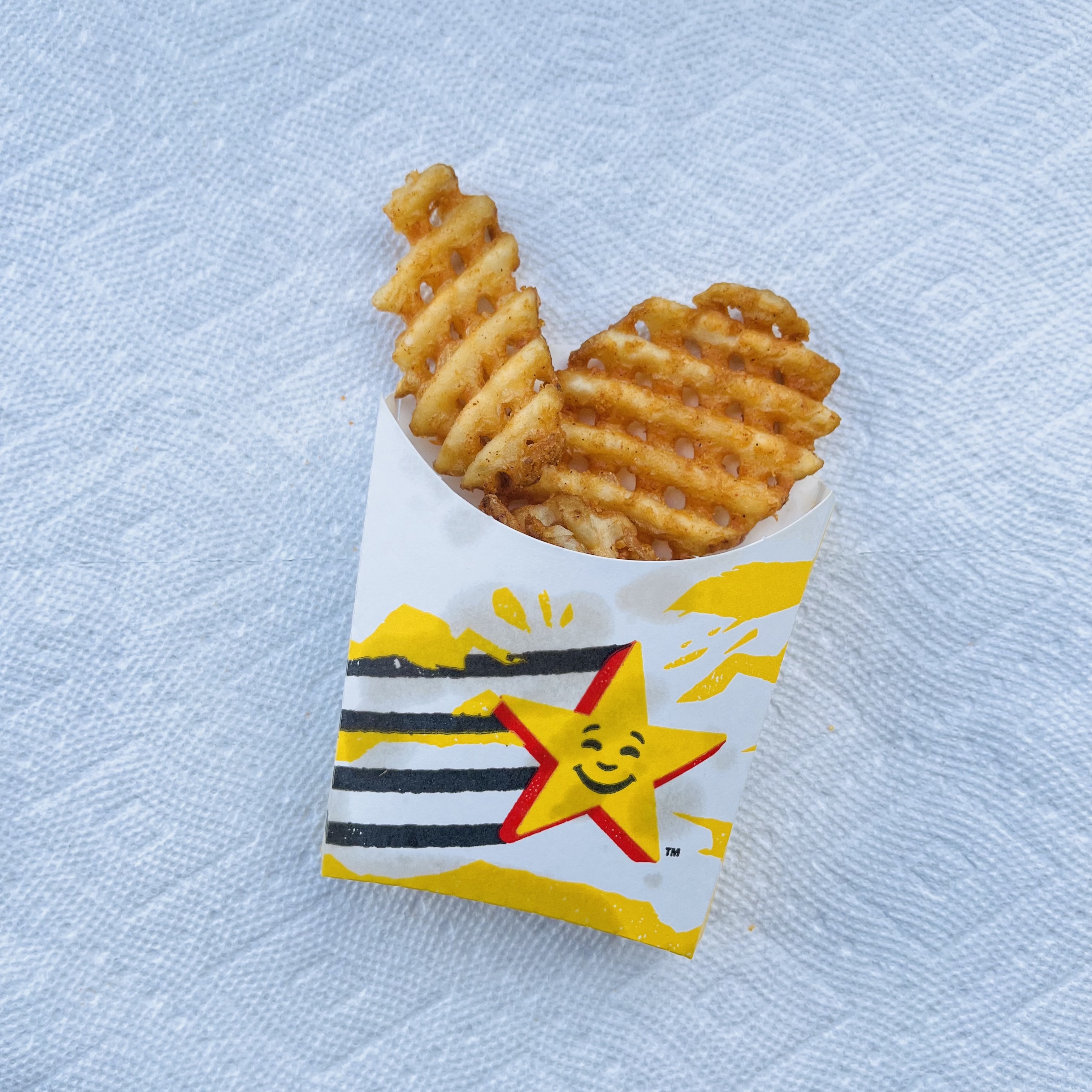 Carl's Jr has the opposite problem from Arby's, there is simply too much potato here and not enough of that seasoned goodness. Yes, I'm the Goldilocks of seasoned fries, I'm looking for something that has balance, something that is just right. Talk all the trash on Goldilock's you want for breaking into some bear's home and messing with a bunch of shit that wasn't hers, but the girl knew her porridge!
Carl's Jr.'s Waffle Fries are off balance, there is so much potato here that it actually needs seasoning, and for a category of fries that has 'seasoned' right in the name, that means this misses the mark and must leave this blind tasting with a bronze medal. Luckily, this is easily remedied, just sprinkle some salt or dip these fries in some sauce and you'll instantly solve all the problems this potato-heavy fry presents while elevating the flavor.
Unfortunately for Carl's Jr, this wasn't a best-dipped fries blind taste test.
The Bottom Line:
You're going to feel like these fries are missing a bit of something, whether that's salt or sauce will be up to your personal tastes. But because of that, this one lands in third place for us.
Find your nearest Carl's Jr. here.
2. Jack in the Box — Curly Fries (Taste 1)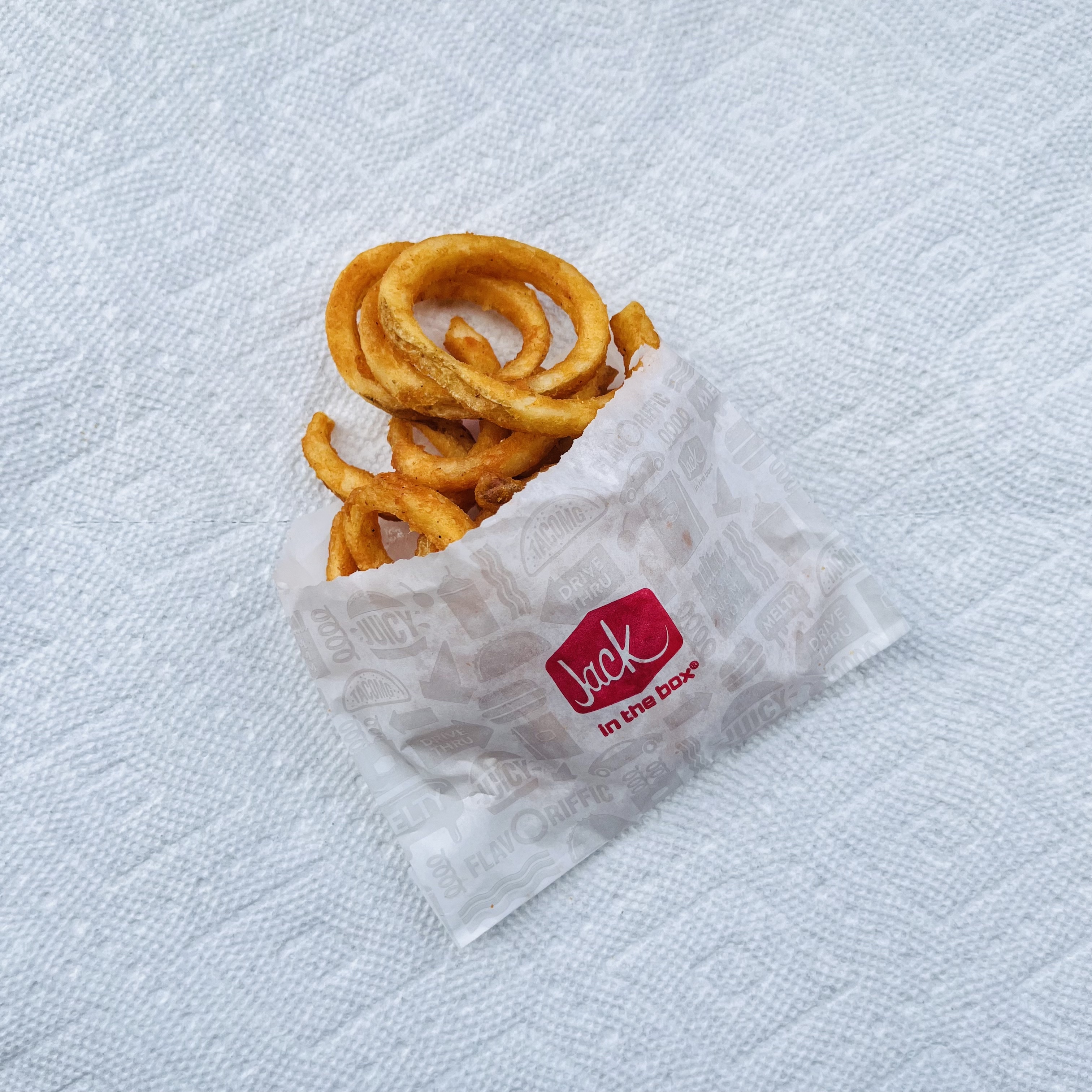 The biggest surprise in this blind taste test and last week's salted fries taste test is the power of Jack in the Box. As a whole, I consider JiB to be bottom-tier fast food but whatever they're doing with the fries, they're doing it right. Jack in the Box's Curly Fries are amazing, they're lightly battered, heavily seasoned, and have a great mix of natural potato flavor (or as natural as processed frozen fries can be) and black pepper, onion, and garlic flavors.
I was very close to giving this one the number one spot, but our actual number had a better overall flavor to my palate.
The Bottom Line:
Deliciously balanced and very crispy. Jack in the Box's Curly Fries are nearly perfect. Nearly.
Find your nearest Jack in the Box here.
1. Popeyes — Cajun Fries (Taste 2)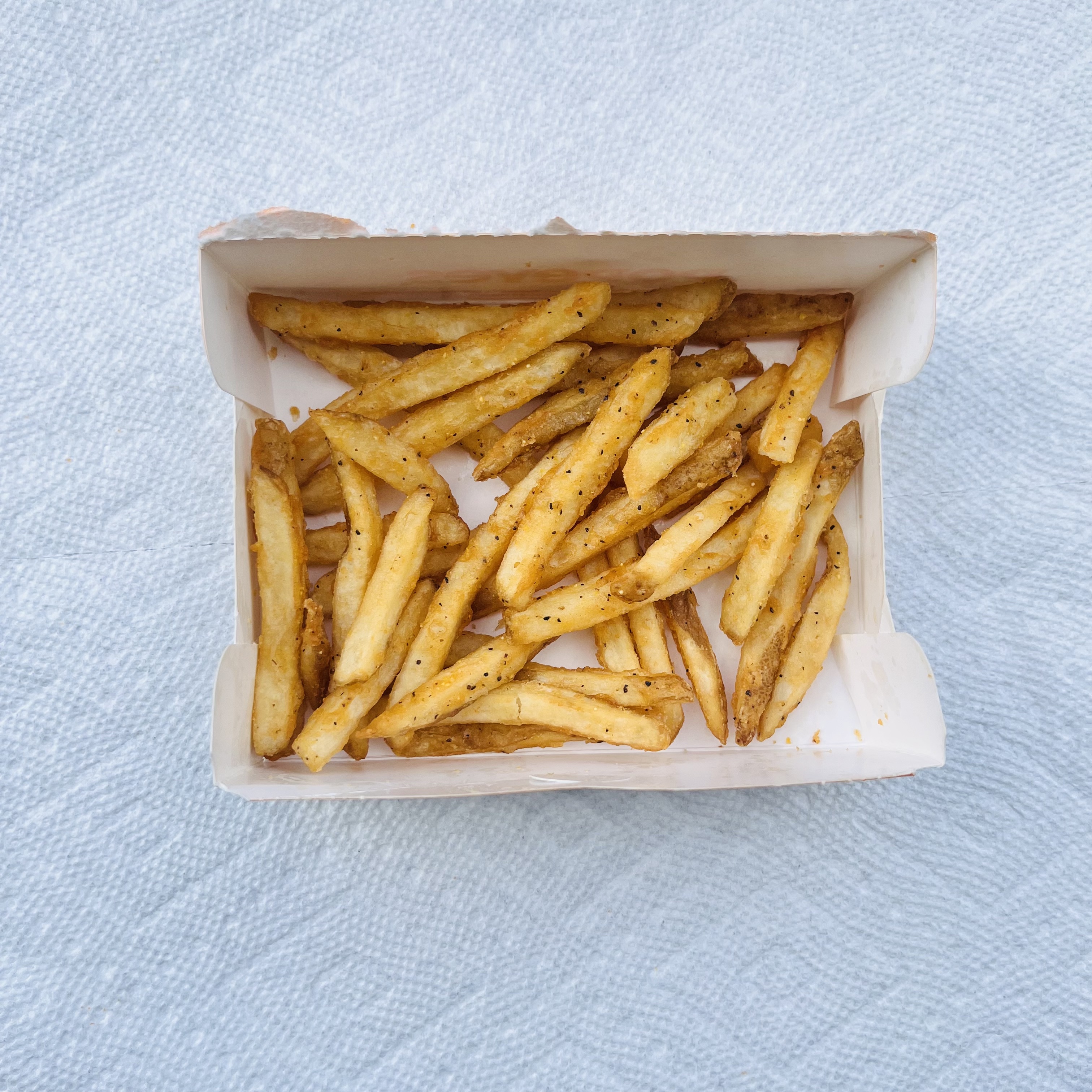 I have to say it was incredibly close between our number one and number two picks, but I have to give the top spot to Popeyes. I'm sure both JiB and Popeyes are using the cheapest oil they can find to fries these fries in, but Popeyes comes across as less greasy and puts the focus on where it matters, the seasoning. I'm getting garlic, black pepper, onion powder, and a smokey paprika top note that just makes these fries a bit more flavorful than the other four.
I'd say their weakest aspect is that they aren't very crispy, they're almost soft, but the flavor more than makes up for it. Is that because it's fried in the same oil as their chicken? Maybe, I'm not sure, but I do know that I couldn't stop eating these fries and that's the sign of a true winner.
The Bottom Line:
They're still not quite perfect but they're closer to perfection than our number two choice. While I wish the fries were crispier and provided a better mouthfeel, from a flavor perspective this was the clear winner. The big question is, how does this stack up to our number one choice from last week's tasting? We'll have to find out!
Find your nearest Popeyes here.