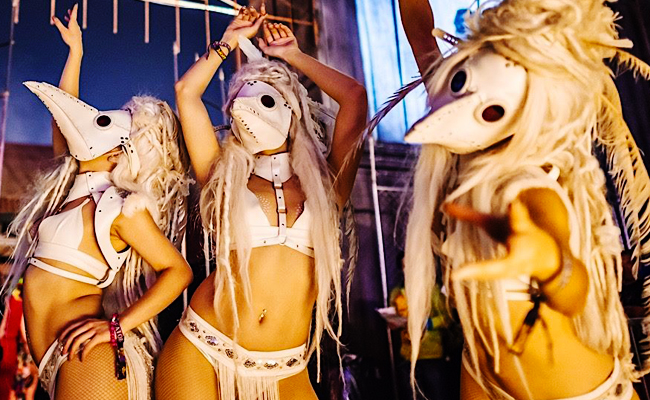 Of all the nights to party, all the nights to forget your inhibitions and let-the-f*ck-loose, Halloween reigns supreme. Costumes, masks, parties in every city — it's a recipe for insanity. Unfortunately, when the 31st falls mid-week the chances to party tend to wane like the autumn moon. Since Halloween is on a Wednesday this year, most of the big Halloween bashes are happening this weekend. That way you can spend the weekend getting dressed up and partying a little too much without killing the back half of your week with a wicked comedown.
The biggest question is: Where to party this weekend? If you want to go medium you can go to any bar in America, but if you want to go big you've got to head to where the masses are. Don't worry, we've got you covered on that count. Below is a list of some of the biggest, loudest, sexiest, and most drug-fueled Halloween extravaganzas happening around the country.
Pick a costume, test your molly, and get ready to purge party. One note: The desire to go all out for Halloween at this scope and scale is heavily weighted toward Los Angeles (where a high percentage of people who like dressing in costumes already live).
HauntedFest — Indianapolis, IN & Columbus, Ohio
HauntedFest is one of the biggest EDM festivals in the Midwest. The parties take place in huge expo hangars at Indianapolis' Pavilion at Pan Am and Ohio Expo Center's Lausche Building. With that much space, the EDM party draws throngs of costumed revelers for a pumping night of music and Halloween vibes.
The party starts October 26th (Friday) at nine PM and pulses deeeeeeeep into Saturday morning. Tickets start at $46.89.
Haunted Hearts by Desert Hearts — Los Angeles, CA
Desert Hearts throws some of the best techno, house, and EDM parties in the country. These are the parties of legend, led by legendary partiers. So it should come as no surprise that their LA Halloween bash is going to be crazy epic.
This year the party is going down at the huge The Belasco Theater in Los Angeles. It's also actually on Halloween this year, so maybe plan on taking a vacation or sick day on November 1st as this party isn't over until four AM. Tickets start at $45.00.