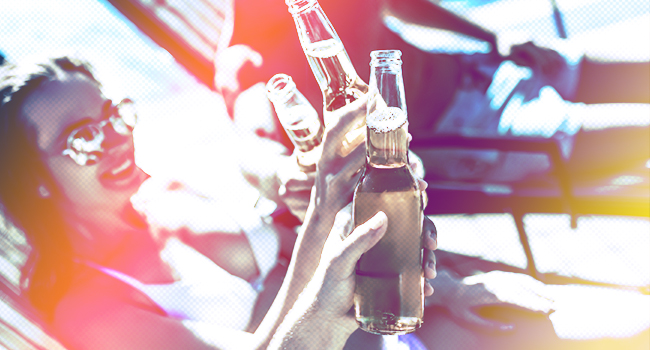 Well, folks, summer is officially winding down. But fret not dear beer lover, autumn is upon us and that means Oktoberfest, pumpkins, and nourishing beers that keep you warm in the face of an impending winter. And, hey, you never know, summer might just last another full month. Fingers crossed.
We've compiled a shortlist of some of the best beers being released this September. Some of them are easier to find and have larger distribution. Some of them you'll have to travel for and do a bit of sleuthing to uncover. A good beer is always worth the effort! Happy hunting!
MICHIGAN COPPER UGLY FACE — WATERMARK BREWING CO.
Watermark Brewing up in Michigan has a new release to sip as the dog days of summer wane. Their west coast style IPA clocks in at a robust seven percent ABV. It's a Hawaiian Fruit punch and pine resin balance with hints of peppercorn spice and citrus backing. It's a great beer to sip while watching the sun glimmer off one of the Great Lakes.
OKTOBERFEST — SIERRA NEVADA BREWING CO.
Sierra Nevada started a collaboration with Brauhaus Miltenberger in Germany for their Oktoberfest/Märzen lager. The beer is hopped with German cone hops and made in the very Bavarian style. Expect a deep amber hue with a nice mild hoppiness balanced with serious malty caramel sweetness and a backing of sweet bread yeast. This one will transport you straight to the Wies'n in Munich for Oktoberfest.
SUPERCRITICAL — LAGUNITAS BREWING COMPANY
This one is only available in California "for now" according to Lagunitas. It's fresh and may soon make waves in markets where cannabis has been legalized for recreational use. Until then, this IPA is a fascinating experiment in adding cannabis terpenes (oils) to ale. This gives the beer a super-charged dank hop funk that the hopheads will adore.
Admittedly, this is a bit of a novelty. But since cannabis and hops are closely related taxonomically, it makes sense to experiment with the plants' flowers.
TANGERINE EXPRESS IPA — STONE BREWING
This month brings Stone's classic IPA back to the world. This one has a very mild bitter hop that's more in the area of a pale ale than a classic hoppy IPA. The bitterness is sweetly balanced with a light malt. You'll get orange rind immediately on the nose, thanks to the tangerine puree used. Next, you'll get a big tropical fruit hit since it's literally brewed with pineapples. That's followed by distinct hints of grapefruit and blooming florals. If you're not quite ready to let go of summer yet, this is the beer for you.
JULIET — GOOSE ISLAND BREWING
https://www.instagram.com/p/BVoCxE_g73g/
Goose Island's American Wild Ale Juliet is a treat for sour beer lovers. The beer is aged in French oak (Robert Craig Cabernet Sauvignon specifically) with fifty pounds of fresh blackberries. This gives the beer a sweet edge to counterpoint the tartness achieved by adding Brettanomyces yeast strains. Expect a flush of funky barnyard, tart berries, and echoes of red grapes with oak tannins. These beers get released around September. But, if you can find a well-aged bottle, snag it and enjoy the sour bliss.
https://www.instagram.com/p/BBGqPsnAh87/
VOODOO RANGER ATOMIC PUMPKIN — NEW BELGIUM BREWING
New Belgium is going all in on autumn with their pumpkin ale. There's little to no hop bitterness here. What there is a punch to the face of Saigon cinnamon right up front. That's followed by the mellowing effects of the pumpkin fruit and sweet malt. There's an added dimension of chili spice that verges on the edge of tasting almost like an ancho chili hardcandy. The beer feels and tastes like a really high-end pumpkin pie turned up to eleven — it's just plain interesting to drink.
COLLABORATION No. 7 — BOULEVARD BREWING CO.
Over in Missouri, Boulevard is releasing their latest collaboration. This time we're being treated to a wine barrel aged lager. White wheat and corn meal is used to make the lager and then it's aged on French oak staves. This imparts a Reisling grape essence to the beer. Expect a sharp lager with nice hits of white wine grapes, subtle spice, and crisp lemon zest. There's a light wash of honey on the end that really turns this beer into something special.
MILK STOUT NITRO AMERICA'S STOUT — LEFT HAND BREWING CO.
It's always the season for a great milk stout. Left Hand puts out bottles and tall boys that pour a nitro'd stout straight into your glass for maximum creaminess. Expect a well-balanced edge of roasted coffee beans, cacao, vanilla beans, and brown sugar underpinned by a light touch of malt and hop.
It's like a plush chocolate milkshake dream in a glass of tasty stout. Who would dare skip that?