In much of the country, the weather has shifted into full-on fall. That means fireplace smoke is slowly replacing backyard barbecue smoke in our lives. That in turn means that this is a prime time for some ultra smoky peated single malt Scotch whisky. To celebrate the smoke, I'm conducting a double-blind taste test of some seriously good peated single malt Scotch whiskeys.
So what do I mean by "double-blind" here? Well, I have a big box that I throw peated single malt Scotch samples into. There are around about 30 in there. I had my very patient wife grab 10 samples at random, pour them, catalog them, and take the samples away with me out of the room. I had no idea what was poured when I sat down. And ho-boy, it was a roller coaster of flavors and emotions. Some of these peated malts were … let's just say "wildly bold."
Since I didn't know what I was tasting, you'll have to scroll down to find out which whiskeys made the cut and how they fared. I'll give you a hint, some major bottles that people clamour for did not do well. Intrigued? Let's dive in!
Also Read: The Top 5 UPROXX Scotch Whisky Posts of The Last Six Months
Part 1 — The Peated Scotch Whisky Double-Blind Tasting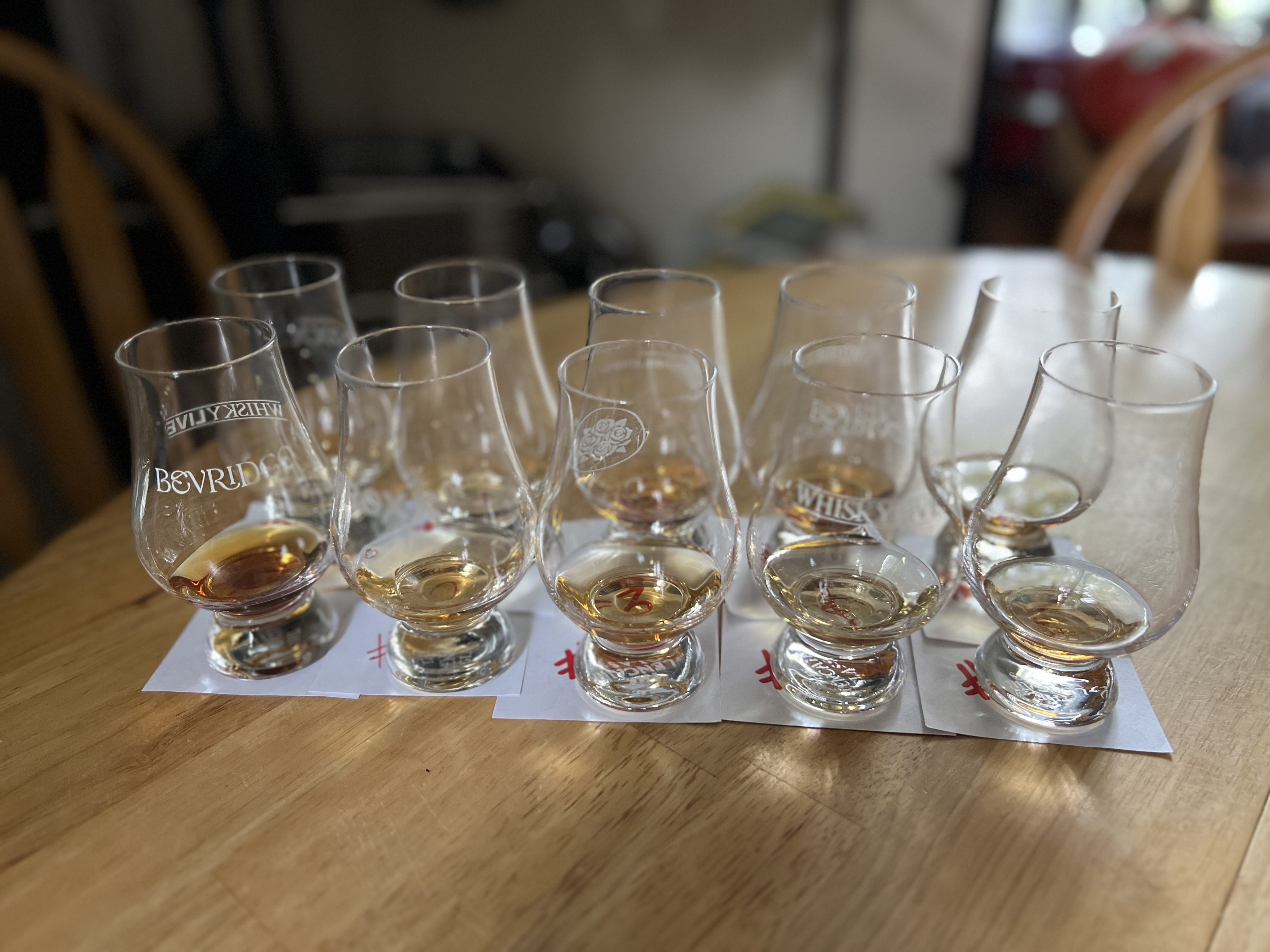 Taste 1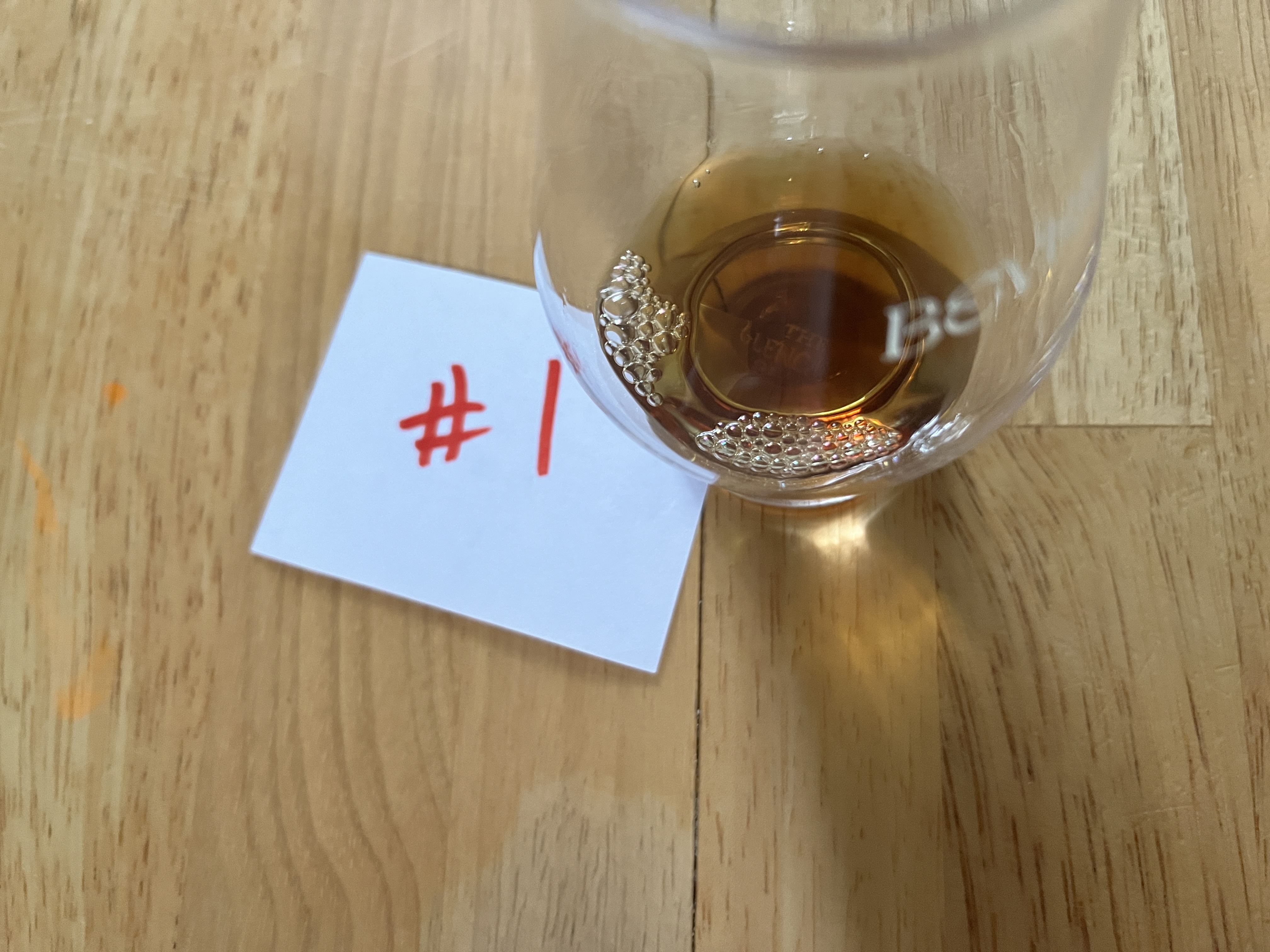 Tasting Notes:
Nose: There's a clear sense of deeply plummy yet lightly tart sherry on the nose with buttery toffee, old leather boots, and malted treacle biscuits next to blackberries soaked in brandy and floating in vanilla-laced cream with a hint of marzipan and pear.
Palate: Molasses-cut toffee opens the luxurious palate with a sense of stewed blackberry, cherry, and plum with a thick crumble laced with cinnamon and plenty of buttery brown sugar before roasted and candied nuts arrive with a sticky toffee pudding married to mince meat pie vibe.
Finish: Those candied nuts take on a salted dark chocolate aura as the spiced sherry sticky toffee pudding adds a hint of dry orange zest, plenty of nutmeg, and a dash of sweet smoldering oak tobacco on the silken finish.
Initial Thoughts:
Holy, f*ck! This is amazing.
Now, that said, I had to triple-check with my wife that this was peated (as I mentioned above, she's very patient). I got a tiny hint of smoke on the sweet oak at the end but nothing else. I was assured this was peated and carried on.
Taste 2
Tasting Notes:
Nose: Fresh ginger coins and green apple pulp dance on the nose with caramelized pear cut with orange zest and ground cinnamon that's all countered by a sense of old campfire coal that's still just smoldering and spitting tiny drops of rain.
Palate: Honey malt cakes dipped in orange syrup draw the palate toward heavy oak dipped in Nutella and caramel before the peat kicks in with massive amounts of bandages, seawater, and smoldering orchard barks.
Finish: The smoldering bark gets ashy on the finish with a real sense of the inside of a cold smoker that's smoked everything from pears to salmon to brisket before a lightly sea-salted dried pear comes in with a hint of brandy.
Initial Thoughts:
This is pretty damn good too. There's some real depth here and a lot of fatty smoky vibes that all work. It's a lot though.
Taste 3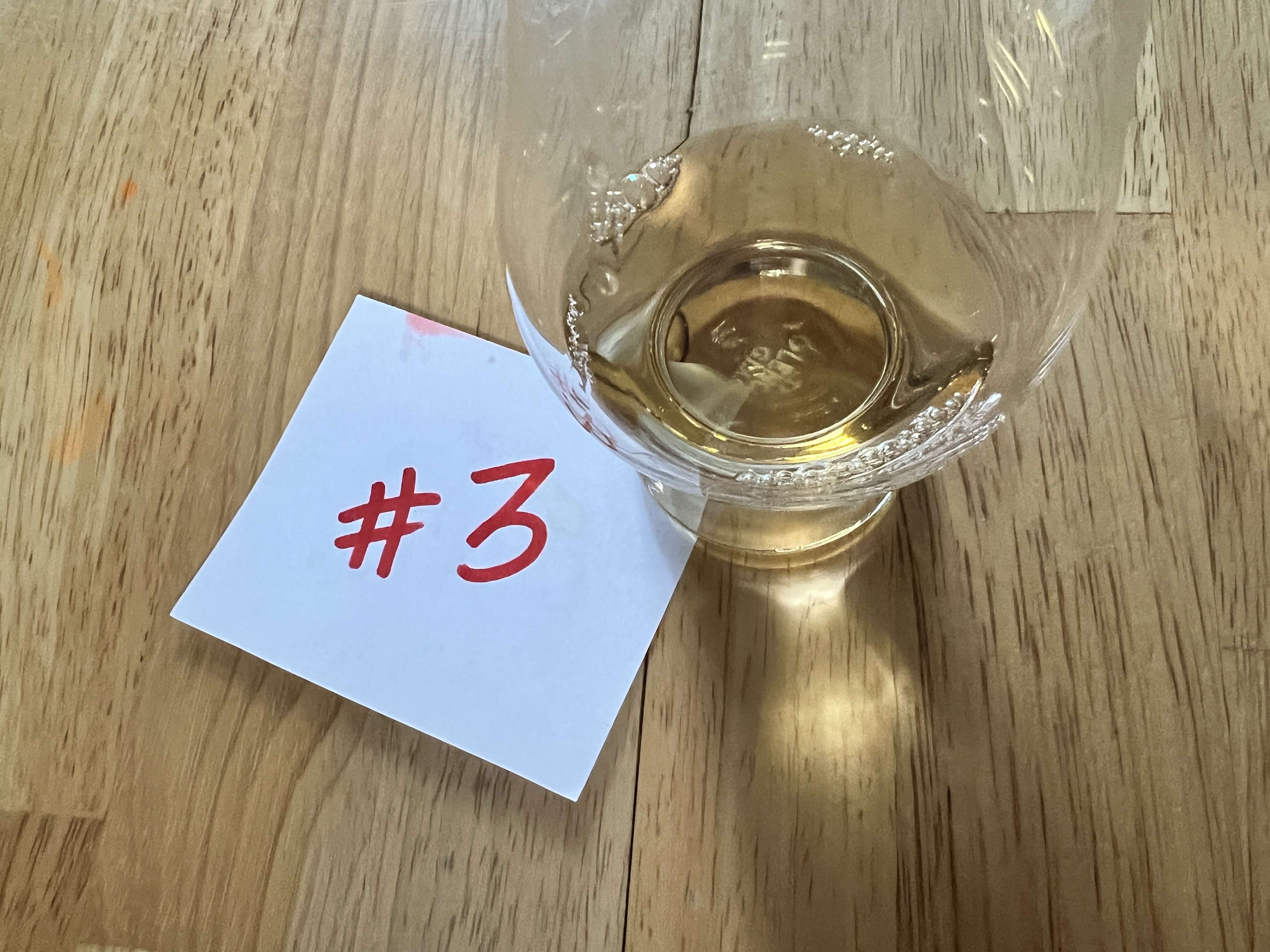 Tasting Notes:
Nose: The nose opens with a very Highland sense of floral honey next to soft minerality — kind of like walking on slate after the rain — before dark plums and figs mingle with caramel malts and a fleeting sense of smoked pears dipped in clove and anise syrup.
Palate: The palate follows that smoked pear toward old honey jars with plenty of crystallization and a faint hint of a rainy forest next to winter spice cakes full of fatty nuts and dried fruits with a note of bourbon vanilla and burnt orange lurking far in the background.
Finish: That burnt orange leads to more holiday spices with a creamy maltiness on the end that's pure silk as a whisper of that floral honey returns with a spiced maltiness.
Initial Thoughts:
I didn't get any smoke or peat on this one. Maybe it was there, but after the last pour, it was invisible. Still a great pour though. It's so light yet distinct.
Taste 4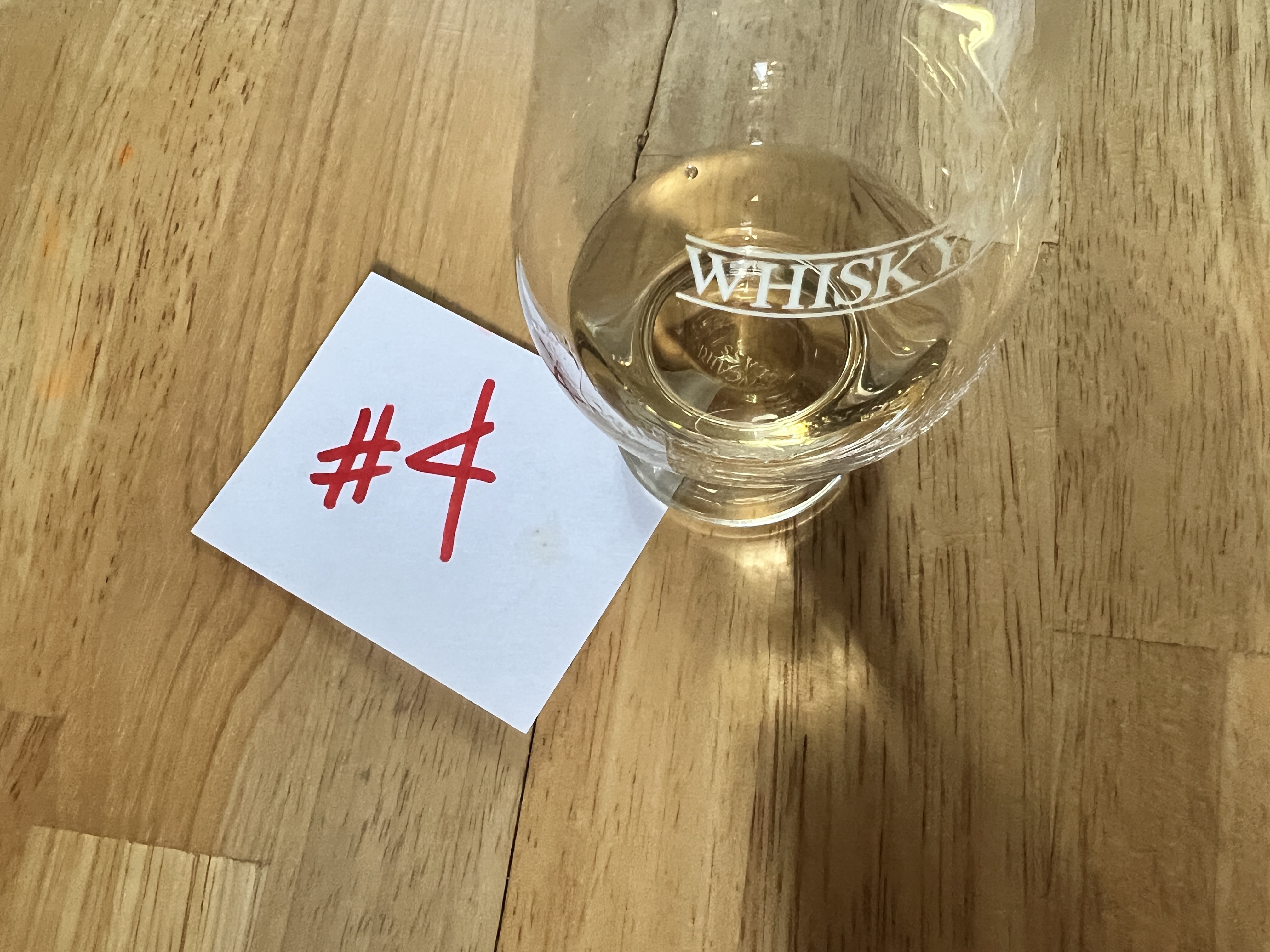 Tasting Notes:
Nose: The nose opens with a bold sense of fresh rubber bicycle tires that's hard to get past. Eventually, the sip reveals coconut cake, rich vanilla, soft buttery toffee, roasted almonds, and salted caramel all smoked next to a seaweed-fed fire as whispers of slow-smoked pork butt.
Palate: Smoked lemons preserved in salt open the palate toward vanilla buttercream cut with toffee and stewed pear, cinnamon bark, and clove before soft smoldering charcoal and burnt honeycombs veer the palate toward dark chocolate-covered espresso beans, floral honey, and eggnog spice.
Finish: That creamy eggnog spiciness mounts on the finish with saltwater-soaked applewood charcoal, nasturtiums, and a deep sense of old earthy peat that's part black soil, part dry smoldering seaweed, and part smoked fatty pork meat with a light sense of red berries lurking underneath.
Initial Thoughts:
Wow. This was almost a disaster. That rubbery nose was a lot to get past. Giving it time, it opened up into a very deep and sweet/fatty smoked whisky. But it took a lot of patience to find all of that.
Taste 5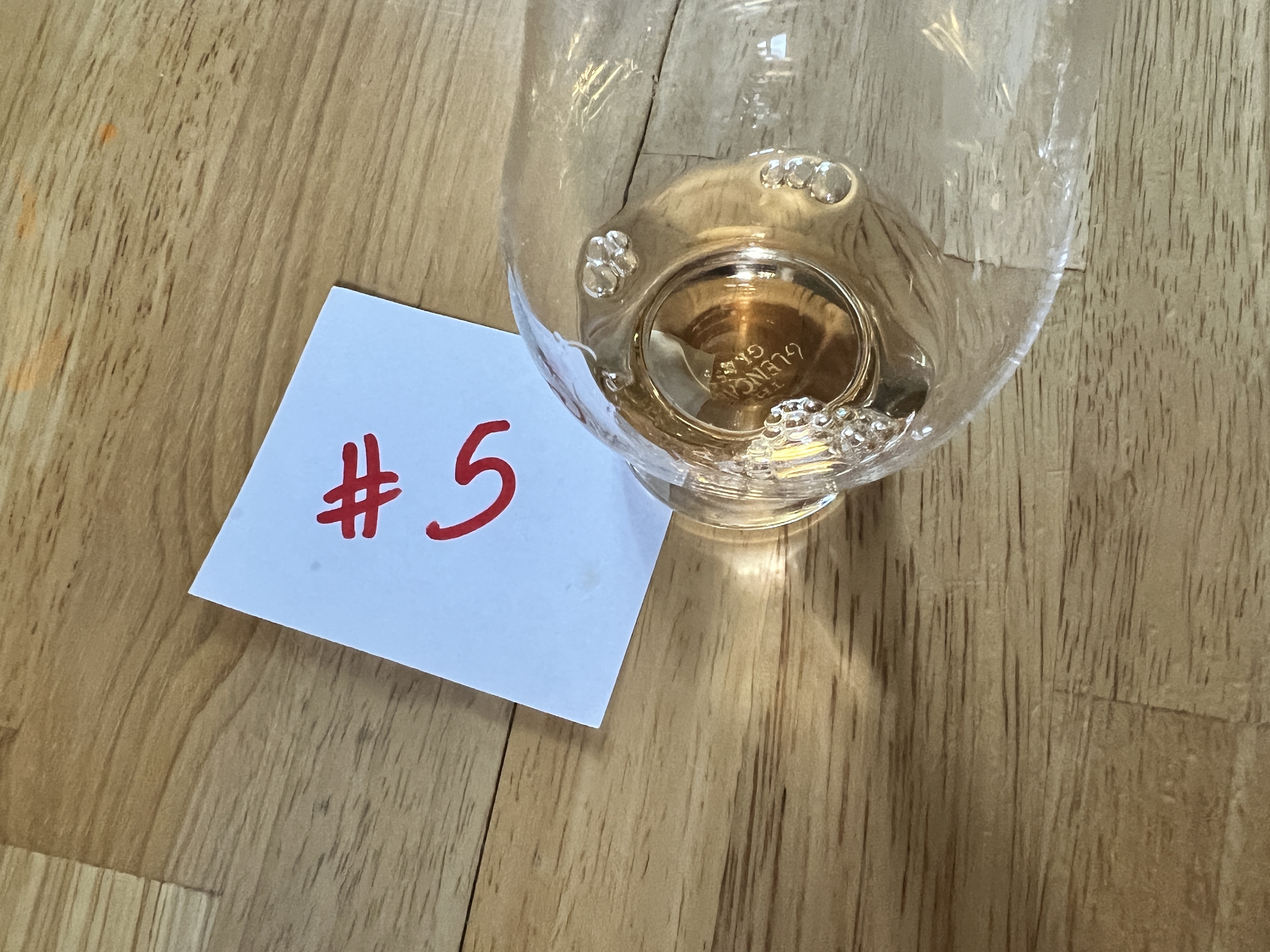 Tasting Notes:
Nose: The nose is all fresh yoga mats, more rubber, and more the tire section at an auto store before kind of hinting at green apples stewed with pepper and burnt winter spice barks, burnt oatmeal cookies, and a touch of ashy tobacco next to maybe some red fruit.
Palate: Charred oak and smoldering orchard barks drive the palate toward hard rubber and asphalt with a sense of burnt coffee beans, burnt pepper, and almost burnt rubber before soft notes of pear brandy and dry fruit cake arrive to calm things down.
Finish: Burning fall leaves and the crusty inside of a meat smoker drive the finish with a sense of fall fireplaces stoking up again after a long summer with a hint of tart red berry.
Initial Thoughts:
I had my wife pour this again. It was a lot and I really had a hard time finding anything redeeming about it. I often am able to see the value beyond my personal palate, but that's really hard here with all that burnt rubber and burnt everything.
It felt like this Simpsons moment but replace "doughnuts" with "peat"…
Taste 6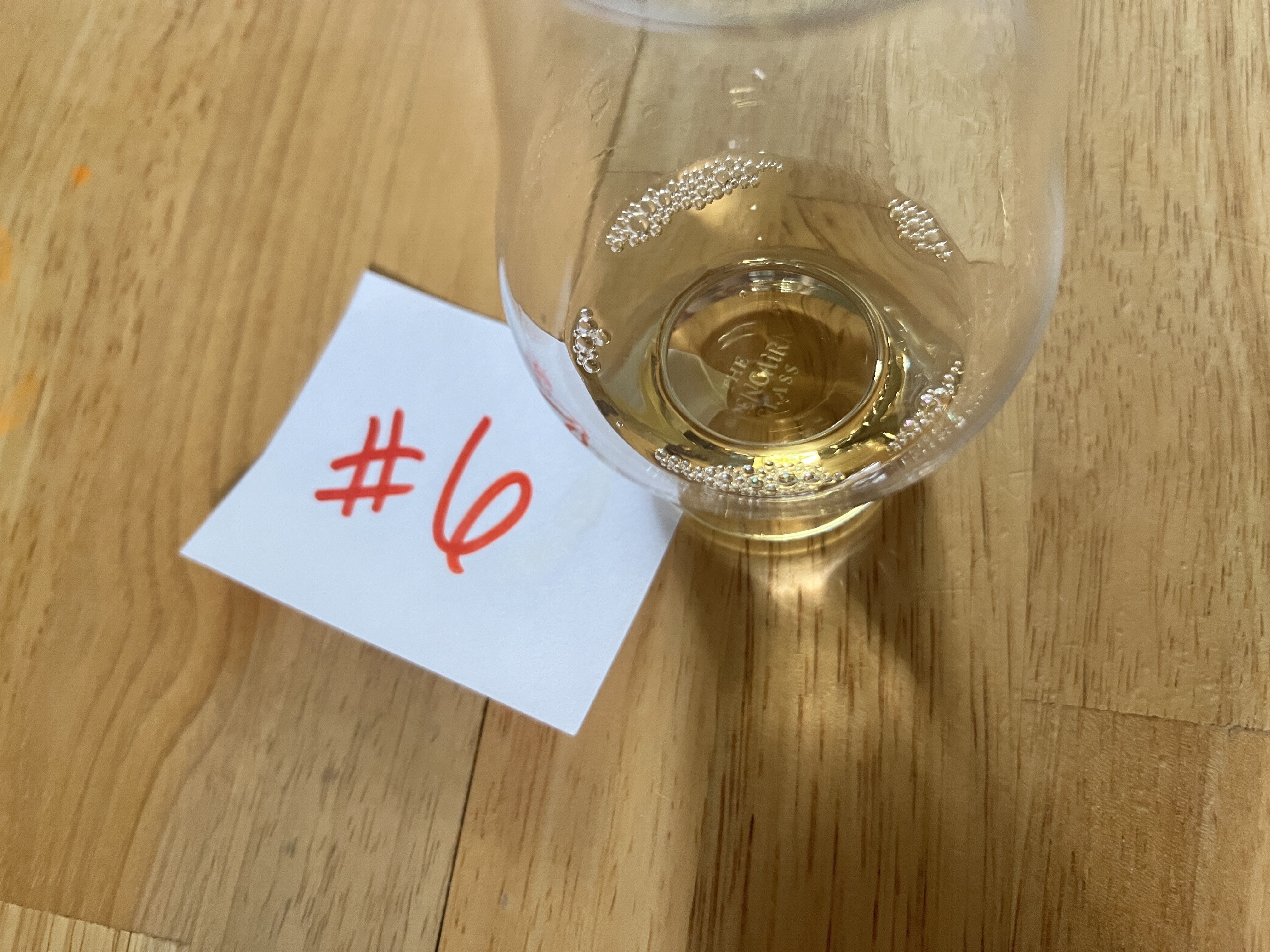 Tasting Notes:
Nose: Grilled and smoked tropical fruit — smoked mango, grilled pineapple, stewed papaya — open the nose toward saddle soap, fresh green chili pepper, and vibrant spearmint next to floral honey with a whisper of sea breeze.
Palate: The taste is luscious with a sense of fatty roasting herbs next to winter spice barks, fatty smoked bacon, powdery white pepper, and clove-studded oranges next to a sweet sense of oyster shells.
Finish: Floral honey and smoky buttercream meld on the finish with a sense of those smoked and grilled tropical fruits returing with a savory note of guava and lychee.
Initial Thoughts:
This is wildly different and tasty. All the smoke and peatiness is attached to sea salt and tropical fruit, which is enticing.
Taste 7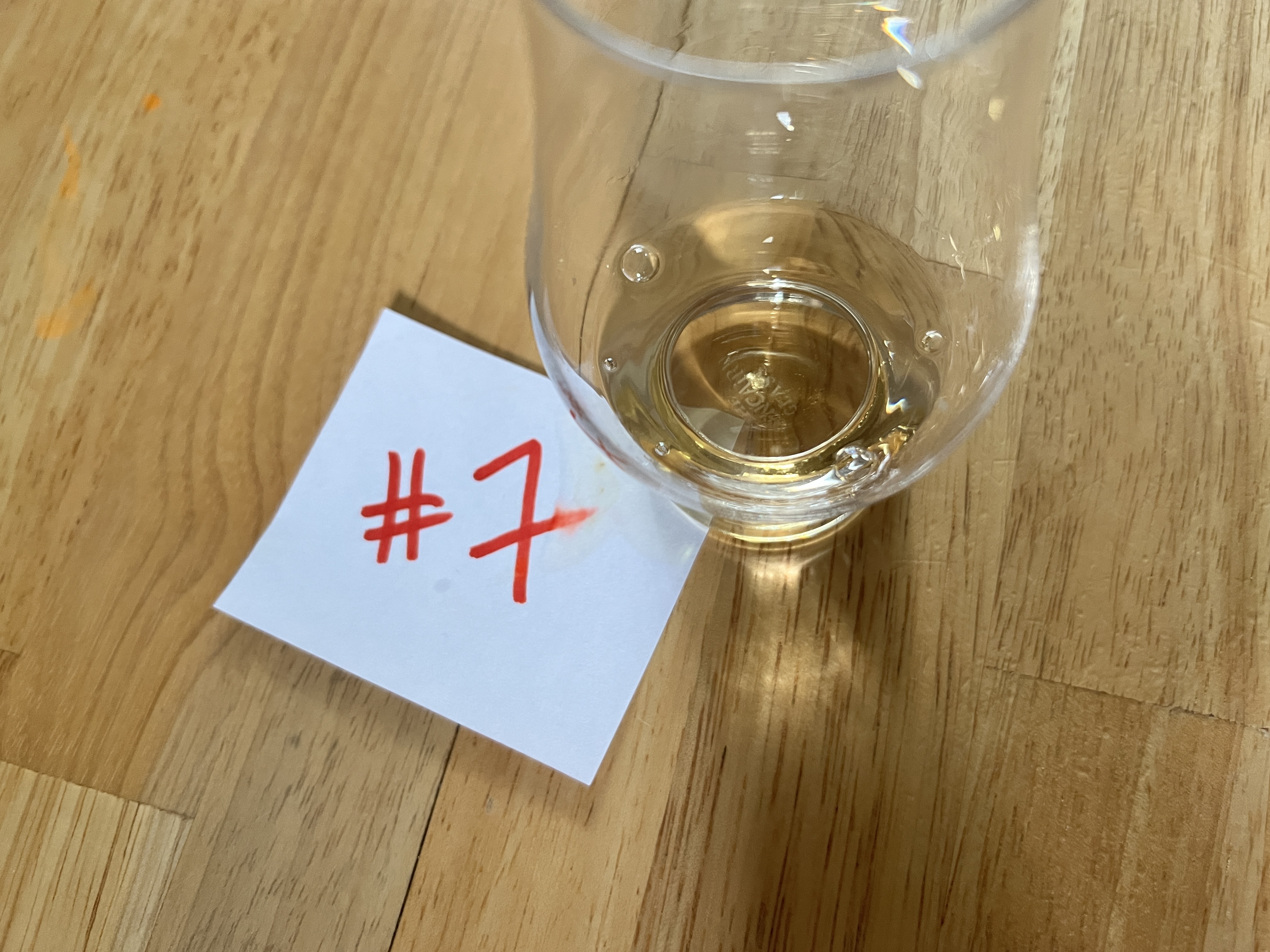 Tasting Notes:
Nose: The nose is so rubbery but eventually gives way to buttermilk biscuits covered in smoke apricot and pear with a smoked honey vibe next to candied orange and hints of butterscoth laced with vanilla.
Palate: Tannic oak drives the palate toward smoldering peat next to floral honey, malted vanilla cookies, and oatmeal raisin cookies next to creamy vanilla-laced toffee dipped in burnt dark chocolate.
Finish: Burnt and smoldering barley arrives on the finish with more rubberiness next to grain sugars, caramel, and bourbon vanilla.
Initial Thoughts:
This took forever to open up beyond the rubbery nose. Once opened up (with a lot of air and time), it was… fine.
Taste 8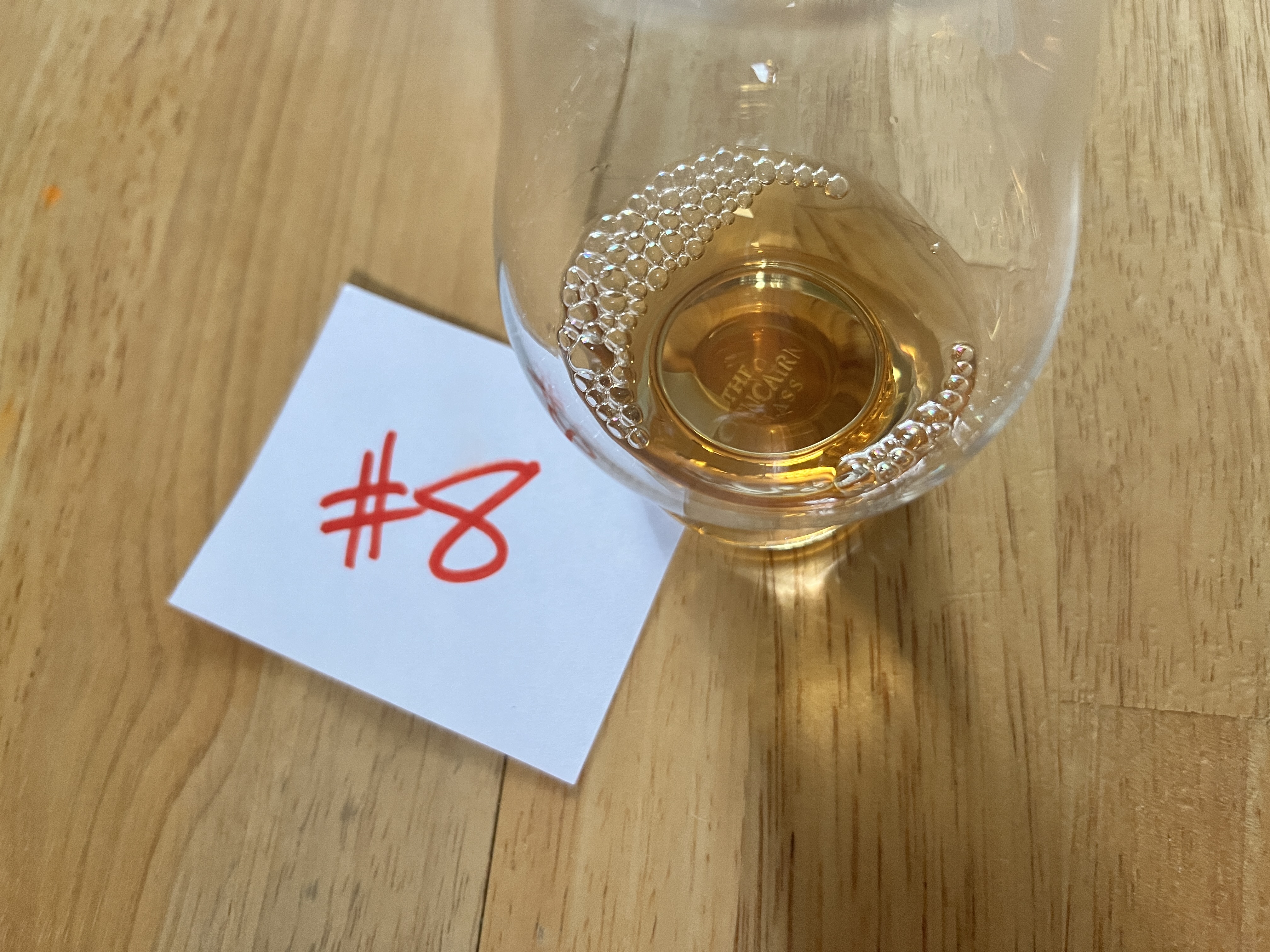 Tasting Notes:
Nose: Old pear and apple orchards mingle with singed vanilla pods, salted toffee, rum-raisin, and grapefruit pith next to smoked peach and melon over cinnamon bark dipped in seawater.
Palate: That grapefruit leads to burnt orange with a deep smoked plum, cherry, and apple vibe next to grilled peaches, toasted coconut, and burning wild sage with a slight sense of moist marzipan and apricot tobacco.
Finish: Apricot jamminess and chewy malty spice drive the finish toward smoldering coals in a barbecue and a bit more of that smudging sage.
Initial Thoughts:
This is delightfully subtle and full of great peated fruit character.
Taste 9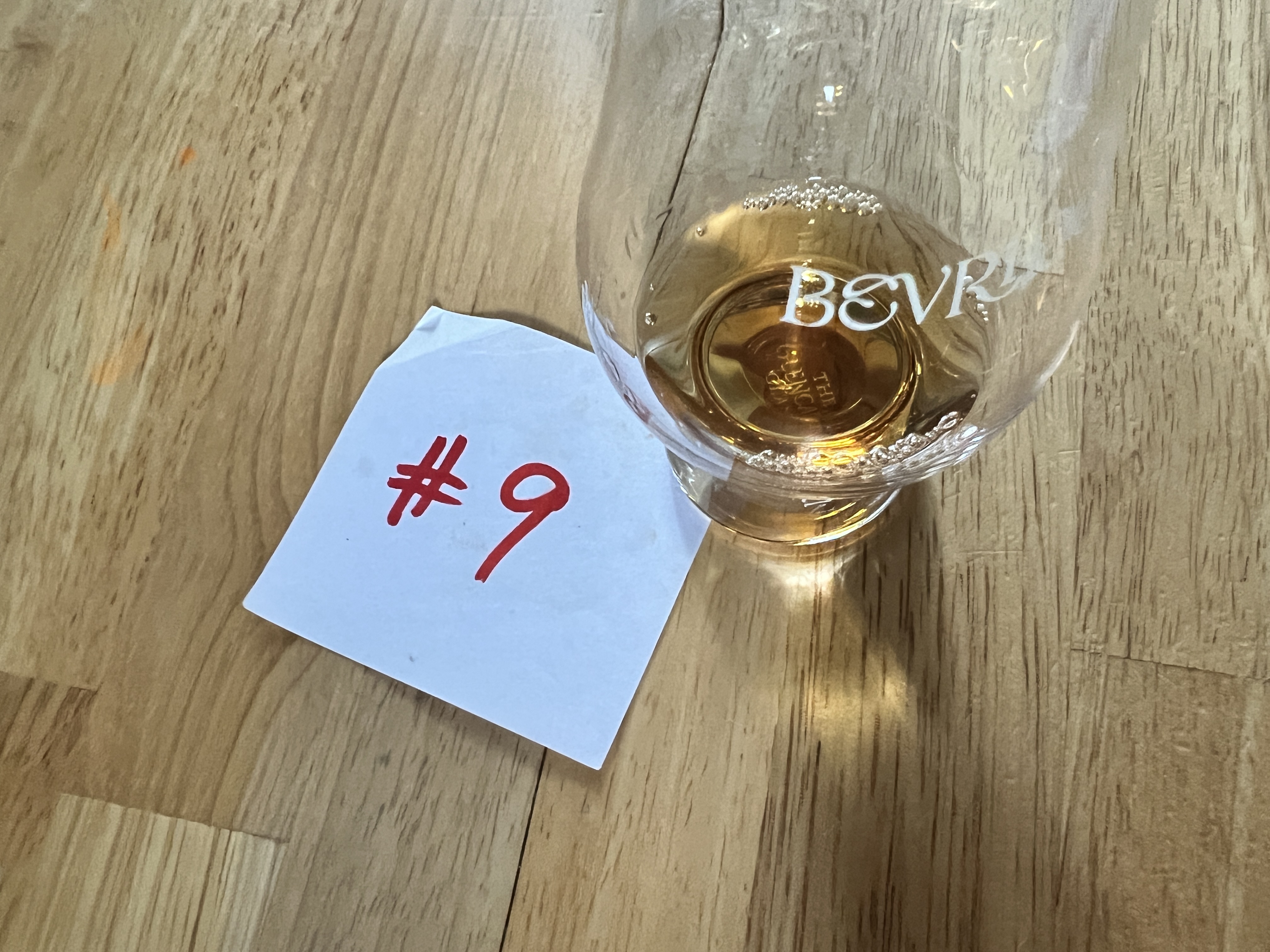 Tasting Notes:
Nose: You're drawn in with hints of honeyed smokiness on a cold fall day, salted caramel apples, mild hints of rich and real vanilla, and smoldering coffee grounds with touches of chocolate nuttiness before a whisper of dry cranberry arrives.
Palate: The taste ties the honey to a soft oakiness next to vanilla chocolate coffee, seaside salted taffy, and a touch of fish oil that leads back to smoldering sage, old oak staves, and whisper of salted dried plums.
Finish: The end is very long and pure velvet on the tongue as the sweet oak fades towards a sweet smokiness, with a hint of salty roasted almonds and burnt vanilla husks.
Initial Thoughts:
This is just freaking delicious. It's so well-balanced while providing a deep and fun profile.
Taste 10
Tasting Notes:
Nose: The nose runs deep on this whisky with mild hints of beachside campfire smoke whispering in the background as hints of red fruit, wet driftwood, and green peppercorns draw you in.
Palate: The palate embraces the red berries with a slight tartness next to the sweetness as the peat remains dry and distant and tied to the brine of the sea with an almost oyster liquor softness.
Finish: The finish lingers for just the right amount of time as sweet berries and dry peat lead towards soft dark cacao powder with a tiny note of vanilla and one last spray from the sea.
Initial Thoughts:
This is a dream to sip (especially on this exhausting panel of whiskeys).
Part 2 — The Peated Scotch Whisky Ranking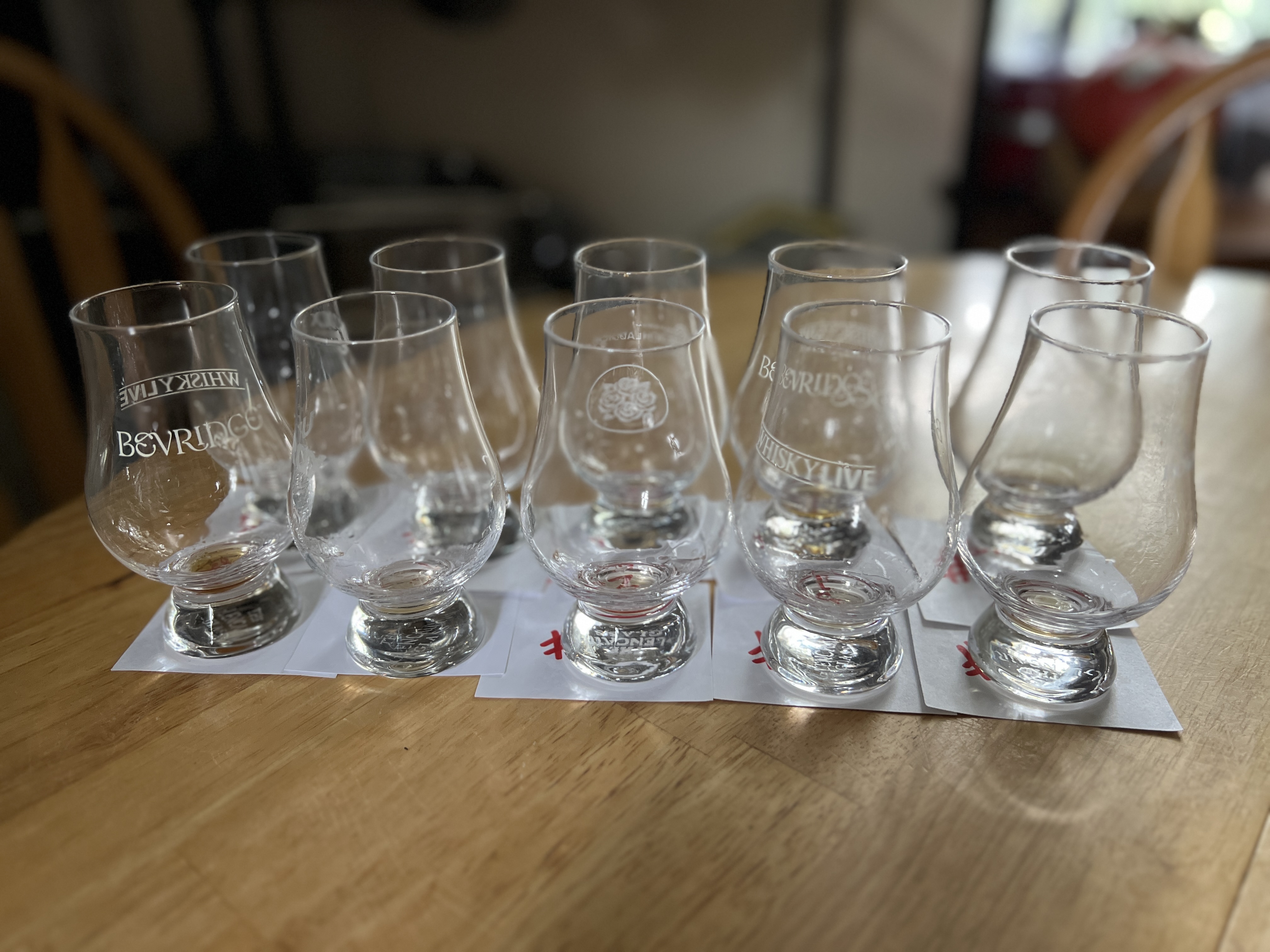 10. Octomore Islay Single Malt Scotch Whisky Super Heavily Peated 14.2 Edition Aged 5 Years — Taste 5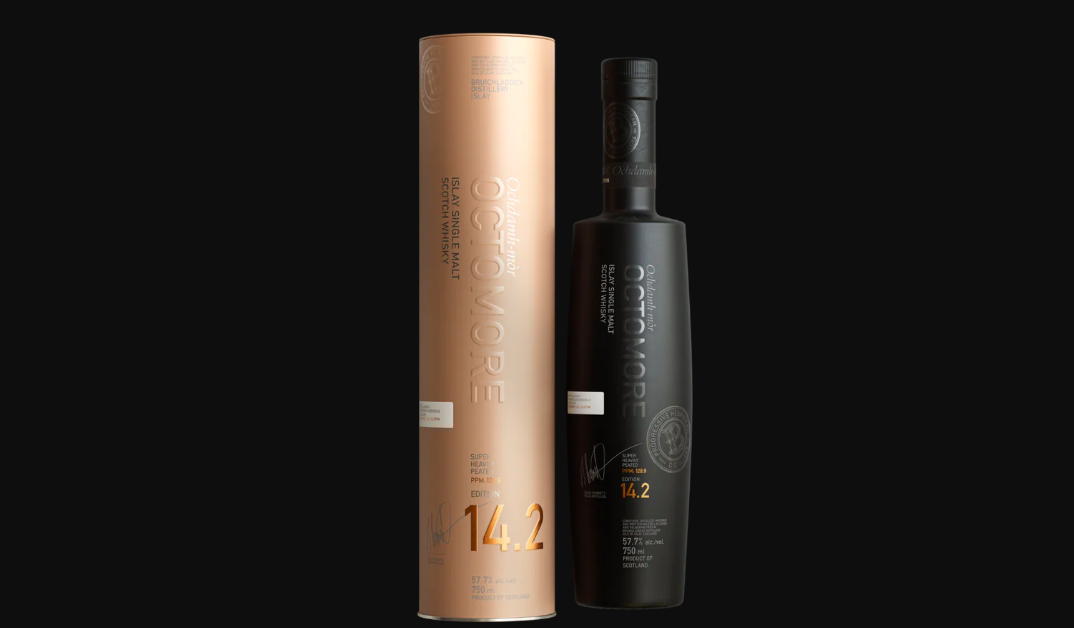 ABV: 57.7%
Average Price: $259
The Whisky:
This 100% Scottish barley Octomore is malted to an extremely high phenol level (128.9 ppm). The whisky is aged in a combination of Oloroso sherry and Amarone wine casks from Spain and Italy. After batching, the whisky is then re-barrelled in French oak for another rest before cask-strength bottling.
Bottom Line:
The rubberiness of this one was just too much to get past. I find it really hard to believe that anyone would honestly prefer sipping on a whisky that presents like licking out a Traeger Grill with a side of rubber tire over, say, sipping on something that tastes like pear and honey.
9. Octomore Islay Single Malt Scotch Whisky Super Heavily Peated 14.3 Edition Aged 5 Years — Taste 7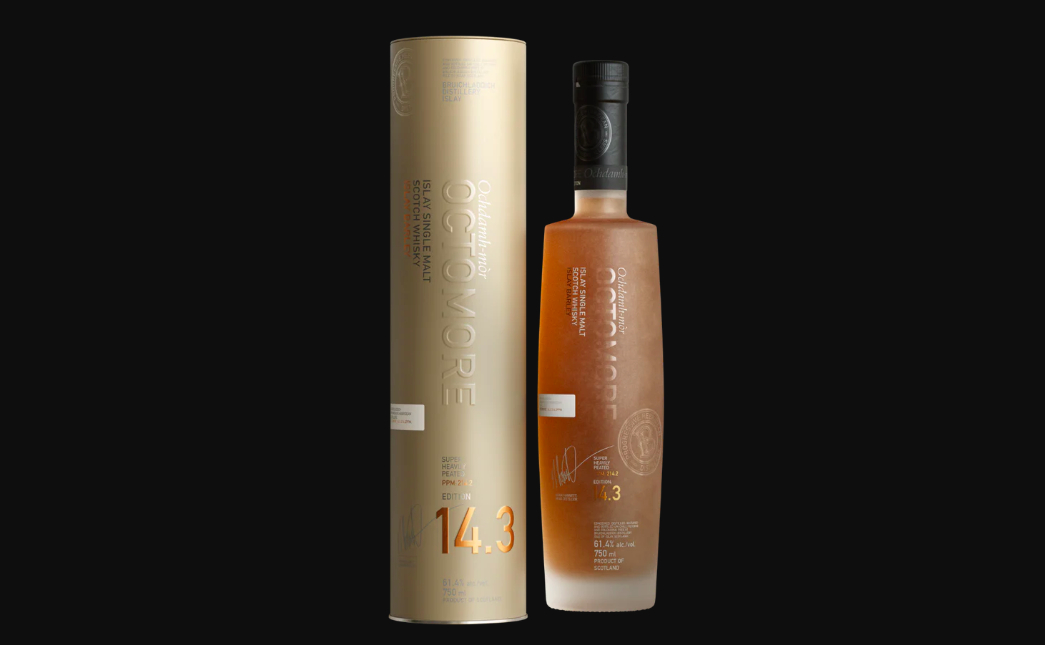 ABV: 61.4%
Average Price: $299
The Whisky:
This new whisky from Bruichladdich is made with barley grown and malted on Islay. The whisky is then rested in first-fill ex-bourbon casks and second-fill wine casks for at least five years before vatting and bottling as-is.
Bottom Line:
There was nothing subtle about this pour (and that has its place). But wow, you really had to squint to see the value here. If you're a diehard peat monster fan, then I guess knock yourself out.
8. Dalwhinnie Highland Single Malt Scotch Whisky Distillers Edition 2023 — Taste 3
ABV: 43%
Average Price: $129
The Whisky:
The Dalwhinnie is a tiny distillery that whisky nerds love, and for good reason — they make amazing whisky. This yearly edition of the iconic peated malt is double cask matured with Port wine cask before batching, proofing, and bottling.
Bottom Line:
This was on the other end of the spectrum. This is a very nice and subtle whisky with a great overall profile. I wouldn't in a million years thought it was peated though. So if you're looking for a really nice classic malt (with no smoke), get this.
7. Octomore Islay Single Malt Scotch Whisky Super Heavily Peated 14.1 Edition Aged 5 Years — Taste 4
ABV: 59.6%
Average Price: $135
The Whisky:
The 14.1 Edition of Ocotmore is made with 100% Scottish-grown Concerto barley that was heavily peated during the malting process. The barley was fermented and distilled in 2017 and left in the barrel to age — in ex-bourbon casks — next to the sea on Islay until 2023 when it was batched and bottled 100% as-is.
Bottom Line:
It's amazing how much difference the cask makes in these Octomore editions. The bourbon cask in this edition adds the much-needed sugars to help calm that rubbery peat down (barely). This is still a very advanced peated Scotch but it does deliver a varied profile beyond the burnt rubbery peat — if you take your time with it. Consider yourself warned.
6. Laphroaig Islay Single Malt Scotch Whisky Càirdeas 2023 White Port & Madeira Casks — Taste 2
ABV: 52.3%
Average Price: $112
The Whisky:
The new Càirdeas from Lahroaig has arrived. This whisky was aged right by the sea in Islay in White Port and Madeira casks until just right. Then the whisky was vatted and bottled at cask strength.
Bottom Line:
This had a lot going on and it could be confusing if you're in a rush. If you take your time, you'll be rewarded with real depth and varied tastes that all create a larger whole than the individual parts. This is a tasty one.
5. Ardbeg Islay Single Malt Scotch Whisky Traigh Bhan Batch 5 19 Years Old — Taste 6
ABV: 46.2%
Average Price: $316
The Whisky:
This year's Ardbeg Traigh Bhan was bottled during the most humid time on Islay. The barrels were picked specifically to highlight tropical notes from 19-year-old barrels from the seaside distillery. A little water was added after vatting for this bottling.
Bottom Line:
This was pretty nice. The tropical fruits really worked with the smoked vibes. I kind of want to try this in a tropical cocktail with a touch of spice and some citrus.
4. Bruichladdich Port Charlotte Heavily Peated Islay Barley 2014 Islay Single Malt Scotch Whisky — Taste 8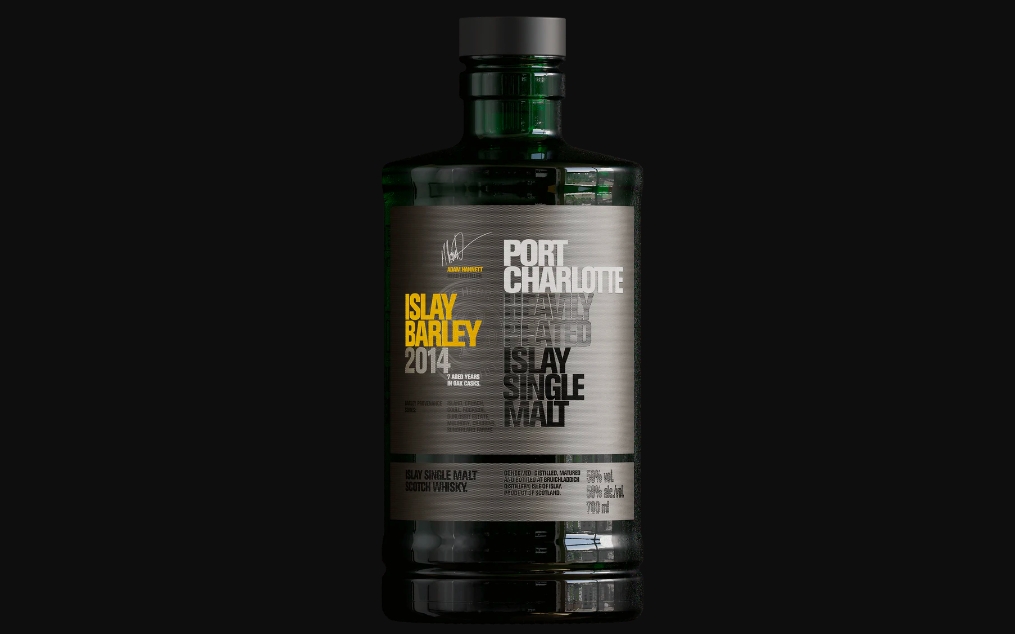 ABV: 50%
Average Price: $99
The Whisky:
This brand-new release from Bruichladdich is all about Islay and local malt. The mash bill (recipe) is hewn from 100% Islay Concerto and Propino barley malts (grown in 2013) that are heavily peated. In 2014, the whisky was made and filled into a first-fill bourbon cask (84% of the final blend), second-fill new oak (8% of the final blend), and second-fill Bordeaux wine casks (8% of the final blend). After seven years, those barrels were vatted and just proofed with local water for bottling.
Bottom Line:
This is damn good heavily peated whisky. The burnt earhty peatiness is there but it's always attached to other notes that help it shine. Overall, I'd try this over a big rock at a bar before committing.
3. Lagavulin Islay Single Malt Scotch Whisky Distillers Edition 2023 — Taste 9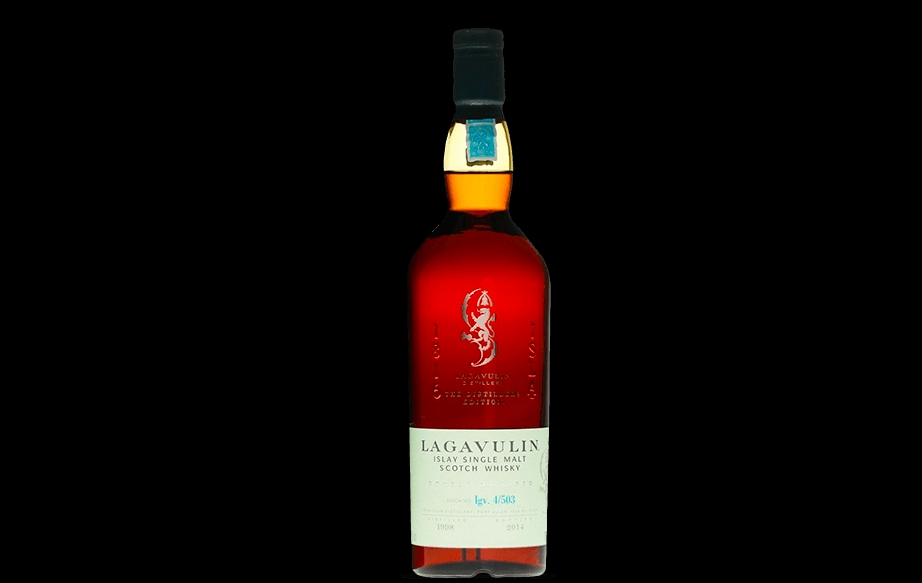 ABV: 43%
Average Price: $115
The Whisky:
2023's Distillers Edition is a prime example of the heights Lagavulin can reach. The whisky was aged for 15 years in the core Lagavulin barrels (ex-bourbon and ex-sherry) and then finished for around six months in Pedro Ximénez sherry casks that were specifically made and held specific sherry before the whisky was loaded into the barrels. The result is a 15-year-old Lagavulin that'll help you fall in love with the brand and style.
Bottom Line:
This is a nuanced and delicous pour of whisky. Try it neat first and then take your time with touches of water or ice to really let it open up in the glass.
2. Talisker Island Single Malt Scotch Whisky Distillers Edition 2023 — Taste 10
ABV: 45.8%
Average Price: $113
The Whisky:
The 2023 Distillers Edition is a classic Talisker that's aged by the sea and finished for six months in Amoroso sherry casks. The whisky was distilled in 2012 and bottled at 10 years old. It was then finished in another Amoroso sherry cask, making it "double cask" matured.
Bottom Line:
This was spectacular. The depth and softness of this pour really helped this shine so brightly on this panel. The soft smoked orchard fruits next to the smoky seaside campfires just hit right from top to bottom. Buy a case of this stuff.
1. The Duncan Taylor Islay Single Malt Scotch Whisky 1983 Aged 40 Years Distilled At Port Ellen Distillery — Taste 1
ABV: 52.4%
Average Price: $7,300
The Whisky:
This special one-off bottling from The Duncan Taylor is from a 40-year-old barrel of whisky from one of the last batches produced at the Port Ellen Distillery on Islay (which has reopened yet again). The whisky was produced and barreled back in March of 1983 and was left alone for all those 40 years. Finally, in 2023, The Duncan Taylor team bottled the barrel 100% as-is at cask strength, yielding 209 bottles.
Bottom Line:
This is Christmas in a glass. It's delectable, nuanced, deep, and delightful. Yes, the peat was barely there — that's to be expected after four decades of aging — but what was there melded so well with the overall profile that it just worked.
This is memorable and second to none.
Part 3 — Final Thoughts on the Peated Single Malt Scotch Whisky
I know, I know. The winner was a nearly impossible to get bottle of Scotch whisky. I don't care. It is beyond reproach.
That aside, the Talisker, Lagavulin and Port Charlotte are all winners too. I'd focus on the latter if you're a deep peat head and want the boldness. The other two are silky and nuanced with a subtle peatiness. Both offer greatness in the glass in their own ways. Re-read my tastings notes and find your path.