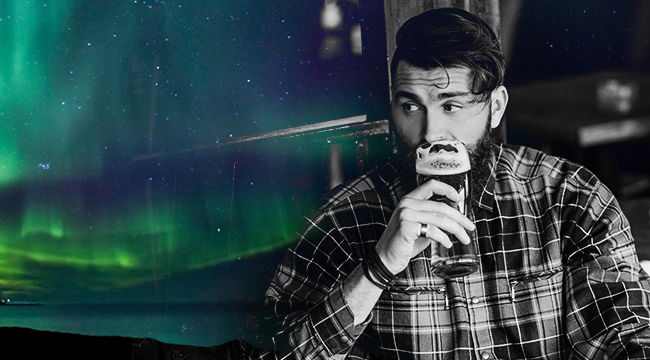 It's cold up in Alaska right now. That shouldn't stop you from taking a trip up to the tundra. The flights are cheap and the bars are open for business. If you do make it up that way this winter (or any other time of year), you'll find a lot of great beer — with Anchorage at the epicenter of Alaska's beer scene.
The below ten options cover a wide-breadth of classic micro-breweries, pizza joints, and growler bars. Everything is bigger and stronger in Alaska and that shines through in everything from the beer to the burgers. The best part of the Alaskan beer scene is the accessibility. This isn't really a place for beer snobs. It's a scene for beer fans of every walk of life. Expect good times, convivial brew heads, and plenty of comfort food as you take a deep dive into Anchorage's awesome beer scene.
It's worth noting, Alaska has a few draconian laws when it comes to alcohol consumption. That means a lot of the brewery taprooms close around eight PM, or have limited hours. It also means some of the breweries will only be able to serve 36 ounces of beer in-house (but five gallons for takeaway). Keep that restriction in mind when touring the city's breweries.
Anchorage Brewing Tap Room
Anchorage Brewing Company's Tap Room is the perfect place to introduce any weary beer traveler to the taste of Alaskan craft. The taproom sits right in the brewery, next to huge barrels of beer. There's an almost cathedral-esque feel to the place. Beer is made and loved here.
The taproom generally has ten brews on offer. They range between seasonal hits, standards of the brewery, and experimental brews that'll raise an eyebrow or two. There are eleven bottles available, along with growler fills in case you want to take some home. Spoiler: You'll want to take some home. This is also a great spot to strike up a conversation with the brewery staff and locals to get a little insider information about the scene.

Bear Tooth Theatre Pub & Grill
The Bear Tooth Grill and the attached Bear Tooth Theatre Pub are Anchorage institutions. The grill offers hefty comfort foods in a bar/diner setting. The Theatre Pub offers you a chance to catch a second run or classic movies while you drink pitchers of delicious local brews.
The bar and theatre booth highlight Broken Tooth Brewing, a local, heavy-hitting craft brewery. The Theatre Pub has 12 of their beers on tap, giving a wide selection from light lagers to funky berry-forward sours and all the ales in between. Grab some tacos and a pitcher and head inside for a great, beer-soaked movie night.
La Bodega
A trip to the growler bar at La Bodega is a must when you're in Anchorage. The liquor store has a great selection of wine and spirits but it's really the beer that everyone flocks to this place for.
The growler bar at their main location on Benson Blvd. has 12 beer taps that feature the best beers from around Alaska, the U.S., and a couple of European classics thrown in for good measure. You can spend a little time tasting beers before committing to a whole growler to take back to the hotel, which will give you chance to talk through the beer and the scene with locals. Then there's the ridiculous selection of cans and bottles to choose from. This is a beer paradise.
49th State Brewing Co.
https://www.instagram.com/p/BqWC4ZGhUih/
49th State Brewing Co. is another must-visit in Anchorage (there's also a location up in Denali). This is where great local craft meets tasty local Alaskan food in a fun setting. This is the sort of place where time will slip away as beer after beer goes down and people fill in for good times.
The brewpub in Anchorage pours eight signature brews alongside another eleven rotating beers and "hibernator" pours. The beers at 49th lean heavily towards local ingredients that are both sustainable and seasonal. You're going to find a lot of inventive beers, too, which is always fun. Their beer is the perfect pairing for the local Alaska-centric (think elk, halibut, king crab, yak, salmon) menu.
Cafe Amsterdam
Cafe Amsterdam is all about diner vibes combined with a killer beer list. This place is chill. It's also a brunch spot, so don't rock up expecting to party the night away. This is the joint you roll into still dewy-eyed, order a dope plate of eggs benny, and start hitting the best of the best when it comes to beer. You'll leave ready to take on the world.
The beer list starts out very innocuously. There's a small tap list with local craft favs like Alaska and Midnight Sun. Then you hit the bottle list section of the menu and things get crazy good. The list is a wonderfully selected trip through Belgium, Germany, the UK, and the Czech Republic. That's all before you get to their international seasonal selection of bottles which, right now, features an excellent range of winter beers. This is where you breakfast in Anchorage if you love beer, full stop.

King Street Brewing Co. Tap Room
King Street Brewing Co. is killing the game when it comes to classic and seasonal brews with an Alaskan flare. This is a brewery experience where you can hang with the brewers and local beer-lovers while you sample great suds. It's intimate, local, and welcoming.
The brewery taproom has six beers on tap. Each one is a classic style, ranging from pale ales to pilsners to stouts to IPAs. There are also three rotating taps, which highlight whatever seasonal brews the brewers are cooking up at the moment. Expect local and seasonal flavors executed with mastery.
Food trucks tend to park up outside the brewery in case you get hungry after sampling all the beer.
Humpy's Great Alaskan Alehouse
Humpy's has a great dive bar feel to it. This is the sort of place you walk into and don't walk out of for a long, long time. It's also the sort of place you leave with new friends in tow. The bar does a good selection of comfort foods from Alaska cod tacos to salmon chowder to classic bar burgers. That's all to say: The perfect drinkin' food.
The tap list is astounding. You're going to be staring down 50+ taps at Humpy's. The selection covers the best of the best from the local scene and then peppers in great beer from the West Coast and the wider U.S. craft scene. This is the perfect place to get a little lost as you take a deep dive into Alaskan brews.
Midnight Sun Brewing Co. Loft
Midnight Sun Brewing like to lean into the inventive side of craft. Their beers have a solid foundation in the European classics with a keen eye on where the screws can be tightened to make something unique. The Loft, which is above the brewing house, is a great spot to post up in around lunchtime for a quick nosh and a sampler of the good stuff.
The brewery taproom offers 16 beers on tap (and two in-house sodas). The best bet here is to grab a flight so that you don't get cut off after just three beers (don't forget that pesky 36-ounce limit). From there, find a beer you love, indulge, then take a few bottles home for further enjoyment.
Resolution Brewing Company
Resolution is small but can't-miss Anchorage taproom. The small bar and drinking area is right in the middle of the brewing action. Don't be surprised if the brewmaster is the one pouring your beers. This place is personal and offers a great sense of beer community to anyone who walks in.
There are eight taps running. They feature the beautiful brews that are ready right now. So expect big-hitting seasonals to dominate. There's also a very nice selection of specialty bottles available. This is the perfect beer to make some space for in your suitcase. It's unique, carefully crafted, and goddamn delicious.

Moose's Tooth Pub & Pizzeria
Moose's Tooth is the best joint for pizza in Alaska. The pub and pizzeria is basically the main taproom for Broken Tooth Brewing Co. — the other taprooms being the Bear Tooth spots mentioned above. For us, there's nowhere better to end a trip to Anchorage than with amazing pizza and equally awesome beer.
There are 24 Broken Tooth beers on tap at the pizzeria. The selection gives you a chance to keep it classic or go a little wild with inventive and delicious seasonal and experimental beers while you nosh on a pie. It's your call. Whichever path you choose, it'll be delicious.