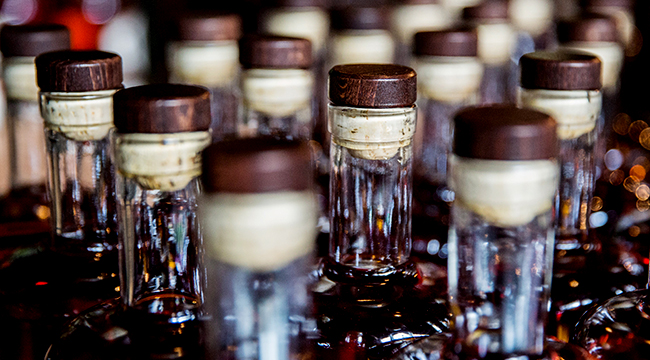 Grab hold of lighter, summery spirits while you can and don't let go until the bottle is empty. That's what we're going to do. We're not even close to ready for summer '19 to be over. That's why we're using these last few weeks to get the most out of our favorite tequilas, vodka, gins, and rums (aged and un-aged). We're going to sip on negronis, gin & tonics, and Tiki-style drinks like they're going out of style, which they kind of are… for a few seasons.
To fight the inexorable march of time, let's agree to squeeze every last drop of distilled magic out of this summer. Because soon it will be fall, then winter and the thought of that is downright miserable.
Today, we turn our attention to rum — the beloved summer staple made from sugar cane juice or molasses that's perfectly suited to warm weather sipping or mixing into cocktails like the mai tai, the hurricane, the dark 'n stormy, or the daiquiri. To help out, we asked some of our favorite bartenders to tell us their favorite rums to drink while they soak in these last rays of August sunshine.
Plantation Stiggins' Fancy Pineapple Rum
Sarah LM Mengoni, bartender at Double Take in Los Angeles
Plantation Stiggins' Fancy Pineapple Rum. This is a blend of Plantation 3 Stars and Plantation Original Dark Rums that have had pineapple fruit and pineapple bark macerated in them. The result is divine.

Wray and Nephew
Josh Cameron, head bartender at Boulton & Watt in New York City
Wray and Nephew is very smooth and at 126 proof, packs a punch into the punch. Everyone I know has a Wray and Nephew story or two, and they're usually blurry ones of good times. It works great in classic rum cocktails but can also sub into Negronis, old fashioned, and Manhattans.
Want to keep it easy? Just pour it into a cup and fill with Ting.
Rhum JM
https://www.instagram.com/p/B1jegn7laBd/
Rodrigo Retamoza, assistant manager at The Living Room in Los Angeles
I love the funk and versatility of Rhum JM. It's a nice sipping rum, and with those caramel banana notes it works in tropical cocktails as well as colder weather drinks with holiday spice.
Clement XO
Gabrielle Ricord, bartender at Outpost in Goleta, California
One quality rum that I would definitely be willing to spend a bit more for would be the Clement XO. The whole Clement line is incredible and diverse, but this one is a sipper for sure. Thick and silky, you're brought into a decadent realm of deep flavors reminiscent of sitting in your grandpas old leather chair that he sat in while smoking cigars as your grandma baked cookies in the kitchen.
Bacardi Carta Blanca
https://www.instagram.com/p/B1HdAqvnGc0/
Nick Rini, founder of Roundhead Cocktails LLC in New York City
When it comes to Rum to mix with, I say keep it simple. I will almost always test cocktails with Bacardi white rum. There are a ton of amazing sipping rums out there or fantastic flavored rums but a white rum is more malleable for mixing up a wider range of flavor profiles.

Smith and Cross Navy Strength Rum
Hilary Chadwick, director of food & beverage at Viviane in Beverly Hills, California
I am always and forever a huge fan of Smith and Cross Navy Strength Rum out of Jamaica. As a Navy Strength rum, it comes in hot at 107 proof, perfect for tiki cocktails or funky daiquiris. It plays beautifully with citrus, providing just enough funk to turn your day around. While it's not the most expensive rum out there, it definitely is the best bang for your buck.
Facundo Paraiso
Oscar Amaya, bar manager and head mixologist at Rusty Pelican in Miami
Facundo Paraiso. Bacardi has been keeping this a secret. Scouring through the warehouses of their distilleries in Puerto Rico, Mexico and The Bahamas they collected the oldest and the best barrels they had and created the 'Facundo' line named after their founder, Facundo Bacardí Massó. Paraíso is a bend of rums aged 17-32 years and is almost completely devoid of Bacardi branding. Aged initially in white oak, the rums are married and rested in French oak casks before bottling. Rich but not sweet with notes of nutmeg, sultanas and stem ginger, this is one to sip neat and savor.
Clement VSOP
https://www.instagram.com/p/BsJDJy8BVi4/
Jessica Stewart, bar manager at Fort Oak in San Diego
Aged Agricole Rhum from the island of Martinique, Clement VSOP. The process of using fresh sugar cane juice (instead of the by-product of molasses) creates a beautiful vegetal profile making it not too sweet.
Old New Orleans Rum
Jessica Mandella, bartender at Copper Vine in New Orleans
Old New Orleans Rum. This rum is really great for holiday cocktails, but also fun for tiki-inspired cocktails. It has notes of cinnamon, nutmeg, allspice, cloves, ginger, vanilla, chicory, and cayenne.

Writer's Picks: Myer's Original Dark Rum
No rum collection is complete with the original. That's why we always make sure we have a bottle of Myer's Original on hand for mixing at all times. With rich, robust flavors of oak, tree nuts, and molasses, you can't go wrong with this rum.
Mix it into a rum and cola and you have the makings of a great, late summer evening.