Expensive Scotch whisky isn't always worth it. Once you get over $500 a bottle, you run the risk of running into gimmick bottles made for investors and not really for drinking. I know that sounds outlandish but it's real. Scotch is an old-school investment commodity and not much is going to change that. Certain super pricey and rare bottles aren't the absolute most enjoyable drams out there.
That begs the question, which bottles at an ultra-high price point are actually worth drinking? Let's answer that today.
For the list below, I've pulled 12 bottles of Scotch whisky that actually taste so amazing that they're worth the insanely high price. Obviously, that's sort of subjective — I don't know your finances. But, look, I'm lucky enough to get to taste, sample, and judge these whiskeys on an international stage. I'm amongst the elite few who know what I speak on this front. I can at the very least guide in you the right direction when selecting very expensive Scotch whisky.
When it comes to which bottle you should try, I have you covered there too. I've ranked these whiskies by how truly transcendent they are (they're all amazingly tasty of course). I've also included my professional tasting notes to give you an idea of what you're in for. I tried to keep the net pretty wide with classic unpeated malts and peated killers, special age statements, and one-of-a-kind cask finishes. There's truly something for everyone, so click on that price link of the bottle that speaks to you. Let's get into it!
Also Read: The Top 5 UPROXX Scotch Whisky Posts of The Last Six Months
12. Lagavulin Islay Single Malt Scotch Whisky Aged 25 Years
ABV: 51.7%
Average Price: $3,489
The Whisky:
This bottle was originally released in 2016 along with the launch of Lagavulin 8. The whisky is a sherry-cask-aged whisky that was left alone for 25 long years in a storehouse next to the cold and black sea. The honey barrels that made it through that era of aging were then vatted and bottled as-is at cask strength into only 8,000 bottles.
Tasting Notes:
Nose: The nose meanders through old wood varnish, rich sticky toffee pudding with salted caramel sauce, savory figs, black-tea-soaked dates, meaty smoked prunes, peppery smoked beef fat, chewed-up Band-Aids, and an old cedar box that's been filled with pennies for decades.
Palate: The palate feels like raspberry saltwater taffy wax wrappers filled with smoked honey candies and waxy cacao nibs straight off the tree. A soft cherry wood smoke meanders through more honey and pine kindling with plenty of pitch, tart yet dry cherry tobacco, long and dry willow branches, and burnt mint leaves.
Finish: Candied orange peel drives the mid-palate back to that smoked honey and peppery beef fat as dried chipotle chilis mix with a very dark and bitter chocolate, a dash of BBQ ash, and a little bit more of that pine resin.
Bottom Line:
This is the best Lagavulin that you can buy. I've tasted some that are a little older from the cask — that are only marginally better — in that aforementioned storehouse. But those will never be released. This is as close as you'll get to that but you're going to need to act now. These won't be available forever.
11. Johnnie Walker Masters of Flavour Aged 48 Years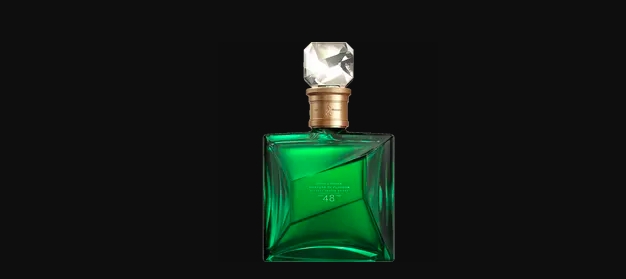 ABV: 41.5%
Average Price: $25,000
The Whisky:
This whisky is so rare that the casks it's made from are from ghost distilleries. Those are the ones that no longer operate. In this case, that's barrels from Port Dundas, Brora, Glen Albyn, and Glenury Royal. Though, the Brora distillery has officially reopened as of spring 2021 after a nearly 40-year closure. Regardless, single malt barrels from each of those distilleries that were a minimum of 48 years old came together to make a mere 288 bottles for this release.
Tasting Notes:
Nose: The nose opens with a soft breeze on a misty pebble beach with a grill box smoking away somewhere in the distance with some oysters and salmon on the fire as dates wrapped in nori mingle with rum-soaked prunes, a hint of winter spice, and an old leather tobacco pouch that's more old tobacco oil and old dirt than rawhide.
Palate: The palate leans into the smoke but layers in dried cherries, blackberries, and slightly tart currants as the spice kicks in with sharp cinnamon with browned buttered layered into an apple fritter with a hint of vanilla and a touch of nuttiness.
Finish: Hot fireplace coals, burnt toffee, and smoked berries round out the finish as a final note pulls in the beachside grill box smoke, berries, spice, and leather into a subtly soft end.
Bottom Line:
This is Johnnie Walker going so hard in the paint that it's ridiculous, especially price-wise. But the whisky in the bottle delivers something truly extraordinary that we'll never see again.
10. Glenfiddich Suspended Time Aged 30 Years, Time Re:Imagined Collection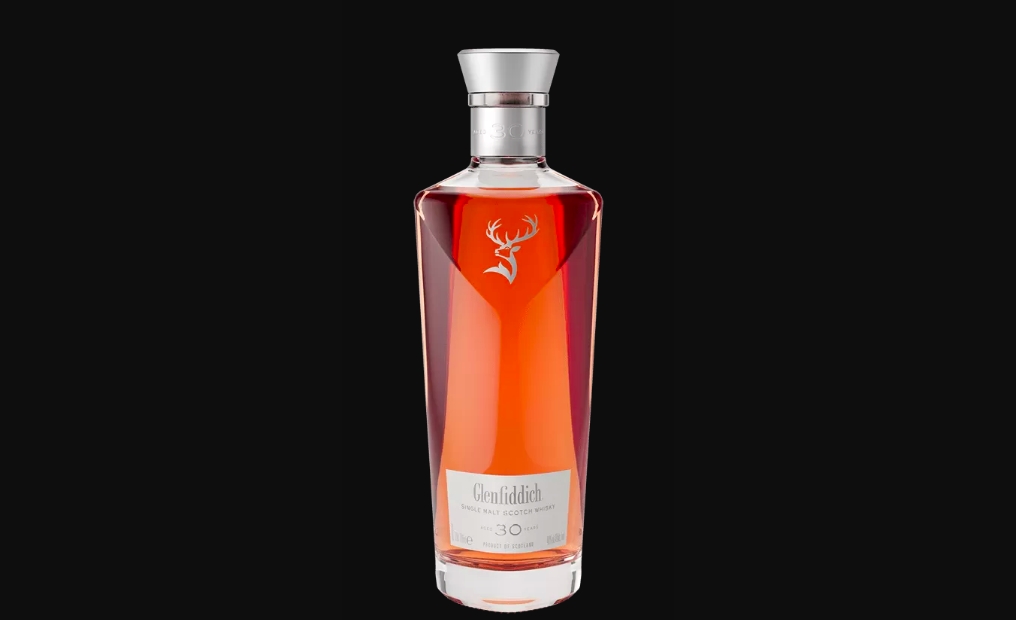 ABV: 43%
Average Price: $1,299
The Whisky:
This new line from Glenfiddich is all about slow and steady aging over decades. In this case, this ultra-rare whisky was aged for three decades in ex-bourbon and ex-sherry casks until it hit a perfect point for batching, proofing, and bottling this year.
Tasting Notes:
Nose: Soft hints of stewed plums cut with sweet cinnamon, bitter clove, and salted dark chocolate mingle with a sense of old but very soft suede, dusty oak beams in an old wine cellar, and this fleeting sense of old honey stored in stone pots of eons with an echo of orange blossom.
Palate: The palate builds on that mild floral vibe with and aura of rose-water-laced moist marzipan dipped in creamy dark chocolate with an edge of cinnamon bark and dried apple bushels countering everything.
Finish: The end has another note of that old honey and stone pots with a lingering sense of pipe tobacco dipped in apple honey and rolled with dry strings of cedar bark and strips of musty leather.
Bottom Line:
This Glenfiddich release is one of the most delicious unpeated malts out there and a truly unparalleled drinking experience.
9. Mortlach Midnight Malt Single Malt Scotch Whisky Aged for 30 Years
ABV: 49.1%
Average Price: $4,799
The Whiskey:
This is 30-year-old Mortlach from a couple of barrels that actually made it that long without drying out or becoming undrinkable — it's kind of a miracle in that sense. The vatted whisky was finished in a trio of barrels — Bordeaux wine, Calvados, and Guatemalan rum — before bottling completely as-is.
Tasting Notes:
Nose: There's a lovely hint of malt dipped in honey with a touch of apple stewed with cinnamon and saffron that leads to roasted pork skin and fat cut with a sense of rosemary and singed sage before a honeyed oaked sweetness arrives again
Palate: The taste is like a creamy, apple-forward, malty lush elixir cut with hints of black pepper, burnt orange, and marzipan that leads to a sense of honey-soaked cinnamon sticks floating in apple cider.
Finish: There's another rush of that black pepper late that leads to woody apple cores and wintry barks that eventually fade towards a mildly spiced apple-cinnamon tobacco leaf packing into an old cedar box.
Bottom Line:
Mortlach is that little distillery that only the most hardcore whisky connoisseurs will know and love. And this is one of the rarest bottles from that shingle.
Overall, this is such a rare find that if you do find one, you'll be one of the lucky few. If so, can I steal a pour? It's too sad a prospect to face that I may never taste this again.
8. Springbank Aged 25 Years Campbeltown Single Malt Scotch Whisky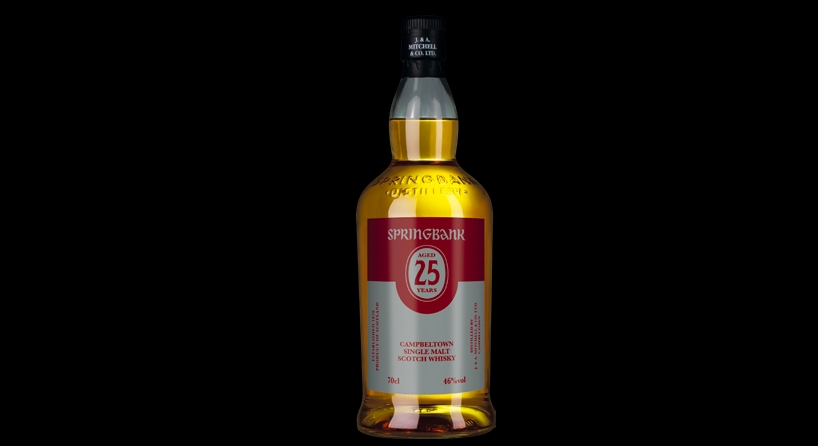 ABV: 46%
Average Price: $989
The Whisky:
This is a very rare whisky aged in 60% sherry casks and 40% bourbon casks for 25 long years in the tiny and very old Springbank Distillery in Campbeltown. After that whisky is touched with a little local water, and it's filled into only 1,300 bottles per year (there are insane lines to get it at the distillery when it drops).
Tasting Notes:
Nose: The nose opens with a soft marriage between fresh raspberries and subtle rose petals with old cellar beams, cobwebs, and a dirt floor rounding things out, with a whisper of seaside air lurking in between.
Palate: The palate veers from that nose pretty drastically with hints of rum-soaked overripe bananas next to wet brown sugar, rock candy, and a hint of large salt flakes.
Finish: The end builds on that saltiness with a rush of malted barley and sweetgrass after the rain.
Bottom Line:
I would argue that it's worth actually flying to Scotland for this release. If you've earmarked $1,000 for a bottle of whisky, you may as well experience getting it from the source. The ancient distillery is worth the trip alone, add in the beauty of the Kintyre peninsula and the whisky friends you make along the way, and you'll have more than just a bottle of great whisky. You'll have a great story to tell to everyone you share it with.
I'd argue that this is the sort of whisky that deserves that level of effort.
7. Bowmore Islay Single Malt Scotch Whisky Aston Martin Masters' Selection Aged 22 Years
ABV: 51.5%
Average Price: $999
The Whisky:
This is the next step in the much-lauded high-end Aston Martin series from Bowmore. The whisky is batched from special barrels of Bowmore's famed barely-peated whisky into a final product that's refined and just kissed with that iconic Islay spring water.
Tasting Notes:
Nose: Gently smoked cherries and smoked orange come through on the nose with a mild sense of smudging sage ash next to bourbon vanilla and apple fritters with a soft powdered sugar glaze.
Palate: That sweetness presents on the palate with a smoke chocolate powder vibe next to spiced malts, singed vanilla husks, and more of those smoked cherries but this time they have a twinge of tartness with a pinch of salt.
Finish: The finish combines the tart yet salty smoked cherries with the dark chocolate next to a deep sense of oak and spicy malts.
Bottom Line:
This is a delicious whisky. It has a slight gimmick with the Aston Martin tie-in. But that's washed away when you actually taste how good this stuff is. It's a perfectly balanced low-peat malt that delivers on every level, making it a great whisky for any fan of Islay who doesn't need a peat monster on their cart.
6. Ardbeg 25 Years Old Islay Single Malt Scotch Whisky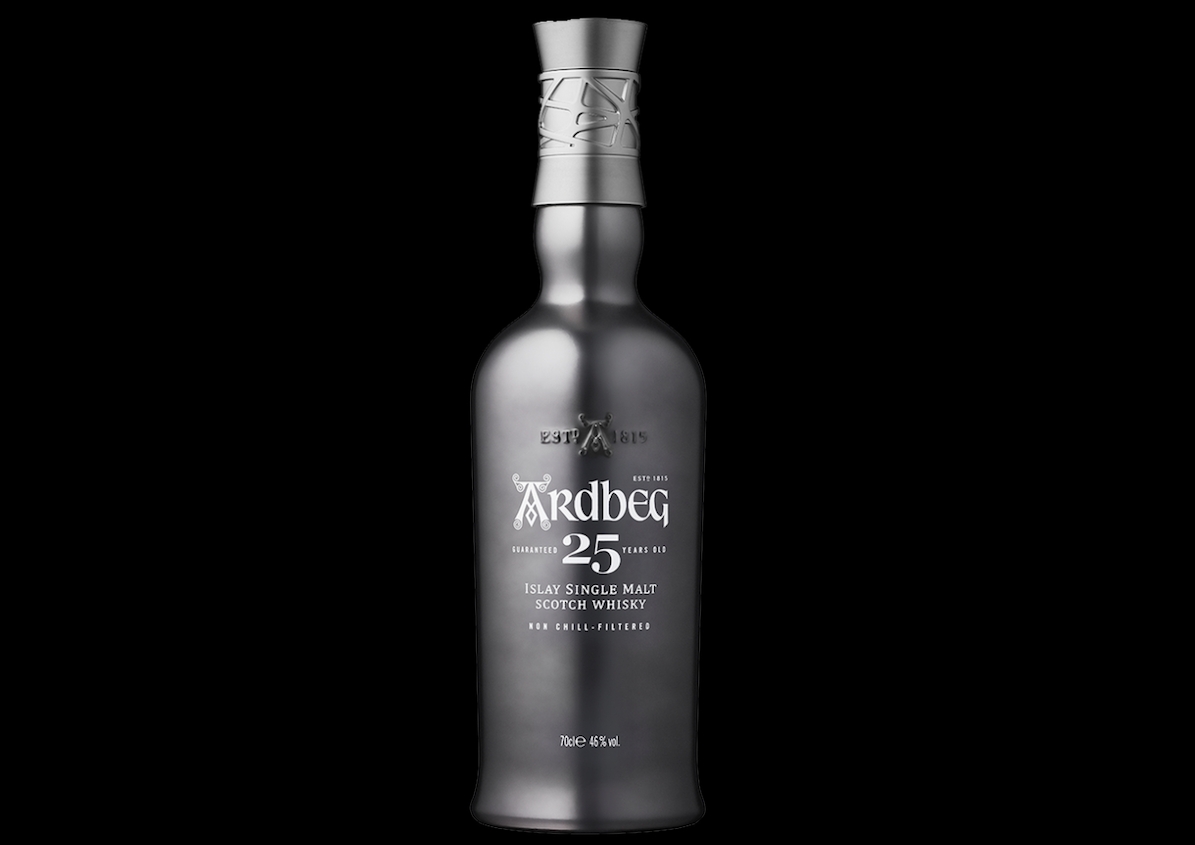 ABV: 46%
Average Price: $1,350
The Whisky:
This expression from Ardbeg is also their oldest expression (as of their current lineup). The whisky is the epitome of peat on Islay. What makes this expression so special and extremely rare is that it was distilled and casked when Ardbeg was on its knees as a company, in the early 1990s. They simply weren't making that much whisky back then and there's hardly any of it left. That makes this a one-and-gone whisky with only 278 bottles, 90 of which were sent to the U.S.
Tasting Notes:
Nose: Heavy cream, smoked toffee, lemon pith, and ashes from last night's campfire open this one up on the nose before veering toward soft sea-filled air, a touch of muddy bog, and old shovel handles from a well-worked farm.
Palate: On the palate, there's this deep sense of potting soil that's still in the plastic from the garden shop next to uncooked smoked bacon rashers with plenty of black pepper and a slightly sour edge leading back to that heavy cream and smoked toffee by the mid-palate.
Finish: Finally, hefty/spicy packed tobacco chewiness brings about a full-on head buzz — it's a wild sensation.
Bottom Line:
This is the bottle that you buy when you want to be challenged on every level of your senses and palate. But the reward is so deep and grand that I think it's worth it. Still, we're talking about creamy and funky peat here, so maybe try a dram at your local whisky bar before you commit to a whole bottle.
5. The Dalmore Highland Single Malt Scotch Whisky Aged 25 Years
ABV: 42%
Average Price: $1,500
The Whisky:
Like many whiskies on this list, this is all about the casks. This whisky spends around 25 years aging in ex-bourbon casks and Tawny Port pipes and casks, some of which held Matusalem oloroso sherry for 30 years before they got to The Dalmore. Those barrels are married and then the whisky is proofed down before bottling.
Tasting Notes:
Nose: This opens with a hint of lychee next to grilled papaya before veering more traditional with sticky toffee pudding, Earl Grey tea, salted toffee sauce, and a good dusting of dried orange blossoms.
Palate: The palate amps up the vanilla to the point of rich and oily pods being squeezed in your hands as waxy cacao nibs mingle with soft wintry spices and plum pudding with plenty of dark stone fruit.
Finish: The finish takes on a slight maple syrup vibe before hitting a soft cedar bark braided with a single leaf of ginger-infused tobacco.
Bottom Line:
This is The Dalmore's sweet spot. This is the Highland malt at its categorical zenith as well as one of the best examples of unpeated whisky on the planet.
4. The GlenDronach Grandeur Highland Single Malt Scotch Whisky Aged 28 Years
ABV: 48.9%
Average Price: $800
The Whisky:
The GlenDronach Grandeur Batch 11 was created by Dr. Rachel Barrie (who also created the BenRiach above). Dr. Barrie hand-selected a tiny number of rare Pedro Ximénez and oloroso Sherry casks that were filled with The GlenDronach malt almost 30 years ago. Those barrels were vatted and bottled with a touch of water into just over 3,000 bottles.
Tasting Notes:
Nose: The nose opens with a sense of black-tea-soaked dates blended with Saigon cinnamon and freshly ground nutmeg next to blackstrap molasses, walnut cake, old oak staves soaked in floral honey, moist marzipan laced with orange oils and dipped in salted dark chocolate, and a little twinge of bourbon vanilla cherries.
Palate: The palate pops with dark cherry cordial on the palate next to stewed plums with anise and clove, old leather tobacco pouches, and a touch of creamy espresso.
Finish: The end is a mix of dark chocolate and brandy-soaked cherries next to spent oolong tea leaves, walnut shells, and salted black licorice with a whisper of spiced caramel malts.
Bottom Line:
This was exciting. It felt new and fresh with a hardcore depth that was fascinating and alluring. This is the bottle you buy and sip when you want to push your palate to new heights.
3. Talisker Single Malt Scotch Whisky Aged 30 Years
ABV: 45.8%
Average Price: $1,560
The Whisky:
Talisker's seaside vibes are on full display in this beautiful bottle. The 2021 limited release (the 30-year is on a random release schedule) was around 3,000 bottles, making this a very rare expression from the Isle of Skye distillery. Those bottles were pulled from both ex-bourbon and ex-sherry casks and masterfully blended right next to the sea at cask strength.
Tasting Notes:
Nose: The nose is shockingly subtle and soft with velvety notes of smoldering dried nori next to matchsticks that have been dipped in a buttery and rich dark chocolate with sea salt gently sprinkled all over.
Palate: The palate leans into the dialed-back peat by bringing about a smoked cream with fire-seared peaches next to a hint of wet cedar, very old tobacco leaves, and a touch of almond or oat milk flecked with salt.
Finish: That salt drives the mid-palate towards a finish that's like getting kissed by merfolk on a beach next to a campfire that's heating a cauldron full of spicy stewed peaches in more of that cream.
Bottom Line:
I love Talisker. It's the whisky that got me interested in whisky years ago. The beauty of this expression is that the wide-eyed wonder I felt first sipping a Talisker 10 back in the day is still there in this whisky but this expression brings new heights of flavor. That nostalgia aside, this seaside peated malt is so subtle and deeply refined that you'll always find something new and different with every nose and sip. And I promise you that there's something to love in there if you take the time to find it.
2. Caol Ila Islay Single Malt Scotch Whisky Aged 24 Years 175th Anniversary
ABV: 52.1%
Average Price: $799
The Whisky:
This whisky was bottled to celebrate the 175 years Caol Ila has been operating on Islay. 3,000 bottles were rendered from barrels of at least 24-year-old whisky, each of which highlighted the sophisticated brand's nuanced peatiness and fruitiness.
Tasting Notes:
Nose: The nose opens with a sense of a beach campfire far away as fresh brioche filled with nougat and dusted with nutmeg dries the profile toward raisins soaked in mulled wine with plenty of orange and clove.
Palate: There's a sense of that deeply ruddy mulled wine on the palate with star anise, allspice, cinnamon bark, and rum-raisin butter next to prunes, dates, figs, and tart dried red berries with a flourish of moist vanilla cake frosted with salted toffee and dusted with dark chocolate shavings.
Finish: The end leans into the woody spices with mulled wine-soaked cinnamon bark and clove buds next to salted caramel tobacco leaves rolled with old cedar bark and strips of nori as that whisper of beach campfire smoke sneaks back in.
Bottom Line:
This was UPROXX's 2022 Whisky of the Year. It's a rare bottle that you still can get a hold of and it's not insanely priced. In fact, you can get a pour at the Johnnie Walker Princess Street Experience bar overlooking Edinburgh if you want to try it before you commit to the full bottle.
So why is it not number one on this list? While I adore this whisky, it's super-duper niche and not as awarded or available (relatively) as the next pick.
1. Benromach Speyside Single Malt Scotch Whisky Aged 40 Years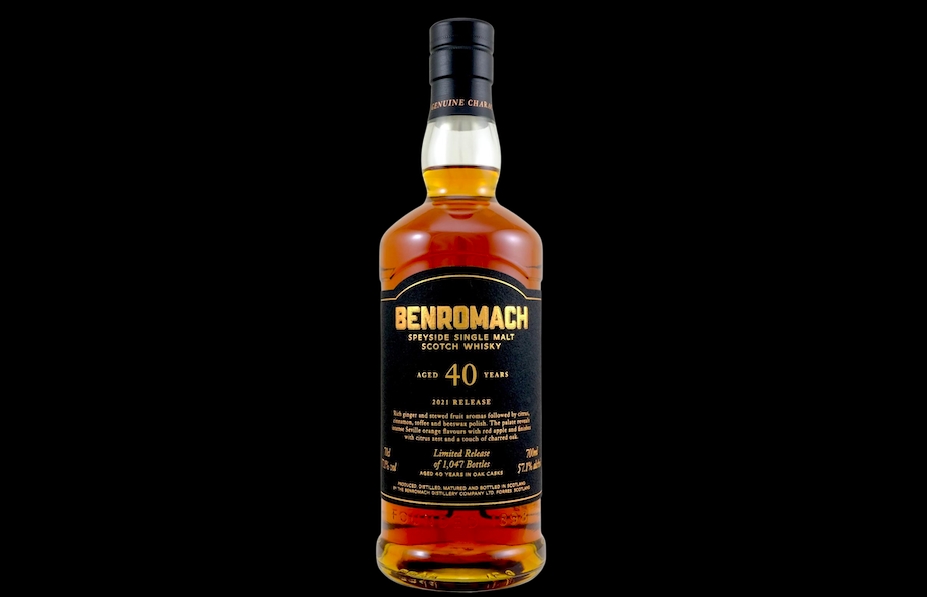 ABV: 57.1%
Average Price: $3,818
The Whisky:
This Speyside distillery is for the whisky nerds out there. This particular release just dropped last summer with only 1,000 total. The whisky in those bottles was produced in 1981 and then spent four decades chilling out in old Oloroso sherry casks before going into the bottle as-is.
Tasting Notes:
Nose: This is soft on the nose with flourishes of plum puddings and mince meat pies next to candied ginger, lightly spiced malts, a hint of dark cacao powder, orange zest, and old brown sugar.
Palate: The palate keeps that subtly as stewed apples with a hint of saffron dance with a dash of grapefruit pith, more orange zest, old maple syrup, and waxy dark cacao nibs freshly picked from a tree.
Finish: The end has a trace of tannic old oak stave with dry sweetgrass and cedar bark braids next to a thin line of black-tea-soaked dates and allspice.
Bottom Line:
2022 was the year that Benromach went from a niche little Scotch brand to a global powerhouse and this particular multi-award-winning whisky is a big reason why. This is one of those bottles where you take a sip and then "get it." "Get" what, you ask? You instantly understand why there's so much fussing, delight, and obsession with whisky at this level.