Tracking down the best Scotch whisky at over $250 per bottle is no average task. Whether we're talking about peated whisky or unpeated malt, wine cask finishes, cask strength offerings, or limited edition releases — this is very expensive and unique whisky. Does a special bourbon barrel finish or 25 years of aging really merit a price tag of nearly $300?
The short answer is, "yes." Sometimes.
Finding, buying, and actually enjoying a good bottle of Scotch whisky at this price point is where I come in. I'm lucky enough to get to taste this stuff year in and year out and have done all the pre-sifting for you. So below, I'm calling out 12 bottles of expensive Scotch whisky that I think you should give a shot (well, pour into a nice whisky glass and slowly sip, really).
And while this is all pretty stellar scotch, I've still ranked these bottles. Some of them simply have more depth and nuance plus go that extra distance to make them truly transcendent pours of whisky. My advice, find the tasting notes that speak to you and then click those price links to see if you can get it in your region. Let's dive in!
Also Read: The Top 5 UPROXX Scotch Whisky Posts of The Last Six Months
12. The Macallan Highland Single Malt Scotch Whisky Estate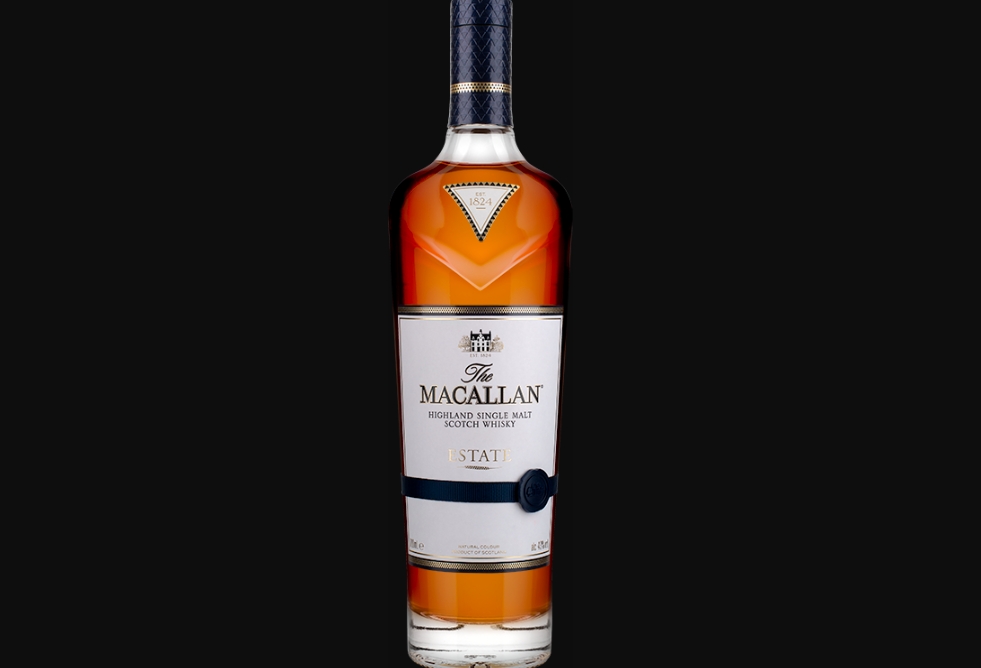 ABV: 43%
Average Price: $289
The Whisky:
This The Macallan expression ups the ante by using barley from the Easter Elchies Estate around The Macallan distillery, making it a single-estate whisky. The spirit from that hyper-local mash is aged for an undisclosed amount of time in undisclosed barrels but you can bet there's some sherry and bourbon involved.
Tasting Notes:
Nose: Woody cinnamon sticks rubbed with orange zest pop on the nose as a thick banana bread batter with walnuts, nutmeg, and plenty of butter leads to a smidge of lemon oil and maybe some river rock.
Palate: The palate has plenty of woodiness from that cinnamon and adds in a touch of clove and allspice before savory figs and meaty prunes lead to a mix of raisins, nuts, and candied orange peels.
Finish: The finish is pure silk with layers of orange cake, cinnamon frosting, and fig jam culminating in a rush of soft woody spices on the back end.
Bottom Line:
This is a great "next step" The Macallan. It's nuanced and soft while being one of the most inviting whiskies on the list. But by that same token, this might not play as "exciting" to more advanced whisky drinkers out there. Either way, add this to your collection if you're looking for a masterclass in easy-going Highland Malt that'll be a major crowd-pleaser.
11. Glenfiddich Single Malt Scotch Whisky Aged 21 Years
ABV: 40%
Average Price: $289
The Whisky:
Rum casks and sweet single malts are a great match. This whisky starts off by mellowing for 21 years in ex-bourbon casks before that juice is transferred to Caribbean rum barrels for a final rest. That whisky is then blended and proofed down for bottling.
Tasting Notes:
Nose: This is very "perfume" driven on the nose with plenty of sticky toffee pudding — the dates, nutmeg, toffee, vanilla, everything — leading to a hint of cherry bark and old leather.
Palate: The palate has a thin line of cream soda with more of that floral perfume, woody cinnamon apple, and a bit of sultana and prunes.
Finish: The finish leans into the florals and honey as a waft of freshly baked banana bread floats past and the creaminess amps up towards a kind of a Key lime pie vibe.
Bottom Line:
"Easy-going" is going to be an early theme on this list. This is an excellently tuned unpeated single malt. It's kind of like a long hug from an old friend. It has zero kick and registers as lush and velvety on your senses. If you're looking for a whisky that feels like a long and soft slumber in sweet malt, this is the one.
10. The Glenlivet Single Malt Scotch Whisky Aged 21 Years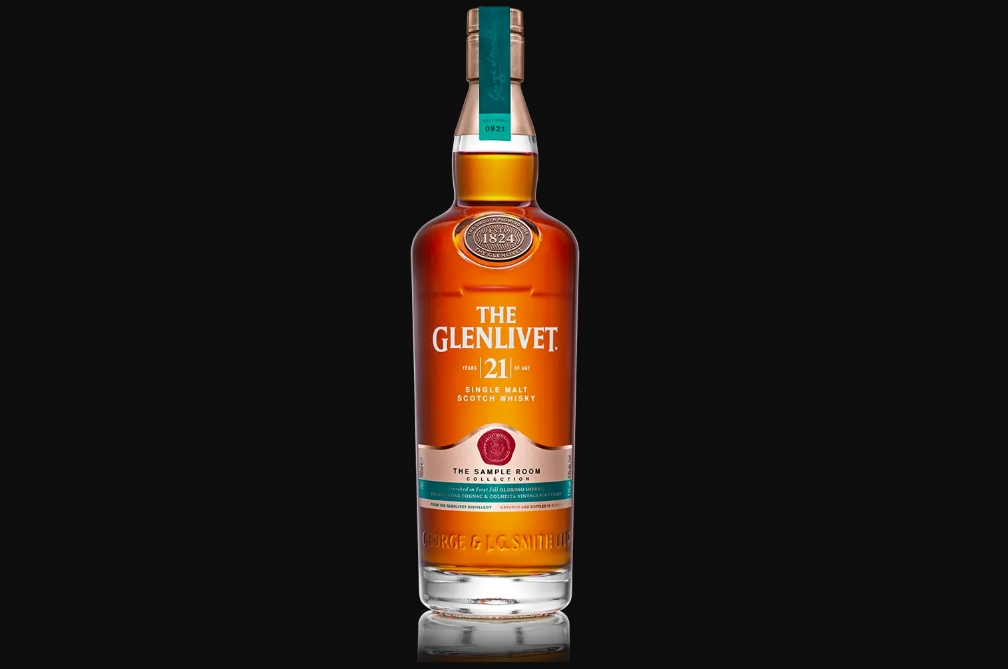 ABV: 43%
Average Price: $250
The Whisky:
This redesigned The Glenlivet is still a classic whisky. The hot juice is aged in a triple combination of first-fill Oloroso sherry, Troncais oak Cognac casks, and vintage Colheita Port casks. After 21 long years (at least), the barrels are vatted and proofed down before bottling.
Tasting Notes:
Nose: Leather and winter spices lead the way on the nose with a hint of saffron-stewed pears, ripe peaches, and lush eggnog next to boiled beans with a bay leaf.
Palate: The palate leans into the peaches and pears but puts them in a pie with plenty of cinnamon, clove, and nutmeg next to apricot jam and rum-raisin.
Finish: The mid-palate hits a pine resin note before descending toward brandied cherries and dark chocolate with fresh ginger sharpens and a dash of cinnamon candy.
Bottom Line:
This is very similar to the above whisky with a hint more dankness. Overall, this is the bottle you get when you're ready for a slightly more advanced unpeated single malt experience but still want to feel safe while enjoying a delicious pour of whisky.
9. Glenmorangie Highland Single Malt Scotch Whisky Signet
ABV: 46%
Average Price: $267
The Whisky:
This Glenmorangie expression is a prime example of something truly special. The whisky is a mix of single malts with estate-grown malts and "chocolate malts" (meaning they were roasted until dark and chocolatey). The hot juice then went into new American oak for varying amounts of time for blending, proofing, and bottling. While there's no age statement, there are barrels up to 40 years old in the mix.
Tasting Notes:
Nose: You're greeted with a note of dried apricots with a hint of clove, leading towards a very light dark orange chocolate.
Palate: The chocolate amps up the bitterness, reaching espresso bean levels as some eggnog spice kicks in with a silky mouthfeel and a touch of wet tobacco.
Finish: The end brings about a flourish of bright citrus zest that dries everything out, leaving you with a lingering final note of earthy dried mushrooms, burnt orange cut with clove, moist marzipan, and this faint whisper of sagebrush blooms.
Bottom Line:
This is getting into the "risk-taker" section of the list. This is unpeated malt with a deep maltiness that feels nostalgic but kind of fresh and fun. The earthiness and deeply roasted malts really meld well with the woody spices to create a deep and dark whisky that remains light and playful too.
8. Ardbeg Fermutation Islay Single Malt Scotch Whisky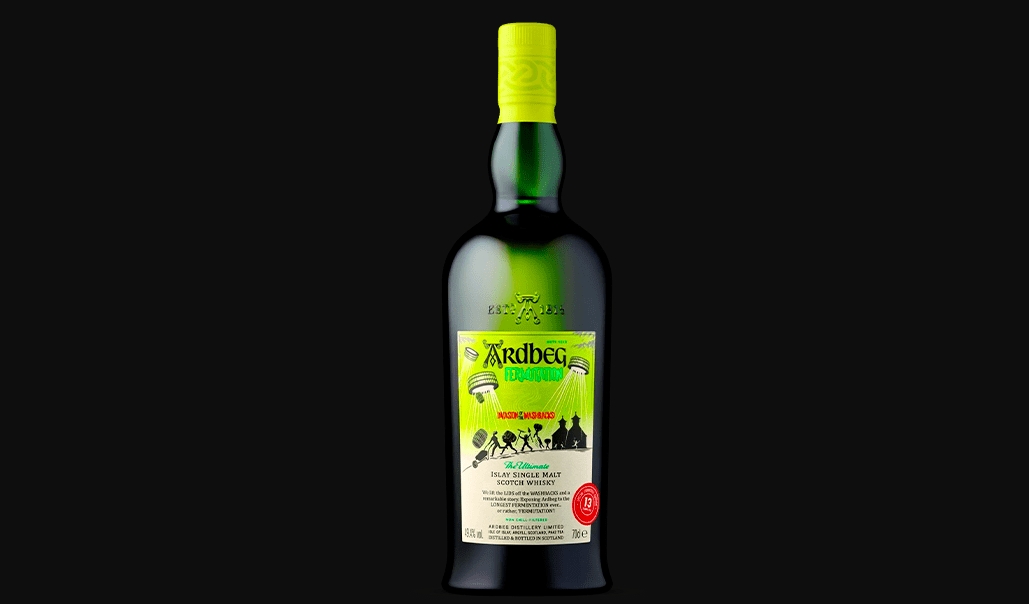 ABV: 49.4%
Average Price: $299
The Whisky:
The "happy accident" that led to this whisky was Ardbeg's boilers breaking down. Instead of throwing out the mash until those were fixed, Dr. Bill Lumsden (the mad-scientist distiller behind Ardbeg) decided to see what would happen if they let it be. The washback lids were opened and the mash was allowed to ferment with the sea-kissed Islay air for three more weeks. To put that in perspective, Ardbeg (and most whiskies) usually ferment for 72 hours before distillation. Once the boilers were back up and running, the whisky was distilled and then barreled in first-fill and re-fill bourbon casks. 13 years later, Dr. Bill decided it was ready and here we are.
Tasting Notes:
Nose: The nose starts off with this burst of fresh green grass just after the rain that melts into a summer herb garden (mint heavy), grapefruit seeds, and smoked butter with sweet lemon candy and orange trees that are underpinned with a dark and rich soil that's been turned with manure.
Palate: Going deeper on the nose, you get fresh tires, mossy fir bark, and maybe a hint of fennel-heavy focaccia. The palate starts off incredibly soft with a toffee note before veering into burnt scones, hints of absinthe, what feels like powdered turmeric, and finally cigarette ash.
Finish: The finish lets that sweetness stay while the cigarette ash builds towards a crescendo and leaves your senses feeling like you've licked an ashtray.
Bottom Line:
This is the whisky you buy and pour when you want to take your love of peat whisky to insane heights. This whisky almost dares you to not like it while still somehow pulling off this magic trick of pure delectability. It's insanely deep and riveting while still feeling like a wild ride through peated Islay malt, making this a must-have for true peat-heads.
7. The GlenGrant Rothes Speyside Single Malt Scotch Whisky Aged 21 Years
ABV: 46%
Average Price: Coming Soon
The Whisky:
This brand-new release from The Glen Grant Distillery is a part of their Principal Collection. The whisky was crafted by Master Blender Dennis Malcolm, OBE, using at least 21-year-old ex-bourbon and ex-Olorosso sherry casks. That final batching was just proofed down for this special bottling.
Tasting Notes:
Nose: The nose opens with a rush of spicy and sugary tropical fruits that range from grilled pineapple dusted in nutmeg and clove to stewed peaches in cinnamon and allspice next to a hint of caramelized malts and old cellar oak.
Palate: Those singed tropical fruits and stewed stone fruits drive the palate toward a hint of caramel-chocolate malt biscuits next to a faint hint of old golden honey and burnt sugars over lush vanilla buttercream.
Finish: That lush vanilla creaminess drives the finish toward a sweet and caramelized end with a hint of pear and apricot over lush marzipan.
Bottom Line:
This is one of those bottles that just really f*cking nice. Sometimes that's all you need.
6. Clynelish Single Malt Scotch Whisky Aged 12 Years 2022 Special Release
ABV: 58.5%
Average Price: $251
The Whisky:
This unpeated Highland malt from last year's exclusive Special Release lineup was mellowed in refill American oak barrels that held bourbon and then finished in Pedro Ximenez and Oloroso sherry-seasoned casks. This final result was bottled 100% as-is at cask strength.
Tasting Notes:
Nose: There's a subtle mix of mincemeat pies, syrupy pears from the can, floral honey, and a herbal note of maybe bay leaf or sage with a whisper of mint on the nose.
Palate: The palate has a waxy saltwater taffy vibe tied to vanilla with a soft pepperiness and woody winter spice warmth next to soft toffees.
Finish: The end is lightly spiced with dried chili pepper and peppercorns next to that soft and waxy vanilla saltwater taffy on the spicy finish.
Bottom Line:
This is an excellent limited-edition whisky. It feels like the candy bowl from your childhood rendered in whisky form. If you're looking for a truly soft and candied whisky experience, look no further.
5. Glenglassaugh Highland Single Malt Scotch Whisky Aged 30 Years
ABV: 42%
Average Price: $270
The Whisky:
This distillery was reopened in 2008 after a long slumber. Back in the day, the malt coming out of Glenglassaugh was primarily used for Cutty Sark and The Famous Grouse so this 30-year-old malt release harkens back to those heady days. This particular release was pulled from barrels that rested for three decades in Glenglassaugh's beachside warehouse, which are exposed to the frigid North Sea atmosphere.
Tasting Notes:
Nose: Mango skins and peach compote drive the nose toward mincemeat pies with plenty of cloves, cinnamon, and nutmeg next to a rich woody tobacco layered with nutty banana bread.
Palate: That mango sweetens on the palate as marmalade and dry figs mingle with more mincemeat pie with a side of mulled wine, toffee candied, and ginger tea leaves.
Finish: A gentle warmth from the winter mulled wine spices and ginger builds with the soft toffee malt on the finish with a good pinch of sea salt and black-tea-soaked dates dipped in salted honey.
Bottom Line:
This is a complex and very sippable whisky. The salinity really adds a nice counterbalance to all the dark fruit and spice. Overall, this is a splashy pour of malt that's sure to wow whoever has a glass of it in their hand.
4. Fettercairn Highland Single Malt Scotch Whisky Aged 22 Years
ABV: 47%
Average Price: $254
The Whisky:
Fettercairn is somewhat of a whisky lover's whisky brand. The tiny Highland distillery has been diligently pumping out delicious brown sauce since the 1820s. For this release, they aged their malt in ex-bourbon casks for 22 long years before vatting, proofing with local water, and bottling.
Tasting Notes:
Nose: Plum jam and mincemeat pies mingle with nutty spiced zucchini bread, vanilla pods, and a hint of ginger snaps on the nose.
Palate: Stewed pears in cinnamon and allspice lead toward caramelized orange syrup steeped with anise, nutmeg, and clove and poured over salted licorice with a hint of sour cherry and espresso cream.
Finish: That cherry and espresso creaminess drives the finish toward a soft end full of soft dried fruits, woody winter spices, and sweet vanilla buttercream.
Bottom Line:
This is funky and delicious with a clear nod to bourbon thanks to the vanilla whispers throughout. The spices are bold yet the feel is soft and approachable. If you're looking for something to take unpeated malt to 11, this is the bottle for you.
3. The Dalmore King Alexander III Highland Single Malt Scotch Whisky
ABV: 44%
Average Price: $289
The Whisky:
The Dalmore went above and beyond with this bespoke blend of malts. The mix marries six barrels: French wine, Madeira, sherry, Marsala, port, and Kentucky bourbon casks. This is one of the more creative and extreme examples of barreling in the single malt game and resulted in an award-winning and much-beloved whisky.
Tasting Notes:
Nose: There's a deep sense of fruit on the nose which really leans into raspberry, red currant, and a touch of blueberry with chocolate maltiness and creamy bourbon vanilla.
Palate: The palate embraces the vanilla to the point of creating a pudding texture while dark chocolate-covered almonds lead towards cherry brandy, hints of boozy oranges, and salted caramel ice cream.
Finish: The end is long and full of Christmas spices that bring everything together like a brandy-fueled, marzipan-heavy, and fruity dessert-laden holiday meal in a Glencairn glass.
Bottom Line:
This is another whisky that's just straight-up delicious from top to bottom. It's damn near perfect unpeated malt that's almost impossible not to enjoy.
2. Mortlach Single Malt Scotch Whisky Special Releases 2022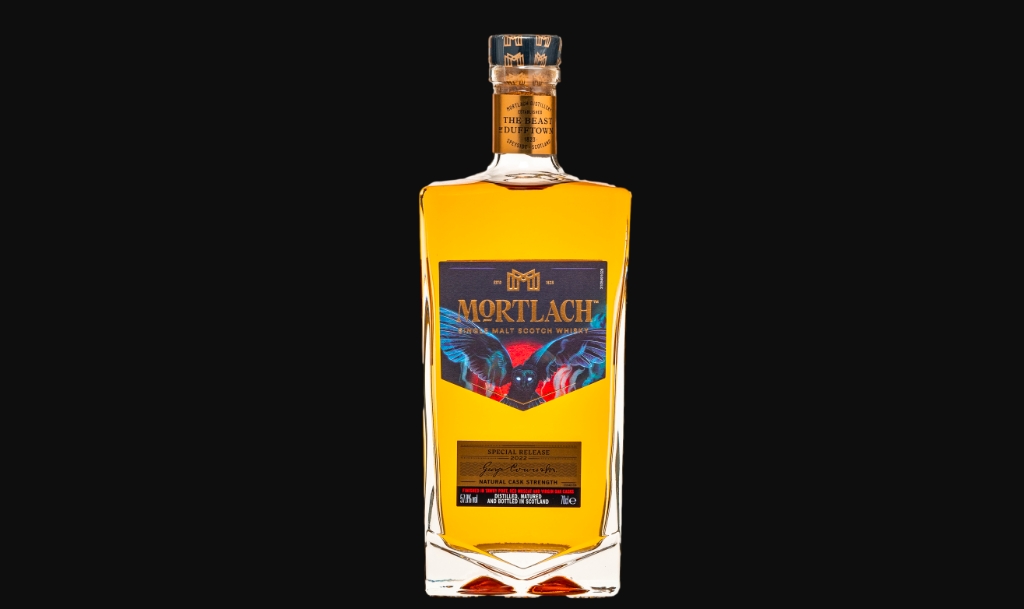 ABV: 57.8%
Average Price: $261
The Whisky:
Mortlach is the quintessential whisky nerd's whisky. This variation diverges from the normal sherry cask aging that Mortlach undergoes. In this case, the whiskey was finished in red muscat, new oak, and tawny-port casks before vatting and then bottling 100% as-is at cask strength.
Tasting Notes:
Nose: Sticky toffee pudding and sour cherries tossed in sea salt mingle with pears stewed in white wine and saffron, dark raspberry dipped in dark chocolate, candied ginger, cinnamon-laced salted butter, and a hint of dry oolong tea packed in an old oak box.
Palate: The palate is lush with layers of pear woodiness, more of that dark chocolate cut with toffee and dark dried fruit next to warm spiced marmalade, a hint of anise and licorice, and a soft buttercream.
Finish: That butteriness attaches to walnut bread with plenty of rich and sharp winter spices next to dark toffees covered in dark chocolate and flaked with salt next to dried figs and prunes over luscious marzipan-vanilla creaminess.
Bottom Line:
Goddamn, this is good whisky. It's just so nostalgic and deeply satisfying as a sipper. It really is kind of perfect. This may as well be tied for first place.
1. The GlenDronach Parliament Aged 21 Years Highland Single Malt Scotch Whisky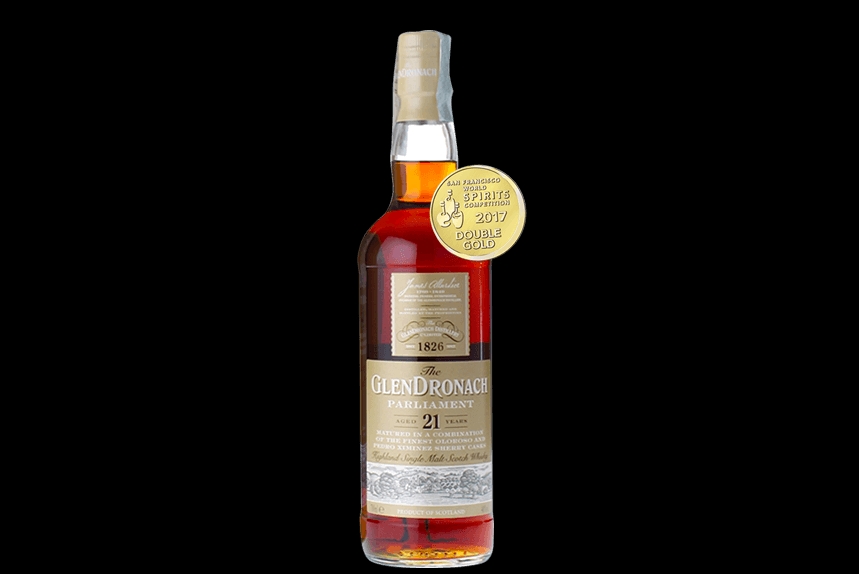 ABV: 48%
Average Price: $279
The Whisky:
Don't let the name fool you. The "parliament" in this case is the collective noun for rooks — a type of European crow that nests above the distillery. That dark essence is rendered in the whisky through 21 long years of maturation in Oloroso and Pedro Ximenez sherry casks exclusively.
Tasting Notes:
Nose: There's a lot going on with this nose, starting with blackberry brambles hanging heavy with ripe fruit leading towards a well-spiced oatmeal cookie, soft marzipan cut with hints of orange zest, a light sense of dark chocolate with a creamy edge, and soft vanilla cookies sprinkled with mint and lavender.
Palate: A sticky toffee pudding sweetness arrives (heavy on the black tea-soaked dates and nutmeg with a well-salted toffee drizzle) with flourishes of bitter dark chocolate notes and a sharp holiday spice matrix that leans into bark and berry botanicals with a dash of sweet nutmeg.
Finish: The end is very long and very velvety with hints of dark fruits, winter spice barks, soft marzipan, and a fleeting sense of a wildflower orchard.
Bottom Line:
This is a perfect whisky. No faults. It's just delicious.