Okay, that headline promises a lot, I'm not going to deny that. But I'd also argue that building deeper flavors into simple meals isn't that hard either. You can make some everyday grocery store spices, butter, and stock/broth go a long way with a little nudging and finesse in the kitchen. And one of the best ways to test that is to skip buying packages of "taco seasoning" and just make an awesome braised taco meat yourself.
It'll take you 15 minutes from beginning to end, I promise. And it'll be so much better.
The key to making great (simple) taco meat at home is a quick braise with real stock, toasting spices in the pan, and using fat to create a "saucy" texture — kind of like a basic pan sauce (see, we're already delivering on "elevated"). The trick is to work while the meat cooks so that everything's ready once that quick braise is done. That's how I can claim this only takes 15 minutes to make. Well, that and getting all your spices ready beforehand.
Before we dive in, I'm using ground beef for this. I was hankering for a crunchy cafeteria taco but good ones, so that's what I made. I've also used this method on chicken breast and skirt steak before. Simply cut the meat into bite-sized pieces and then follow the steps exactly the same as listed below with a little fat to get the cooking process started. Naturally, you can also use Beyond, Impossible, or beans for this fast braise too, if you're looking for a vegan option.
Anyway, let's get into it and make some seriously well-flavored taco meat for some lunch tacos.
Braised Taco Meat
Ingredients:
Makes 12 classic crunchy tacos.
1 lb. ground beef (85 percent lean/15 percent fat)
1/2 white onion, chopped
1 cup beef stock
1 tbsp. paprika
1 tbsp. cumin
1 tbsp. garlic powder
1 tbsp. dried oregano
1 tbsp. soy sauce
1 tsp. ground allspice
1 tsp. white pepper
Large pinch of salt
1 tbsp. unsalted butter
This is all pretty straightforward stuff that you'll be able to find at any grocery store. The key to mounting the braising liquid at the end to create a pan sauce base is the butter. You can't really rely on olive oil or even beef fat from the pan to mount a sauce (emulsify liquid and fat) in the same way. You need butter and its creamy fat for that.
As for the beef stock, the deeper the flavor profile, the better your end product will be. I make stock from old t-bones, oxtails, random roasted bones, and tons of root veg. If you're buying some, use the best you can find but don't use "low-sodium" versions or bullion cubes. They won't cut it. Remember, this is about elevating flavor, and you really need to use decent stock to do that in something this low-fi. Well, that and the aforementioned butter.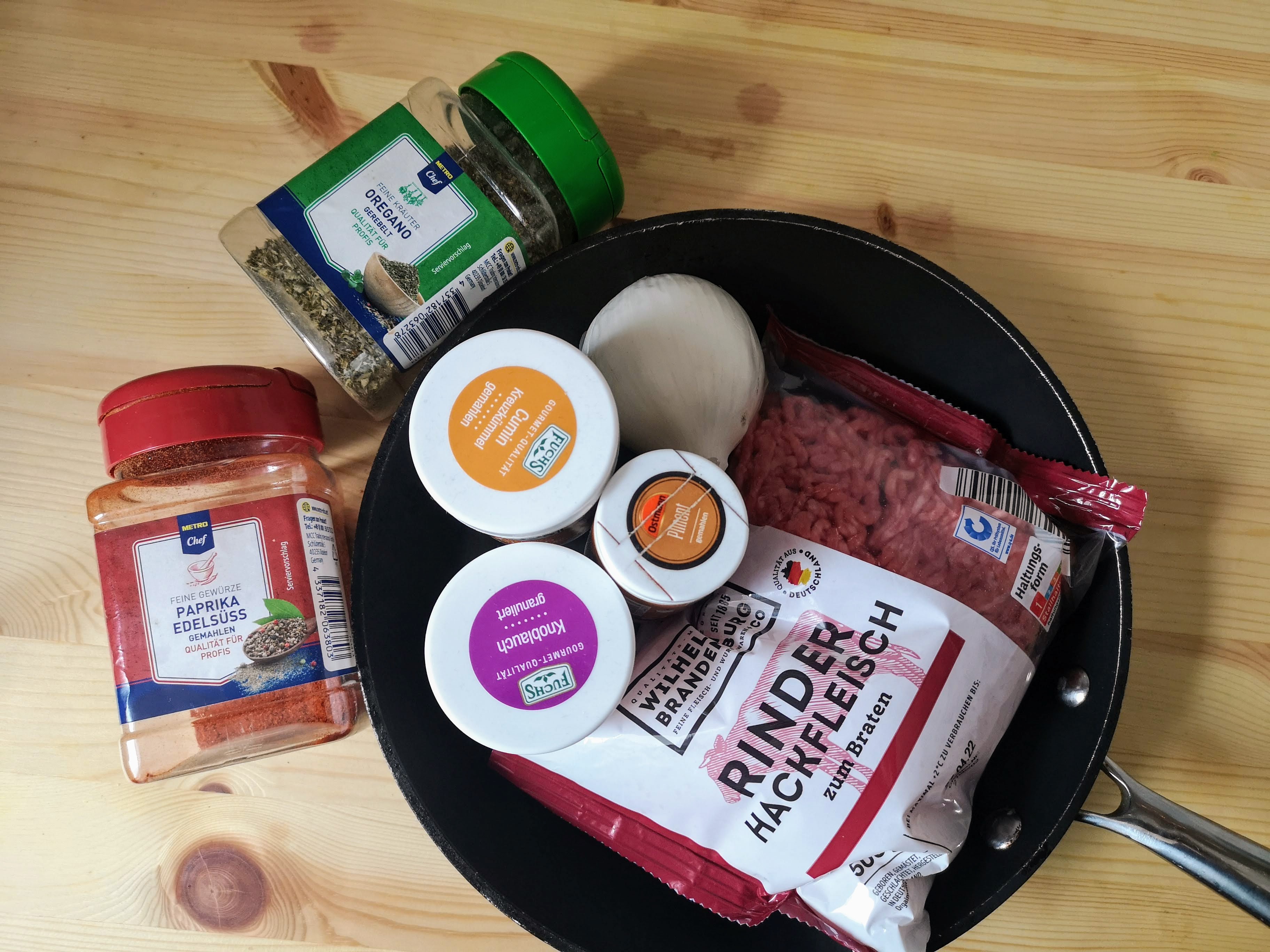 Optional for taco build:
Taco shells
Cheddar cheese, grated
Iceberg lettuce, shredded
Tomato, diced
White onion, diced
Hot sauce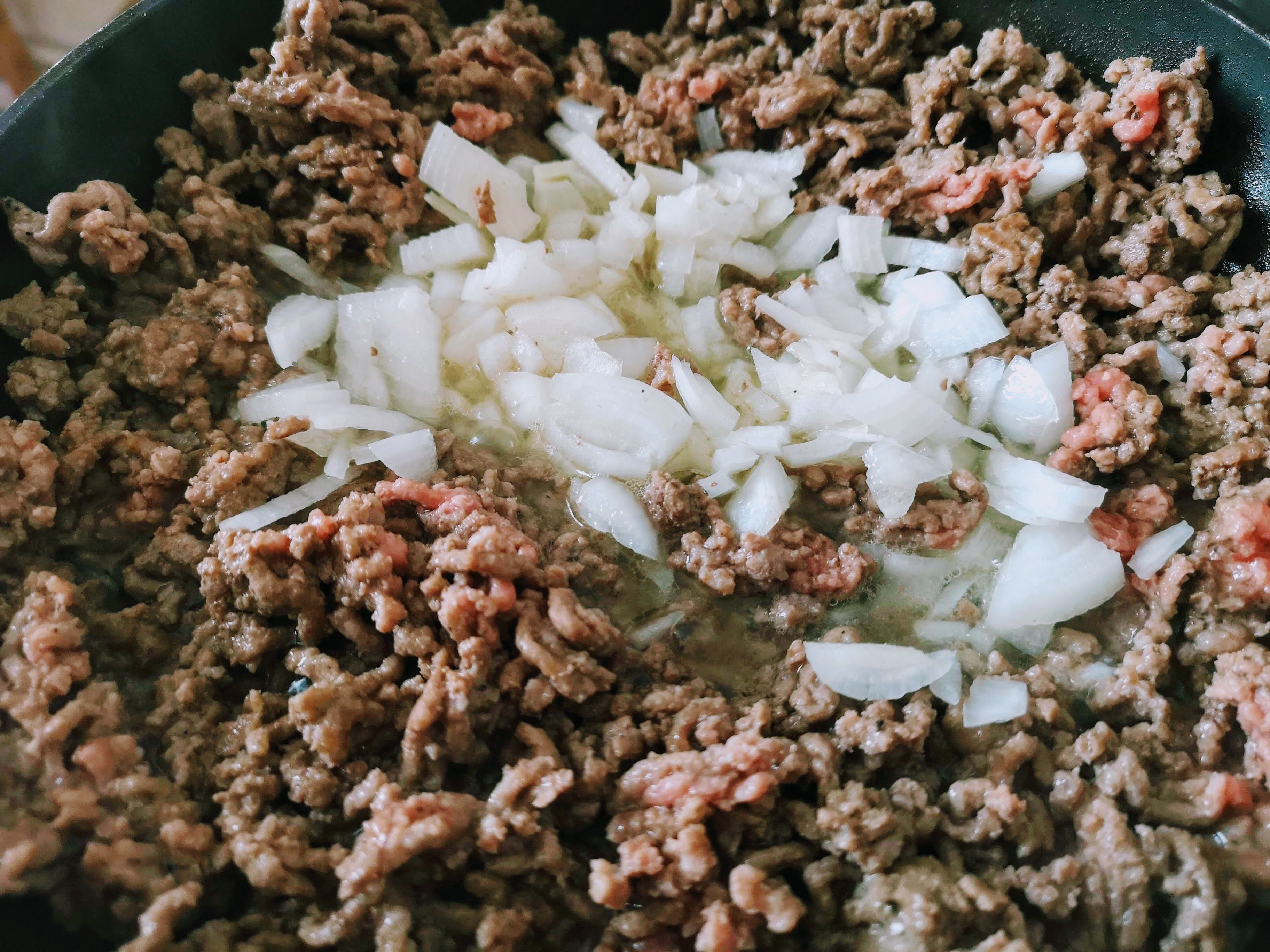 What You'll Need:
Cutting board
Standard frying pan or cast-iron skillet
Kitchen knife
Wooden spoon
Box grater
Measuring cup and spoons
Method:
Add the ground meat into a cold frying pan and put it on medium-high heat. Don't add any oil for frying, the fat from the meat will render out and create plenty. Use a wooden spoon to break up the ground meat into small bits. Add salt and pepper and let brown on one side. Then use the wooden spoon to turn over the browned meat to continue cooking and breaking up with the spoon.
Once the meat is fully browned and there's a good layer of rendered fat in the pan, create an open space in the middle and add the onions into the beef fat. Stir occasionally and let the onions fry until translucent.
Once the onion is translucent (about two to three minutes), stir the onion into the meat and push the meat and onions to the side. Scoop out excess beef fat and save it for cooking later. If you don't remove some of the excess fat (not all), you'll have super greasy taco meat, which makes a big mess when trying to eat the taco.
In the empty space on the bottom of the pan (there should still be a small amount of beef fat at the bottom of the pan), add the spices and herbs to activate them on the heat. After about 15 seconds, they'll burst with aromas. Mix them into the meat/onion mix.
Add the cup of beef broth and stir in until well mixed.
Keep the heat on medium-high and let the whole thing briskly simmer for about five minutes or until the fluid is reduced by 2/3, stirring occasionally (this is also when you get get your toppings ready for your tacos).
Stir in the butter to mount the sauce. The broth/sauce should almost immediately have a thicker texture.
As soon as the sauce thickens, turn the heat off. You're ready to make tacos!
Bottom Line:
These hit the spot. Let's focus on the taco meat though. It was juicy and spicy but not runny or greasy (see the plate below). That's a perfect balance if you ask me. There were plenty of Tex-Mex vibes to the whole thing, but the meat is what really shined the most in the taco. It was just the right amount of spice that also had this veneer of silkiness thanks to the buttery pan sauce base.
Overall, this is an easy go-to that's miles ahead of any packet. It's crisp, meaty, spicy, and silky without being overly messy or greasy. I ate four and was very happy.