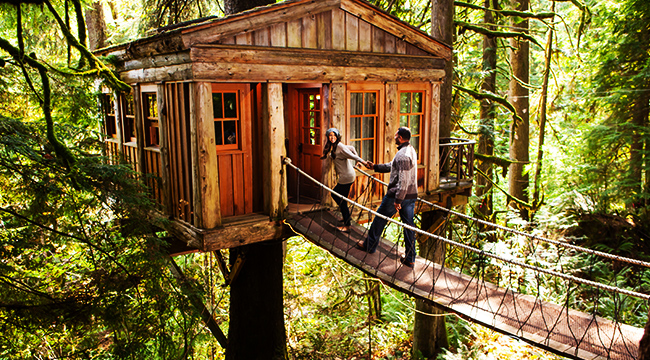 For a great many people, where they stay on vacation is immaterial. As long as they've got a bed and some small degree of privacy, it's all good. For these folks, a chain hotel is as every bit as ideal as a hyper-stylized hostel, a themed Airbnb, or even the back of a van. But there's another variety of traveler who considers their accommodations a big slice of the overall travel pie. These people need novel, well-designed spaces to occupy and photograph.
For our dollar, when it comes to one-of-a-kind destinations, you can't beat a treehouse. Most people grew up wanting one in their yards, of course, but those were simple wooden affairs with a ladder, a trap door, and maybe a s'more or two inside. When you adventure in an adult treehouse hotel, you get all the whimsy of a childhood dream deferred with unparalleled design details and unique aesthetics that delight your adult sensibilities.
The following list features treehouses from across the globe — all boasting gorgeous settings and Instagram worthy visuals. These are places sure to prompt the kid in you to get hyped and the adult in you to reach for the credit card.
Treehotel: Harads, Sweden
Swedish Lapland locals Kent Lindvall and Brita Jonsson-Lindvall were committed to making a living in their home village, but when a renovation of a former retirement home turned guesthouse failed to develop a following, they began thinking of creative solutions.
When then-unknown filmmaker Jonas Selberg Augustsén and his crew built a treehouse for their film Trädälskaren (The Tree Lover), the couple added it to their hotel offerings post-filming and it proved to be a hit. Inspired by the success of the treehouse, the owners of Treehotel reached out to three of Sweden's foremost architects to design a space each for the property.
Now, guests can choose between a mirrored cube, a UFO, a bird's nest, a blue cone that shifts color to orange, and a few other rooms perched high above the ground in the pine forest surrounding the main guest house. The novelty of the properties, coupled with their premium design makes them irresistible — as well as pretty dang epic on the photography front.
Chateaux dans les Arbres in the Dordogne: Nojals-et-Clotte, France
Literally translated as Castles in the Trees, Chateaux dans les Arbres is a collection of fanciful treehouses that mimic the ambiance of traditional French chateaux among the treetops. If you're looking for luxury as well as whimsy, this is where you find it. The pine and chestnut beauties sit nestled among 25 acres of forest and include every creature comfort a guest could desire under their larch roofs.
Sleeping between two and six people, these are some sizable treehouses. In fact, Cabane Hautefort, the largest one, includes three double rooms and a fully kitted out kitchen. While Cabane Milandes and Cabane Monbazillac are smaller and boast jacuzzis on their terraces.
Each day, you can wake up to 360-degree views of the Dordogne countryside and use a pulley system to tug up a wicker basket brimming with breakfast goodies like warm croissants, jam, yogurt, and organic fruit juice. Then, why not wander through the woods before spending some time in the sauna? It's the perfect French countryside retreat for indulgence and reflection with a side of originality.
TreeHouse Point: Issaquah, Washington
Pete Nelson (who you may know from the Discovery Channel's hit series Treehouse Masters) says he began building his first treehouse when he was five-years-old. Twenty years later, in 2005, after the considerable development of both his skills and ambition, he purchased just under four acres of land very close to his home in Washington and began designing and building a series of cabins among the trees.
These days, there are six modern bucolic cabins punctuating the landscape a mere twenty miles from Seattle. The whole thing is authentically Pacific Northwest, from the moss-covered spruce and cedar trees filling the woods to the names of the cabins, which include Temple of the Blue Moon and Trillium. The
TreeHouse Point
motto is "Be in a Tree," and with these hand-crafted, uniquely designed accommodations, there is no reason not to be.
Each cabin features comfortable seating, custom-built beds, and a small bathroom with a toilet. However, all showering has to be done in one of two cedar-lined bathhouses. People who aren't looking to hang in the woods with kids are in luck — the property doesn't accept guests under 13.
Pro-tip: It's worth trying to visit during the summer when the site hosts a concert series.
Free Spirit Spheres: Vancouver Island, British Columbia
Many of the inclusions on this list are traditional cabins perched in a forest, but a few of them take that basic idea and shift it into something fresh. Free Spirit Spheres on Vancouver Island features tiny, round hotel pods that are equal parts fantasy and sci-fi without sacrificing a bit of treehouse.
Three large spheres named Eve, Eryn, and Melody are suspended about 15 feet from the ground by Polysteel ropes tethered to the surrounding trees. The spaces are between nine and 10.5 feet in diameter and manage to include sleeping areas, fresh water, a sink, and heaters. Guests do have to use pit bathrooms though, but small headlamps are provided to help people make it down the steps at night without incident.
The design of the womblike accommodation is influenced by biomimicry, which is modeled on biological entities. These spaces strive to encourage oneness by utilizing a harmonious continuity not achieved with more linear architecture. And, when you are swaying in the tree canopy in an old growth forest, it's likely you will find peace in your womb-like sphere. Plus, this property only books guests over the age of 16, so this is another quality option for an adults-only getaway.
The Mohicans: Glenmont, Ohio
Pete Nelson of TreeHouse Point designed two of the six unique treehouses at this Ohio property known to host celebs. Kevin Mooney and wife Laura bought the first part of their present acreage in 2005, when Kevin sold his half of a financial consultancy to his partner. Initially, they built some cabins, but once they stumbled across a book on treehouses, their focus changed, and they brought Nelson to their property in 2011 to help with the shift.
These days, there are six options — ranging from single rooms and lofts to a two-bedroom cabin, and each features a completely unique design. We really like the Little Red Treehouse, which was originally built as a tasting room and brewery for Treehouse Brewing Co. Constructed by the crew from Nelson Treehouse Supply and a local Amish crew, the treehouse sits at the end of a 30-foot extension bridge and boasts a 5 foot stained glass window that translates the Eastern sun in to a rainbow of colors.
Much of the furniture is constructed from trees found on the property and repurposed elements from old barns and buildings, making everything feel connected to the past. Plus, The Mohicans is surrounded by hiking trails and sits near three state parks.
Lions Sands Game Reserve: Kruger National Park, South Africa
Though they're called treehouses, these open-air lodgings are more rooms on stilts than treehouses, as the South African bush doesn't have much of the traditional old-growth forest necessary to support elevated dwellings. But guests who stay here are too busy enjoying the sleekly designed interiors and animal-filled exteriors to get pedantic about whether they are in a literal treehouse.
In the More family since the 1930s,
Lion Sands
has perfectly melded the best of luxury travel with the raw natural backdrop of the reserve. Guests can cool off in their own private infinity pools while watching hippos from the safety of the elevated lodgings. The treehouses don't have electricity, so the only link guests have to the outside world is with the on-site field guide, via radio. Despite chic, modern furnishings and a fully stocked super-sized bar, things feel a little dangerous. Obviously, guests are safe but will fall asleep hearing impalas snorting, hyenas whooping, lions roaring, and hippos honking.
Though all of the treehouses on this list are rad, staying at Lion Sands is bucket list stuff.
Winvian Farm: Morris, Connecticut
Winvian Farms is a 113-acre luxury resort in New England that features cottages and suites designed by fifteen different architects. Each one of them is incredibly special and luxe, but we are all about the two-story treehouse suspended 35 feet above the forest floor. If you like the idea of a treehouse but hate the idea of having to go down a rope ladder or rickety set of stirs at night to pee in a pit toilet, then this is the kind of treehouse you're looking for.
The first-floor bedroom boasts a king-sized bed, gas fireplace, jacuzzi, and steam shower. Go upstairs to the second-floor lounge for another fireplace with a full bar and a view of the lush forest below. This five-star property also has a farm-to-table restaurant, a 5,000-square-foot spa, and an outdoor pool. You can ride the complimentary bike that comes with the treehouse around the property to explore all that it has to offer. But if you don't want to leave your lush digs, call or text the staff and they will bend over backward to get you what you need.
Arctic TreeHouse Hotel: Rovaniemi, Finland
The Arctic TreeHouse Hotel is another example of people using the term "treehouse" for dwellings that are on stilts as opposed to perched in the boughs of large trees. But again, when you're treated to a panoramic view of the northern lights through one of the floor-to-ceiling windows or standing under the rain shower in a bathroom with heated floors, you're pretty likely to let go of your hang-ups on language precision.
The architects at Studio Puisto, who designed the hotel, were influenced by "the sensitive nature of the Arctic, the fairytale world of SantaPark Arctic World, and rich Lappish culture," which led them to opt for individual units on a steep natural hillside rather than a larger building filled with rooms. Each of them has a northern-facing glass wall that provides breathtaking views of the forest, and the design of the property has limited artificial light pollution as much as possible — to avoid obscuring the beauty of the northern skies.
Further, ecological sustainability is also central to the hotel — so everything is made of sustainably produced and renewable Finnish wood and the units have green roofs.
Dominican Tree House Village: Samana Peninsula, Dominican Republic
Another property being mindful of sustainable building practices, the Dominican Tree House is 100 percent dedicated to using local materials and labor. Set in a breezy valley in the Samana Peninsula, the property provides direct work to about 30 locals and indirectly to another 100 in an effort to increase the standard of living in the area. They also offer a variety of service projects to guests who want to take a few hours and give back to the community hosting them.
Tucked away in a tropical Caribbean jungle, the property's cabins are connected by rope bridges and winding garden paths. The entire property feels like a magical hideaway. The treehouses are open air, allowing views of the tropical forest's canopy from all sides. The queen-sized bed does come with a bug net, but the area is fairly mosquito free. The rooms also have curtains for those times when guests want a little privacy — though it's hard to imagine wanting to spend much time blotting out the incredible sights.
When not in your room, you can hit the pool, sit by the fire pit, enjoy the yoga studio, or lounge in a hammock.
Treehouse Utopia: Utopia, Texas
Laurel Waters is the chef and owner of The Laurel Tree, a destination restaurant in Utopia, Texas. Classically trained in France, she received Le Grand Diplome from Cordon Bleu in Paris and worked in three of the finest restaurants in Provence. When the Nelson Treehouse folks (Pete Nelson is a big deal) came to her restaurant one night while working in the area, they were captivated by the 450-year-old oak tree behind the eatery. Together, Nelson and Waters created a private dining treehouse. Next was the creation of Treehouse Utopia.
Drawing on her time in France as a decor inspiration and her years in local hospitality, Waters worked with Nelson to design a property featuring four treehouses. Each features a sitting room, bedroom, full bathroom, and expansive decks. Also, as if Waters isn't busy enough, she owns an antique store — so the treehouse interiors have been curated from her personal collection, meaning guests can expect unique finds like vintage religious tapestries, carved bed crowns, carousel horses, and pendant clocks with extensive histories. All of the treehouses look like something out of a design magazine, so definitely bring a camera and take tons of pics.
https://www.instagram.com/p/BlDlZAsgfyk/?tagged=treehouseutopia