Talking to a professional brewmaster, there's always one obvious question that stands above all others: "How do I get a job like yours?" Sadly for us humanities majors, Blue Moon brewmaster John Legnard has degrees in biology and microbiology. At one point he was planning to use them in a career as a veterinarian, but somewhere along the line he and a college roommate discovered that they could "make better beer cheaper" than what they were able to get in stores.
So Legnard started brewing, and despite the nerdly pedigree, the job he eventually landed with Coors came about in the lowest of low-tech ways: he answered a newspaper want ad. That led him to the Sandlot Brewery at Coors Field in Denver, where they brewed beers only available at the baseball stadium. One of the brews Legnard helped create in the early 90s was a Belgian wit, which he originally called "Bellyslide Belgian Wit," sticking with the baseball theme. The wit was a hit, and according to a legend probably cooked up by the marketing department, someone remarked that a beer that good "only comes along once in a Blue Moon."
Since then, Blue Moon Belgian White has been distributed all over the world and Blue Moon spun off into its own separate brewery, with flagship brewpub/restaurant in Denver's RiNo Art District. That's where I met Legnard to chat. It's a cool space, with giant circular drain pipes that have been turned into booths by a local designer and gleaming silver brew kettles in the middle, giving the whole thing a hipster spaceship vibe. (Legnard has been here so long that he can pose in front of a framed painting of himself, recognizable by the circle beard. I asked if he has to keep that for trademarking purposes and he said no, adding that he'd only shaved it off once, for his wedding.)
Like the original Sandlot Brewery, the Blue Moon brewpub serves lots of beers you can't get anywhere else. There's a spiced abbey ale, a blood orange pale ale, a mango wheat, a blackberry barleywine, a Mexican lager, a chile golden ale, and plenty of barrel-aged brews, sours, and beer/wine hybrids. In short, enough to keep an entire staff of brewers entertained enough to keep experimenting (John mentions one brewer, in particular, whose passion for hot pepper-inspired brews has to be frequently reigned in). My favorite of their specialty offerings was an "iced coffee blonde," which tastes and smells like coffee despite looking like a regular, light and clear blonde ale. It was paired with a caramel pudding at a tasting dinner (probably the standout pairing of the evening) and it makes a great… and there's really no way to say this without sounding like an alcoholic but it's true… breakfast beer.
It also typifies what has become Blue Moon's brand identity — the populist counter-programming to craft brew's snobby purism. Blue Moon still makes beers as likely to be drunk by women at a baseball game as by bearded dudes surrounded by woodwork. Legnard recalls a beer-centric episode of Monster Garage he appeared on alongside the master brewer from Stone in San Diego, and it's almost like the place where two roads diverged in the forest. Stone went on to release hop bombs with names like "Arrogant Bastard" and Legnard presides over a slate of fruit and wine hybrids.
In fact, before I finished writing this article, I saw this Stone truck on the road: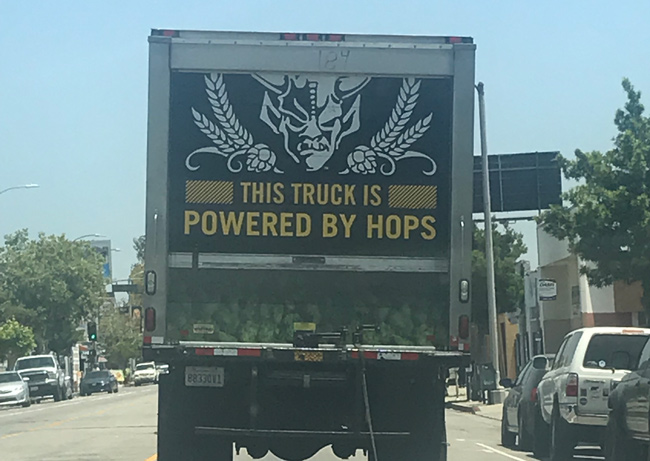 Don't get me wrong, I'm no fan of Blue Moon's famous orange slice (mostly because I don't like things poking me in the eye or the nose while I'm trying to drink), and I grew up knowing that my dad, as both a good hippie and a union man, had boycotted Coors in the 60s and 70s (supposedly Coors and the AFL-CIO made nice in the late 80s, and Joseph Coors, the hippies' bete noir, died in 2003). But Blue Moon began as a Coors product and is still owned by Miller-Coors, so it's not as if Legnard "sold out." And I gotta say, if it's a battle between the IPA boys and Blue Moon, I'm team Blue Moon. One beer style dominating isn't good for anyone (I prefer a medium-to-dark German lager), and anyone who tells you hoppy beer is "manlier" is an idiot.
Now that we're clear on that, here's my conversation with Legnard.
Tell me about starting out. When did you first get into brewing as a career.
I first got into brewing in college. One of my college roommates asked me to go to a home brewing class with him. What was interesting is his big play there was "We can make more flavorful beer cheaper than what we could buy at the store." Basically, it meant we'd brew beer on the weekends instead of doing anything else. A lot of fun. I had great success as a home brewer. Won some competitions. About my junior or senior year, I found a guy who was opening a brewery in Fort Collins, Colorado. He said … He was one of the judges at a homebrew competition. He asked, "Would you be interested in working with me?" I said, "Yeah." He said, "I've got to raise some money first." I was like, "I've saved up some money," so I gave him all the money I had to go to vet school and to buy an engagement ring — this girl didn't work out — to this guy to start a brewery.