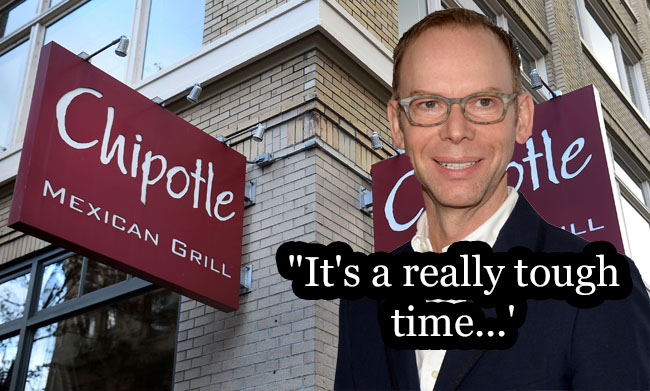 Chipotle is facing a pretty rough set of obstacles at the moment. The restaurant chain has been forced to close a number of stores due to an E. coli outbreak that has spread across at least nine states, and later saw a separate norovirus outbreak that sickened 141 Boston College students earlier in the week. This has been across several months and the one constant seems to have been a lack of response from Chipotle's executives.
The silence broke Thursday morning, when Chipotle founder and co-CEO Steve Ells stopped by Today to offer an apology for the food poisoning that has put the chain into a state of panic:
"It's a really tough time," Ells said. "I have to say I'm sorry for the people that got sick. They're having a tough time. I feel terrible about that, and we're doing a lot to rectify this and make sure it doesn't happen again."
Mashable notes that investors supported the apology and helped stock shares jump 5 percent, but the same can't be said for the customer rankings that look to be scraping rock bottom. This is something that Ells wants to rectify and hopes won't affect the brand's status as an entity that puts fresh and natural ingredients at its forefront:
"If there's a silver lining in this, it is that we have looked at every single ingredient we use at Chipotle…We've had a team of epidemiologists and food safety experts to raise our standards from the industry norms."
Check out the Today segment below and maybe give Chipotle a little bit more time before you rush out to give it a try again. Burritos are great, but they're not worth puking your guts up.