If wanderlust-afflicted millennials have anything to say about it, working remotely is about to become the new normal. The traditional office is no longer expected for the latest generation of freelancers, entrepreneurs, and unconventional companies — who are tapping into the power of co-working space. While 32% of Americans still aren't using their vacation days, a growing number of young professionals are taking their work on the road to reap the bountiful benefits of travel.
Here are 10 awesome co-working spaces for the nomadic set:
Paris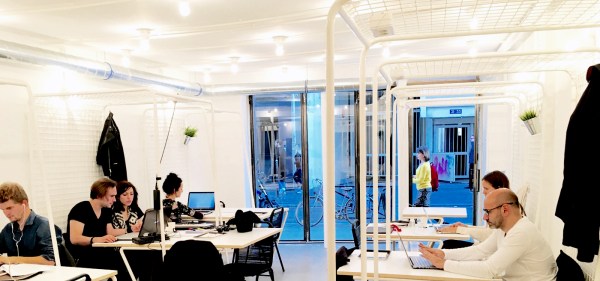 Coworkshop
If you're in the midst of your A Moveable Feast years, Coworkshop is your reprieve from café life and betting on ponies. The space offers unlimited coffee/tea and snacks and the choice of a first-come-first-serve "nomad area" or "resident" reserved desk/private office. It's located near major train stations and commitment-phobic (or frugal) wanderers will appreciate the hourly or daily payment options.

Copenhagen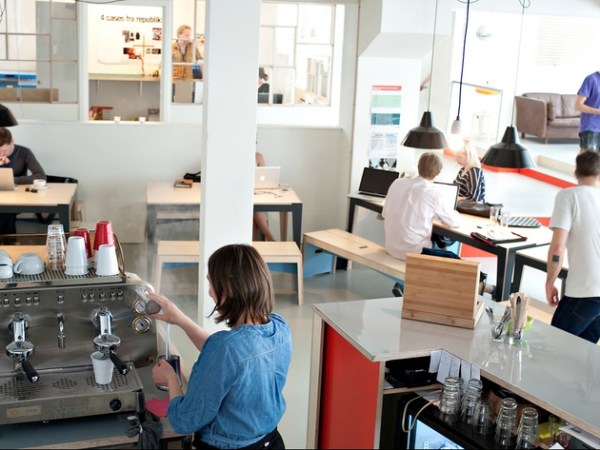 DeskSurfing.net
Equipped with a laser cutter, 3D-printer, workshops and events, Republikken is a community geared specifically toward design-focused creatives. And yes, there's a café to grab an espresso while swapping Photoshop horror stories.
Berlin
"Experimental Center" Agora Collective started as an independent project space, but has now grown into a hotbed of art studios, events, and exhibitions. Co-working options throughout the five floor building include "vibrant" "silent" and "team" work spaces as well as a multifunctional room, café, and garden. Agora Collective is bursting at the seams with creativity, and the light and plant filled interior might just turn you into a photographer.
Or at least give you an epic Instagram.
Shanghai
Co-working titan WeWork has now spread to 12 other countries, 15 U.S. cities and even opened a living concept in New York. Membership connects you to more than 40,000 other creators and gives you access to exclusive events, online networking, and fun office perks.

Bali
A tropical paradise and traveler's daydream, Bali is flush with creatives working remotely. Hubud has one of the strongest wifi signals plus meeting rooms, events spaces, and an organic café. The remote work hub also offers a "soft landing package" to help the 100 new people that join the space each month. This package includes airport pick up, accommodation, sim card, scooter rental, a 30-minute orientation session and of course a membership to Hubud.
Koh Phangan, Thailand
Coworker.com
"The world's Chillist Coworking Space," BeacHub knows its audience. Speedy wifi, plenty of desk space, hammocks, and a full menu of organic local cuisine on site from Karma Kafe. Bonus: it's right on the white-sand beach and as far as founder and San Diego native Matthew Schotz knows, its the first full service beachfront co-working space in the world.
Founded in February of this year, the BeacHub is currently taking applications for an "accelerator" class to help creative dreamers launch their own projects.

Colombia
The ultra-modern pay-as-you work Urban Station has two locations in Colombia as well as spaces in Argentina, Chile and Mexico. Amenities include on-site bicycles and outdoor terraces. Urban Station will be of particular interest to the digital nomad still working on U.S. time — since the time difference will put you only an hour or two off New York.
Gran Canaria
Surf Office is a community driven workspace catering to the Endless Summer set. With locations featuring accommodations in Lisbon and The Spanish Canary Island Gran Canaria, Surf Office offers exactly what it promises: coworking office options and plenty of afternoon surf trips/lessons. Get ready to channel your inner Johnny Utah.

Panama
Snag a spot at Cocovino's off the grid paradise, and you may never leave. If the solar powered Wi-Fi and inflatable trampoline don't impress you, the retreat's activities will: stand-up paddle boarding, snorkeling, kayaking, wakeboarding, hiking in the property's private 145 acres of jungle, the list goes on.
Vancouver
HiVE is a sustainability-focused concept that brings freelancers and entrepreneurs together. For the nomadic environmentalist, the space offers a community member option to connect with likeminded or "hot desk" for the digital nomad who needs a break from coffee shops.
For more coworking options, Desk Surfing lets you search by country, city or suburb.