There are many reasons to love Garden of the Gods Resort, which was recently named Yelp's #1 Hotel in the United States. The most obvious one is that you can't find a view of the iconic Garden of the Gods park like this anywhere else. Set just above the park's visitor center, the resort has the best possible vantage point of the red rocks and Pikes Peak in the distance.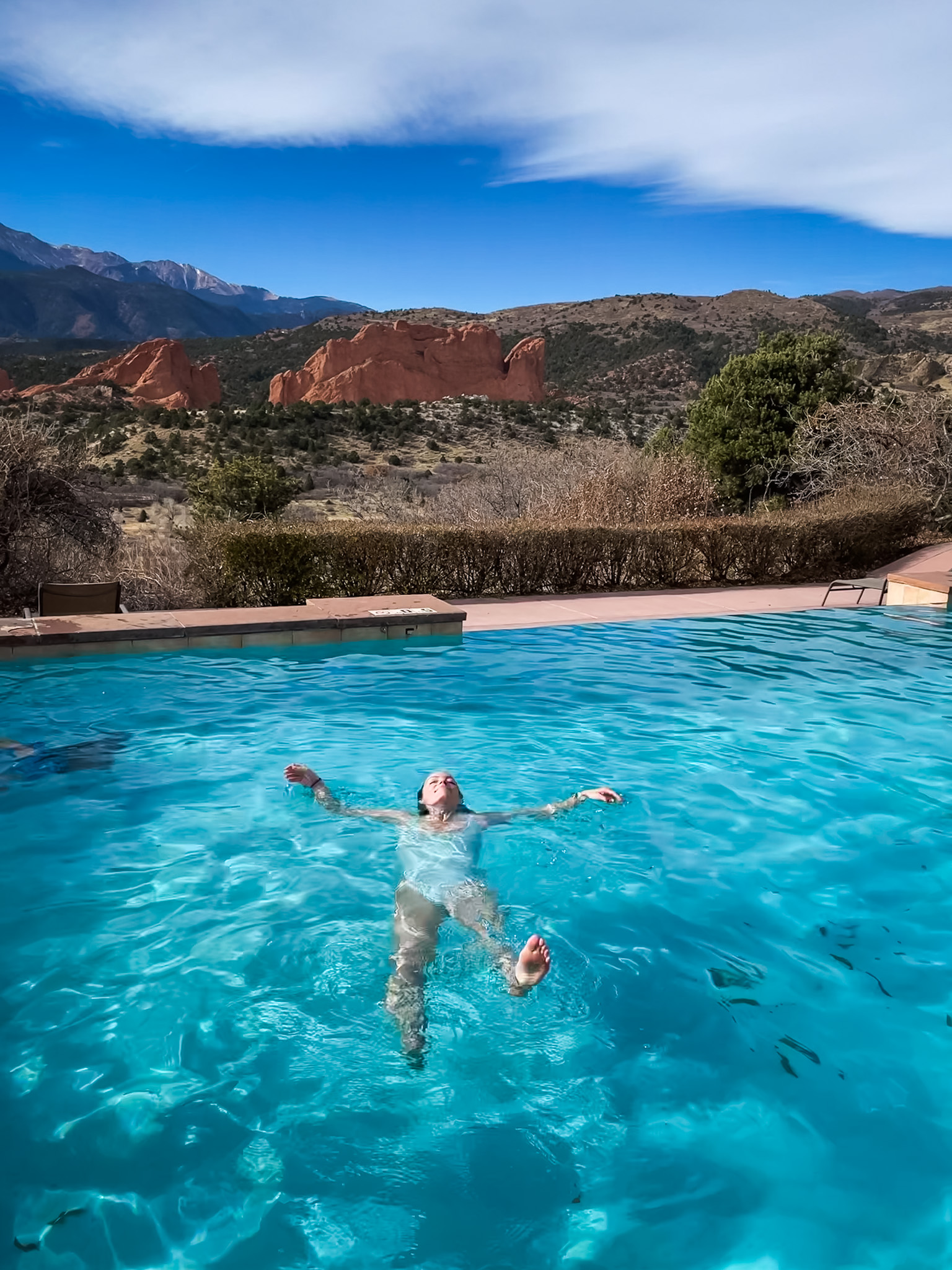 The founders bought the property in 1949 to create a private club and resort, enamored with the view and possibility it would bring for tourism and members. After changing hands the resort is now again locally owned, and touts that what was once an exclusive club is now aimed towards continuing to be "an inclusive destination of discovery" and committed to "welcoming all who seek to restore their spirits and satisfy their souls".
With the addition of the state of the art STRATA Med Spa and Fit, the resort is, to me, equal parts luxury, outdoor basecamp, and wellness getaway – all with great food and drinks.
Here are the details:
WHY IT'S AWESOME:
You'll notice I mention the view about 450 times in this piece. Sorry, I just can't get over it. After spending part of my childhood living in Colorado Springs and now visiting frequently as a traveler and Colorado resident for the past decade – the view from the resort is still unlike anything I've ever seen. Even without the amazing food, high ceilings in the luxurious club rooms, amazing service, wellness classes, spa, and infinity pool – the view on its own would be worth a visit.
Luckily, if you're not as visually motivated as I am – there is so much more than just what meets the eye here. Despite its location in the middle of one of Colorado's consistently fastest-growing cities, it feels like you're in a secluded wellness retreat.
Its STRATA Med, Fit, and Spa really set the resort apart. While not all-inclusive, there is an abundance of wellness options you can choose to schedule during your visit. From concierge medicine to spa treatments (where I had one of the best massages of my life) to daily fitness classes and personal training – the resort caters to all wellness needs.