"Tabasco? Well, you can put it on your eggs, you can put it on your steak, heck, I put it in banana bread." – Dr. Shane Bernard, Historian and Curator, Tabasco
PART I:
Have you ever read anything so emotional in your life?
I'm on Avery Island in Louisiana at the Tabasco factory, learning about this hot condiment and its deep Southern roots. We start our day with a little history lesson about Avery Island and the 150-year legacy Tabasco's founder, Edmund McIlhenny, left behind. How the hot sauce began as a way to make post-Civil War food less depressing and transformed into a household staple in 195 countries.
That's all great and important, but I'll be honest: I'm just here to learn more fun ways to shove Tabasco in my mouth. I mean, banana bread? "It gives it a rich cinnamon flavor," Bernard explains. "You can also drop a little on vanilla ice cream. It's delicious. Really, you can put it on anything." Oh yeah? Tell that to the one time I accidentally mixed up pepper sauce with K-Y.
Our tour continues on, led by the gregarious John Simmons of the McIlhenny family and company, a sixth-generation Tabasco maker. John's a guy you'd want to get a beer with but who you'd also totally ask to officiate your wedding. The sort of man who seems like he's got a strong opinion on which Applebee's has the best pork chop.
He leads us through the pepper sauce journey — from seed in the field to bottled up and ready to ship. We taste the pepper mash straight from its oak barrel, where it'll sit and soak for up to three years before being transported to the blending facility. They'll remove the seeds to keep that Scoville scale from getting too hot and overpowering and mix with premium vinegar for about three weeks. Then it's off to bottling, packaging, and on its way to punching up your eggs.
After the tour, we're handed off to John's father, CEO and President of Tabasco, Tony Simmons, a delightful-yet-formal man in his mid-sixties, who guides us through a tasting of the various hot sauces. Now, I'll be frank: I'm no food expert or culinary goddess. As several erudite food and spirits experts blab on and on about its acute properties, I dump way too much flavored hot sauce onto three crackers and slap 'em into my mouth.
"Ah yes, I'm tasting some subtle notes of garlic," one guy muses, theatrically smacking his lips together.
Uh, yeah dude, it's literally called "Garlic Pepper Hot Sauce." Put your pinky down, you're wearing capris.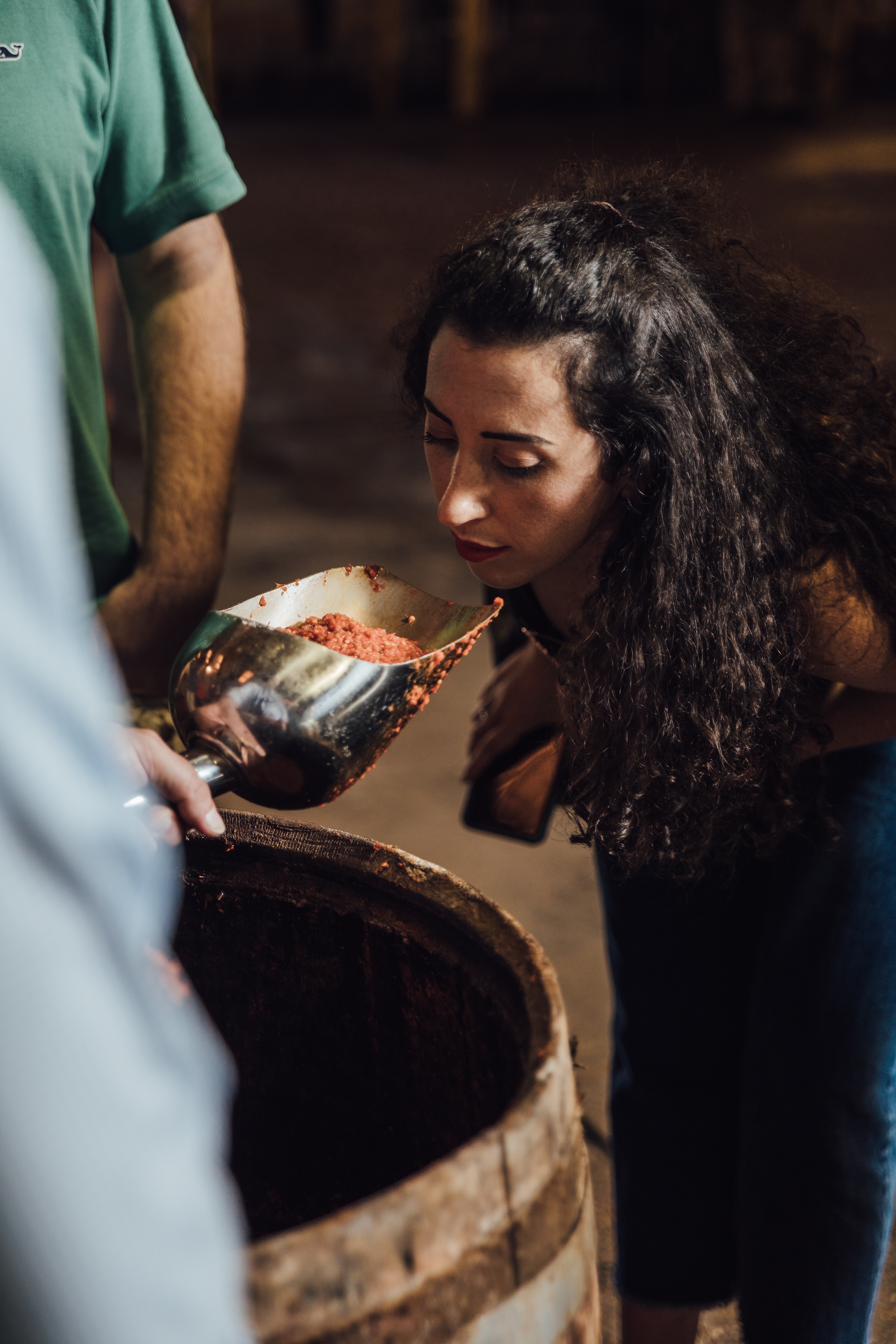 For the grand finale, we're offered a taste of Tabasco's exciting new venture: a pepper sauce infused whisky. The liquor represents a merging of two historic southern brands to create George Dickel Tabasco Barrel Finish. "Hot Dickel" for short. When I saw it in a shot glass, I didn't know what to expect. Maybe a spicier Fireball? A whiskey-based Bloody Mary? I drink it, regardless.
The shot goes down smooth; it's buttery and warms your mouth without overpowering the palate. (Oh holy shit, would you listen to me? Old pinky f*ck has corrupted me!) Basically, it didn't burn and I didn't make that embarrassing wince face after. It's tasty, not quite spicy, with just the most subtle amount of heat. I really like it.
I leave the Tabasco factory curious: Why this collaboration? How's it made? Can I get drunk for free? To get some answers and a sweet buzz, me, the capri guy, and a few other writers leave Louisiana and head down to Tullahoma, Tennessee, home of the George Dickel Cascade Hollow Distillery.
PART II:
For a city girl who desperately craves the sounds of like, birds and joy, Tullahoma is absolute paradise. Located about an hour outside of Nashville, Cascade Hollow is a charming and quaint little compound where bright green, ancient trees and flowing streams punctuate an idyllic landscape.
Actually, I'm told, the waters of these flowing streams, known as Cascade Creek, play an important role in Dickel's distilling process: this limestone-filtered spring is "some of the purest water you'll find," boasts Kyle Prydom, Cascade Hollow Distilling Co.'s On-Site Ambassador.
I don't think my parents have ever been as proud of anything I've done as Prydom is of the Dickel water.
As we carry on through the distillation process, Kyle explains that much of what happens in Cascade Hollow hasn't changed since it all began in 1870. They haven't made major renovation since the 1950's, and haven't let machines take over, like most distilleries of their size and magnitude. It's intimate; it's personal. They don't have robots or computers, but rather actual human beings running the production process at every step of the way. In 2018, I find that extremely refreshing.
Kyle explains that in order to make Tabasco Barrel Finish, Tabasco actually ships their oak barrels to Cascade Hollow, which I'm guessing would allow for the pepper mash residue to juice up the flavor. They then add a couple of scoops of pepper mash, five-to-seven-year-old Dickel, and let the two mix for about thirty days. There you have it: good ol' Hot Dickel
We culminate an extensive tour of barrels and mash with yet another tasting. (Pretty sure I wrote under my kindergarten yearbook picture: "When I grow up I want whatever job lets you taste stuff and scream your opinions at people.") As we sip on the various whisky samples, I'm desperately trying to pretend that I'm not totally clueless as Mr. Capris carries on about pleasant hints of floral.
"Yes, this one's quite smoky but with a lovely note of citrus," he says.
It's like we get it, you read. All I can taste is whether or not it's burning a hole in my throat. My boyfriend, a total whisky connoisseur, is going to be so pissed when he reads this. He's for sure going to comment "this article sucks" at the bottom.
To soak up some of the alcohol, we move outside to a full set up of delicious Southern BBQ. While we enjoy our potato salad and barbecue ribs, I decide I need to overcompensate about my lack of spirits knowledge with what I was actually put on this planet to do: schmooze. (I could talk to a hamster and find out which sibling owes him money. It's a gift). Over a couple of Dickelades, I strike up a chat with Kyle to get some answers to my original questions: Why Tabasco? Why flavor your whisky? Why does that guy over there have three guns in his car?
"Tabasco is a Southern brand," Kyle explains. "It's what people think of when they think of the south. It's a staple down here. We wanted to compare that to George Dickel, which we're trying to make a staple, as well." He goes on to say that he appreciates the purity of Tabasco: it's only a couple of ingredients, after all, so they wouldn't have to do a flavored shot "the chemical way, the way other distilleries do it."
I like to think of this collaboration as the marriage of two proud Southern families. Stronger together, blending their deep familial legacies into a spirit that what will hopefully become synonymous with Southern imbibing. Whatever it is, it's freakin' good. Yep, friends, I have a feeling we'll all be gettin' a lot of hot Dickel this summer.*
*Oh stop it, they knew what they were doing with that name.
You can check out the Uproxx press trip policy here.