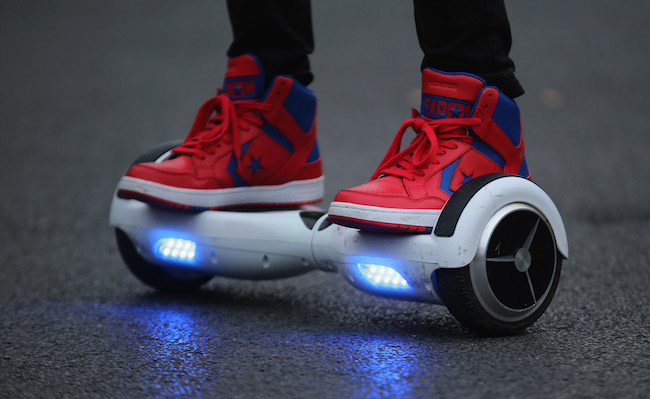 Planning on hoverboarding in New York City? The NYPD would rather you didn't.
Gothamist has peered into the legality of these non-hovering contraptions and it turns out hoverboards are not welcome in the Big Apple. It's a development that probably has Justin Bieber in a state of devastation.
The NYPD initially tweeted that the trendy transportation device was illegal under NYC Admin. Code 9-176.2. (Yes, there's a code specifically addressing motorized scooters.) The tweet would end up being deleted, but Gothamist dug through the details of the code in question and it seemed to suggest that hoverboards might qualify as being legal in New York City.
In an effort to sort out the official details, the site contacted the city's department of transportation for more details. Are hoverboards legal? Are they illegal? Here's your answer:
The NYC Department of Transportation, however, has landed on firmer ground when it comes to rules surrounding hoverboards—they told us that these devices are in fact illegal. They are considered motor vehicles that cannot be registered with the DMV, which means they're prohibited in the city (under NY State Law). Even though they aren't in the DMV's list of expressly prohibited motor vehicles, they are considered motorized self-balancing devices, similar to Segways.
So consider hoverboards grounded in New York City. They're sorta grounded already because they don't actually hover, but you know what we're getting at. If you get busted by the NYPD or Parks Department, you could be the subject to a fine of up to $500.
Let's mourn the loss of this mode of transport in New York with a compilation of schmucks eating it on their hoverboards.
(Via Esquire)