Among our goals for your experience is to take you back to the 'Fly Fishing Camp' of your youth while still providing a culture of service and quality in line with all Broadmoor standards.
This quote comes from the marketing materials of The Broadmoor — a Forbes 5-Star, AAA 5-Diamond-ranked resort in Colorado Springs. It's referring to one of The Broadmoor's satellite properties, The Broadmoor Fly Fishing Camp, an Orvis-endorsed fishing lodge. (Orvis, for those who don't know, is the OG fly fishing gear company).
Now, let's talk about this "flying fishing camp of your youth" thing. I don't know about you, but my parents did not send me to fly fishing camp. In fact, I didn't get to go to camp, period. Because of this sad state of affairs, I've been left to daydream longingly about myself, on the bank of a wild river, holding a big trout I just caught. It's a nice image, but has remained a distant fantasy.
Then, this spring, an opportunity to take up the sport finally presented itself when I was invited to visit the Broadmoor. I said yes immediately. It was finally time to make up for all the youthful fly fishing I was apparently supposed to have done.
Arriving at Fly Fishing Camp, deep in Colorado's Pike National Forest (almost 9,000 feet elevation), I immediately understood the "fly fishing camp of your youth" line. This place really did feel like a summer camp in miniature (or my ideas of a summer camp).
There was a central lodge with a dining room featuring a long communal table, a living room for gathering and swapping stories in the evening, and seven petite sleeping cabins within eye or earshot of a gorgeous stream. All this, coupled with the smell of pine trees, the blissful silence, and the lack of cell phone service felt like the perfect antidote for my fried, digitally-overloaded brain and the perfect setting to fulfill my dream of pretending to be Brad Pitt in A River Runs Through It (the parts where he's happy and fly fishing more than the drunken gambling addict bits, obviously).
There was one major distinction, however, separating The Broadmoor Fly Fishing Camp from an actual summer camp — it was really nice. The meals served at the communal dining table were three courses and gourmet, the lodge living room looked like the set of a Ralph Lauren photo shoot, not the set of Camp Anawanna, and there was an open, pour-it-yourself bar with all the liquor and mixers you could want. And as for the cabins, well…
Originally a homestead, the cabins are historic and almost 100 years old. They've retained their original, old-timey charm and form on the outside and have been reclaimed and updated on the inside with comfy beds and wilderness-chic interior design. To note: of the seven cabins, three have ensuite bathrooms; the rest share a central, luxury bathhouse with large, private showers.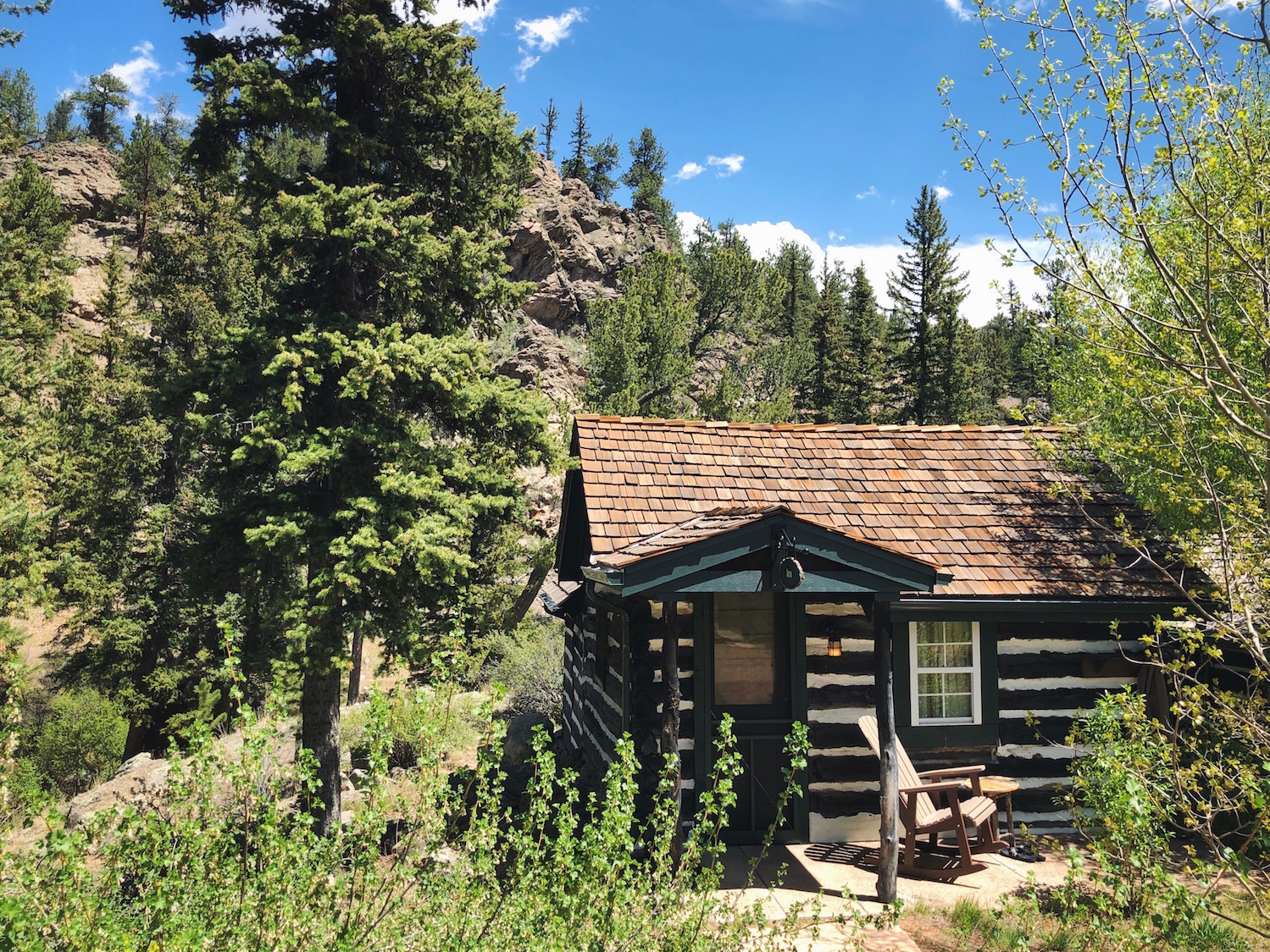 After my settling in, I was greeted by Camp Manger Scott Tarrant and the camp's resident pup, Blue. Together they introduced me to the property, gave me a tour, and let me know that it was time to do what I came to do: learn how to fly fish.
Now that my moment had finally arrived, however, I was nervous. Over the years I'd seen too many depictions of rugged fly fishers effortlessly casting their flies with style and finesse. And all that time, I imagined trying to do the same and looking like an idiot — or worse, like a total city slicker to the pro fly fishing guide who'd be charged with teaching me. I could just see him rolling his eyes when telling other guides about my non-Pitt-like clumsiness.
So, in an effort to ease into fly fishing and sure-to-result embarrassment, and because the camp's pre-dinner social hour was fast approaching, I decided it'd be best to forgo the afternoon fly fishing session (a 12:30pm lunch is bookended by a four-hour morning fly fishing session and a four-hour afternoon session) and start by learning about the equipment and how to cast on the camp's open lawn with my guide Phil.
That's right: I spent my first-day fishing on grass.

Phil, who has guided at the Broadmoor for the past 11 years and has been fly fishing since he was a young child, immediately put me at ease. First and foremost, he was kind, calm, and a true teacher who finds joy in helping people fall in love with his favorite sport (and while Phil was my dedicated guide for the duration of my stay, I spoke with the other guides and found Phil wasn't alone in this). He also told me that even though the property is frequented by seasoned fly fishers, the majority of the people who visit have never touched a fly fishing pole in their lives. This was a no-judgment zone — which I liked becasue if I was going to look like a noob, at least I wouldn't be the first.
To my surprise, with Phil's instruction it didn't take long for me to understand the basic mechanics of the equipment (we'd be doing a type of fly fishing called nymphing so the rod was set up for that), and it only took a few awkward tries before semi-successfully executing two of fly fishing's most basic casts.
30 minutes later, with a growing level of confidence, I felt ready to hit the river the next morning with my new skills — but not before celebrating my first casts ever with a cocktail in the lodge's living room.
Joining me in the living room were the rest of the Camp's guests who had gathered to enjoy a pre-dinner drink and appetizers (which on this night were trout cakes — crab cakes but with trout — made fresh by Scott's wife who runs the property with him).
Minus the upscale atmosphere, sitting here in this communal environment again made me see the "camp of your youth" similarities. Here we had a group of people from several different states, all gathered to enjoy nature, all interested in getting to know one and other, and all bound by the unique experience we were sharing. It's a scenario and a feeling you rarely find in everyday life as an adult, and even in most non-remote travel experiences.
All this magic was best encapsulated in one easily observable phenomenon: no one way on their phones. We were all present, together — and we all simply talked *gasp* like in the good old days.
After dinner, which featured a pork chop entree and cast iron skillet cobbler with ice cream, the group moved to the Fish House, a cabin dedicated to tying flies (a.k.a. making the flies used in fly fishing). Here, with Scott and two other guides' instruction, I tied my first fly — an earth worm (which is not as simple to make as it looks but in the grand scheme of tying flies, is basically as easy as it gets).
Worm made and unable to light the camp's bonfire to make s'mores due to an elevated fire risk warning in the region, all that was left to do was return to my cabin and let the silent, pitch black night swallow me up.

Rested, caffeinated, and fed again at a group breakfast, it was time to put on my boots and waders (waterproof overalls with built in drysuit booties that keep your feet dry) and meet Phil on the lodge's wrap-around porch. With him leading the way and my fly fishing rod in hand, we set off to explore the property's five+ miles of private access to the Tarryall River. Since each party heads to a different section of the river with their private guides, you really feel like you've found your own private slice of wild Colorado.
Aiding in the feeling of blissful isolation, is the fact that the Camp borders 119,000 acres of Forest Service land known as the Lost Creek Wilderness. This untouched American wilderness is also home to the primarily, pristine tributaries that fill the Tarryall River on whose banks we walked for 15 minutes to reach our first fishing spot of the day.
Here, upstream from the Camp, the canyon was wider, giving the river room to breathe and bend, and the shores were flanked by low-lying chaparral. Though the scenery was stunning and made me wish someone would invite me to a landscape painting camp (is that a thing I was supposed to have in childhood too?), I was here for the river and what it held: trout (mostly of the Rainbow and Brown varieties, but also Cutthroat and the occasional Brook).
Soon, trial and error, repetition, and expert guidance from Phil gave way to decent form and cast accuracy. This, coupled with Phil's knowledge of rivers and where fish are likely to hang out, meant it wasn't long before I was reeling in several catches worthy of the me-on-the-bank-of-a-wild-river-holding-a-fish-I-just-caught photo I always wanted. Seriously, it was some Paul Maclean via Pitt-type stuff.
Over the next few hours, as the river babbled on and as I cast and watched, cast and watched, I tried to find the sweet spot between concentration and meditation. Sometimes concentration took over and I'd need to stop and appreciate my surroundings; other times I'd zone out while trying to get my zen on and miss a fish striking my fly. What I figured out, but never quite mastered on this trip, is that in fly fishing, concentration and meditation seem to be one in the same.
By lunch, I'd reeled in three fish and after lunch, I couldn't wait to get back on the river to keep getting better and catching more (the afternoon fish count came to five). By the end of my second day on the river, having lost track of how many fish I caught and having realized I caught way more than anyone else at Camp, I could't help but think, "wait, am I really good at fly fishing?" After all these years of wanting to try the sport (yet being to scared to look like a jackass), was I a natural?
The answer: Probably not. It's more likely that it was luck or maybe it was just becasue Phil was a really good guide. Whatever the reason, I was hooked and wanted more. Here I was, in Colorado, at a remote camp on the banks of a beautiful river, and I had finally broken the inertia and took my first steps down a path that I hope will lead to more fish, in more rivers, surrounded by more stunning landscapes. This was a victory, a reminder that even though I never went to camp or learned how to fly fish as a kid (thanks mom and dad), I could still make up for it in a big way as an adult.
---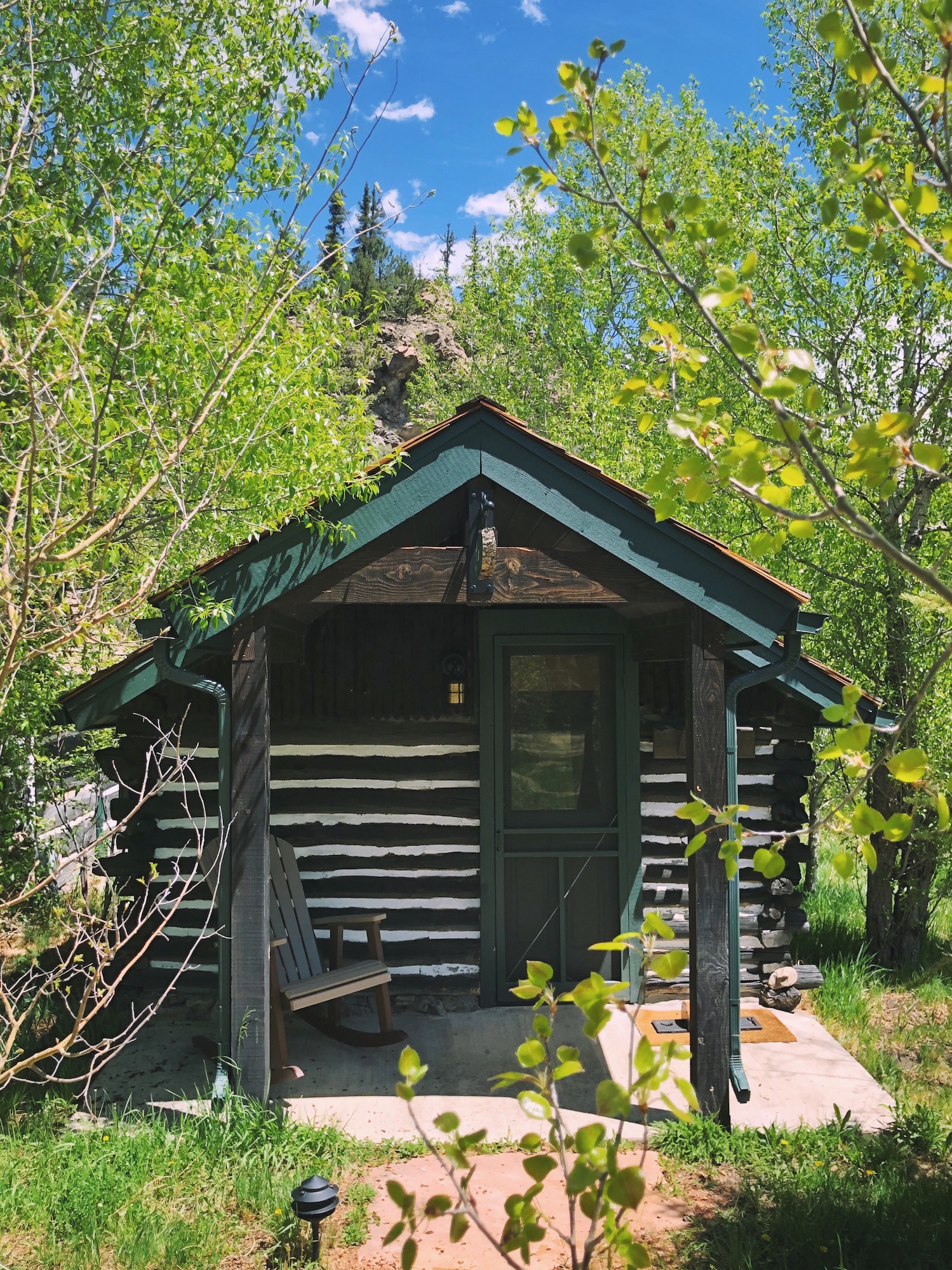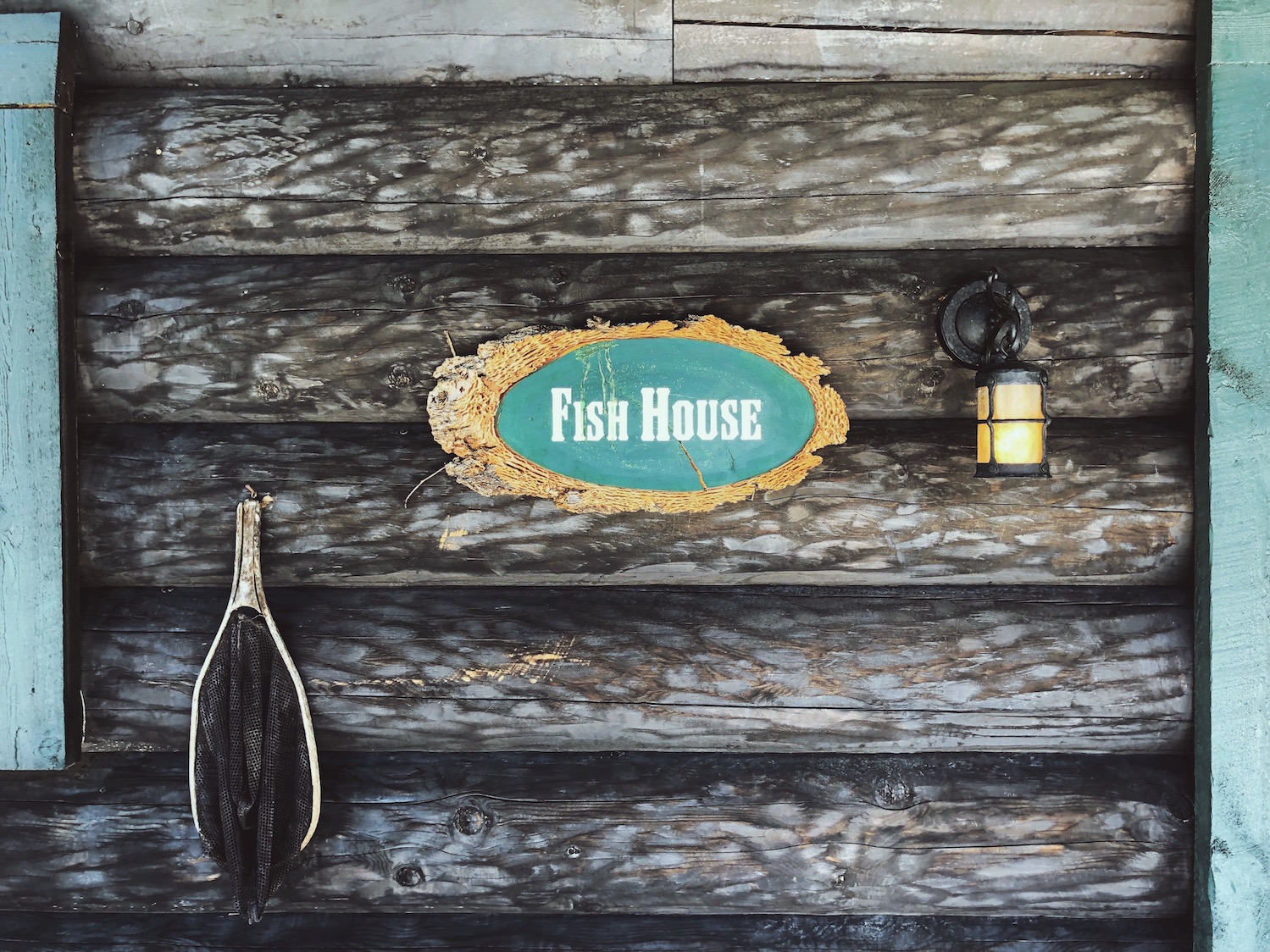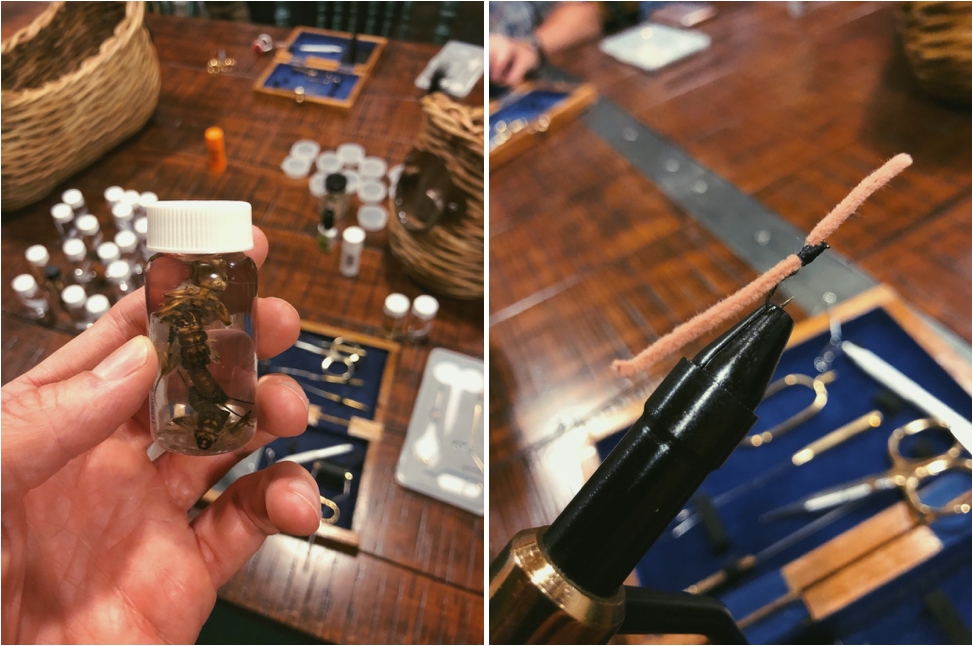 (Left: All the white-capped tubes are filled with different preserved bugs pulled from Fish Camp's stream // Right: the makings of my earthworm).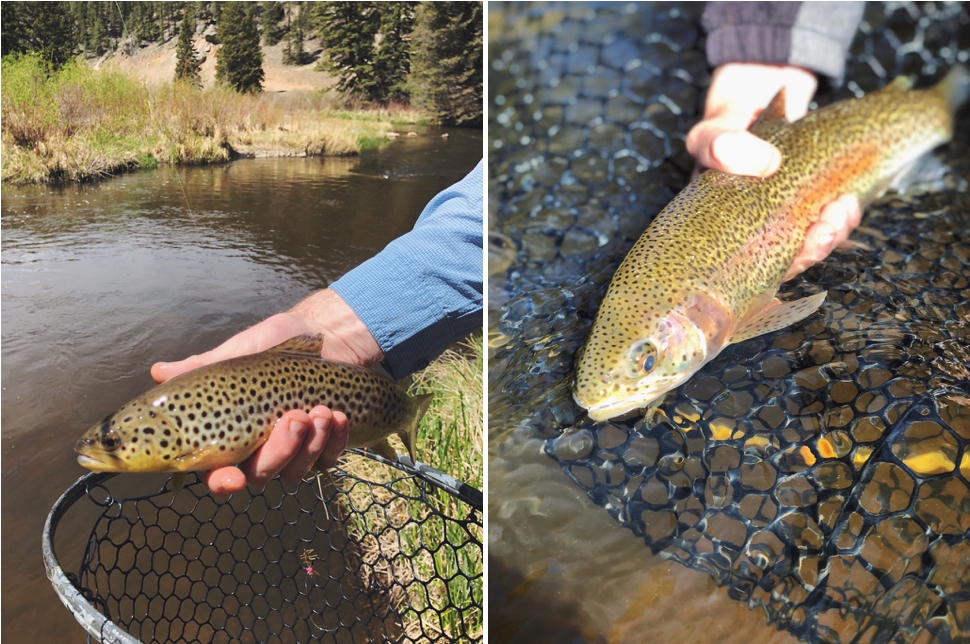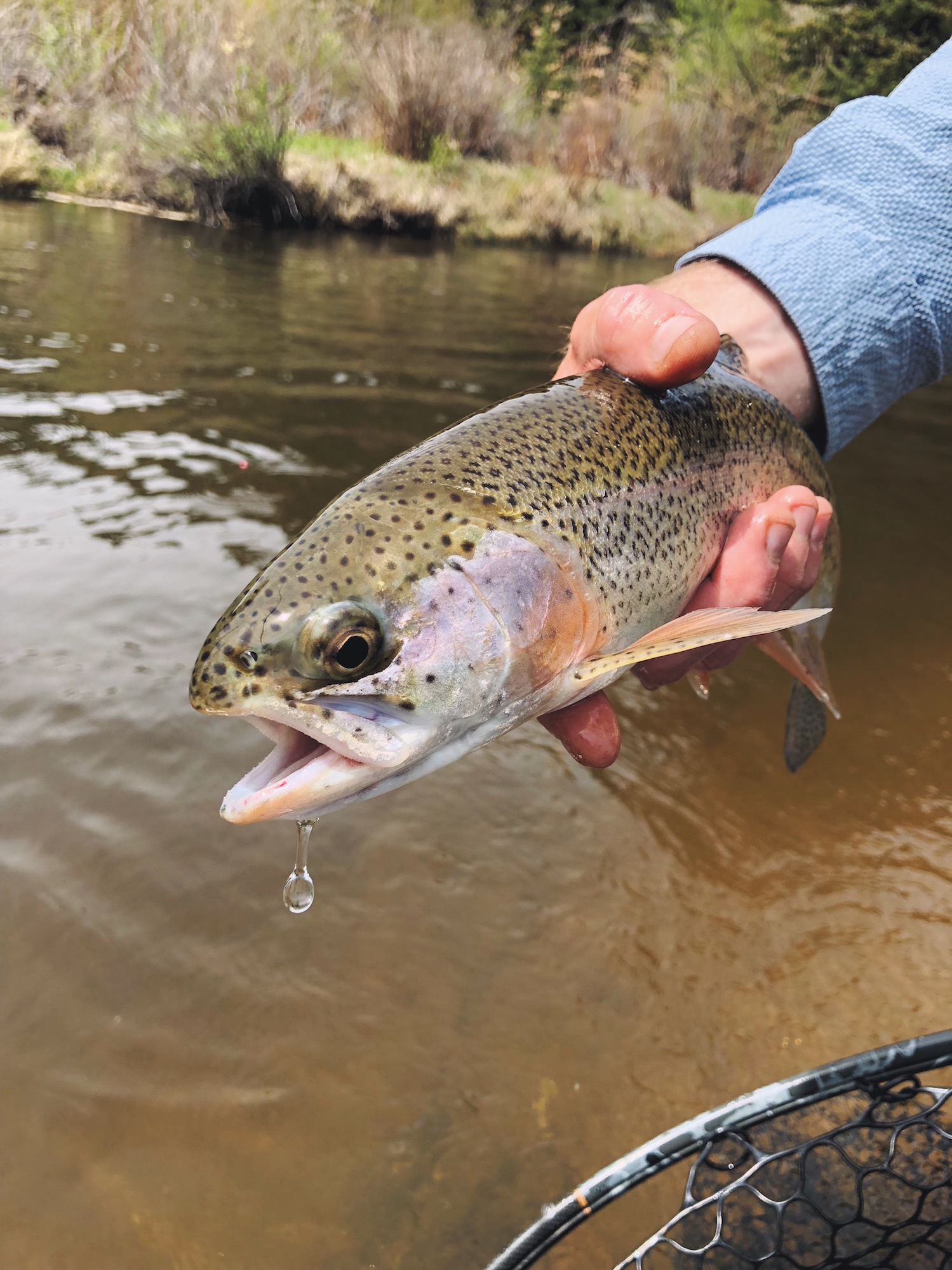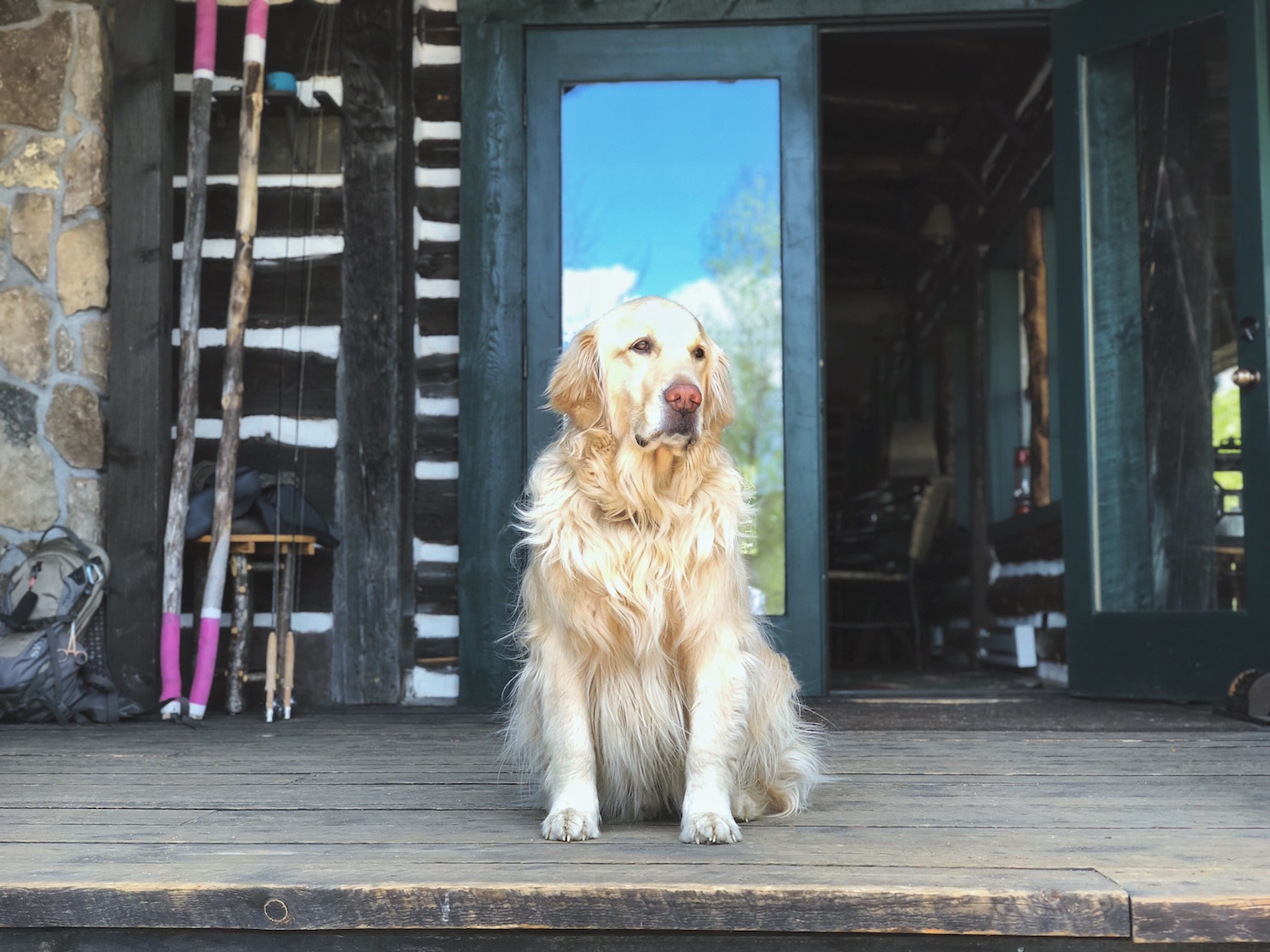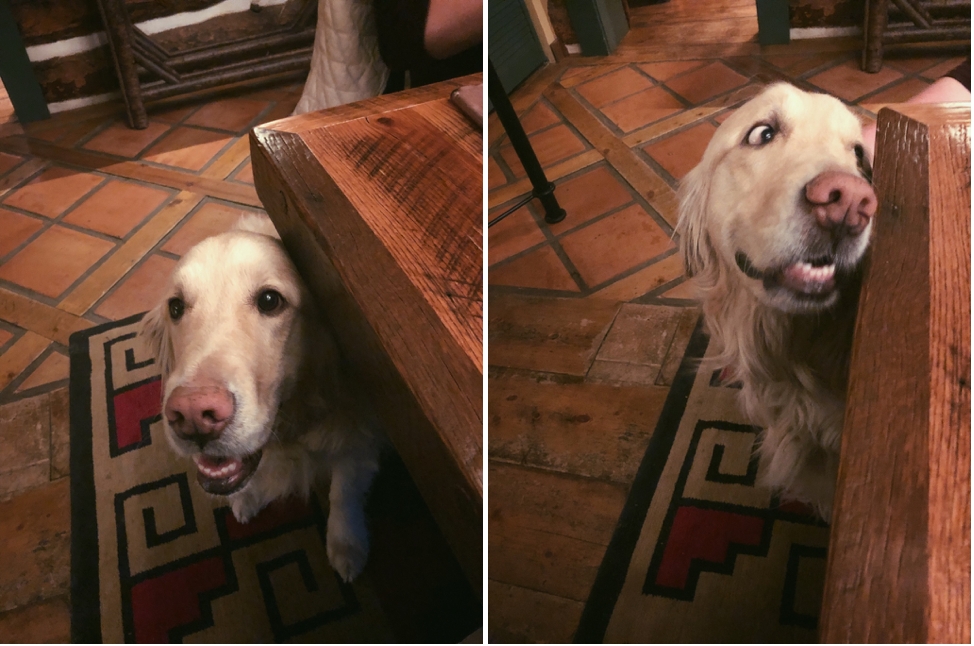 (Blue, the camp's resident golden retriever. He'll be you best friend, especially during meal times when he's trying to convince you to let him get taste of what's on the table).