I have to admit, getting an unsolicited DM from MSCHF — the Brooklyn-based conceptual art collective famous for pissing off Nike, the Catholic Church, Vans, and a whole bunch of other brands — asking if you'd like to sample their latest drop feels …kind of unnerving. This is a brand that released chips in the flavors of horse meat and maggot cheese, after all. By agreeing to try their newest drop, would I become part of the art itself?
But when I clicked on the link for their latest launch — out today at 8:00 am PST (move fast) — I was transported to a website looking like it was designed by Kelvin Gemstone, which advertised something called Sacred Seltzer, a hard seltzer made from actual holy water. The site featured the phrase "get crunk on Christ!" and I mean… c'mon! It's not every day that I get the opportunity to drink an art piece that's sure to piss off religionists everywhere.
So I passed my address over to the people at MSCHF, and in return, they sent me a case of Sacred Seltzer, a variety pack featuring six cans in three flavors. As far as hard seltzers go, the flavors aren't anything out of the ordinary, we've got cherry, mango, and lime, which are probably the three most common flavors across the world of hard seltzers. Each can is also only 5% abv, so this isn't going to get you any drunker than White Claw. Meaning the real draw here (aside from the fact that it's a MSCHF collectible) is the other 95% of the liquid — which is Holy Water, blessed according to official Catholic procedure on March 31st, 2022 in LA county California.
As far as MSCHF products go — which have included toaster-shaped bath bombs and satanic shoes with blood in them — Sacred Seltzer is pretty wholesome. Drunkenness is a sin but drinking in moderation isn't and Sacred Seltzer only has 5% ABV and is 95% holy water. There isn't anything in the bible about drinking holy water being a sin; in fact, as Ephesians 5:18 states, "And be not drunk with wine, wherein is excess; but be filled with the Spirit."
MSCHF products are collectibles, so if this is the sort of thing that appeals to you, you're probably not going to actually open it up and drink it. But how could you not be tempted? So we drank it for you. Could we taste the holy spirit? Did we see visions of God herself? Did we, in fact, get crunk on Christ?
The Presentation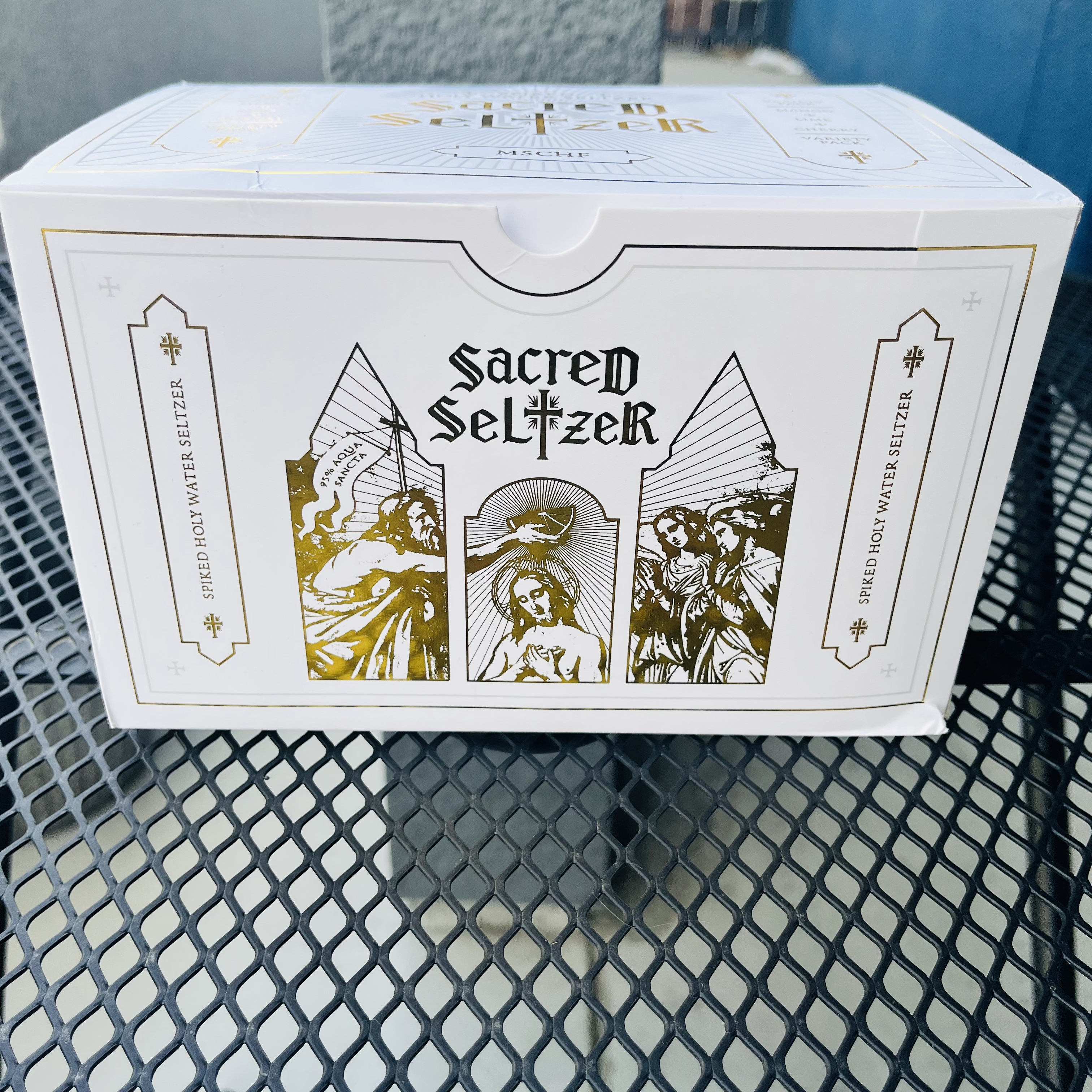 Right off the bat, we've got to give it to MSCHF, like all of their products these Sacred Seltzer cans are beautifully designed. The artwork is reminiscent of Renaissance painters like Michaelangelo, Raphael, and Leonardo da Vinci — turtle power — and the design of Zig-Zag rolling papers. Religious iconography and graphics of juicy and succulent fruit adorn each can, the images would honestly look beautiful in stained glass.
Each can matches the color of the associated fruit and I've got to say, as a person who has tasted all sorts of different hard seltzers, MSCHF's cans are easily the coolest. These look pretty damn refreshing.
They aren't though… they taste awful.
The Seltzer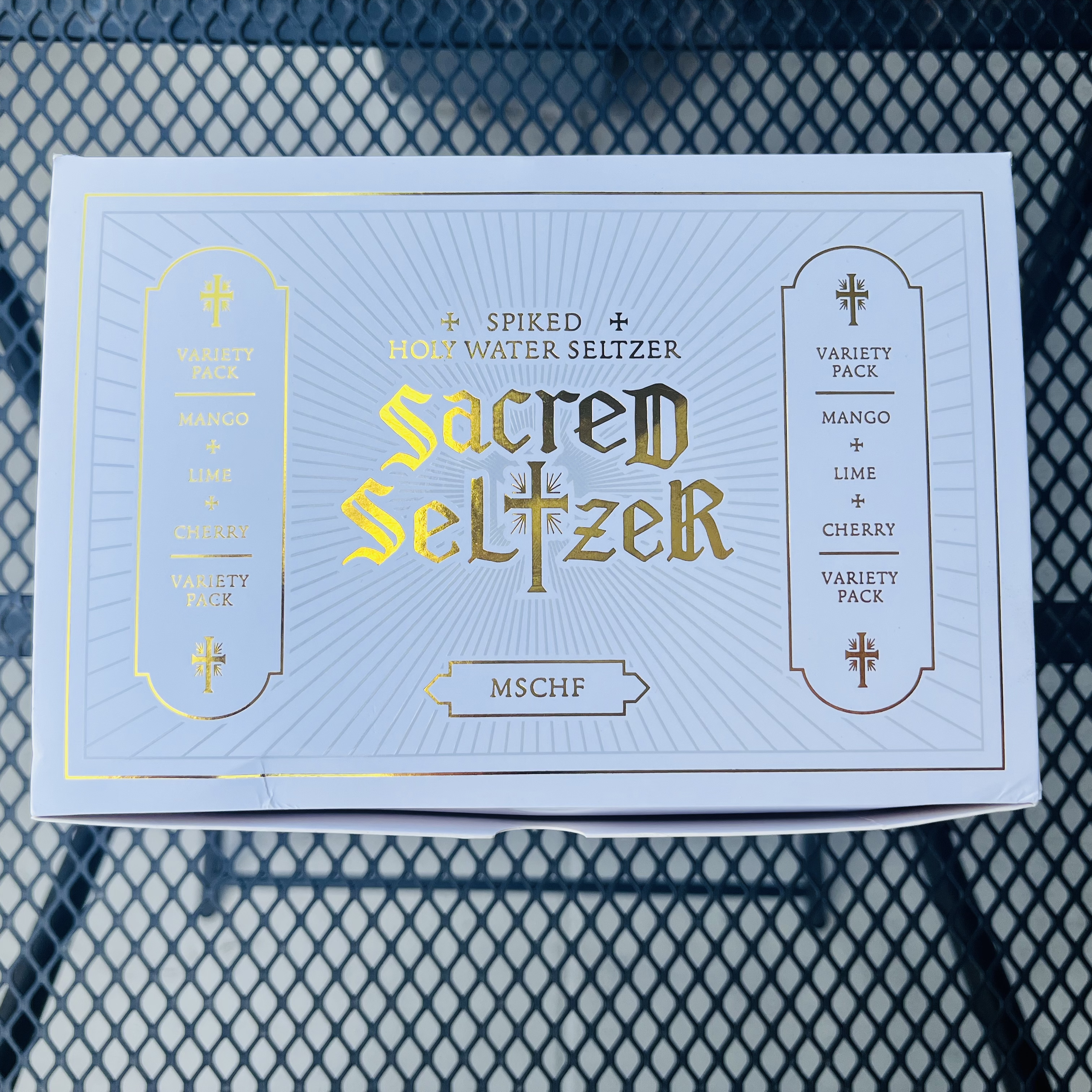 This stuff doesn't taste good and that shouldn't really come as a surprise to anyone. As we mentioned before, MSCHF is an art collective — they aren't in the business of actually producing the seltzer. The seltzer itself comes from a company called Eliq's Brewing, a Santa Monica-based beverage company that specializes in all sorts of customized beverages.
If you visit Eliq's website you'll find that they offer customized seltzer in three flavors (guess which flavors) and each flavor tastes pretty generic. Not bad, but in no world "good." Let's drill down on each flavor just for the sake of satiating any curiosity you might have.
Cherry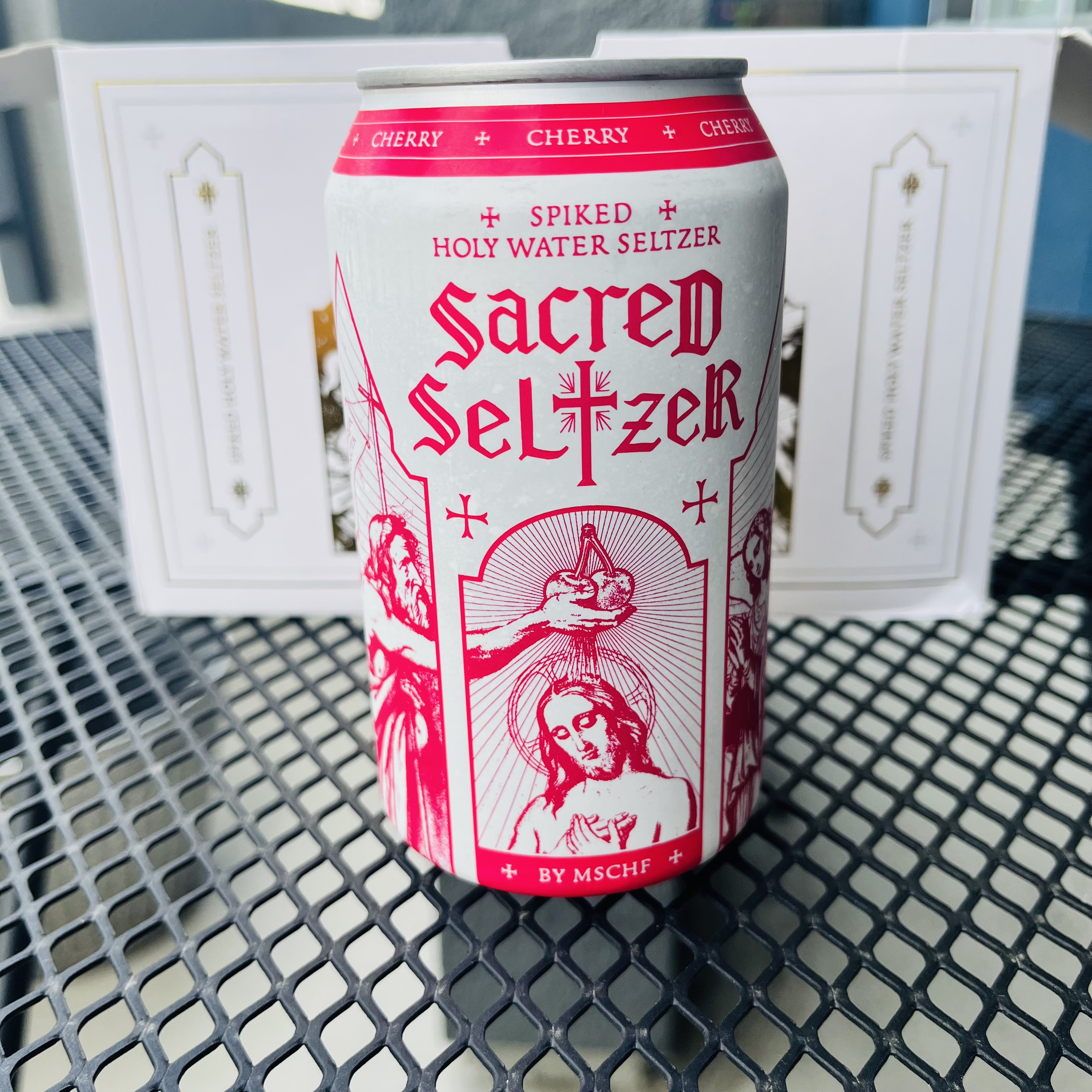 Tasting Notes:
Oh boy. On the nose, this shit smells straight up unholy. It's not crispy or refreshing in any way, and unlike White Claw and Truly, which have a light fizzy body and a candy-like flavor to them, Sacred Seltzer Cherry has a stronger malt liquor flavor. It's blunt, bitter, and stains the palate in this really off-putting way that will make you want to wash it down with a better-tasting drink.
The Bottom Line:
So bad, it's not even fit for the Judas in your life.
Mango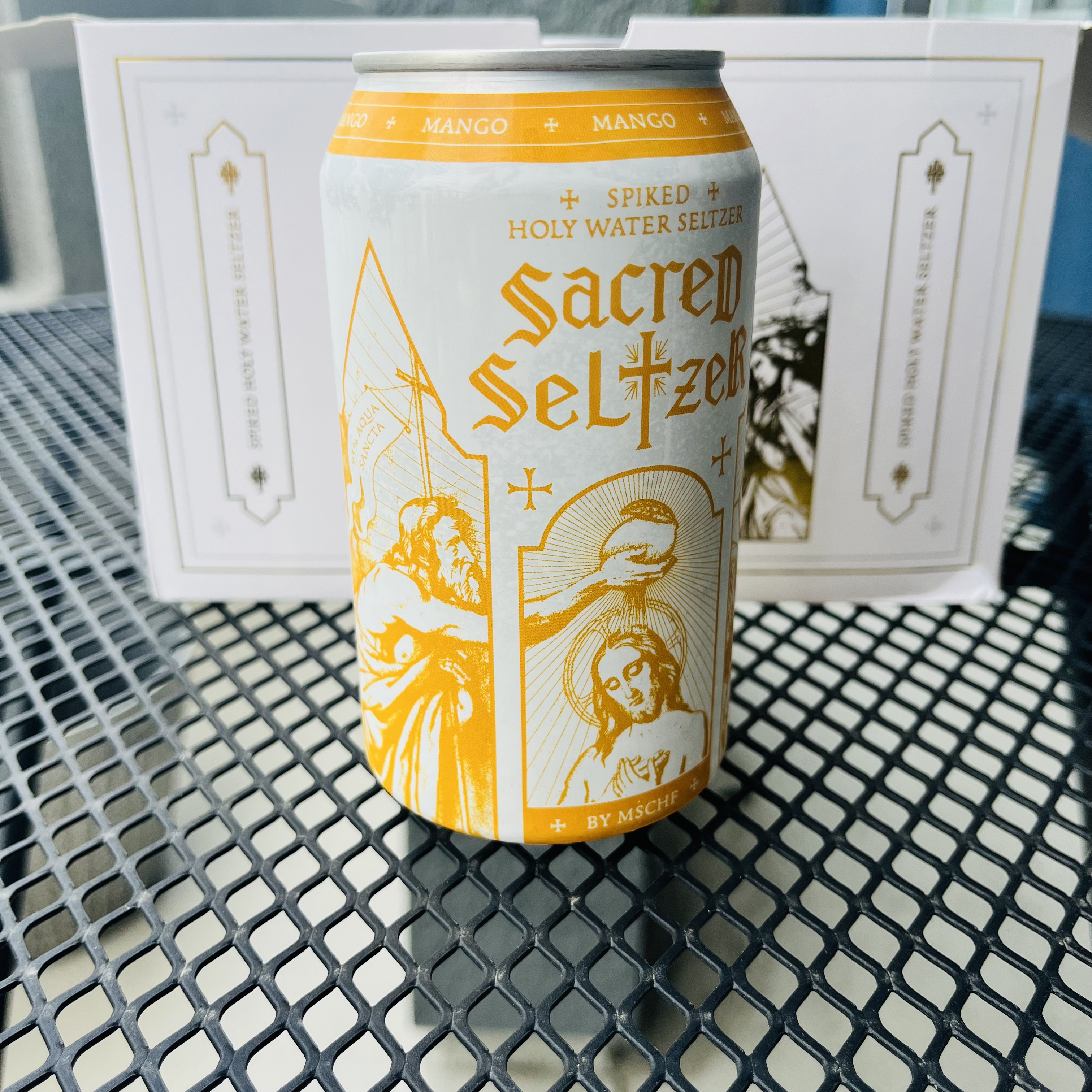 Tasting Notes:
Things take a slight step up with Mango. The flavors here aren't quite as blunt and bitter as the Cherry, instead, you get some round and pleasing tropical notes with a sweet mango body, but again, the flavor finishes off with this really off-putting dirty after taste that just makes this not very enjoyable to drink.
The Bottom Line:
Better but still far from good.
Lime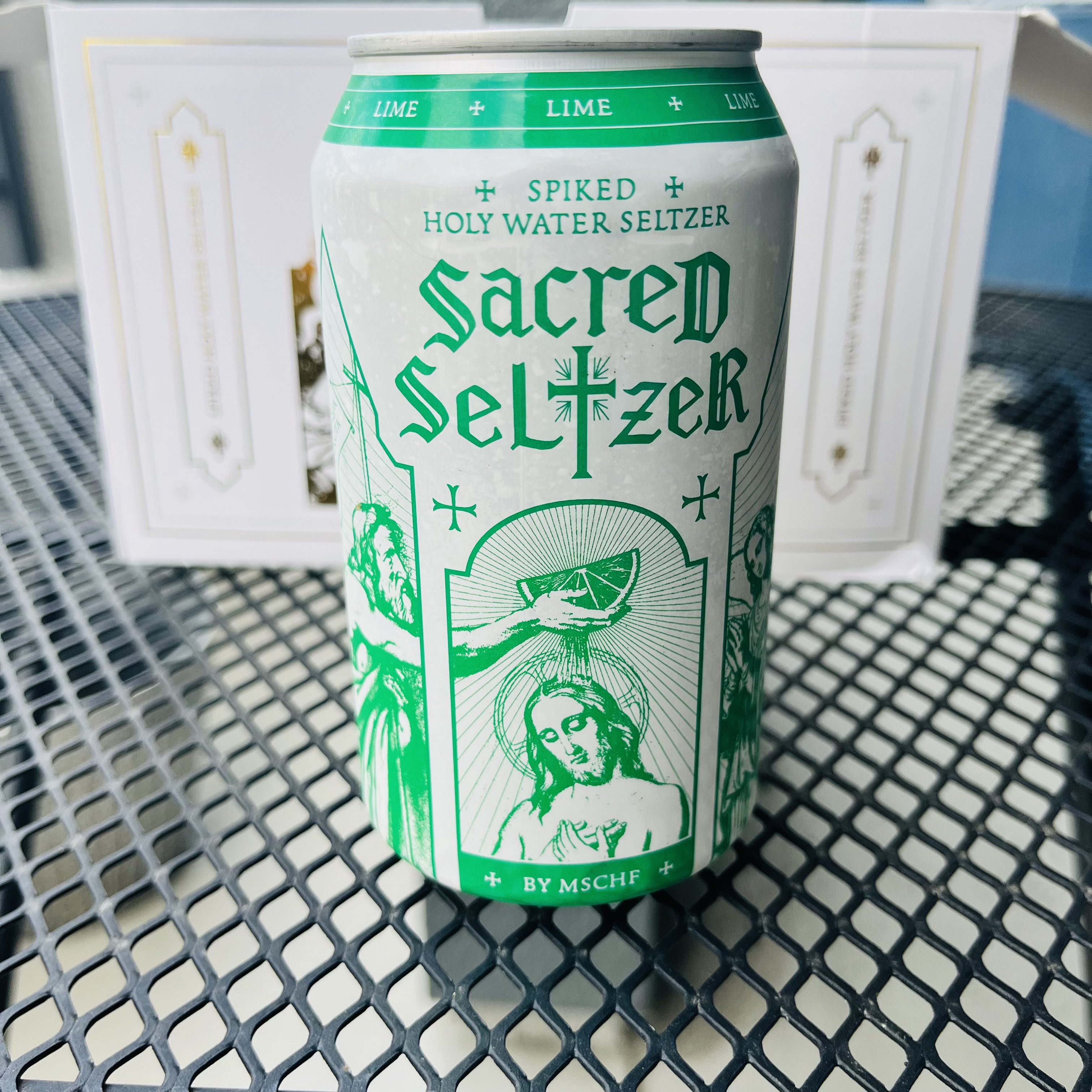 Tasting Notes:
Maybe it's because I was already two Sacred Seltzers deep, but this is far and above the best flavor. It still has that dull and dirty aftertaste, but the Lime seltzer was noticeably zesty, with strong citrus notes that dare I say, came across as refreshing. I like it! I'll never drink it again, but I finished the whole can gladly. I might've added some gin and a sprig of mint, but… finished is finished!
The Bottom Line:
It's an MSCHF product! It doesn't taste good, but we're not completely sure it's actually supposed to. So why would MSCHF make a hard seltzer in the first place? We're pretty sure the collective is the sort of place that is more likely to ask "why not?" than "why?"
That's why we love MSCHF, it's not just the shoes with human blood in them or the Chanel Number 5 bottles filled with Axe Body Spray or giving us the chance to get crunk off Christ that we find ourselves intrigued by. It's that MSCHF is the only brand that feels like it's for everyone and for no one at the same time.
Pick up Sacred Seltzer exclusively on the MSCHF app.