"What about that new National Park?"
"It's in West Virginia, right?
"Is it worth going?"
Those are just some of the questions I've received since last December, when New River Gorge officially became the United States' newest designated National Park. If my friends and followers (or Google trends) offer any indication, there's clearly a lot of interest in this park. But due to the changing travel landscape, there still doesn't seem to be much information around how to actually visit it.
First a little context — at the present, there are over 400 National Park sites, including seashores, historic sites, rivers, and battlefields. But only 63 are officially designated as "National Park." New River Gorge is the most recent among these, but the area surrounding the New River Gorge in Southern West Virginia has always been a place for adventure seekers. It's long been known for whitewater rafting, rock climbing, and hiking. Still, the name change from National River to National Park has brought the somewhat secret enclave into the public eye.
I've already visited New River Gorge twice since its status change, once in the summer and once in fall and I recommend it to everyone. Here's an insider's guide.
How to get there:
New River Gorge National Park is an anomaly in several ways — the first being the ease and also the difficulty of visiting. One of the facts that get repeated frequently in this area is that ⅔ of the entire US population lives within a day's drive of the area. And that truly is a great selling point. But for that other third of people, it can be a bit challenging.
The nearest airport is Charleston Yeager in West Virginia — a small airport without a ton of flight options. From there you absolutely must rent a car. The New River Gorge is another hour's drive from the airport.
The first time I visited it was part of a several weeks-long summer road trip. If you have the time, I recommend it as a road trip destination. If you're visiting just to see the park, your options are somewhat limited. I had to tack on about a day's worth of air travel each way — taking into account the limited flight schedules, connections, and possible delays.
Where to stay:
The center point of the park is the 3,030 ft long and 876 ft high New River Gorge Bridge in Fayetteville. There are many options for lodging in the area, but they are booking up much faster now with the new designation.
On my last trip, I stayed in a bungalow at River Expeditions, an adventure resort (there are a few in the area) that specializes in world-class rafting trips, but also offers tons of other outdoor activities. There are luxury cabins, dry cabins, camping, bungalows, and RV sites on the sprawling property. After rafting, you can dip in the pool and hot tub, grab a drink at the on-site bar, zip through the trees on a zip line course, or even get a massage on property.
The property is family-owned and operated and felt like an adult adventure summer camp.
I've also stayed in nearby Hinton, the southern gateway to the park. It has the quieter charming small mountain town vibe I was looking for and a surprising array of lodging options. I was lucky to stay in a cabin on a private island in the river (yes really) and also at the quaint and luxurious Guest House bed and breakfast downtown.
In the park: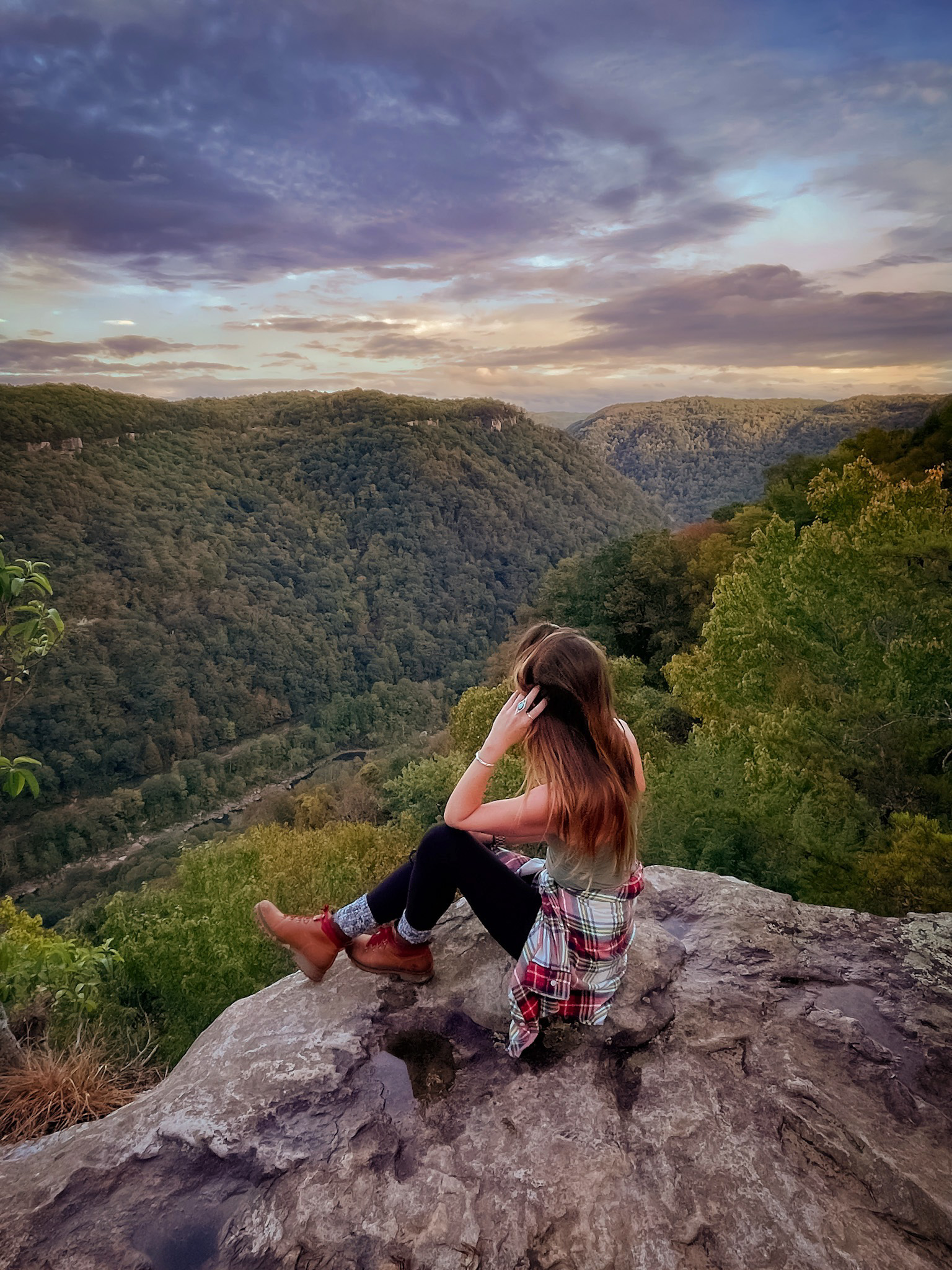 Since the park surrounds a river, the boundaries can be a little tough to navigate. Of course, you'll be ensconced in the same West Virginian beauty everywhere you go, but there are definitely some highlights from within the park itself.
There are over 50 miles of hiking trails in park boundaries. I hiked the Long Point Trail on a late afternoon in October and only passed around 10 people on the easy 3.2 mile out and back. With views like the one above, I would have happily hiked much further.
Other popular and accessible trails are Grandview Rim to Turkey Spur (make sure to stop at the breathtaking Grandview Overlook) and Endless Wall.
The New River Gorge Bridge is a destination itself. From the viewpoint at the visitor center to the Bridge Walk or a drive underneath on the winding Fayette Station Road — you can't go wrong.
If you visit the gorge between April and October there is one thing you absolutely have to do: whitewater rafting. The New River has options for beginner, intermediate and advanced rafting (through serious Class 5 rapids), and tons of outfitters ready to take you on an adventure. It is exhilarating and truly a bucket list experience.
The park is also home to over 1,400 established rock climbing routes and is a popular fishing destination.
Whatever you decide to do in the park — just know you are in for excitement. And views.
Around the park:
Think of a trip to New River Gorge National Park more as a trip to Southern West Virginia. There is so much outdoor recreation all over the area, the park itself is just a part.
The Gauley River National Recreation Area is a great choice for all kinds of recreation — specifically, no surprise here, rafting its world-class rapids. I went on a guided rafting trip on the Lower Gauley over Class 4 and 5 rapids and it was probably the most fun I have ever had.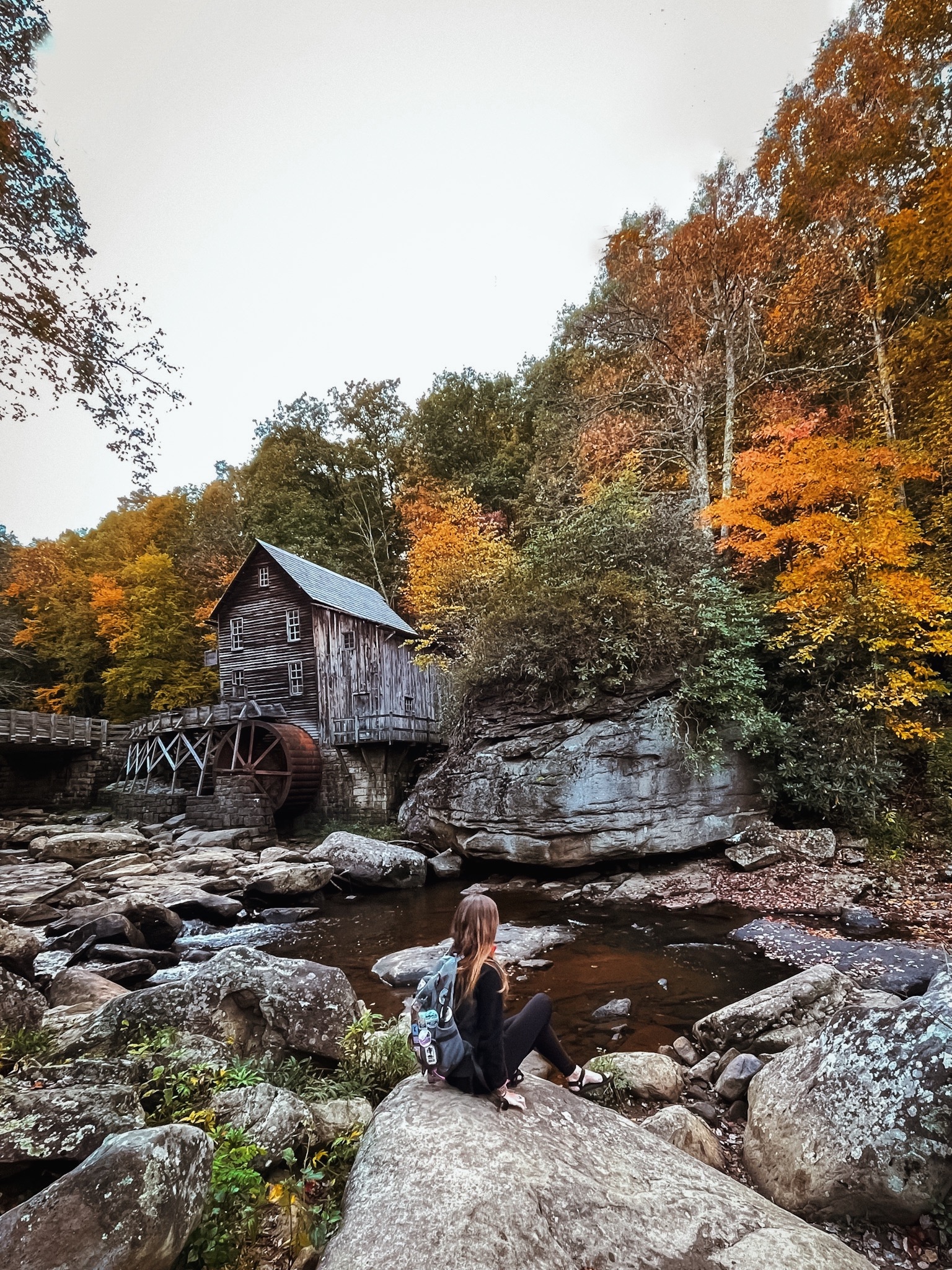 There are tons of gorgeous state parks around the area as well. I love the fall vibes and old mill in Babcock State Park, enjoyed a horseback ride in Pipestem Resort State Park, and marveled at the view in Hawks Nest State Park.
Where to eat and drink: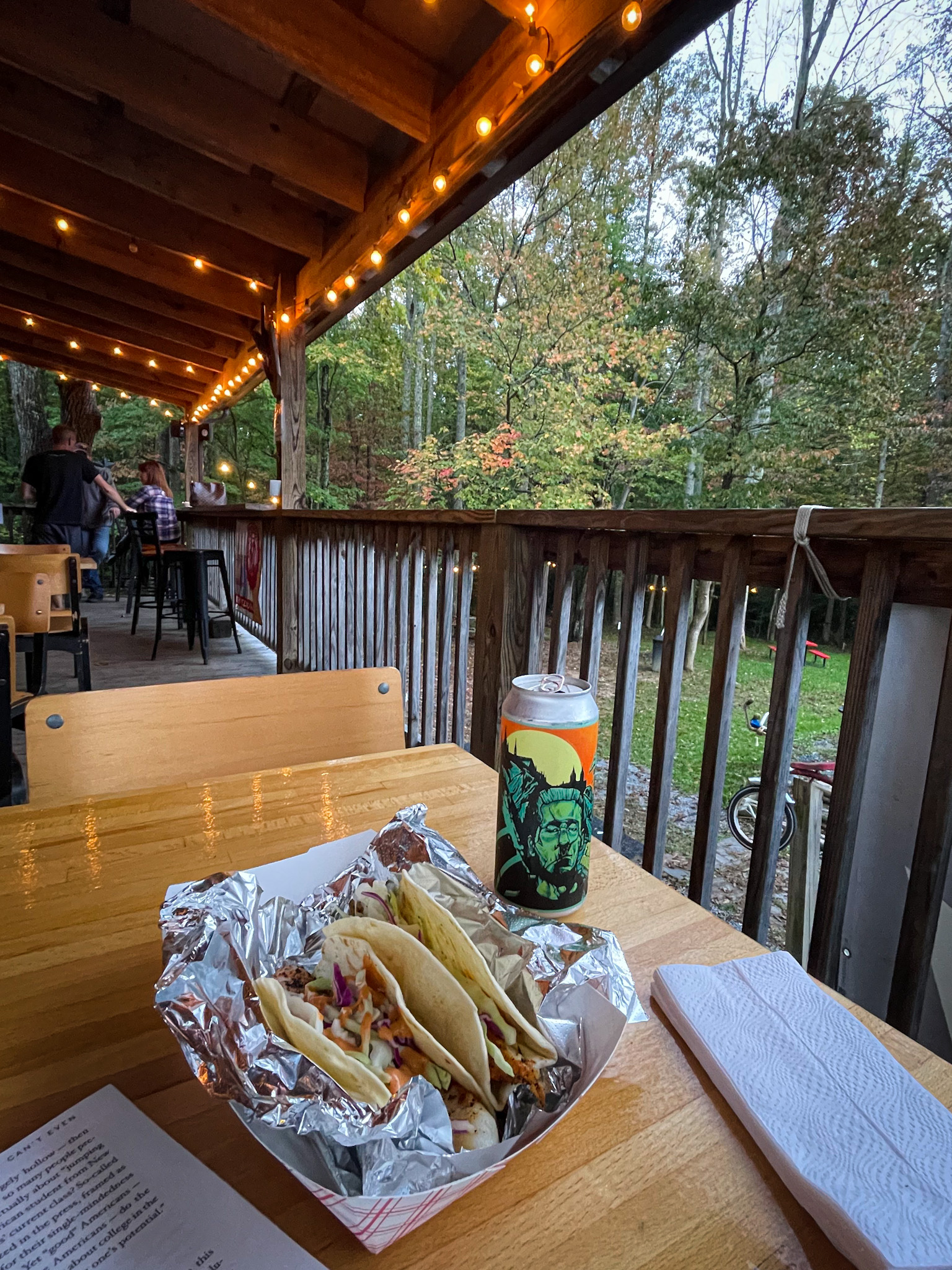 I was surprised by how many great food and drink options there are in the small mountain towns of Southern West Virginia. Every day I found a new, eclectic restaurant.
Arrowhead Bike Farm is a standout from all my time spent in the area. It is nearly directly across from the Long Point Trail parking area and the atmosphere (and fish tacos!) can't be beaten. Part bike shop, campground, and bar/restaurant — it had the local vibe I was craving (and goats!).
Pies and Pints is a local favorite in Fayetteville (the place to see and be seen for sure). They're known for, obviously, their pizza and beer. I tried some of both and was definitely impressed. Their sriracha shrimp pizza just might be my new favorite food.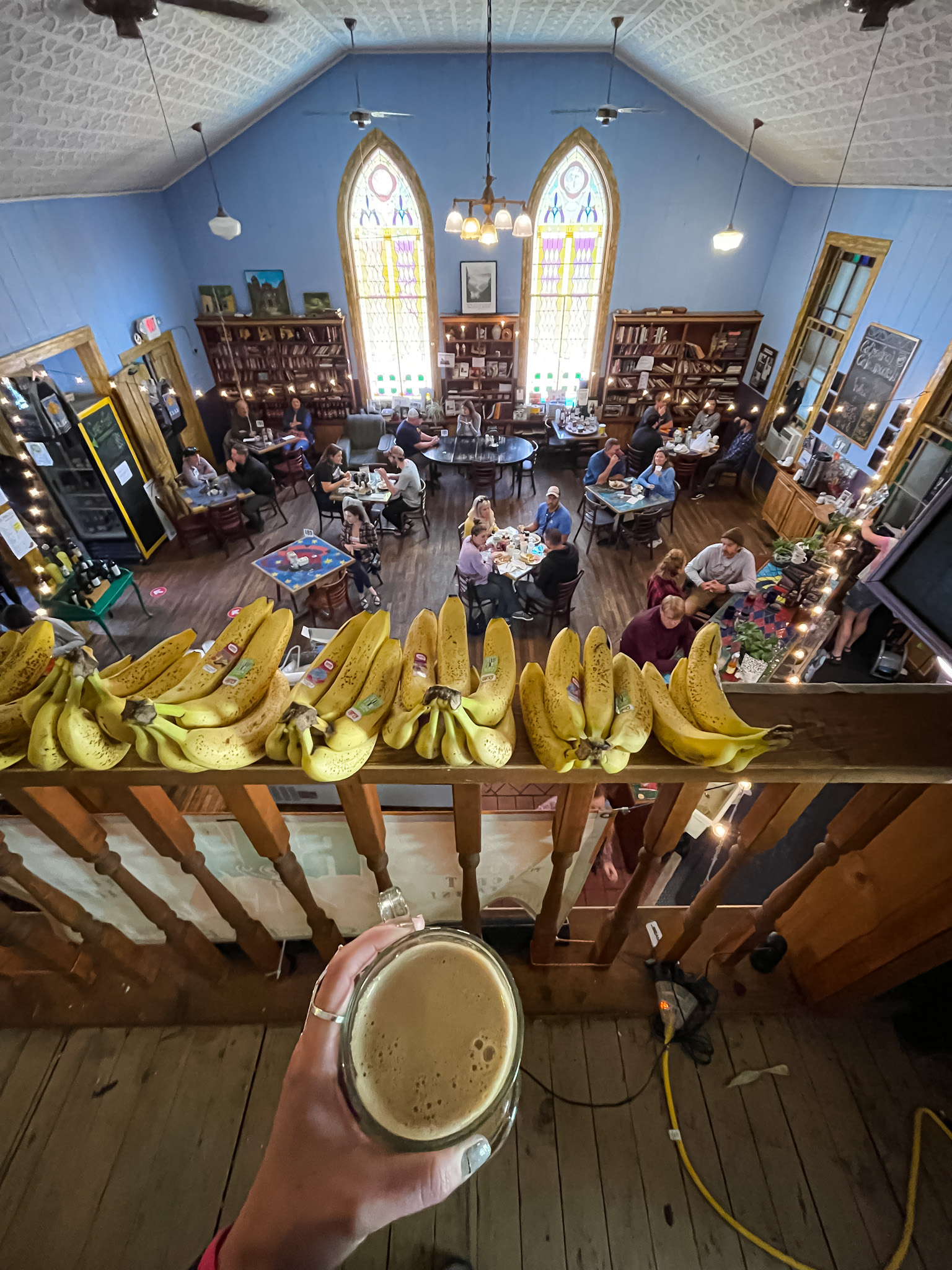 For brunch, the Cathedral Cafe and Bookstore is the spot. In an old converted church building, the croissant french toast was unlike anything I've ever tried, and the Almond Joy latte was as interesting as the atmosphere.
For sunset, The Burrito Bar at Breeze Hill is my favorite option. Perched high above the gorge, The Burrito Bar has live music, along with great food and drink. The Sweet's Falls Burrito was one of the best I've ever had — with sweet potato fries, black beans, rice, cheese, and a tangy chili sauce.