A war vet. A gangster. A politician. A spy. Tommy Shelby (Cillian Murphy) has worn many hats on the historical crime drama Peaky Blinders. Now, as the show enters its sixth and final season, he's determined to turn over a new leaf. But some formidable enemies threaten the criminal mastermind's grand plans of retirement.
Of course, there's plenty of political maneuvering and intrigue to be had in the show's last outing — the end of Prohibition brings about a new era of business for The Shelby Company Limited. To help catch you up and give you a map for the road ahead, we tapped Uproxx TV critic Jessica Toomer and head whiskey writer Zach Johnston to tease the new season while also celebrating the collaboration between Bushmills and the series on a new bottle — the Bushmills Peaky Blinders Prohibition Recipe Whiskey (available only in the U.S.). Buy it here.
From the beginning stages of a second world war to a new crime family emerging to challenge Tommy Shelby's reign, this season is filled with even more of the same thrilling action and highbrow drama that fans have come to love. Let's set the scene.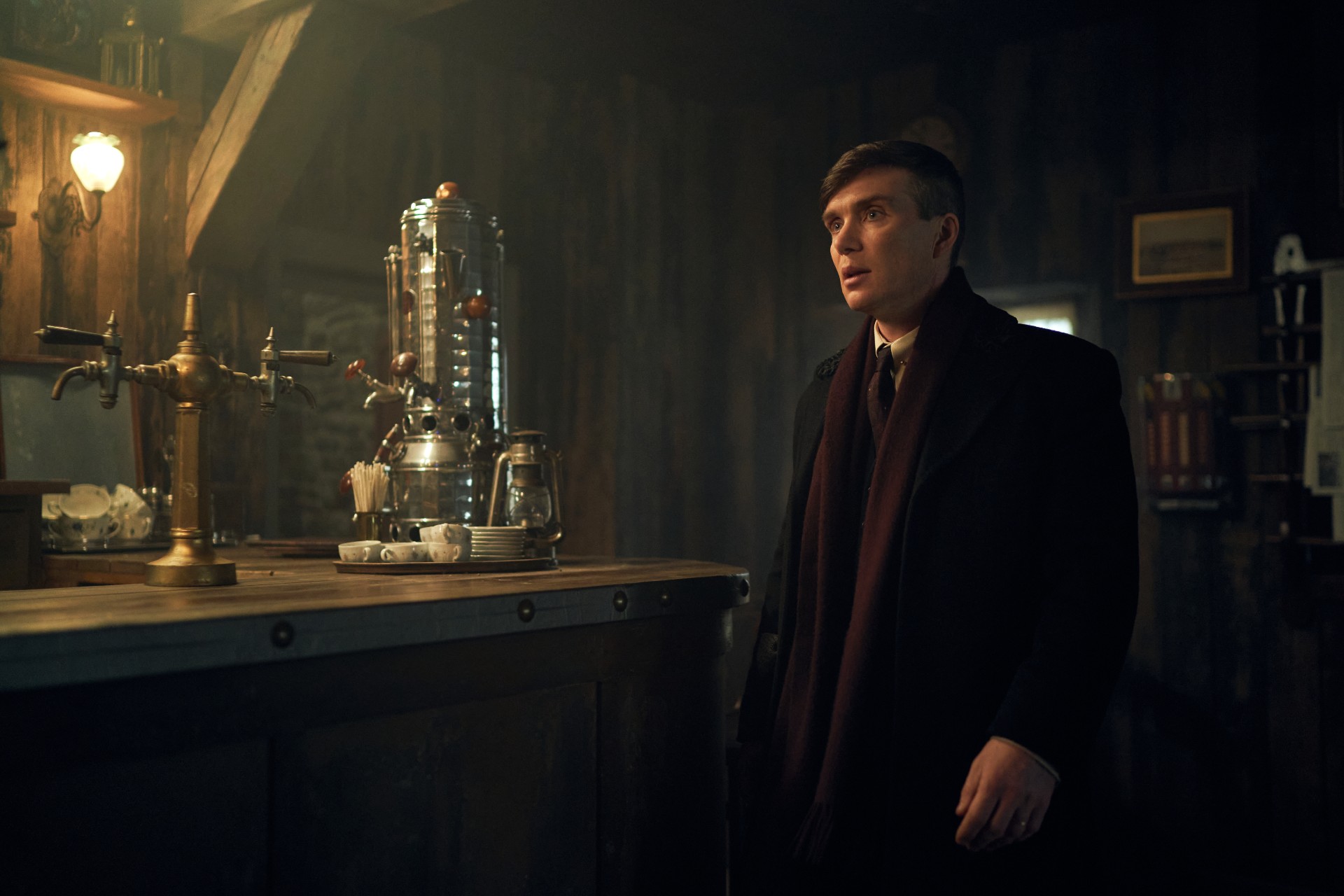 Jessica Toomer: We pick up directly after the events of the season five finale, which means Tommy is still reeling from that foiled assassination plot. He's reluctantly taken on a new partner in business and the family's undergone some changes. But we can't dwell on that for too long because a time jump launches us into the action of the 30s.
Zach, you're a bit of a history buff. What did you think about how this season kicked off?
Zach Johnston: It's just a whole new world. Prohibition's over. Tommy is on his own for the first time. He's still in a position of power in Parliament, he's still a smuggler, but he's out of his depth in many ways when it comes to the enemies he's facing.
JT: I love how this show weaves in historical elements around all of the action within the Shelby group. It reminds you that there were bigger things at play. We're going to America now. There's mention of President Roosevelt and Winston Churchill. There are a bunch of things that are cluing you in to the fact that everything's about to get really dicey for everyone.
ZJ: What I sort of love about this season is that there are double-crosses, triple-crosses, quadruple crosses. It's kind of amazing how it all makes sense. There's a through-line, and it's really exciting to watch it all unravel and come together and fall apart and ultimately end where it ends. I have always enjoyed a nice whiskey while watching this show, but this season really called for one.
---
Ready to put down your phone and pick up a glass before settling in for the ride? Make sure you've got a bottle of Bushmills and do give our custom Peaky-inspired cocktail (and a separate Bushmills original) a try.
Tommy's Secret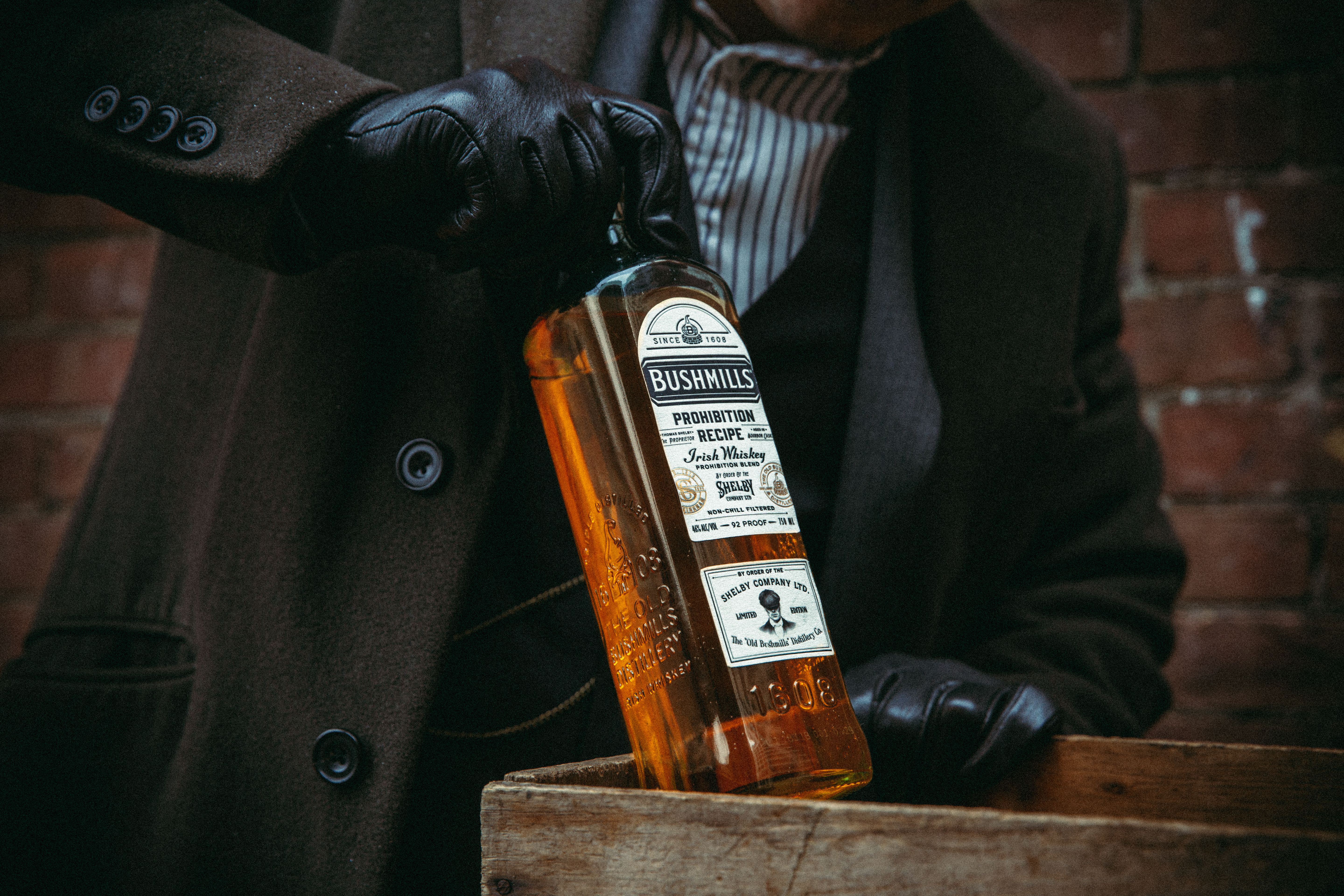 JT: This season, Tommy Shelby is a bit of a broken man. He faces challengers like Oswald Mosley (Sam Claflin), a fascist MP hoping to oppress the same working-class community the Shelbys hail from, and Jack Nelson (James Frecheville), a Boston gangster whose ties to the powerful elite rival Tommy's own. In order to survive the political machinations and street warfare engineered by his enemies, the Shelby leader needs to keep things close to the chest, which is what inspired this original drink. Can you tell us about it?
ZJ: For this cocktail, I was drawn to the times. Things are unknown in the world in 1933, scary even. It was also a time when the liquor cabinet and the medicine cabinet shared some of the same ingredients. Apothecaries were still full of dried herbs, florals, and botanicals, and those same things went into some of the whiskey people drank.
Tommy's Secret is a cocktail that layers elderflower, ginger, and lemon – things you'd have at the pub and at home back in those days — into a stirred whiskey cocktail. It's floral, full of citrus, and has a hint of heat built into the apple and honey-forward Bushmills whiskey.
Ingredients:
3 oz. Bushmills Peaky Blinders Prohibition Recipe Whiskey
0.75 oz. Elderflower syrup
0.25 oz. Ginger syrup
4 dashes of Orange Bitters
Lemon peel
Ice
While it might seem like elderflower and ginger syrup are something you'll have to make yourself in your own pop-up apothecary, you can get them at any good liquor store. Or just order them online. Elderflower is available here and ginger syrup here. The same goes for the Orange Bitters, every liquor store will have it.
What You'll Need:
Rocks glass
Cocktail mixing jar
Cocktail strainer
Jigger
Paring knife
Barspoon
Method:
Add ice to the rocks glass and set aside to chill.
Add the Bushmills Peaky Blinders Prohibition Recipe Whiskey, elderflower syrup, ginger syrup, and Orange Bitters to the cocktail mixing jar. Add two handfuls of ice and use the barspoon to stir until the mixing jar is ice cold to touch — about 30 to 45 seconds.
Dump the ice from the rocks glass and add in a large ice cube.
Strain the cocktail over the ice.
Express the oils from the lemon peel over the glass and cocktail by gently squeezing it between your thumbs and index fingers with the outer peel facing the glass.
Drop the peel in the glass and serve.
Bottom Line:
ZJ: This is a super refreshing and light cocktail. The elderflower plays so nicely with the honey and woody apple of the Bushmills. There's a sweetness first, then a hint of ginger heat hits at the very end of the finish.
JT: In other words, it's an elevated yet accessible cocktail made with the kind of authentic ingredients that will give you the vibe of that 1930s era without all of the danger that came with it. I like that and it rings true for me, as a fan.
ZJ: That was the goal! Slàinte!
The Shelby Sour
Not quite in the mood for Tommy's Secret? The Shelby Sour is one of a few official offerings from Bushmills Peaky Blinders Prohibition Recipe Whiskey (which you can find on their site). The shaker is an easy-to-make-at-home drink that's also super refreshing. Check out the official Bushmills site for more on that drink.
Go here to learn more about Bushmills Peaky Blinders Prohibition Recipe Whiskey. Season 6 of Peaky Blinders is now available on Netflix