There's something about the holidays that fills us with a kind of romantic idealism. Maybe it's the cold weather, but all we want to do is crawl back under the covers with our significant other and make out all day — breaking only to drink hot toddys by a roaring fire. There are chocolate-covered strawberries too at some point in this scenario.
But as we daydream about picking out Christmas trees, ice skating, and kisses as the clock strikes midnight, we often find these fantasies shattered by the day to day realities. Because, more often than not, holidays involve last minute work deadlines, trying to find parking spaces by the mall so we can buy presents for our nieces and nephews, and schlepping ourselves in between various relatives' houses. It's less "romantic makeout time" and more, "hugs from people you haven't seen in a year" time.
While all that can be lovely, when it comes to your partnership it can feel like the whole thing has become about everyone else but you two. Which is a shame, because there's no cozier time to connect with the one you love. Which gave us a thought. Maybe the best gift you can give to each other during the holidays is to carve out some time for that winter romance.
Of course, you're probably not going to get that on the big, family days, so instead of celebrating when everyone else does, why not create your own date on the calendar for just the two of you to exchange gifts? Your personal holiday won't be about other people, it'll be about winding down, relaxing, and having eyes only for each other. With that idea in mind, we've planned an hour-by-hour date that is sure to remind her: She's the one and you'll always have the time for just you two.
1-2 weeks before, have her clear her calendar.
Okay, technically we're starting off with something not on the actual day, but you want to make sure your dream date doesn't fall on a day she has to work or promised her girlfriend she'd help her organize her sock drawer (we know she is constantly heading to friends' apartments to organize sock drawers, what can you say? You fell in love with a sock organizing hobbyist).
So, pick a date that you're reasonably sure you're both free and then surprise her with a "Just Because" card. In it, write that you have a special holiday day planned for X date, and she should plan on being totally free from morning to night.
Pro tip: There is nothing sexier than knowing you have a special day coming that you didn't have to plan and that your boyfriend or girlfriend is orchestrating specifically around what you love.

8:00 am: Breakfast in bed.
It's time to wake her up with the classic "smell of delicious breakfast foods wafting into the room" as you carry a fully formed meal in on a tray to her in bed. Go with whatever her favorite is, (pancakes? waffles? overeasy eggs with avocado toast?) and make it to perfection. And if you don't know how to make her favorite breakfast food, NOW is the time to learn. Seriously, this is a skill that will always start her day off right and with a smile. If you can cook no other dish, you should know how to make her favorite eggs.
Protip: Let's talk about tray presentation (If you don't have a 'breakfast in bed' tray. GO GET ONE.) This is a fantasy day, so you want her breakfast in bed to look the way you'd imagine it in a movie. Have your main dish plated neatly, perhaps a little bowl of fruit on the side, and anything she might need for the food (syrup, salt & pepper, hot sauce etc). Don't forget her breakfast drink of choice (coffee, water, juice, mimosa!) and some fresh flowers in a mason jar. And most importantly, on the tray, should be the next surprise — a wrapped little box!
8:01 am: Have her open the gift right away.
Everyone expects the gift at the end of the date, but start things off right by having her literally open her eyes up to something beautiful that you picked out just for her. Like the PANDORA Dazzling Wishes bracelet. The best thing about giving a gift at breakfast is for the whole rest of the day, she gets to look down at it sparkling on her wrist, and be reminded of how much you love her. It's icing on the cake to a special day (and while we understand that phrase is meant to mean something extra, we never eat cake without icing. YOU NEED THAT ICING).
10 am: A physical activity.
There's nothing better than getting both of your hearts pumping and doing something exhilarating that you can bond over. Pick something dynamic and fun for the morning like a hike, a surf lesson, or sledding (you know, depending on your climate).
Pro tip: This should be something tailored to her. You know we all have those things we mention all the time in passing, like, "I've always wanted to try horseback riding" or "I loved ice skating as a kid but I haven't been in years." Pick something that shows you listen.
2 pm: Couple's massage.
This day is all about de-stressing from the more hectic parts of the holidays, and we don't know anyone who doesn't love a massage. Pick a spa that has an area where you can lay around in robes and hold hands or lay in the sauna for a little while after. And arrange for something light to be waiting for lunch (Many spas are happy to coordinate a salad or sushi or some light pastries). The surprises will just keep coming.
5 pm: Get ready for dinner.
One SUPER important aspect of this day is leaving lots of room to get places leisurely. Your relaxing day is not at all fun if you're screaming that there are exactly 8 minutes to shower and get out the door or you'll miss the reservation. Make a later dinner reservation and save this time for a long shower together or a nap followed by plenty of time to get dressed/put on makeup.
Pro tip: Have her favorite drink on hand for her to sip on while getting ready (Red wine? A martini you mix
up? A cold beer?), this day is all about indulgence.

8 pm: The perfect dinner date.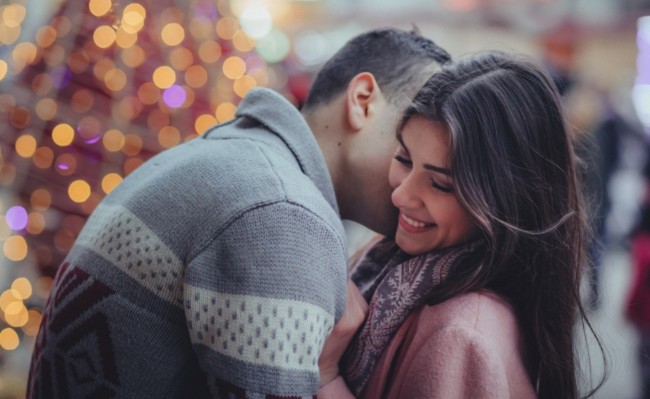 Make reservations at your favorite place or the one restaurant you keep meaning to try. Then, after lots of leaned over kisses over the table, pull out your final surprise. She thought her only gift was given at breakfast? Nah, you're a baller today. During dessert (her choice! Let her pick whatever looks good, everyone loves to get to be the God of dessert picking), pull out another box. This time, a charm for her new bracelet. Believe us when we say she'll be shocked and teary-eyed — but, y'know, in the best possible way.
10 pm on: We feel like you have it covered from here….
Happy Holidays!