Trip Advisor recently published their list of the 25 best beaches in the world, and we're here to give you a closer look at the most beautiful ones. While there's no shortage of white sand and turquoise waters, each location is distinctly unique. From nudity near Ibiza to Christmas Carols in the Philippines, this list has pretty much everything.
The views are unreal, so get ready to have your eyeballs tickled by pictures of the top 10!
Grace Bay, Providenciales, Turks and Caicos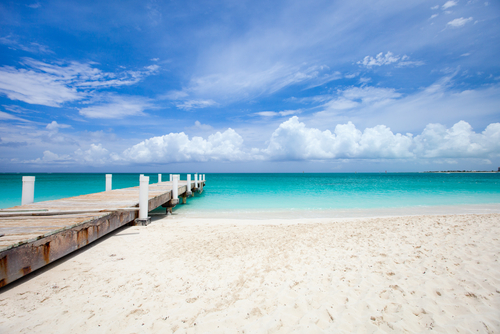 Providenciales, also known as "Provo," is an island in the northwestern part of Turks and Caicos wherein lies, Grace Bay. The luxurious beach is home to stretches of reef rich with marine life, perfect for snorkeling and miles of pristine white sand, large sections of which remain undeveloped.
Even reviewers who had bad weather gave it 4/5 stars.
Baia do Sancho, Fernando de Noronha, Brazil
Baia do Sancho — which in English means "Bay of" Sancho — is part of the Fernando de Noronha archipelago located off of Brazil's northeast coast. Travelers looking for adventure will not be disappointed when they experience the island's array of water activities including stand-up paddleboarding, diving, surfing, snorkeling and dolphin watching… plus plenty of teeny bikinis.

Playa Paraiso, Cayo Largo, Cuba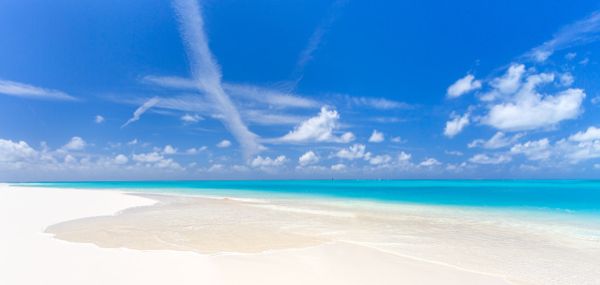 If you're looking for a quiet, seaside getaway, head to Cuba while the getting's good. Before commercial airliners flock to the island, make some time for what many reviewers consider "the most beautiful beach they've ever encountered."
Anse Lazio, Praslin Island, Seychelles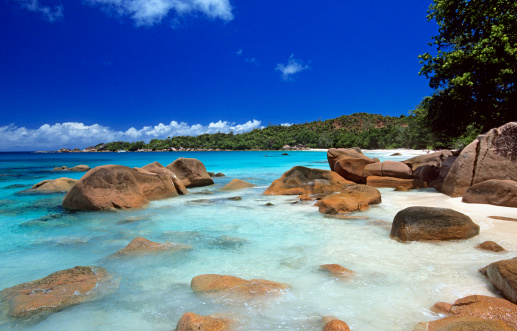 The Seychelles, for those of us who are geographically illiterate, are a group of islands in the Indian Ocean, about 1,500 miles off the eastern coast of central Africa. Anse Lazio, on the island of Praslin, boasts uncrowded, immaculate, white sand beaches with lush vegetation and a unique void of hotels. No matter how many pictures you see, you'll never buy that water could be so blue until you visit in person.

Cayo de Agua, Los Roques National Park, Venezuela
Los Roques archipelago is a half hour flight from the Venezuelan capital of Caracas and has been kept relatively secret because Hugo Chavez said so. Tourists who do find their way to the island chain can expect to enjoy solitude, the freedom of bouncing between islands, and the company of the only population who seems to have capitalized on this tiny paradise, Italians.
Flamenco Beach, Culebra, Puerto Rico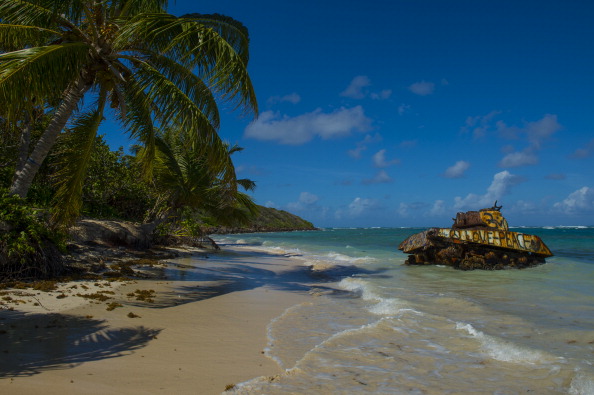 Puerto Rico is no secret when it comes to vacation destinations, particularly for east coast surfers itching to escape the confides of a 7 mm wetsuit in February. But Flamenco Beach — on the island of Culebra between Puerto Rico's main island and the BVI's — is a hidden gem with unreal beaches, and all the amenities you might need. Right along the beach, you have access to food and drink kiosks, vendors, and beach chair and snorkel gear rentals.

Playa de Ses Illetes, Formentera, Balearic Islands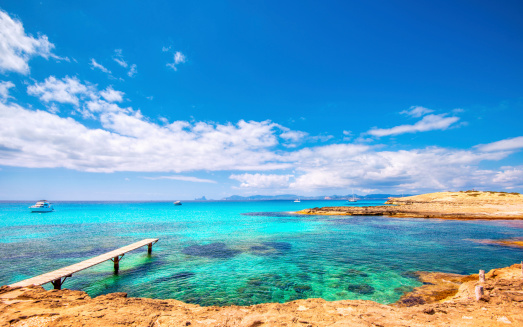 Playa de Ses Illetes welcomes everyone's two favorite things — nudity and bike riding — along a narrow strip of land on the Spanish island of Formentera, just south of Ibiza. It is not the same romantic honeymoon destination as many of the other beaches on Trip Advisor's list, but it does make a great place to nurse a hangover when your yacht needs refueling.
Ngapali Beach, Ngapali, Myanmar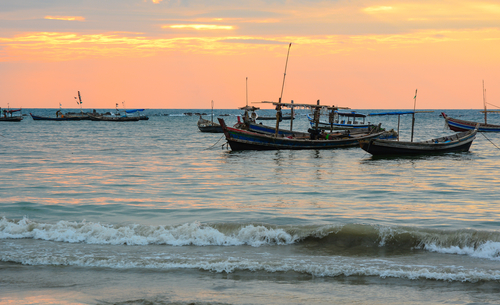 Peak season at Ngapali Beach is November to March during which time ox-drawn carts make their way along palm-lined strips of sand and tourists marvel at fishing boats anchored south of the main beaches. Visitors and tourism websites warn of future development that may spoil this place in the next few years. Point being: book your trip soon!

West Bay Beach, West Bay, Honduras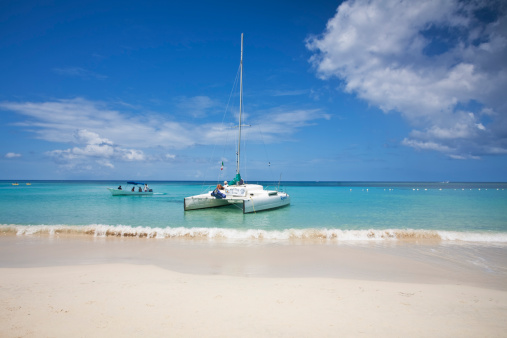 Honduras' West Bay Beach is located in the Bay Islands and features not only incredible water and beaches, but also jungles and archaeological sites. Tourists visiting West Bay Beach will never run out of things to do, as the island also offers world-class snorkeling and diving, with access to the second largest barrier reef in the world.
Nacpan Beach, El Nido, Philippines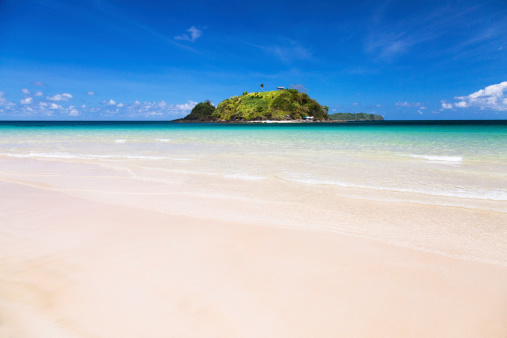 Nacpan Beach is in the town of El Nido, in the north of a province called Palawan (not to be confused with Pollywog) in the Philippines. Though the journey to the water may be a challenge (especially after a heavy rain), the beach itself has plenty of shade, a couple of bars, and, like most beaches, local kids singing Christmas carols.
Want to check out the remaining 15 beaches? Here's the rest of the list:
11. Maho Beach, Cruz Bay, St. John
12. Whitehaven Beach, Whitsunday Island, Whitsunday Islands
13. Sharm El Luli, Marsa Alam, Egypt
14. Elafonissi Beach, Elafonissi, Greece,
15. Playa Manuel Antonio, Playa Manuel Antonio Park, Costa Rica
16. The Baths, Virgin Gorda, BVI's
17. Camp's Bay Beach, Camps Bay, South Africa
18. Praia da Marinha, Carvoeiro, Portugal
19. Kato Noi Beach, Karon Thailand
20. Clearwater Beach, Clearwater, Florida
21. Playa Paraiso, Tulum, Mexico
22. Agonda Beach, Agonda India
23. Horseshoe Bay Beach, Shouthampton Parish, Bermuda
24. Tumon Beach, Tumon, Mariana Islands
25. Praia de Santa Maria, Santa Maria, Cape Verde.