Russ gave his legion of fans insane, crazy bars on his 2020 EP Chomp. Now he's offering straight gas with his weed line, Chomp by Russ x Wonderbrett. It's the exact same strain the rapper smoked while creating the aforementioned project's lush offerings — five songs featuring elite hip-hop lyricists Benny The Butcher, Busta Rhymes, KXNG Crooked, and Black Thought, alongside DJ Premier and… the list goes on.
In collaboration with Brett Feldman and Cameron Damwijk — founders and cultivars of West Coast cannabis brand Wonderbrett — Russ's cannabis line is a chance for the 28-year-old artist to offer fans a glimpse inside the Chomp creation experience. It's also the kind of marijuana that any chronic-loving musician would be hyped to smoke during studio sessions.
Since his SoundCloud beginnings, Russ has been in complete control of his career and has become the obvious example of what it means to work independently in the music industry in the digital age. Releasing as many mixtapes as he has and as dedicated to the craft as he is, launching a weed strain (that won't leave you slumped) with one of the most reputable cannabis companies in the game feels like it was always in the cards. The point being: it's a good fit.
When the perfect opportunity to dive into the cannabis business arrived, Russ chose to produce a strain that was something that he enjoys himself. And that meant a balanced strain where users could avoid both sleepiness and overthinking.
"I'm not a heavy smoker who's just gonna sit around and smoke all day but oftentimes in the studio I enjoy experiencing an alternative yet still tuned in perspective, so keeping a joint of something productive nearby comes in handy," Russ stated in a press release. "I might as well control what's in the joint so that's what I've done here with Wonderbrett."
Feldman added, "The result is a great introductory high that really serves to enlighten and inspire artists to create. It doesn't give you a couch lock effect."
The strain itself was created with a male from Wonderbrett's OZK stable and crossed into a Cookies & Cream female. From there they went through 20 seedlings and settled on phenotype No. 4. Currently, Chomp is only available at Stiiizy — a dispensary located in Downtown Los Angeles. But the brand has promised that new outlets will be added on the daily (stay up to date here), including the Wonderbrett flagship dispensary, launching in LA's Fairfax District later this year.
Chomp by Russ x Wonderbrett dropped on Monday, March 29th, and we tested it that day in both its flower and pre-roll forms. Check out our review below.
The Products & Presentation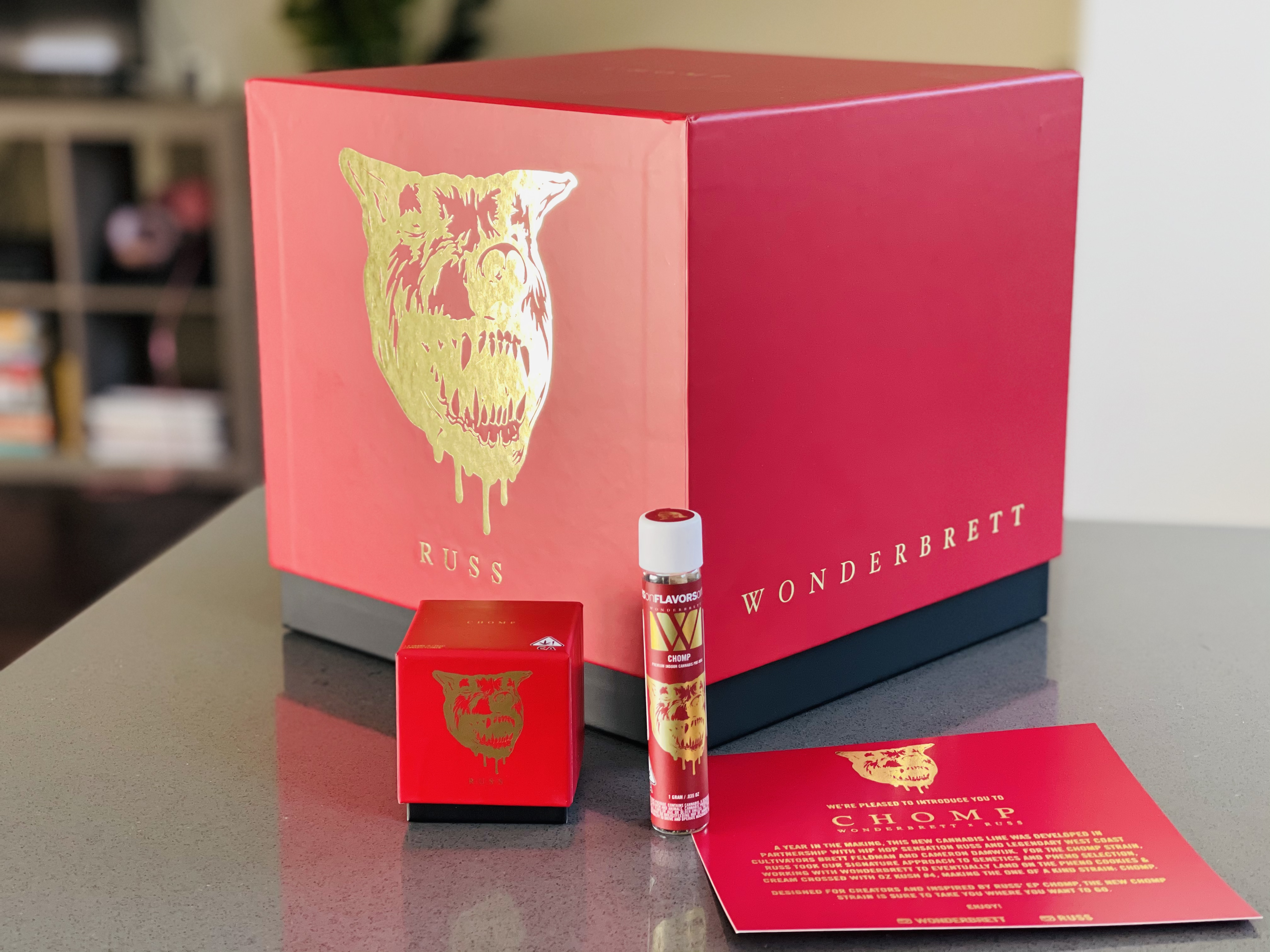 1g CHOMP x Wonderbrett Pre-Roll & ⅛ CHOMP x Wonderbrett Box
Strain: Hybrid
Dominant Terpenes: Limonene, Humulene, Linalool, Caryophyllene, and Pinene
THC: 22.82%
CBD: .06%
Retail Price: ⅛ CHOMP x Wonderbrett Box for $60, ⅛ CHOMP x Wonderbrett Bag for $45, 1g CHOMP x Wonderbrett Pre-Roll for $15.
The Experience
First of all, the packaging. The design. The satin box. The gilded press. The snarling dog, showing its gnashing teeth. The rich, red, gold, and black colorway. The whole Chomp x Wonderbrett branding sets the tone for an opulent affair.
Though I tried Chomp as both flower and as a pre-roll, the experiences were somewhat different. First, let's talk about what each product has to offer and then what made them different for me.
The pre-roll came prepared inside of a plastic tube container, emblazoned with Russ's signature Chomp logo and necessary cannabis factoids. Once the top came off and the pre-roll slid into my hand, I was dealing with a Raw cone tightly packed with herb. The light up and pull was smooth to start, then I felt an immediate head rush followed by my nose feeling a bit spicy. This was just the very beginning of what would turn into an intense cerebral high.
After a few minutes, the stinging I felt in my nose disappeared and what arrived was a euphoric sense of happiness and urge to do something. Anything.
Slight overthinking did rear its ugly head, yet the happiness and excitement I was feeling had me floating above it all. Once the high fully set in, I became very grateful and happy — living in the moment. It felt as if all my senses opened up, making all of my perceptions more clear. Not to mention, I had full confidence in my thoughts and wasn't judging myself for every little thing.
At this point, it's clear why Russ would dub this as "studio weed" and why sharing a name with his Chomp EP was a necessity.
When it came time to explore the flower option I was met with the soft, sweet aroma of citrus and nuts, and frosted nugs inside a dark plastic container. I love an icy nug and Chomp is fully iced out. The flower itself was pretty rigid to the touch but strong and not brittle.
Once I packed out a raw cone with the minced Chomp nugs and lit it, the immediate head rush and nose-tingling occurred just like with the pre-roll. Once the high settled in though, the happiness I felt with the pre-roll was more extreme, if perhaps more chaotic. Maybe it's the way I packed it that made the experience different, but I was laughing at everything when I smoked the flower and fell into a fit of laughter more than once. It really made my day fun and gave my mind the freedom for all of my ideas to flow without the weird voice of judgment that I get when smoking Sativa.
The Bottom Line
Chomp is definitely a strain best-suited for catching a late-night vibe at the studio or as a solo mid-day high if you're a creative working from home. I can also see this as being a great strain to smoke in social settings and, of course, while listening to music. It's a happy, relaxing herb that gets the creative juices flowing.