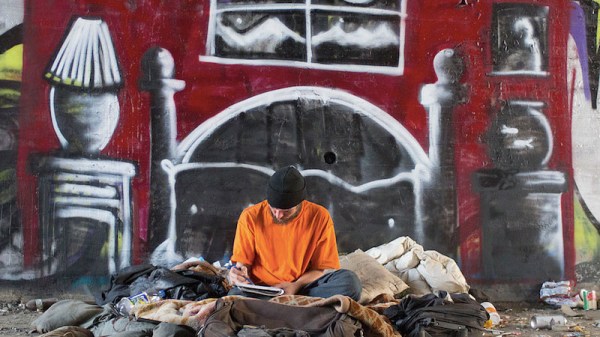 To most Americans, homeless people can seem… invisible. That sentence might be tough to swallow, but it's painfully true. They live in a world we'd rather not know about. One we willfully ignore. One we wish didn't exist.
Enter Skid Robot. The L.A.-based graffiti artist is trying to make a difference on Skid Row — the epicenter of Los Angeles's homeless community — by creating awareness around a very real problem. He uses spray paint, social media, and provocative artwork to shine a light on the 44,000 homeless sleeping in L.A. County on any given night. He is adding color to a gloomy forecast; a ray of sunlight in a sea of despair. He's putting a face on a problem.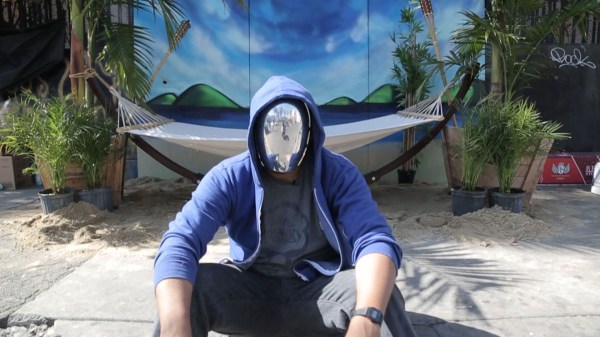 Which is ironic, because he wears a mask.
"Who I am is irrelevant to the message that I'm delivering," says the late-20s-ish Skid Robot as we drive around Downtown L.A. for our interview.
Skid Row is the most impoverished and despair-ridden square mile in the country, which only fuels the man behind the mirrored mask and his plan to elevate L.A.'s homelessness crisis to the forefront of people's brains. His Living Art Project aims to raise funds to purchase vacant lots zoned for housing so they can "construct temporary, emergency and permanent shelter using alternative housing methods." Think colorful tiny houses like this.
"What people don't understand is that there's a severe lack of humanity when it comes to approaching this situation. It's viewed as more a statistical problem than a human one." This he tells me as we drive around the part of L.A. known as "the last house on the block." He's searching for the right spot to do a custom art installation, bringing 2D to 3D, his signature style.
We're in the one neighborhood where L.A.'s homeless problem is impossible to ignore. Encampments, tents, lost souls and broken dreams line these sidewalks.


"I've always been an individual for social justice. I've always raised my voice for the voiceless," Skid Robot says as we search for some of his previous art work.
It's rare to find a piece that's still around. When you're tagging social statements — dreamy thought bubbles full of money, beds over concrete pillows, creature comforts, etc. —  the work doesn't last very long. It's usually just days before his colorful sentiments get painted over by a thick coat of denial.
But we managed to track down a few. One was next to a tent of a homeless woman who dreams of going back to Montana. Skid Robot painted a Montana sky-scape above her tent, so she can remember her goal of one day returning home. Next to her, we see a thought bubble with a house in it, which once represented the dreams of homeownership for a homeless married couple.
Or it did, before he went to jail… and she died.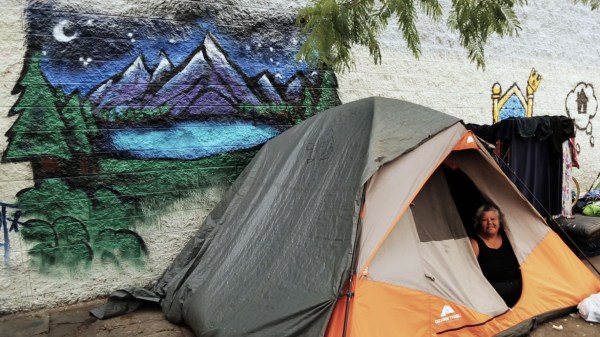 This is his art — splashy bursts that make people stop in the street and think about what they're seeing.
When Skid Robot finally finds a place to build his art installation, the Skid Robot Project machine goes into full effect. First, by spray painting a Caribbean-esque ocean view on three 14-foot panels with at least six different paint canisters. Then, by adding sand and palm trees. Then a hammock. Topped off by tiki torches and a coconut drink. Much of this while humming The Beach Boy's "Kokomo."
As the artist built his ode to the beach life, the homeless faces passing by change from skeptical curiosity to beaming smiles, albeit some of them toothless.
That's why he does it. "The genuine smiles on people's faces. The conversations that they start. The gift is to take them out of the harsh reality and break that up for just a moment."
It seems to work. And if others take notice of the problem instead of treating L.A.'s homeless as invisible or worse, a burden… then the man behind the mask will know he's putting a real face on change.