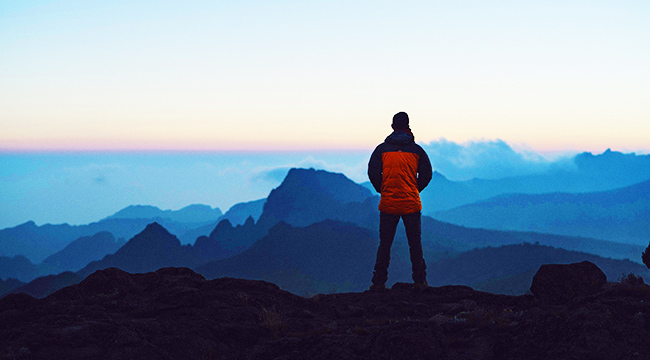 Adventure is hard to come by. Well, let's rephrase that: Real adventure is hard to come by. The sort they write books about. The sort that tests the limits of your body and soul. The sort that will leave you mentally, physically, and emotionally exhausted. If we're being honest, there are few among us who even want to face such travails in travel.
Tim Jarvis is one these bold few. His exploits are the stuff of legend. Back in 2007, Jarvis set out to prove that Sir Douglas Mawson could have survived his harrowing journey across the Antartic without resorting to cannibalism — thereby clearing the adventurer's name of those grisly rumors. Jarvis geared up with only period-realistic attire then plod 500km (310 miles) through the Antarctic tundra. Jarvis made sure he ate the same amount of food as Dawson had with him as well. Amazingly, Jarvis made it past the finish line (having lost a serious amount of weight), thus proving that a human being could survive the journey on the rations Dawson had available.
That extraordinary feat of human mettle led to Jarvis assembling a team to recreate the seemingly indomitable Shackelton rescue mission. It was to be another reenactment of sorts. After Sir Ernest Shackleton's Antarctic expedition got trapped in 1916 and he set out on a very small 23-foot boot to a whaling station on South Georgia Island to send up a flare for a rescue team to save them all. That journey included a treacherous sea crossing that ended when Shackelton and a handful of loyal friends landed on the wrong side of South Georgia and had to trek over the mountains to the whaling station with nothing but the clothes on their backs.
Jarvis assembled a team of five mad ones and set out to do things exactly as Shackleton had. Through rough seas, insanely bad weather, and uncharted lands, they made it to that whaling station. Harrowing seems too small a word for what they went through.
We caught up with Tim Jarvis earlier this year on a trip to Norway to practice some actual polar training from the master himself. This week, we had a chance to catch up with him again — just after he summited Kilimanjaro for his latest project, 25zero. If you're in need of adventure inspiration this autumn, the conversation below is for you.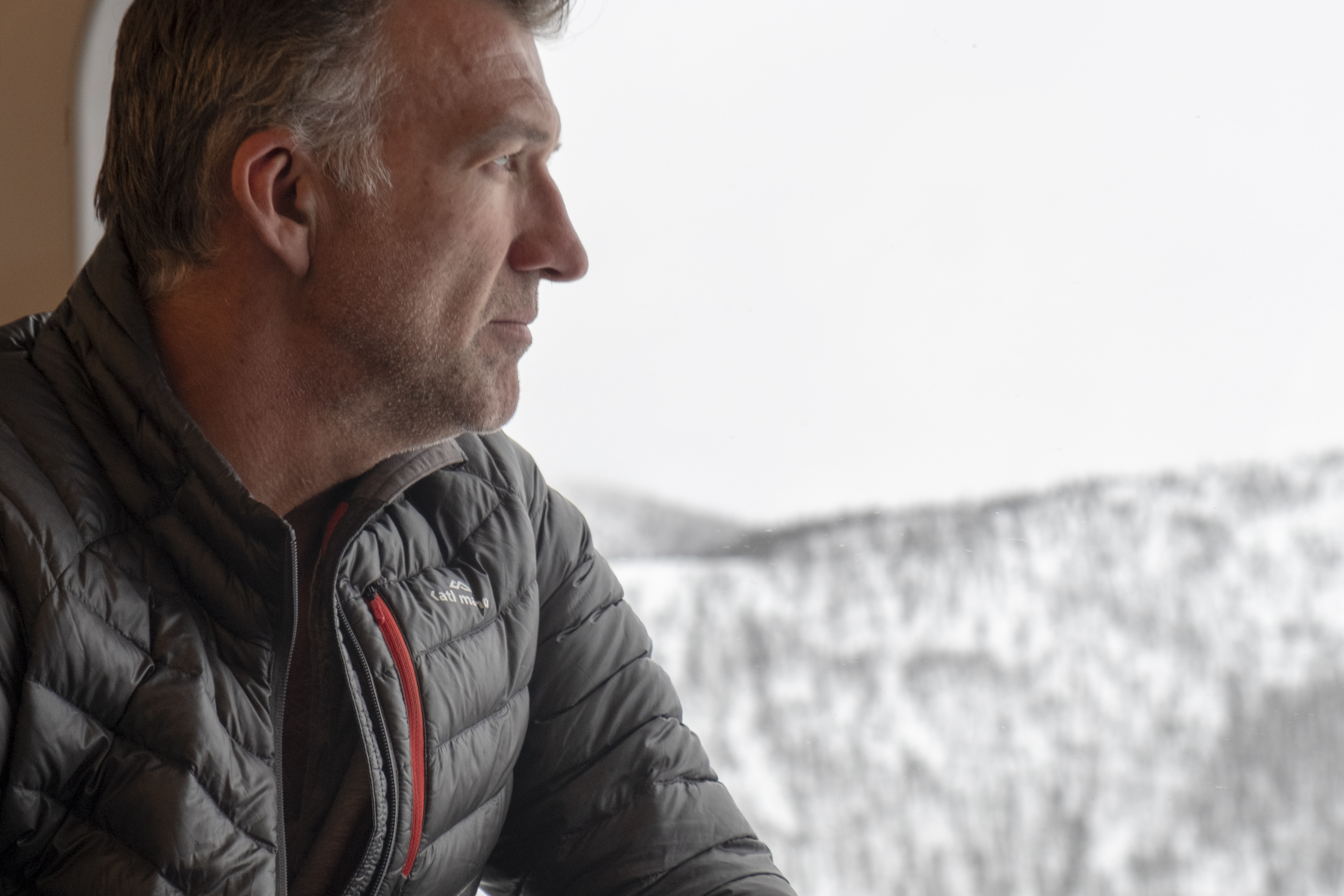 You just got back from summiting Kilimanjaro? Can you highlight the purpose of that trip?
The Equator might be the last place you'd expect to find ice and snow. Yet high in the mountains, at zero latitudes, 25 peaks still had glaciers until very recently. But warming temperatures are causing these glaciers to melt away. Within a quarter of a century, all the ice and snow will be gone. 25 mountains at zero latitudes plus 25 years equal zero ice. And so, the 25zero project was born.
Kilimanjaro is one of the 25zero mountains, the highest in Africa and an iconic peak. The project uses dramatic images of these melting glaciers and stories of people being affected by their decline to show climate change, engage new people in the issue, and fund climate change projects.

What did you see up there?
Kilimanjaro was pretty sobering — as so much of its ice has gone due to climate change. The goal of the 25zero project is to climb these mountains and document the decline of their tropical glaciers to raise awareness of the drastic and irreversible effects of climate change. The project brings spectacular, yet tragic, documentary imagery of the melting glaciers, to the world, to show evidence that our activities can have consequences far from cities or sources of pollution. Showing climate change is important because for many, seeing is believing; climate change suffers from the fact that you cannot 'see' greenhouse gases in the atmosphere.
What was the impetus of this project?
Using melting glaciers to show climate change was inspired by the retreat of the Konig Glacier on South Georgia, Antarctica, where I noticed the dramatic change while retracing the 1916 journey of Sir Ernest Shackleton in 2013.
How was climbing Kilimanjaro compared to South Georgia?
Kilimanjaro is far higher than the mountains of South Georgia (almost 5900m compared to 2,000m for South Georgia's highest peaks) so the air is a lot thinner! The night we summited Kili it was -15C (5F) so also colder than South Georgia although South Georgia was far more inhospitable when I crossed it in 2013, due to the strong katabatic winds we experienced — we had 85 knots (97MPH) winds that destroyed our tents. South Georgia's remoteness also means if you get in trouble there you're in a world of pain as there are no rescue options. Kilimanjaro, relatively speaking, is pretty crowded with help never too far away.
Both, of course, suffer from the effects of climate change that are ravaging their glaciers. More than 90% of South Georgia's are in widescale retreat due to warming and Kilimanjaro has lost more than half of its ice and has perhaps only 20 -30 years left until all its glaciers have gone. The main thing killing Kili's glaciers, however, is the far drier conditions amplified by climate change and deforestation in the area.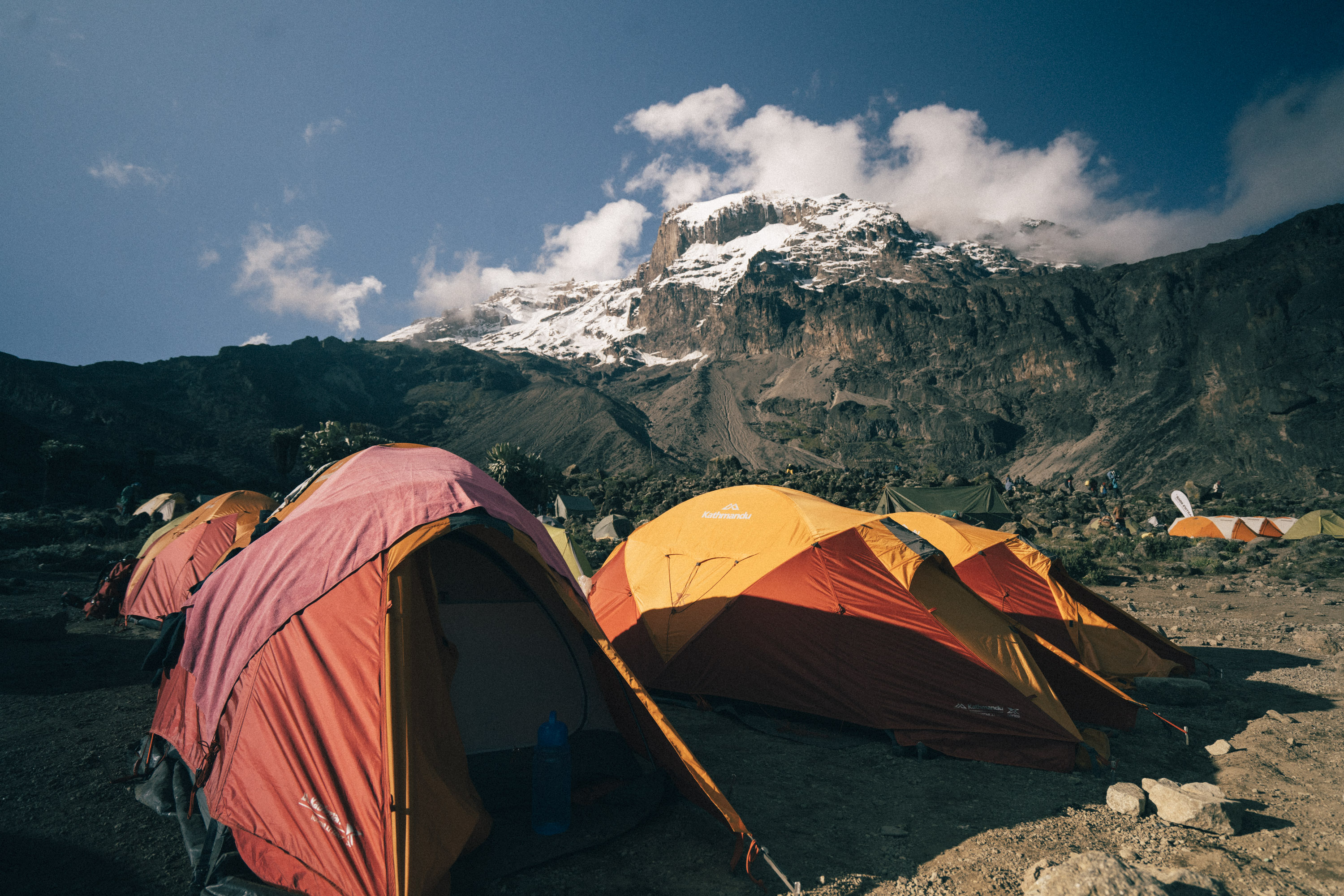 Can you walk us through when the Shackleton family reached out to you and how that led you to Antartica and South Georgia in 2013?
I was lucky enough to meet Sir Ernest's granddaughter, the Honorable Alexandra Shackleton, in 2000 in London and we became great friends. In 2006, I retraced the polar journey of famous Australian scientist and explorer Sir Douglas Mawson using 100-year-old gear and equipment and only starvation rations as Mawson did in 1913.
The documentary I made, Mawson Life and Death in Antarctica, was the flagship of the Film Australia 'Making History' series, and fronted Channel 4's highly acclaimed 'Edge of Endurance' series in 2007. Expedition patrons were Australian Prime Minister John Howard and Alexandra Shackleton. It's the only time I had set out to retrace someone else's journey but she was impressed with what we did and asked me to assemble a team to try and retrace her grandfather's famous survival journey.
How do you even start to prepare for the recreation of Shackleton's legendary and dangerous voyage and mountain crossing?
It was very important to do it as he had done it. I wanted to both honor his original achievement as well as get a sense of what it would have been like for him on his original journey. That meant using period clothing, including nails through the soles of our boots for grip in the mountains of South Georgia, building a replica of his boat the James Caird, traditionally navigating using a compass, sextant, and chronometer, and eating the same frankly miserable expedition rations as he did. About the only positive was that his original expedition manifest included several bottles of the Mackinlay's Rare Old Highland Malt which Whyte & Mackay faithfully reproduced from the original and gave to us. This provided much-needed fortitude on more than one occasion.
This all sounds very … time-consuming.
Basically, the whole process of getting the boat built, the clothes made, the right team of people, the funding, broadcast deals, etc. took four hard years of planning and commitment. Then we all had to learn how to function and navigate using 100-year-old technology like sextants and chronometers. 200 people applied for the 6 places on the team but, in the end, we had the right team and were able to pull it off.
So we're talking a very small sailing vessel and then small packs over the mountain, storage is crucial. What did you pack and what were those "frankly miserable expedition rations?"
We wore the same gabardine (cotton) external layers with woolens and animal pelts for insulation. The cotton smocks were not waterproof as they had been designed for a crossing of the driest, windiest continent by Shackleton, Antartica. Six of us forced ourselves into a tiny space below the deck of the James Caird. It was no bigger than a single bed and we slept in a seated position on top of rocks and camera batteries in a boat that was constantly threatening to capsize. We ate the same miserable rations as Shackleton did including pemmican (congealed animal fat), nougat, sledge biscuits, sugary tea, and reindeer jerky as a substitute for the seals and albatross eggs his men ate that we, of course, couldn't.
As I said, one saving grace on the whole expedition was the fact that we were given six bottles of the Mackinlay's Rare Old Highland Malt and consumed these whenever there was either cause for concern or celebration — which was most of the time as we were always surviving a storm or having made a successful sunsight as part of our celestial navigation.

When you crossed the finish line, what happened next? Did you sleep for a week?
Not exactly. First of all, I had to answer questions from the media on a satellite phone with bad reception down in South Georgia. Then we had a few drinks to celebrate. Then we had to get on a bigger yacht and sail to the Falklands in some of the roughest seas you can imagine. It was hard to battle through that for five more days in a bigger yacht after what we'd been through in our small 23 foot keel-less James Caird replica I can tell you.
When we got to the Falklands, we then went to the pub and celebrated properly. Then we slept….
These sort of situations are life and death stakes. Do you ever worry someone isn't going to make it on these epic recreations? How do you deal with that reality?
The planning and preparation took about five years from start to finish and, of course, the risks start long before the physical challenge of trying to sail a small keel-less, capsize-prone (and frankly unseaworthy) wooden boat across the Southern Ocean, or climb a mountain without any climbing gear begins. These include reputational risks, financial risks, and the risks associated with putting five years of your life into something that may ultimately fail spectacularly. There are also many hard, lonely moments you face in planning and bringing together major expeditions, one of the biggest of which is finding the right people.
In the end, it didn't take that long to find the right people. Shackleton allegedly ran an advert saying "Men wanted for hazardous journey. Low wages, bitter cold, long hours of complete darkness. Safe return doubtful. Honor and recognition in case of success" and got 3,000 applicants for 27 places. I got 200 applicants for five places so, obviously, there's an ongoing appeal in pitting yourself against the forces of nature like this.
The call to adventure is inside us.
I think it's all in the framing. I believe the greater risk is living well inside your own ability and not achieving your potential in life. Getting to the end of your time and looking back and having major regrets. When looked at like this it helps you overcome the fear that you certainly feel sometimes. You're not impervious to fear it's just that the risks you take are at some level worth it.
I firmly believe that in pushing your personal boundaries you learn more about yourself and life is to be lived after all. The whole team I think were of the same mindset.
It feels like whisky was a crucial component to the expedition. So much so that Whyte & Mackay brought it back as Shackleton Whisky?
To get as close as possible to Shackleton's original journey we had to take bottles of the Mackinlay's Rare Old Highland Malt since that's exactly what Shackleton had with him. Whyte & Mackay are makers/owners of the Mackinlay's brand and faithfully reproduced the Mackinlay's again from some original bottles that had lain hidden under Shackleton's hut in the Antarctic for almost a century.
That's incredible! So how did they bring this into the present day?
Richard Paterson — who is perhaps Scotland's most experienced whisky maker and friend to both myself and the Shackleton family — faithfully recreated the Mackinlay's. Since the Mackinlay's release, Richard along with Whyte & Mackay has since made a dedicated blended malt called the Shackleton Whisky which is a wonderful drop. Its character is designed to reflect some of Shackleton's personality — so I'm obviously proud to be the brand ambassador.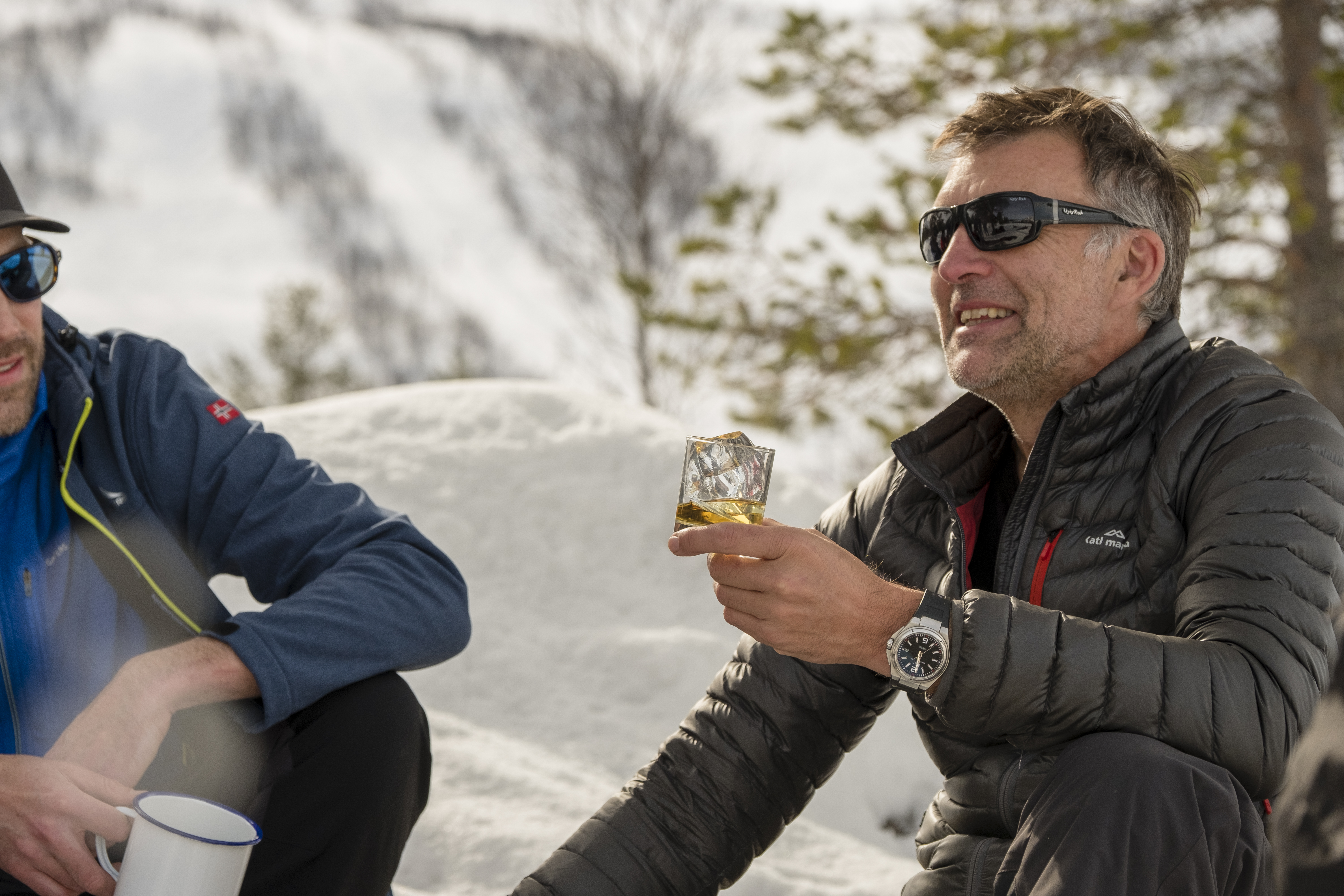 What should we know about Shackleton, the person, that people don't generally know?
I think the key thing about Shackleton is that he was an outsider. He was merchant navy when more establishment figures like Scott (of the Antarctic) were Royal Navy. He was Anglo Irish too at a time when there was suspicion and distrust between the two nations. He fitted in neither place. He also came from a family of ten children with eight sisters. This female presence in his life arguably made him more emotionally aware than the average male of the period. He knew how to fit in and could see things from others perspectives. We now call this 'emotionally intelligence.' In other words, knowing who you are and how to identify with and get the best out of others.
Today, you're working more with Shackleton Whisky and leading events that highlight conservation and environmentalism. What expeditions are coming up next with Shackleton around the world?
I do a combination of exploration and speaking and Shackleton supports me with spreading the word about my work. The places I go on my adventures are some of the most pristine and remote places on the planet and going there showcases them and hopefully instills a desire and sense of urgency in people to want to protect them.
My next trips include going back to the island of South Georgia in November 2018 and to the Antarctic in December 2018 with WWF. I'm also going to climb Mount Kenya as part of my 25zero project.

What advice do you have for someone looking to get into the expedition game? Where do you even start? What's the most important facet of true adventure travel that people most underestimate?
Expeditions are major exercises in organization, leadership, and endurance. Dream big, start small. Take one step at a time. Don't let anyone tell you it isn't possible. Understand what you're up against but do it anyway.
After all, Shackleton said, "Difficulties are just things to overcome."
In honor of National Adventure Day (Oct. 14), Shackleton Whisky and Fjällräven are celebrating the spirit of exploration in New York City. They'll be hosting a panel and Q&A on September 20 with Shackleton brand ambassador and explorer Tim Jarvis along with sailor Sophie Hollingsworth and adventurists Matt Komo and Oliver Kurtz. There will also be a Shackleton Whisky tasting after the event!
Visit here for Uproxx's press trip & hosting policy.