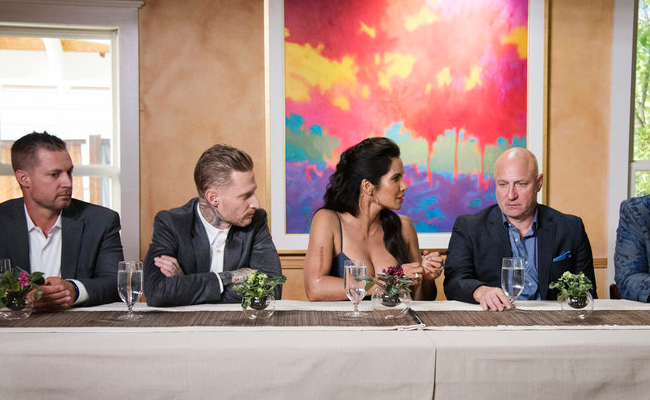 This week on Top Chef — mother of God, did you see Padma's dress? It must be sweeps week.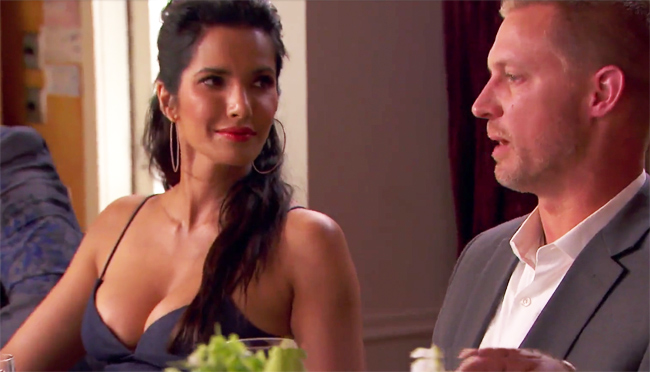 Sorry, I lost my train of thought there.
Actually, this week began with balls. That is, a Rocky Mountain Oyster challenge, which of course involved cooking a duo of beef testicles (aka "Rocky Mountain Oysters"), guest judged by the world famous sexily tattooed Voltaggio Brothers. Clearly, the theme was things that come in pairs (cum?). And to be honest, for a show that drove a running joke about "the bear den" deep, deep into the ground, there actually weren't that many ball jokes. Padma asked if the contestants were "allergic to nuts," har har but that was about it. Which is weird, because Padma can make anything sound like a sex joke and basically lives for variations on the phrase "meat in my mouth." Adrienne had by far the best ball joke, but it was so subtle you could almost miss it.
After that, the contestants were promised a "big surprise." Which, you'll know if you've ever watched a competition reality show before, could only mean one of two things: they either brought back the previously eliminated contestants or invited the contestants' families. Surprise! It was the second one.
We got to meet Adrienne's mom, Carrie's mom, Mustache Joe's dad, and Joe Cheeks' Grandmama. Which left us with a mystery: What the hell happened to Joe Cheeks' parents? Dufresne! Search party of three!
Also… when did this show get so… poignant? Mustache Joe getting introspective about his departed mother with his jewelry-bedecked father (I can say that because I too have a jewelry-bedecked Italian-American father) damn near turned this episode into a less-contrived version of Chopped (GRR, BACKSTORY!).