If you've been on social media in the past few years, undoubtedly you've seen a photo or video of what's been dubbed the "Yosemite Firefall" – when Horsetail Falls is backlit fiery orange by the setting sun in mid-to-late February. While the original firefall was a summer event where literal burning embers were dropped from the top of Glacier Point to mimic a fiery waterfall into the valley below, the current version is all-natural and on many a bucket list.
Once a hidden gem – if anything really can be "hidden" in Yosemite – popular with landscape photographers, this naturally occurring phenomenon is now well-known with crowds swarming the park during February to catch a glimpse. The National Park Service says that on just February 19, 2022 at least 2,433 visitors gathered to view the falls. They did so mostly areas that are off-limits, too — thereby damaging sensitive vegetation.
So while Yosemite is dropping reservations for summer of 2023 (they've required them the past two years) they're adding them for February weekends during firefall viewing.
THIS IS WHAT YOU NEED TO KNOW:
WHEN IS THE FIREFALL THIS YEAR?
In order for the backlit bright orange firefall to occur, the setting sun has to hit Horsetail Falls at just the right angle. This only happens from about the second week of February to the end of the month. This year February 10-28 is expected to be prime viewing. Of course, the weather can change at any time.
WHAT'S CHANGED FROM PREVIOUS YEARS?
In previous years there have been no restrictions on access into the park or viewing of the firefall. But with the extreme increase in visitors in the last few years this year the park is implementing a reservation system for firefall weekends.
WHEN DO I NEED A RESERVATION?
You'll need a vehicle reservation to enter Yosemite – even if you don't plan on viewing the firefall – on these dates in February:
– February 10-12
– February 17-19
– February 24-26
The reservation is required 24 hours a day during these time periods (so don't assume you can just sneak in at 3 am and sleep in your car). Once you have the reservation secured, you will have access to the whole park, although some parking will still be restricted or limited.
WHAT IF I'M STAYING OR CAMPING IN THE PARK?
If you have a reservation at Yosemite Valley Lodge, Curry Village, Wawona, Yosemite West, or Foresta within the park then you can enter without another vehicle reservation. You can also enter with an existing camping reservation at Upper Pines, Camp 4, Hodgdon Meadow or Wawona – which are also switching from their traditional first-come first-serve basis in February to requiring reservations throughout the month of February.
Another option is to enter on the Yosemite Area Regional Transportation System or with an authorized group – but you'll need reservations for both in advance.
HOW DO I GET ONE?
Reservations will be available on Recreation.gov starting January 13 at 8 am Pacific Time. Just 50% of the available reservations will be released on this day, and then the other 50% will be released 2 days prior to each reservation date (For example, reservations for February 17 will be available on February 15 at 8 am Pacific Time).
The National Park Service stresses that "Reservations are taken almost immediately. Be sure to have an account and be logged in and ready to get a reservation promptly at 8 am Pacific time."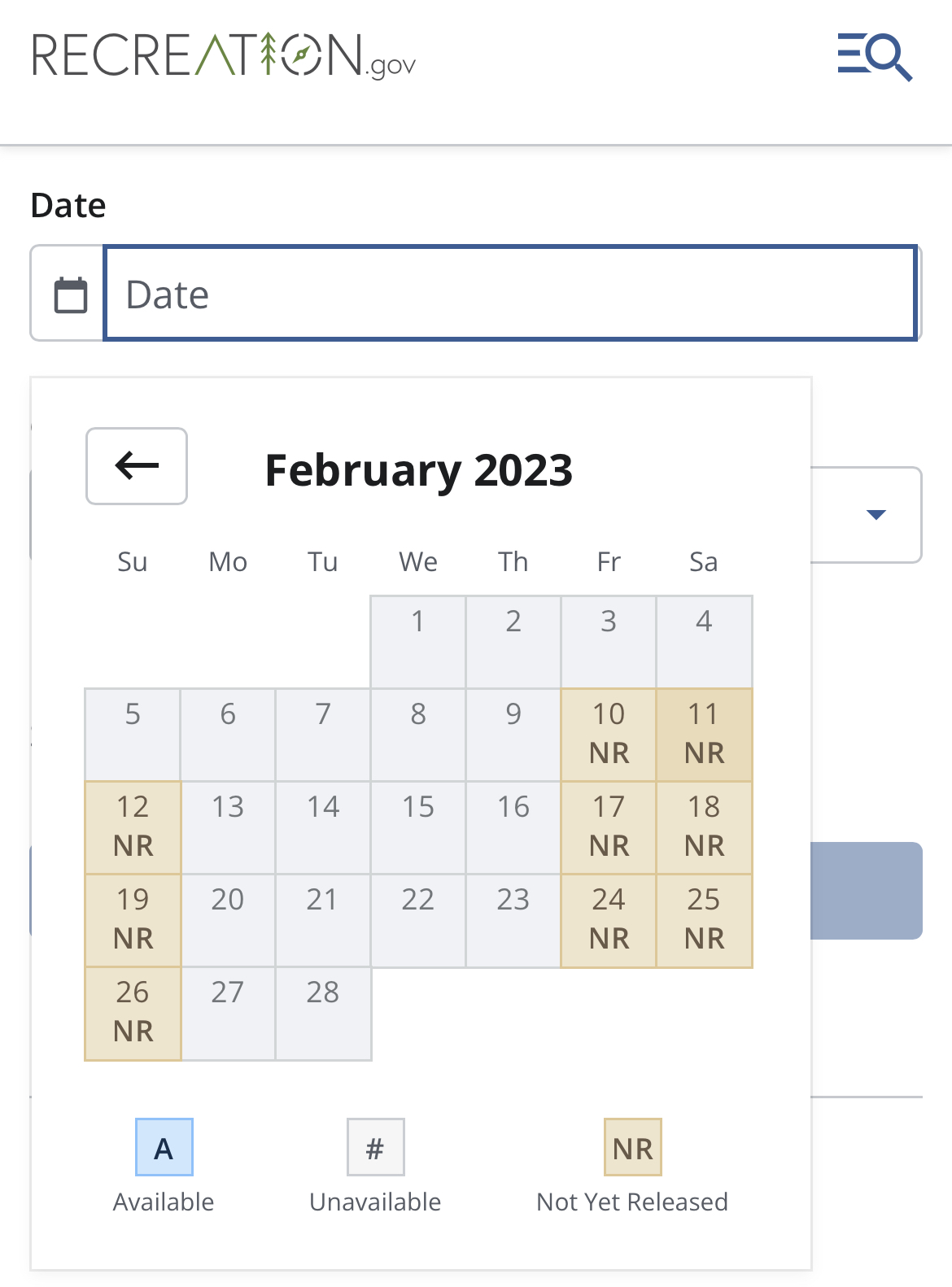 If you don't have an account at Recreation.gov, it's super easy to create one. Once you're there you'll want to search for "Horsetail Fall Timed Entry." Once the reservation window opens, the available dates will become blue with an A inside. Quickly pick your reservation date and immediately check out. You'll want to have your payment info stored in advance.
WHERE DO I GO ONCE I'M IN THE PARK?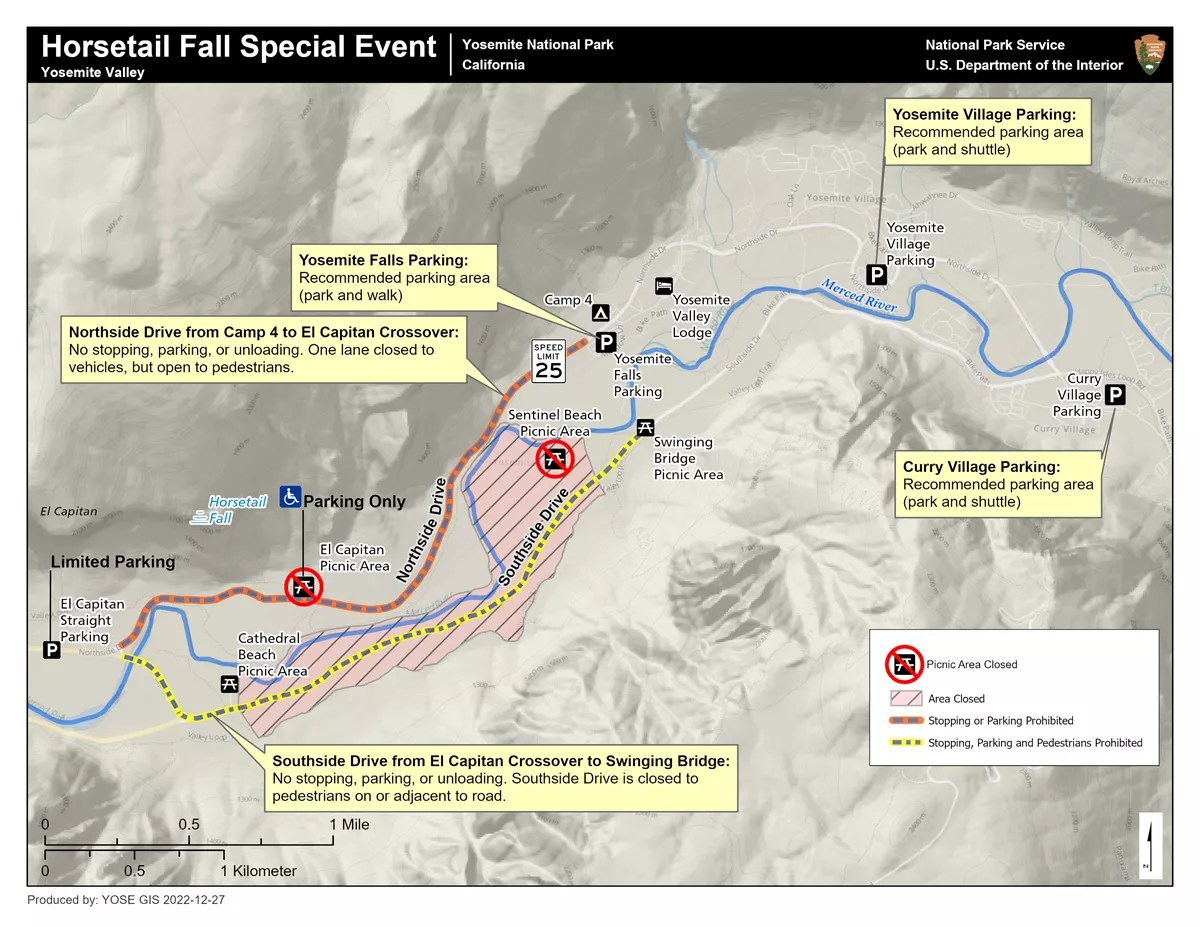 Once you're in the park, you'll want to make your way to the Yosemite Falls Parking Lot where you'll then have to walk an additional 1.5 miles (each way) to the viewing area near El Capitan Picnic Area. If parking is full, the park recommends parking at the lots in Curry Village or Yosemite Village and taking the free shuttle that will stop at Yosemite Falls Parking.
It will be very obvious which direction to walk towards if you are confused, as there will be thousands of people doing it with you.
Bring layers, a headlamp or flashlight, and warm durable hiking or walking shoes. Many people I've seen throughout the years come early to get a prime spot and bring chairs, blankets, and food with them to the picnic area to spend the day waiting. Of course, always stay on trails and in maintained picnic and viewing areas, remembering to leave no trace using the El Capitan picnic area trash and recycling, or by packing out all of your own trash.
WHAT'S THE BEST WAY TO PHOTOGRAPH?
If you are visiting the firefall, you'll probably want to take some photos while you're there – but there are some things to keep in mind.
Keep tabs on the weather :
In order for a firefall to occur the waterfall must be running, meaning that the area has to have received adequate precipitation and the temperatures need to be above freezing to melt snow and ice. On the day of, you'll need mostly cloud free skies – as the light needs to be able to reach the valley.
Keep tabs on the time:
While the firefall obviously occurs "at sunset" – the best viewing is going to be around 10-20 minutes prior to the time you see on your weather app as sunset. You'll want to be set up and ready about an hour prior.
Bring a tripod and DSLR if possible:

A tripod and DSLR or mirrorless camera are going to give you the best shots. In the valley you are still shooting from quite a distance and zooming on an iPhone is just not going to look as great – but if that's all you have by all means experiment!
And remember if the stars align and you see this natural wonder to also take some time to put your camera away and stand in awe at its majesty.