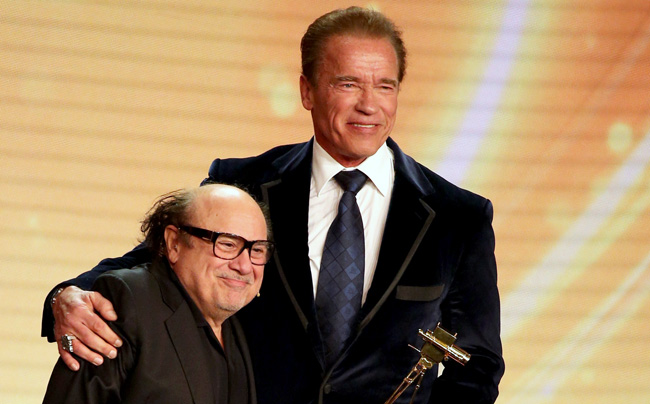 Arnold Schwarzenegger stopped by Howard Stern this morning, where he talked about how Twins came to be made. As Howard pointed out, the film sounded like a logistical bomb on paper, but of course it went on to become a huge hit, grossing more than $200 million at the box office and cementing Schwarzenegger as a bona fide comedic actor.
He says that the idea actually came about during an evening spent with Ivan Reitman and Robin Williams, during which the two convinced him that he was funny. Reitman said he wanted to write a comedy for Schwarzenegger, which Arnold was only too happy to jump at because, at the time, he was only being considered for action roles. He also dropped an interesting nugget that he was the one who thought of casting Danny DeVito as his fraternal twin.
More importantly, Schwarzenegger also talked about that Twins sequel, Triplets, which has been rumored for some time now. (Most recently, Josh Gad claimed to be writing it.) According to Arnold, Universal is currently in the process of fine-tuning the script, and Eddie Murphy, who he says "loves" the idea, is definitely on board. The movie will start out at the funeral of their characters' mother, at which point the brothers discover that they're actually triplets, but they have to track down the third one before they stand to gain their inheritance.
Apparently, that gem of a plot device was all Gad. He says that Reitman isn't even necessarily on board to direct and might end up just producing the movie. You can listen to the full segment below (refresh page if media player doesn't load).
[protected-iframe id="3648d93f4384cf583f07af7901abb3b3-60970621-60765065″ info="https://w.soundcloud.com/player/?url=https%3A//api.soundcloud.com/tracks/211780274&auto_play=false&hide_related=false&show_comments=true&show_user=true&show_reposts=false&visual=true" width="100%" height="450″ scrolling="no"]