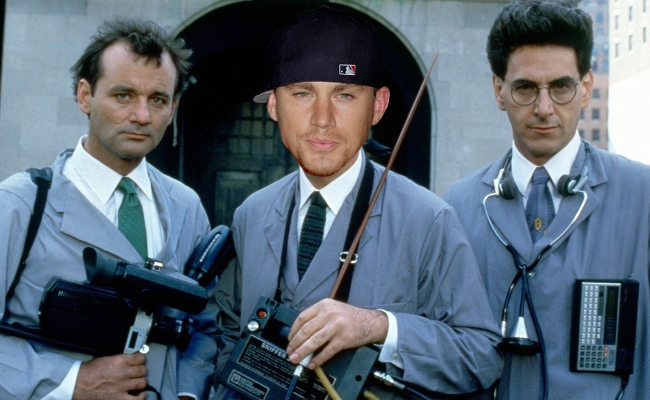 When Howard Stern recently asked Channing Tatum about his rumored Ghostbusters project, you could basically hear the film's death rattle in the distance. "That thing's gotten messy," he told the radio show host, adding that the project is in a "gestation period." Translated: it's probably never going to happen because there were too many people involved, even if, as C-Tates said, Dan Aykroyd was one of the driving forces behind it. Then again, Aykroyd would probably want popular actors like Tatum and Chris Pratt to star in any updated versions of his movies, so I'll say it right now… Spies Like Us remake, do it.
Just how messy are things for Tatum's Ghostbusters film? His Magic Mike XXL writing partner Reid Carolin straight up told Screen Rant's Kara Warner that it's simply not happening now, or it will at least take a miracle from Gozer herself.
The discussion briefly turned to the Ghostbusters spinoff, to which Carolin said "We're not doing that anymore"; when asked "Oh, you're not?" he then clarified:

No I don't think so, I think it's too complicated. There's a lot of things going on with that brand and I just feel like it's over-saturated. (Via Screen Rant)
Yes. YES. What he said. Obviously, with Sony pumping $150 million into Paul Feig's (don't you dare call it Lady) Ghostbusters film, starring Melissa McCarthy, Kristen Wiig, and Kate McKinnon, we can expect that remake/reboot/sequel/standalone to be a big hit, even with millions of angry fans throwing hissy fits over the female casting. But do we even need one new Ghostbusters film right now, let alone two?
As Tatum told Stern, he's excited about showing his daughter and today's kids a new version of a movie he loves, but how hard is it for people to pop Ghostbusters in the ol' Blu Ray player and let a classic captivate their kids for two hours? That said, we can lock the rumors away in a containment unit, but we're all smart enough to know that this isn't the last we'll hear of Ghostbusters 3.