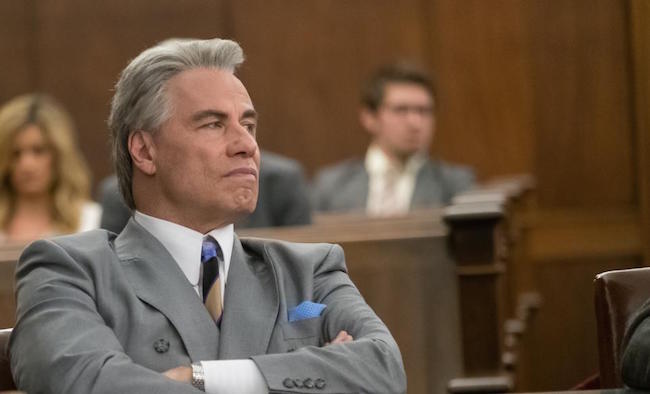 After scoring an impressive zero percent on Rotten Tomatoes — a film the New York Post dubbed as "the worst mob movie of all time" — curiosity got the best of me so I decided to see Gotti for myself because I just had to know. How could a movie in which John Travolta plays John Gotti be that bad? It had to at least be entertaining, right? (The marketing for the film is, at the very least.)
So early Monday morning I went to see Gotti. While I was watching I decided to use a pen and paper and keep a running diary. Here's how that all went…
11:41 a.m.: There are at least 20 other people who decided to go to a Monday morning showing of Gotti.
11:45 a.m.: I can only assume everyone who is here is as curious as I am. That's the only explanation. As opposed to, "Hey, you know, this is zero percent on Rotten Tomatoes, but it looks good. And my gut is always right."
12:09 p.m.: I had no idea this was directed by E from Entourage. Well … his 30 for 30 about the New York Islanders was pretty good, so, there's that.
12:10 p.m.: Gotti begins with John Travolta casually hanging out by the river and turns around to the audience in an, "Oh, it's you!," way.
12:15 p.m.: This movie is five minutes old and we've already had three or four jumps in time.
12:17 p.m.: Honestly, these time jumps are an … interesting choice.
12:20 p.m.: John Travolta as John Gotti just made a Casper the Ghost reference.
12:23 p.m.: John Travolta just had a voiceover where he explains that, after getting out of prison, he was going to have trouble finding his house. The next scene is Travolta pulling up in a car, rolling down the window, and asking, "Hey, where's the house?"
12:26 p.m.: This movie keeps jumping from three or four different timelines. This is very jarring.
12:28 p.m.: "Heart of Glass" by Blondie is playing. Has any song in history been used as often in movies as this one to signify "It's probably 1979?"