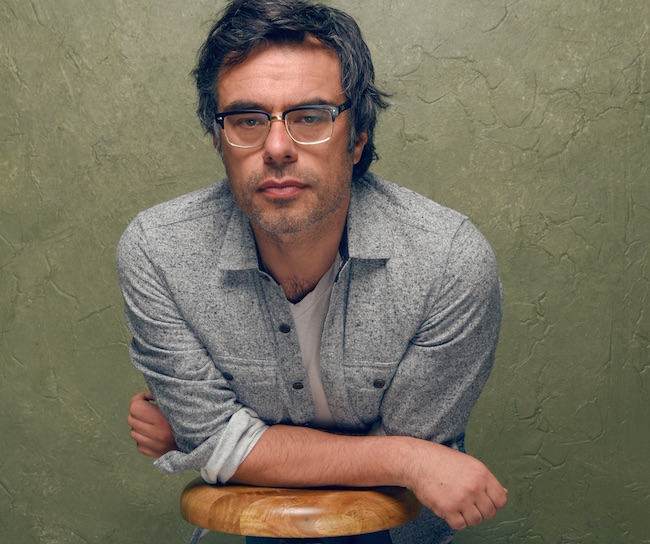 It's at least noteworthy to point out that Jemaine Clement is, admittedly, starring in films that his younger self used to admonish. Clement is probably still best known as one half of Flight of the Conchords, but that's starting to become debatable. Since the last episode of the duo's HBO television show (which is now a kind of startling six years ago), Clement has co-stared in numerous films while his partner, Bret McKenzie, has won an Oscar.
Clement's latest film (which he stars and co-directs, along with Taika Waititi) is a mash-up of the horror genre and the Christopher Guest-style mockumentary films, What We Do in the Shadows — a film that explores the mundane lives of a group of vampires and the trials and tribulations that go into their daily lives. (It's here that the act of feeding on the blood of live human beings feels like a routine song and dance that would eventually becomes tiresome.)
Oh, yes, back to Clement admonishing himself. That's not for this movie — What We Do in the Shadows still fits Clement's quirky reputation. It's his other film, People, Places, Things (that just premiered at Sundance) where Clement plays the lead role (another rarity) as … a single father. It's Clement's most normal role to date, which is also why it's his outlier. Clement has nestled him so deeply in quirk and the bizarre, that when he plays it straight, it inherently becomes interesting.
I met Clement on a cold and rather lousy Monday morning in a non-nondescript small office (that Clement calls "his office" but it's not his office) in New York City's Flatiron District. In person, Clement comes off as sort of timid, quiet and shy – which, honestly, seems like a normal enough reaction to meeting a stranger (me). Ahead, Clement discusses his present and his future, which, yes, could theoretically still see a Flight of the Conchords movie – a project that was just discussed with the powers that be in the past few days.
Jemaine Clement: Welcome to my office.
It's nice? Are you actually in New York often?
[Laughs] No. Wellington, New Zealand. But I was here for a few months at the end of last year.
People tried to tell me What We Do in the Shadows is a horror movie, but it's not a horror movie.
It's not how we think of it.
But you want the horror fans on your side.
Yeah, yeah. But it has a couple of scares in it, but it's mostly just silly jokes.
And some gore.
But for laughs, not to horrify.
Did the Christopher Guest films influence this film?
Yeah. But more, "We can't do a Christopher Guest film, he is nailing those." So, how can we do something in this field, but differently. So doing something that you couldn't film in real life – that wasn't a band or people at an office.
So you went the supernatural route.
We had some other ideas, but I wanted to make a vampire movie anyway.
It surprises me that you want to make a vampire movie.
[Laughs] This was ten years ago. I used to really love vampire movies.
A lot of people love them now.
When I had this coming up, I would turn down any vampire movie that would approach me as an actor. I'd say, "No, I'm making my own vampire movie!"
What vampire movie approached you?
The remake of Fright Night talked to me.
I wish you would have said Twilight.
[Laughs]. No, the post-Twilight movies – which made us worry this is going to be over-saturated.
But it's probably good timing, people know everything about vampires now.
One of the ideas we had for a mockumentary was following a group of aliens, but there were all of these logistic problems. We loved this story, it was a kids book, this alien is invading Earth – but he gets here and it turns out he's [really small].
So that's what you wanted to do?
Well, no, but that kind of a twist on how hard it would be to organize and invade a planet.
Did the alien miscalculate his size compared to humans?
In that story, which was the kids story. But we wouldn't have done it because we would have been plagiarizing. But it's been stuck in my head, that story. I don't even know the name of the story.
Well, don't plagiarize it, but this sounds great. Maybe get the rights, how much could it be?
That's true.
You co-directed this movie, is it weird all of a sudden barking orders at people?
No. Even when I've just written something, I'll still be like, "You should do this; this is the main point of the joke" – even though I'm not supposed to. I've never had a license to do that.
So, I want to word this the right way…
I won't be insulted.
I enjoyed you in Jared Hess' new film at Sundance, Don Verdean. But it's a funny, quirky performance I've come to expect from you. In People, Places, Things, I did not know what to expect watching you play a sincere, straightforward character.
Oh, yeah.
People aren't used to seeing you play that kind of role.
It was different enough as a rom-com that I was interested in doing it.
You play a better sincere than I thought you would. Have you gotten rom-com offers before?
I've been offered a few breakup stories.
Why those?
I might be the Billy Crystal of breakups.
Regardless, I really enjoyed you in that role.
I liked doing it. Once upon a time, I thought I wouldn't do anything like that. When I was younger and I'd see my comedy heroes start to do "dad roles," I was like, "What happened to you, man? I'm never going to do that."
So is this a different outlook on life? You have a child now.
I have a child the same age as the character's child. And I still laughed at the script.
Was the younger version of yourself nagging you when you agreed to play that role? "Man, you said you'd never do this."
[Laughs] "Don't do it!" No, not too much. He's shut up, finally. And, also, I had never taken on a lead before.
You do have a reputation, outside of your HBO show, for being the supporting character who gets all the laughs.
Right. And even on Conchords, we shared that. There were two of us.
And in People, Places, Things, it's just pretty much you.
[Laughs] Yeah, there's one scene I'm not in.
Did that weigh on you?
It didn't, but it always used to. It always used to bother me that I was going to have to concentrate so much and that there would be so much pressure on me. But, for some reason, the week the script came in, it didn't bother me at all. I was probably less stressed about doing it because I was on all the time. You know, I had no time to go, "What's the perfect thing to do."
Is that what you're usually thinking before a scene?
I usually have a lot of time to prepare, sometimes I'll have days off before a scene. And with People, Places, Things, I didn't have any time.
A couple of years ago you'd mention in interviews the possibility of a Flight of the Conchords movie.
[Laughs] You are right.
It's never going to happen, is it?
We still talk about it.
It's fun to talk about. What are the odds it actually happens?
I'm not really sure.
It seems both you and Bret have a lot going on.
Well, the thing is that James Bobin, who is the other creator with Bret and me, he lives in L.A. and it's rare that all three of us are in the same place. Both Brett and I go to L.A., but for different things. But last I spoke to James about it was last week.
How does that conversation go?
It was like, "What if, like the show, we do this."
It can be like Arrested Development, we hear about it for ten years…
Right!
Then one day it shows up.
Yes.
You would bring joy to the world.
[Laughs] It would be nice to bring some more joy to this joyless world.
How often to you hear about Bret's Oscar?
I've been doing a lot of interviews lately, so it's come up a few times.
I just wonder if he brings it up, or if he never mentions it.
No, he doesn't. I wonder if he even hides it when I go over to his house. I don't think I've ever noticed it around. I probably mention it to other people, people ask, "What's Bret doing? He's not really doing any acting." And I'm like, "He won an Oscar!"
Mike Ryan has written for The Huffington Post, Wired, Vanity Fair and New York. He is senior entertainment writer at Uproxx. You can contact him directly on Twitter.