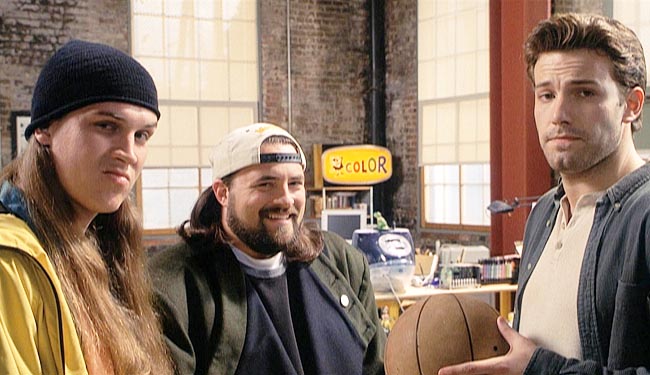 Kevin Smith has talked about the return of Jay And Silent Bob in some form or another since at least 2014. It's been more than a decade since Clerks II hit theaters and longer than that since Jay And Silent Bob Strike Back, both projects that Smith had hinted at plotting sequels for in the near future. But now in the wake of his heart attack scare, it would seem Smith is moving forward on one of these ideas with a sequel to his 2001 ode to the titular characters.
The news comes from a recent Q&A following a live episode of his Fat Man on Batman podcast and includes some plot details that might sound familiar to fans who saw the original film way back according to ComicBook.com:
"We're doing a sequel to Jay and Silent Bob Strike Back and it's called Jay and Silent Bob Reboot," Smith told fans. "It's us, it's me and Jay so it's not really strictly a reboot in the way that people think of a reboot. If you remember Jay and Silent Bob Strike Back it was a movie in which Jay and Silent Bob found out Hollywood was making a movie about them so they went cross country to Hollywood to stop that from happening. Jay and Silent Bob Reboot is completely f—ing different. In Jay and Silent Bob Reboot, Jay and Silent Bob find out that Hollywood is making a reboot of that old movie that they had made about them, and they have to go cross the country to Hollywood to stop it all over again. it's literally the same f—ing movie all over again. It's a movie that makes fun of sequels and remakes and reboots while being all three at the same time."
While it seems silly to relive a movie that was meant to be the last bow of sorts for Smith's characters and the universe they inhabited, it's also proper that Smith would return to the world that cemented his career to make fun of everybody else doing it. Some of these films have aged poorly and Jason Lee has four Alvin And The Chipmunks movies to really distance himself, but there's still some good there. Also, Smith is using Gus Van Sant as some inspiration, referencing the director's decision to remake Alfred Hitchcock's Psycho:
Are you crazy? It's Alfred Hitchcock's Psycho,' and he was like, 'yeah, but it's a black and white movie. There's a whole generation of kids who will never watch this movie…Some people will argue from not until the end of time that it was absolutely f—ing unnecessary, but I like that it was just ballsy. He literally just made the same f—ing movie over again. Mine's not that, we have a completely different script, but I used the script of Jay and Silent Bob Strike Back to build the script to Jay and Silent Bob Reboot. So there' a van in it with three girls in it."
Consequence Of Sound adds that production should start in August and Smith is looking at a 2019 release for the film if all goes well, something that fans of his older movies can look forward to. I'm just happy that all this Gus Van Sant talk allows us to look back at his cameo in Jay And Silent Bob Strike Back, scolding Ben Affleck.
(Via ComicBook.com / Consequence Of Sound)