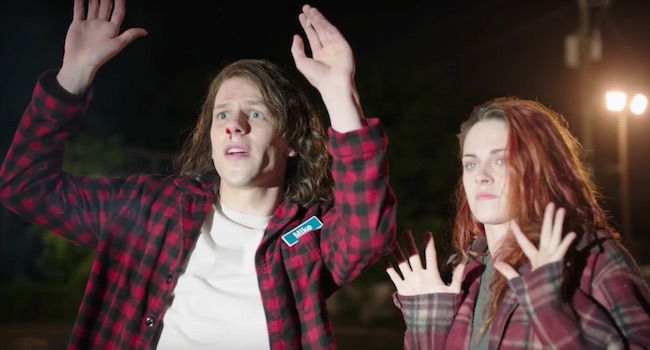 Earlier this month, Kristen Stewart and Jesse Eisenberg made a popular Funny or Die video where the two skewer the type of interview questions that they are usually asked. And, now, here, I enter the lion's den, so to speak (actually, it was more like a hotel conference room), trying to ask interview questions. I've interviewed heavyweight champion boxers before, but's these two, together, made me feel a little overcome with anxiety.
Stewart and Eisenberg are promoting American Ultra, their second feature film together following 2009's wonderful Adventureland (and they will both appear together next year in Woody Allen's next film). In American Ultra, Eisenberg and Stewart play Mike and Phoebe, two pot-loving human beings who must cope with adversity after Mike discovers that he's a secret government agent and is being hunted by bureaucrats who want him dead.
Ahead, Stewart discusses how Twilight still looms over her career, even when it comes to her award winning performances, like in Clouds of Sils Maria — and as Stewart moves on from a big franchise film, Eisenberg explains why he wants to get involved in one with Batman v Superman: Dawn of Justice. They also both talk about the nature of interviews and their general attitude toward the whole process. Additionally, Stewart shares her thoughts on an inevitable Twilight reboot.
Nothing is more uncomfortable to me than interviewing two people at the same time.
Kristen Stewart: Because we're ganging up on you. Do you use those journalistic tricks?
I don't have any tricks.
Stewart: Where you say something and don't comment? Isn't that one of the things where you ask questions, but don't contribute anything?
Jesse Eisenberg: So, what do you mean? What would that be?
Stewart: So, you ask someone's opinion about something, but it's a very one-sided conversation. You will not effect or make them think you accept or deny anything to keep them going – talking, talking, talking, talking.
Eisenberg: Yes, yes, I've seen that.
Stewart: And you get to the end of a conversation and you feel like you've just divulged everything, and you've gotten nothing back and it's like, "How did you do that?" You kept talking to me and yet I've gotten nothing from you, yet I've given you everything.
I probably interject my own opinions too much.
Eisenberg: That's comforting, in a way.
I should take this advice.
Eisenberg: [Laughs] Yeah, you should hold your cards close to the vest.
But you two have known each other for a long time, and I'm this stranger who enters the room.
Eisenberg: Do you want to lie down?
And then you two made that video about the dumb questions you get asked.
Eisenberg: Oh, I see. But I can't imagine you would ever do questions to her that would be offensive to her based on gender normative behavior. I'm serious, that's not your style.