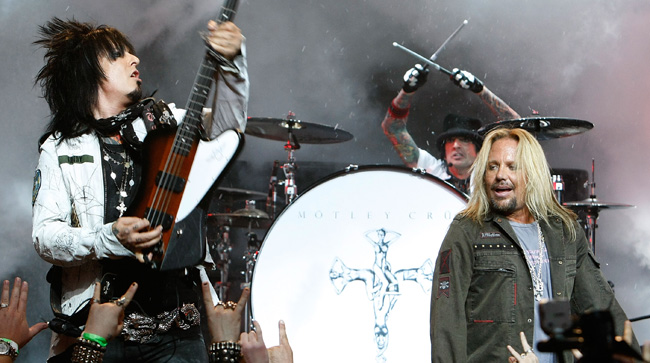 Thrilling news for the portion of the world waiting for penises to be shoved in egg burritos on Netflix! And, uh, 80s glam metal fans too.
The Hollywood Reporter reports (presumably from Hollywood) that the perpetually delayed Mötley Crüe biopic The Dirt is close to landing on Netflix. The motion picture, based on the band's notorious Neil Strauss aided none-more-sleaze autobiography The Dirt: Confessions of the World's Most Notorious Rock Band, has been kicking around as a project for years with Paramount and Focus previously eyeing a cinematic adaptation. According to THR, David Fincher was once sweet on the project for a time. We understand if you need a moment to have a think about what that might look like.
Jackass helmer Jeff Tremaine is currently attached to direct The Dirt, although you may want to take that status with a grain of salt/gram of coke. He was previously attached way back in 2013 and the project's languished in development hell long since. Still, the prospect of teaming with an original content hungry landing spot like Netflix seems to be the most promising shot this film has had of coming into existence. The press-n-play nature of the streaming service also allows for a more ambiguous option for what can and cannot be filmed to tell the Crüe's tale of death, drugs, dinks and decadence.
Here's a proposal for Crüe filmmaking going forward: Either knock out the movie in the next three years or get around to making the Crüe movie the public wants. By that I mean a Crüe Ball adaptation.
(Via The Hollywood Reporter)