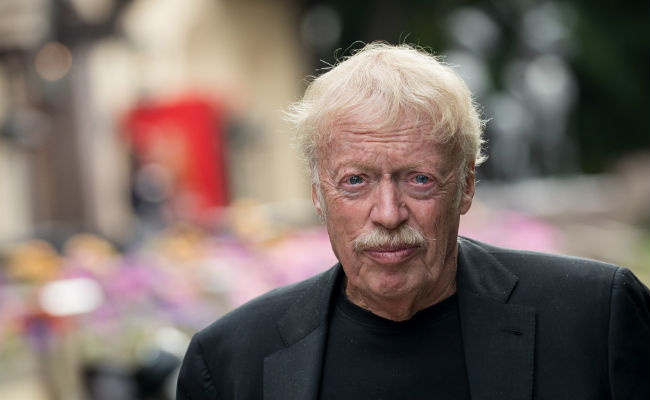 The story of Nike has found its company DNA all over Netflix in recent years. Tinker Hatfield's involvement in the Air Jordan has popped up in an eight-part series called Abstract, and it seems like the public has taken an increased interest in shoe design in recent years.
The story of Nike founder Phil Knight has yet to be told in film form just yet, but it's coming. Netflix announced on Thursday that it's picking up the rights to Knight's biography and will produce a biopic about the shoe monolith's founder.
According to The Hollywood Reporter, Netflix is optioning Knight's best-selling memoir, Shoe Dog, to make a biographical film. THR and Deadline both reported on Thursday that Scott Alexander and Larry Karaszewski (The People v. O.J. Simpson: American Crime Story) will write the script, while it will be produced by Frank Marshall and Knight himself.
Knight's autobiography was released in 2016 and has been a mainstay on the New York Times bestseller list since it hit the market. Knight is the co-founder and chairman emeritus of Nike, which went from a company selling shoes out of the back of a car to a billion-dollar footwear and athletic wear industry over the course of a few decades.
"I look forward to working with my friend, the great Frank Marshall, in bringing my story and the story of Nike to the screen," Knight said in a statement released Thursday. "I have been gratified by the reception my book has received and think that we can explain my journey and the story of Nike to an even larger audience in collaboration with Netflix."
Knight and Marshall reportedly met on the set of Back to the Future, where a self-lacing Nike shoe made its way into the second installment of the series.
"Ever since our collaboration on [Back to the Future] and being a runner myself, I've always been fascinated by Phil's story and how the company came to be," Marshall said in a statement. "It's an amazing tale about what the path to success really looks like, with its mistakes, struggles, sacrifice and even luck. It's about how a company can grow with the right people, dedication, a belief in the power of sport and a shared mission to build a brand that would change everything."
No timetable for the movie's production was given.
(via The Hollywood Reporter, Deadline)