The Oscars are on Sunday night. Had you forgotten? Does this year's race seem a little less intense than most years? Are we just too distracted by the state of the world to care as much in the past? Maybe! But, nonetheless, it should be a memorable night. Sufjan Stevens will sing. We'll be reminded once again that Boss Baby has an Oscar nomination. We'll all take a nap during that long period between the Best Supporting Actress awards and the home stretch. Jokes will be made about last year's Best Picture screw-up. Many jokes. Too many. But it'll still be fun. And while watching, keep in mind some Uproxx contributors' picks for who should win (with a side dish of some predictions as to who will win).
Best Adapted Screenplay
Call Me by Your Name, James Ivory
The Disaster Artist, Scott Neustadter & Michael H. Weber
Logan, Scott Frank & James Mangold and Michael Green
Molly's Game, Aaron Sorkin
Mudbound, Virgil Williams and Dee Rees
Who Should Win:
Vince Mancini: Having read the book and having a somewhat personal connection to it, I thought The Disaster Artist did a wonderful job adapting its source material. But I'd also be happy if Mudbound won. I liked Call Me By Your Name, but something about it sticks in my craw. Maybe it's that calling someone your own name seems weird and conceited? Or that I'm jealous of everyone's effortless wealth and culture? I don't think Logan is that great and Molly's Game is kind of bad.
Mike Ryan: It's not just that Mudbound deserves it, but it's also a movie that kind of got a raw deal in a few other categories, so it would be great if it could win here. Though, how crazy would it be if Logan won? It won't, but I'm looking forward to the first non-Heath Ledger superhero movie prestige category win. (That should be a category, "and the winner of the Non-Heath Ledger Superhero Movie Prestige Category is…")
Amy Nicholson: Who knew a Wolverine film could have a scene that howled like the second coming of Samuel Beckett with Patrick Stewart wailing like a soul displaced in time? If I could clap my hands and cancel comic book films tomorrow, I would. Yet, Logan's script turned cartoon panels into real agony — and trusted that its audience would make the leap. I want to reward a film that took an expensive risk and proved that blockbuster audiences aren't just brainless popcorn munchers. And spoiler alert, if it killed off more Wolverine movies, that's a plus.
Keith Phipps: My sentimental pick would be James Ivory who, at 89, knows a thing or two about writing Oscar-worthy screenplays. Also, Call Me By Your Name is a great movie and Michael Stuhlbarg's monologue has gutted me both times I've seen it. But I'm going to go with Mudbound, which beautifully distills a lot of story into a swiftly moving, deeply affecting movie. Also, Mudbound did not get enough love from the Oscars, or most other awards, so I'll be rooting for it to win where it can.
Emma Stefansky: Luca Guadagnino's movies are all vacations that I would deeply enjoy taking (maybe minus some of the murder and heartbreak), and I felt the same way about James Ivory's Call Me By Your Name adaptation, one of the most compassionate scripts of last year. It's the kind of familiar, comfortable, comforting feeling of being around familiar people but feeling that there's something different about yourself. It's probably a credit to the actors that they could make some of the dialogue in Ivory's screenplay sound as natural as it does in the movie, but, then again, we're amongst polyglot academic expats who are totally okay with their son figuring some stuff out with his new friend they've invited into their home.
Who Will Win:
Vince: Molly's Game, specifically just to piss off me personally. There is ample precedent for this.
Mike: Call Me by Your Name
Amy: Call Me by Your Name
Keith: Call Me by Your Name
Emma: Call Me by Your Name
Best Original Screenplay
The Big Sick, Emily V. Gordon & Kumail Nanjiani
Get Out, Jordan Peele
Lady Bird, Greta Gerwig
The Shape of Water, Guillermo del Toro, Vanessa Taylor
Three Billboards Outside Ebbing, Missouri, Martin McDonagh
Who Should Win:
Vince: Oof, there are some heavy hitters. I liked Lady Bird the best, but I thought Get Out and The Big Sick were also great writing work.
Mike: This is one of those categories where it would be cool for The Big Sick to win since it's that film's only nomination, but it's maybe too hard to ignore the others here, too. So I'll pick Get Out.
Amy: Allow me to list all my caveats before making the case for Three Billboards Outside Ebbing, Missouri. Yes, it's clumsy about race. Yes, it's an outsider's psychoanalysis of America's heartland. And yes, it's not even the fourth best script Martin McDonagh's written. But Three Billboards has clearly hit an uncomfortable nerve, which feels necessary in a world that's whacking itself awake after two decades of numb contentment. When — if — we're ever able to look back at today's tumult with anthropological distance, this is the script that will feel most vital, in part because it asks us all what comes next. (And if you think McDonagh serves up an easy answer, I'd watch the film again.)
Keith: It's hard for me to choose between Get Out and Lady Bird here, both debuts (well, Gerwig had co-directed a film before) that signaled two of our most promising new filmmakers had been in front of us for a few years doing other things. I'll give it to Lady Bird because I just remembered that exchange about the "titular role" in The Tempest.
Emma: Whenever I have to defend my love for The Shape of Water, I tend to say variations of the same thing: In the back of my mind, maybe I love this movie more because I love that Guillermo del Toro finally got to make it, and I love how charmed I was by the whole thing. The idea — what if the Creature from the Black Lagoon actually was taken back with the explorers who found him… and then fell in love with a human woman? — is such a lovely concept, and with dialogue like, "If we do nothing, so are we," and bookended by lines of Sufi poetry in the script co-written by Vanessa Taylor, it settles itself comfortably in that between-place of a wholly modern story inspired by works of the past where del Toro's films thrive.
Who Will Win:
Vince: Three Billboards. Again, solely to piss me off.
Mike: Three Billboards Outside Ebbing, Missouri
Amy: Get Out
Keith: Three Billboards Outside Ebbing, Missouri
Emma: Three Billboards Outside Ebbing, Missouri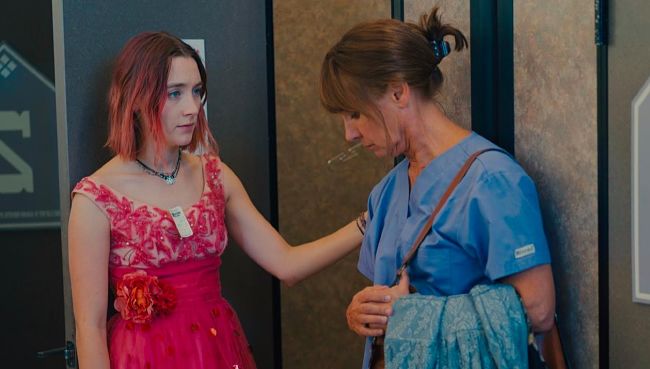 Best Supporting Actress
Mary J. Blige, Mudbound
Allison Janney, I, Tonya
Lesley Manville, Phantom Thread
Laurie Metcalf, Lady Bird
Octavia Spencer, The Shape of Water
Who Should Win:
Vince: They're all good. My only caveat to that is that Octavia Spencer was in The Shape of Water for like five minutes. And she was fine. Octavia Spencer is great! But how you nominate her for that role over Hong Chau in Downsizing (easily this year's best supporting actress in my mind) I can't fathom.
Mike: For me, it's between Janney and Metcalf, but Janney is just such a force in I, Tonya that I give her the slight edge. See, now I'm already changing my mind. I should insert the Larry David gif of him not being able to decide. Okay, fine, it's still Janney.
Amy: Good God, Laurie Metcalf. This year she and Dafoe created characters who feel so real you can imagine what they're doing right now. No really, try it. I'm guilty of writing off mom roles as a screenwriter's lazy attempt to squeeze a famous actress somewhere in the script. What Metcalf does is show us the nag Lady Bird loathes, and the floundering woman her daughter can't see. She exists in both dimensions at once, a magic eye poster Metcalf pulls into focus. One of the smartest scenes in the film is a shot of Metcalf, alone in her sewing room, thanklessly tailoring her daughter's new thrift store dress. Alison Janney is a good actress and in I, Tonya, she's a blast. But Metcalf is in a league of her own.
Keith: I don't think there are any bad choices here, but the one that stands out to me as an all-time performance is Laurie Metcalf in Lady Bird. But this is as good a place as any to point out how great Lesley Manville is in Phantom Thread, even if hers isn't the performance everyone is talking about.
Emma: When Laurie Metcalf's face crumples after Danny (Lucas Hedges) mentions her daughter had referred to her home as "the wrong side of the tracks," I wanted to reach through the screen and grab her hand. Lady Bird is a film about, among other things, people's complicated relationships to the places they call home, and the performance Metcalf gives is the perfect combination of infuriating, overprotective, and completely exasperated. Every girl at that age has a love-hate relationship with their mother, and Metcalf finds that balance between encouraging her headstrong daughter to follow her passion (and finally get out of her house) and never wanting to let her go.
Who Will Win:
Vince: Janney
Mike: Janney
Amy: Janney
Keith: Metcalf
Emma: Janney
Best Supporting Actor
Willem Dafoe, The Florida Project
Woody Harrelson, Three Billboards Outside Ebbing, Missouri
Richard Jenkins, The Shape of Water
Christopher Plummer, All the Money in the World
Sam Rockwell, Three Billboards Outside Ebbing, Missouri
Who Should Win:
Vince: I haven't seen The Florida Project yet, but outside of that this is my least favorite category. A bunch of great actors nominated for some of their weakest roles. Steve Carell in Battle of the Sexes, Ray Romano in The Big Sick, and O'Shea Jackson in Ingrid Goes West would've been my votes. I'll just say Dafoe because I hear he's great and he usually is.
Mike: People can debate Sam Rockwell's character's motivations for the rest of time (and I think people will) but I think he's really great and I'm glad he's finally getting some recognition. And he's going to win anyway, so I've decided I'm going to be happy for him. Though I wouldn't be upset of Dafoe took this either.
Amy: Let's be real: The Florida Project was the best film of the year. But I don't want Willem Dafoe to scoop up this award as a consolation prize. At first, I thought Dafoe was just a gold medal casting stunt, making Hollywood's creepiest character actor play papa to a motel of real, and adult, children. It took two watches to appreciate how generously Dafoe offers himself as the film's conduit and conscience. Through him, we see the truth about this so-called Magic Castle — and we see the power of patience. Dafoe's been patient himself, waiting for audiences to see him as more than a pair of buttressed cheekbones and an evil grin. I've admired him for years, but this performance is a revelation.
Keith: I'm going to use the Mudbound logic above and land on Willem Dafoe. The Florida Project is a bracingly original film that deserved more nominations. Also, Dafoe is great in it as a guy who discovers his job description has changed and finds himself looking after the welfare of his residents when he'd really rather just be repairing the HVAC system. Dafoe's often the best element in movies, good or bad. Here he's one great element among many, but, it would be a worthwhile win.
Emma: There are truly a wealth of great supporting actor performances this year. I was utterly charmed by Bob Odenkirk's hapless-turned-hero journalist in The Post — there's a moment where he drops some change on the ground during a tense scene that had me wheezing so that I wouldn't start cackling way too loudly in the theater. Willem Dafoe had one of the best performances of the year, period, in The Florida Project, completely game for the supporting role and yet never sinking into the background. Dafoe telling a bunch of migratory cranes to "Move along, boys" is one of the best shots of the year. The final ten minutes of the movie, watching his agonized facial expression as he sees a family fall apart before his eyes, had me clutching the arms of my seat in the theater, white-knuckled, waiting for him to do something but knowing, as he does, that he can't.
Who Will Win:
Vince: Sam Rockwell, again, mainly to piss me off. One of my favorite actors nominated for my least favorite of his roles.
Mike: Rockwell
Amy: Dafoe
Keith: Rockwell
Emma: Rockwell
Best Director
Dunkirk, Christopher Nolan
Get Out, Jordan Peele
Lady Bird, Greta Gerwig
Phantom Thread, Paul Thomas Anderson
The Shape of Water, Guillermo del Toro
Who Should Win:
Vince: Greta Gerwig. To me, if you make the best movie, you're the best director. Period. The movie didn't direct itself.
Mike: It's not as flashy as some of the others, but I think Greta Gerwig did a masterful job with Lady Bird and should win.
Amy: Like editing, this category usually goes to the person with the most visible flop sweat. Got costumes, period design, and special effects? Congrats, you're a contender. Actually being able to direct actors gets overlooked in the chaos, which is why I'm planting my flag for Greta Gerwig. In every scene in Lady Bird, you feel her shepherding, trusting, nudging, listening, and calibrating — skills that aren't as shiny as, say, making a 1960s fishman erotica, but deserve the Academy's full respect.
Keith: As always, the temptation here is to go with whoever did the most directing, and that's undoubtedly Christopher Nolan with Dunkirk, whose film involved overseeing action on the ground, in the air, and at sea. But Phantom Thread is my favorite film of 2017 and, in its own way, it's no less of a highwire directing act, one in which you count on audiences to follow you out on the highwire with you while making a film that refuses to reveal its secrets until the end.
Emma: This year's Oscar nominations have gifted us a category in which it's truly difficult to pick a favorite. Amongst those nominated for Best Director are three veterans of the craft and two incredibly gifted newcomers who made what are undoubtedly two of the best films of the year. Paul Thomas Anderson crafted a sweeping, swirling romance with Phantom Thread, and Greta Gerwig's behind-the-scenes glimpses from Lady Bird made directing look like an absolute joy. But Jordan Peele's work on Get Out is likely to be remembered for years, his take on modern American racism told through a lens as funny as it is horrific, a combination of tones that is utterly unlike anything attempted before.
Who Will Win:
Vince: (*long sigh*) Guillermo Del Toro. (It's fine. He's fine. The movie is fine.)
Mike: Del Toro
Amy: Del Toro
Keith: Del Toro
Emma: Del Toro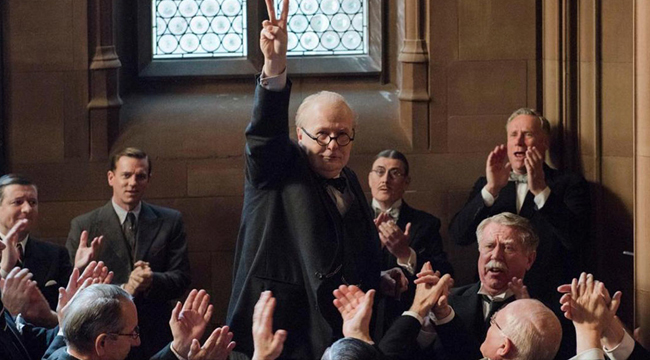 Best Actor
Timothée Chalamet, Call Me by Your Name
Daniel Day-Lewis, Phantom Thread
Daniel Kaluuya, Get Out
Gary Oldman, Darkest Hour
Denzel Washington, Roman J. Israel, Esq.
Who Should Win:
Vince: Daniel Kaluuya or Chalamet. The others are great too, but theirs are lifetime achievement awards.
Mike: I know it's not fun to pick the favorite, but there were times while watching Darkest Hour that I legitimately forgot I was watching Gary Oldman and my brain just kind of decided that I was watching the real Winston Churchill. Oldman will wind up winning, but he's legitimately fantastic.
Amy: In Call Me By Your Name, my favorite Timothée Chalamet scenes are non-verbal. It's the way he slouches, leans and sulks. Sure, he sounds convincing talking about classical composers. But watch him play piano sarcastically. Still, I'll be at peace if he loses; we're going to see him at the Oscars for another six decades.
Keith: I liked Daniel Kaluuya's performance in Get Out the first time but, as with the movie as a whole, I liked it even better the second time through. He's doing incredibly subtle work throughout, operating on a couple of levels at once by playing the part of a polite guest while conveying what he's thinking but not saying with each awkward interaction.
Emma: The Best Actor category is also a stacked one this year, but to me, Daniel Kaluuya is the clear standout — even next to some of the greatest actors of our time. His tight-lipped smiles at casually racist comments and tense-shouldered disposition escalate in a perfectly gradual simmer that culminates in one of the best depictions of someone losing it that I've ever seen. In interviews, his Get Out co-star Allison Williams said that Kaluuya could tear up on cue, and did that petrified crying face that's become an emblem of the movie for every single take.
Who Will Win:
Vince: Gary Oldman. Second heaviest Vegas favorite of this whole bunch.
Mike: Oldman
Amy: Oldman
Keith: Oldman
Emma: Oldman
Best Actress
Sally Hawkins, The Shape of Water
Frances McDormand, Three Billboards Outside Ebbing, Missouri
Margot Robbie, I, Tonya
Saoirse Ronan, Lady Bird
Meryl Streep, The Post
Who Should Win:
Vince: Tough to say between Saoirse Ronan and Margot Robbie. Ronan looks effortless anchoring the best film of the year. Meanwhile, Robbie is doing the most obvious "work," and the only real knock on the role is the premise, which is that she's Margot Robbie and she's playing Tonya Harding.
Mike: This is a tie for me between Saoirse Ronan and Frances McDormand. As a side note, McDormand is 60 and Streep is 68. There's always been a lot of talk about roles for women who are a bit older (which is obviously still a problem), but I think it's a good thing that two of those roles are being honored this year. Anyway, if either Ronan or McDormand wins I can't complain, and McDormand is going to win. (Also, it's fun to pick people who make Vince so obviously mad.)
Amy: Frances McDormand. The more unlikable she gets, the more I love her.
Keith: I'm going to say something controversial here. Ready? Meryl Streep is a very good actress. Her "Let's go. Let's do it" moment in The Post is perfection and she's great in the film, which, not to sound like a broken record, I feel is not getting the respect it deserves in an extremely competitive year. That said, I'd give it to Saoirse Ronan, who crafts a heartbreakingly lovable character while making no attempt to cover up her thorniness and blind spots.
Emma: Frances McDormand had a truly punishing task in depicting a person unable to come to terms with her grief and lashing out at anyone and anything that tries to provide her an ounce of comfort. Three Billboards Outside Ebbing, Missouri's depiction of grief is not the safe, photogenic kind that immediately begs for sympathy, and McDormand nails it. Mildred's grief is ugly, it's angry, and it feels completely natural. She's difficult to love and yet so easy to understand.
Who Will Win:
Vince: McDormand, for Martin McDonagh's Reddit joke fantasy.
Mike: McDormand
Amy: McDormand
Keith: McDormand
Emma: McDormand
Best Picture
Call Me by Your Name
Darkest Hour
Dunkirk
Get Out
Lady Bird
Phantom Thread
The Post
The Shape of Water
Three Billboards Outside Ebbing, Missouri
What Should Win:
Vince: Lady Bird.
Mike: No movie has had more impact on the culture this year than Get Out and it should be recognized as such.
Amy: Here's my real wish: That these contenders will make even better films. This is a field of strong debuts and solid base-hits from veterans. Everyone, and no one, deserves to win. (Except Shape of Water cause c'mon, it evaporates as soon as you leave the theater.) Honestly, I'm watching this category with what I can only call intrigued dispassion, like I'm surveying the Oscar battlefield as the old guard and new voices fight to define an "Oscar film." My sword is with the upstarts, though I suspect that Jordan Peele and Greta Gerwig's next films will be so good that in 2025, we'll feel silly for awarding either of these. Still, I hope it's either Get Out or Lady Bird — both as a confidence boost for them, and an elbow to the industry that this is where the future is headed.
Keith: I knew that Lady Bird was my favorite movie of the year until I saw Phantom Thread. I'm pleased to see them both nominated in what has to be the strongest crop of nominees in years. In fact — apart from Three Billboards, which I liked in spite of some flaws that now seem more important than what I liked about it, and Darkest Hour — I wouldn't be that upset if any of these movies won.
Emma: At the outset of 2017, Get Out becoming an Oscar contender would have been a pretty bold prediction, but then it came out, became a runaway hit seemingly through word of mouth alone, and made more people start to actually pay attention to the stuff Blumhouse Productions releases. (Happy Death Day is a good movie!) Get Out takes an angle on examining modern racism that I had never encountered before — the kind of benevolent obsession that white people have with people of color is so insidious because it's so real. It's the iceberg of Oscar contenders, with so much more under the surface than what there seems to be at first. It's a horror movie, but the horror aspect comes less from the body-snatching plot and more from the fact that the reality it's grounded in is right on our doorstep, our basements, our plantation-style houses, the dumb microaggressive comments we make to people without realizing what they mean.
What Will Win:
Vince: Three Billboards Outside Ebbing, Missouri. And do you know why? Specifically to piss me off, that's why.
Mike: Get Out will do that thing where it doesn't win much else all night (I'm fairly certain Spotlight only won one other Oscar before it snagged Best Picture) then wins Best Picture. Also, what a weird year. There are five movies nominated that could win and I wouldn't be that surprised.
Amy: The Shape of Water
Keith: Three Billboards Outside Ebbing, Missouri
Emma: Get Out ohhh God I don't KNOW I HAVE NO IDEA