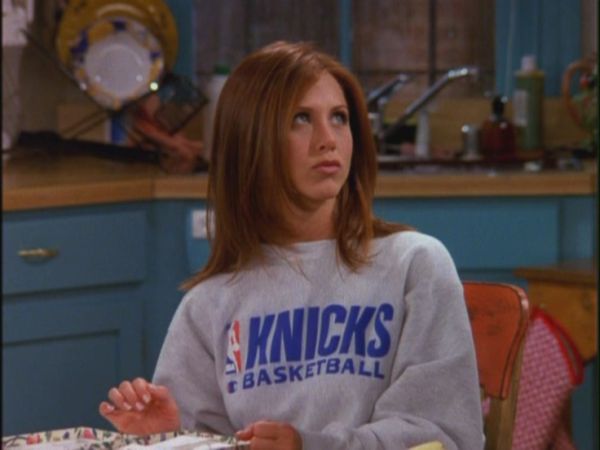 It might seem like a stretch to compare the careers of Jennifer Aniston and Robert De Niro, but let's do it anyway! Both Aniston and De Niro have had their respective halcyon days — Aniston as the flighty, funny protagonist on Friends, De Niro as the flighty, funny protagonist in Raging Bull, The Godfather, Taxi Driver, Heat, The King of Comedy, The Deer Hunter… okay, you guys get it, I feel like we can stop there. And both, in recent years, have made some cinematic choices that fly directly in the face of said halcyon days. Aniston, who did some good, weird work in Horrible Bosses, valiantly tried to go dark and gritty with Cake, then valiantly tried to fix that mistake with She's Funny That Way, which is, by all accounts, also a bad film. De Niro, while charming in dramedies like The Intern and Silver Linings Playbook, was actually a willing participant in Garry Marshall's New Year's Eve. Soon, he will hit the promo circuit for a movie called Dirty Grandpa, in which he plays the bad grandpa of Zac Efron.
This is the world we live in now, a world where Robert De Niro will play a dirty old man squeezing sunscreen on Aubrey Plaza's boobs. A world where Jennifer Aniston sees Robert De Niro in a movie like New Year's Eve, then signs on for Garry Marshall's next A-list talent tornado, Mother's Day. Which is why I announce this next bit of news to you with a mix of trepidation and — perhaps foolishly — tentative excitement: Deadline reports that Aniston and De Niro, who have clearly been on parallel career tracks for decades, are finally pairing up for a movie called The Comedian.
According to Deadline, the film follows De Niro as a "toxic insult comic on the order of a Don Rickles (with whom De Niro starred in Casino)." (Oh yeah, we forgot Casino.) Aniston will play a "woman" (hard to picture it) who meets De Niro's toxic insult comic at a wedding, then develops a "close relationship" with him. For the sake of Aniston and women everywhere who continue to feel like youth is their only currency, a currency that is continuously spilling forth from their clenched, wrinkled fists, while men can age endlessly and horribly and get laid on screen until their final, raspy breath, I hope this "close relationship" is more along the lines of De Niro and Anne Hathaway's in The Intern and less along the lines of Aniston and Kevin Costner in Rumor Has It.
Deadline points out that this will be De Niro's "second time behind the stand-up microphone" — he played another angry comic in The King of Comedy, albeit one who was a stalker and thus not hanging out with Jennifer Aniston at weddings. Apparently, De Niro and writer Art Linson (who wrote De Niro's What Just Happened?, which was somehow not a movie about the moment De Niro signed the contract for Bad Grandpa) have been trying to make The Comedian for years, and will incorporate stand-up material from Jeffrey Ross into the script. May the amount of work and good faith De Niro and Linson have put into The Comedian bode well for De Niro and Aniston, who both need to make a good movie, preferably simultaneously, so that their careers will continue to unfold identically.