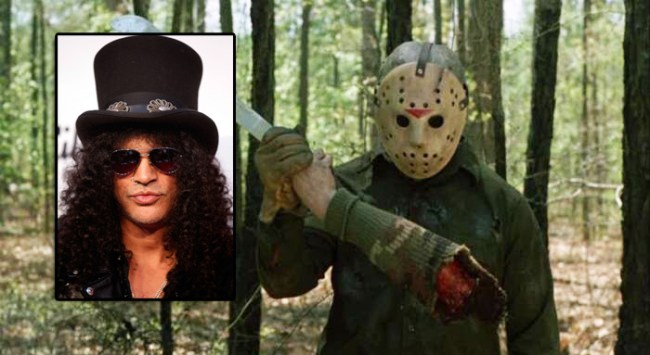 Hot on the heels of apparently burying the hatchet with Axl Rose over Guns N' Roses, Slash is looking to bury his hatchet in something else next, like a coed's skull. The legendary guitarist has joined on to produce a slasher film in the vein of the classic from the 1980s. Slash is joining with Revolver Picture Company and Boogeyman 2 director Brian Sieve to bring the idea to life. It all started after Slash found some common interests with Kelly Wagner and Nick Phillips at Revolver according to The Hollywood Reporter:
We knew he was into horror movies so we had a big long dinner," said Phillips. "He gets it, from the old Universal classics to the '70s, and yes, excitedly for us, the '80s."

Said Wagner: "He had been thinking along similar lines as us. It was serendipitous."

Added Slash: "They had an idea that tied in perfectly with a theme that I was working on at the time. From there, together with Brian Sieve, I think we developed something awesome."
The track record for musical acts entering the realm of horror is spotty at best. Rob Zombie has some successes like The Devil Rejects, but his version of Halloween has some mixed reviews. There's also Dee Snider's foray into horror with Strangeland, where he wrote and starred as the film's over-the-top killer. Slash is just producing, so it's possible the film could be alright. It's no Dude Bro Party Massacre 3, but it should be a fun ride back to the Reagan era. It just feels like Slash did this 50 percent because of his name. I know I would.
(Via The Hollywood Reporter / The AV Club)