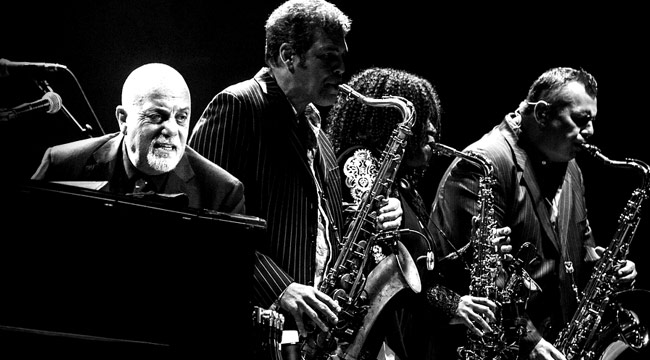 On New Year's Eve, Billy Joel made news by doing something he's done literally hundreds of times in the past 40 years: He performed "Miami 2017 (Seen the Lights Go Out On Broadway)" for an audience of graying, beer-hoisting "Piano Man" fans. Written in 1975 and released the following year on his fourth studio album, Turnstiles, "Miami 2017" was conceived by Joel as "a science fiction song" accented with proggy synth wails and apocalyptic lyrics that enumerate various calamities laying waste to New York City: Buildings crumble, churches burn, the Yankees leave the Bronx. (Also, in the song's looniest lyric, the mafia takes over Mexico.) While it was never released as a single, the anthemic "Miami 2017" — aptly described by Joel as a "great stadium song," given its dynamic "baroque balladry to bombastic rock" structure — has long been a concert favorite and one of Joel's most underrated jams.
But since 9/11, many people have actually considered "Miami 2017" to be prophetic. Joel performed "Miami 2017" at the Concert For New York in 2001, shortly after buildings truly did fall in Manhattan. When Joel revived "Miami 2017" again 11 years later at the 12/12/12 concert, he altered the lyrics to integrate references to Hurricane Sandy.
Perhaps that's why media outlets who normally wouldn't report on the latest stop of Joel's never-ending greatest hits tour took time to note that Joel played "Miami 2017" this week in the song's titular city right at the dawn of its titular year. People were already talking about the prescience of "Miami 2017" in social media — where doomsday talk has been pervasive since at least the presidential election — as the new year loomed. The implicit suggestion here seems to be that Billy Joel, classic rock's ersatz Nostradamus, knows something, and we can learn from him if we just study this classic-rock deep cut closely enough. At the very least, "Miami 2017" seems poised for a revival as a meme whenever something bad happens this year. Be prepared.
Given the uncommon number of ubiquitous radio songs that Billy Joel has produced in his career, it's somewhat odd that "Miami 2017" of all tunes has endured all these years later. As any amateur Joelologist knows — as a white male born in the '70s, knowledge of the Billy Joel songbook was practically part of my public school curriculum — Turnstiles is the last of Joel's "pre-fame" albums, coming one year before his breakthrough, 1977's The Stranger. "Miami 2017" is Turnstiles's final track, and at least initially, it was overshadowed by the LP's undisputed standard, "New York State Of Mind." Many fans didn't become familiar with "Miami 2017" until it was included as the lead-off track on 1981's Songs In The Attic, a live album composed of overlooked gems from Joel's pre-Stranger discography.
The muscular live version of "Miami 2017," which outpaces the relatively stilted studio recording, is the one that classic-rock radio stations played. It's also possible that in the wake of early '80s action blockbusters such as The Warriors and Escape From New York, Joel's narrative about a renegade rock concert carrying on in spite of the world's impending implosion suddenly made more sense. Incredibly, "Miami 2017" would resonate even deeper with audiences as the song got older.
But is "Miami 2017" really prophetic? Or is it actually a song about how bad things used to be? In a recent interview with Boston classical music station WCRB, Joel once again recounted the song's well-worn back story: He wrote "Miami 2017" while living in Los Angeles in the mid-'70s, around when New York City teetered on the brink of financial collapse. When the city was turned down for federal aid by President Gerald Ford's administration, The New York Daily News ran the famous headline: FORD TO CITY: DROP DEAD. The headline not only inspired Joel to imagine a post-apocalyptic New York in "Miami 2017," it also prompted him to move back home.
"[I thought], if New York is goin' down the tubes, I'm goin' down with it, and I moved back," Joel told WCRB.
The other crucial songs on Turnstiles — the album-opening "Say Goodbye To Hollywood" and, of course, "New York State Of Mind" — are explicitly framed as kiss-offs to L.A. that also pine for Joel's home on the opposite coast. "Miami 2017" is superficially bleaker: The song's perspective is that of a survivor who long ago escaped New York for retirement in Florida, and is now looking back on the city's disastrous end many years later. But "Miami 2017" is not really a song about the city's future; it's a meditation on urban decay as it existed in the mid-'70s, and how it might be remembered by subsequent generations.
In that way, "Miami 2017" is actually a pretty hopeful song. For one thing, no matter the protestations of social media pessimists, today's New York City is in much better shape than the exaggerated NYC described in "Miami 2017." When taken in proper perspective — as a window into the anxieties of the past rather than a "prophecy" of the future — "Miami 2017" serves as a reminder that there have been numerous points in our history when the end seemed nigh, and yet the end did not come. This is worth remembering given how overheated online rhetoric can be on both sides of the political divide.
As for Joel himself, "Miami 2017" wasn't the song that necessarily reminded him of the rise of Trump. This summer, Joel took a moment on multiple tour stops to dedicate his cynical show-biz ode "The Entertainer" to the future president-elect. Trump in turn took the ironic gesture at face value, tweeting his thanks for the "tribute," adding, "Appreciate it — love your music."
I wonder: Did that insane line from "Miami 2017" about the mafia running Mexico indirectly inform Trump's platform? Maybe there's time for Billy Joel to be prescient about 2017 after all.