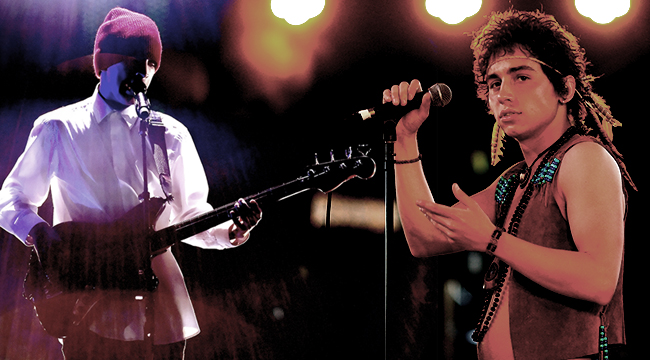 In the past few weeks, two of 2018's most anticipated rock albums have been released: Trench by Twenty One Pilots and Anthem Of The Peaceful Army by Greta Van Fleet. In my review of Trench, I noted that Twenty One Pilots have created a deep and
fascinating mythology that extends over several albums, while also creating music that's been hugely successful on streaming platforms:
If a teenager played Trench for a parent raised on N.W.A, Nine Inch Nails, Korn, or early Eminem, the oldsters would be shocked… by how utterly soft and smooth this music is. This is the sound of pissed-off youth in 2018? Really? Where is the screaming? The wanton cursing? The down-tuned guitars, mile-a-minute blast beats, and provocative lyrics that denounce the systemic corruption of the adult world?
If Twenty One Pilots epitomize the trends that dominate pop in the current moment, Greta Van Fleet is a conscious throwback to the classic rock past. The group is shamelessly derivative of Led Zeppelin, but is it possible to be good at imitation? Here's how I addressed that question in my profile of the band last week:
The fact is that Greta Van Fleet is quite good at making ancient-sounding music that remains extremely popular at a time when nobody else is seemingly interested or capable of filling that void. A million thinkpieces this decade have defended the rights of pop artists to adopt whatever far-fetched aspirational personae they please, so long as the results achieve a kind of visceral pleasure. So why not this, a band inspired by classic episodes of The Old Grey Whistle Test? If I may borrow a poptimist argument: Do you really want to slag these guys for not being authentic enough? Being accused of ripping off other artists is the most genuinely Zeppelinesque thing about them.
For this episode, I invited my friend and Celebration Rock producer Derek Madden to discuss these albums. Turns out that we don't quite see eye-to-eye: Derek likes Twenty One Pilots more than I do, and he also can't quite excuse Greta Van Fleet's "borrowing" of Zeppelin's sound. Who's right? Listen to us politely disagree!
Please subscribe to Celebration Rock on iTunes, Stitcher, and Spotify.