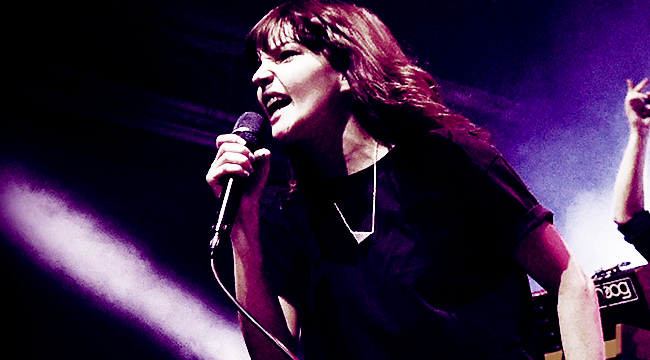 All genres rise and fall depending on which artists are happening in the moment, but certain kinds of music always seem to maintain the same level of semi-popularity no matter the prevailing trends: metal, pop punk, "outsider" country, and that booming, anthemic strain of indie music that I like to call thinking-person's synth-pop.
For nearly 40 years — starting in the early '80s with groups like New Order, Depeche Mode, and the Depeche Mode offshoot Yaz (featuring the underrated and highly influential singer Alison Moyet) — this music has been popular with an audience that yearns for a type of pop that's less mainstream than actual pop, delivering songs that sound a mile wide and an inch deep without any of the uncool "normie" baggage. In the late '00s and early '10s, thanks in part to the short reign of chillwave and the dorm-conquering popularity of groups like The Postal Service, MGMT, and Passion Pit, thinking-person's synth-pop thrived. Some of these artists have stuck around (Lorde, Grimes, Future Islands), but most of them are destined to round out "Totally '10s!" playlists: Chairlift, Cults, Austra, Neon Indian, Washed Out, Sleigh Bells, The Bird And The Bee, Yacht, and so on.
At its best, this kind of music sounds big, beautiful, reassuringly retro, and emotionally cathartic, an ideal soundtrack for both an outdoor music festival and a raucous after-bar dance party in some stranger's apartment. Once the buzz wears off, however, it can seem a little lightweight and innocuous. For artists, it can also be severely limiting, as the conventions of the genre tend to make the performers seems interchangeable and devoid of personality. Outside of the '80s O.G.'s, many thinking-person's synth acts don't last beyond an album or two. At that point, hammering on ginormous choruses, pulse-quickening beats, and Reagan-era signifiers inevitably produces diminishing returns.
Another problem faced by the early-'10s wave of thinking-person's synth-pop groups was the encroachment of actual pop music. In 2014, Taylor Swift staged a takeover with 1989, an album that looked and sounded like thinking-person's synth-pop, with an actual pop star at the center. After that, indie pop and IRL pop became indistinguishable, and the upstarts attempting to mount budget-priced approximations of Max Martin confections stood little chance against compatriots of the real Max Martin.
Now, the name of the game for these acts is "going to the next level," exiting the indie world and entering new, rarified air where the stakes (and payoffs) are much higher.
One of the decade's more popular and critically acclaimed groups of this ilk is Chvrches, who scored an international indie hit with its 2013 debut, The Bones Of What You Believe. Formed two years earlier in Glasgow by two college friends, Iain Cook and Martin Doherty, Chvrches is led by singer Lauren Mayberry, who lacks the powerhouse pipes of an iconic synth-pop belter like Moyet, but nonetheless imbues the band's expansive songs with an expressive melancholy. True to form, Chvrches' next effort, 2015's Every Open Eye, essentially repeated the formula of the first record, with less success. Which brings us to the new, melodramatically titled Love Is Dead, the presumptive "next level" record.
Unlike the previous two Chvrches albums, which were self-produced, Love Is Dead was made with Greg Kurstin, a mega-producer best known for engineering operatic pop smashes like Adele's "Hello" and Sia's "Chandelier." (He's also a member of one of those "Totally '10s!" bands, The Bird And The Bee.) If you hire a person like Kurstin, you clearly aren't interested in making your experimental, potentially polarizing Kid A-style move. Rather, you have set your GPS for the pop stratosphere. Sure enough, Love Is Dead is a record that swings for the fences, an admirable gambit that sadly results in a series of dispiriting foul tips.
The album's splashiest pop tune, "Get Out," apparently came out of the group's first songwriting session with Kurstin, who supplied the track's clanging keyboard riff. Like the rest of Love Is Dead, "Get Out" is shiny, grabby, and relentlessly upbeat, ruthlessly reaching for the brain's pleasure center. It's also, well, incredibly annoying, with a chorus that repeats the titular phrase a dozen times, like a jackhammer mechanically banging away at a sidewalk. Perhaps that's what it takes to have a hit song — I defer to Kurstin as an expert in that regard. But there's a fine line between "infectious" and "irritating," and "Get Out" falls on the wrong side of that divide.
Ideally, a record like Love Is Dead would've opened up Chvrches' sound, revealing previously untapped sonic terrain that the group's previous work hasn't yet explored. Unfortunately, Love Is Dead does the opposite, spotlighting Chvrches' inherent narrowness. Five years ago, Chvrches broke out by delivering serviceable synth-pop bangers like "The Mother We Share." But the group still falters when it tries to downshift to moodier material like "My Enemy," which fails to brood with any conviction despite enlisting the ultimate ringer in Matt Berninger of The National.
Mayberry — who spoke out early in Chvrches' career against misogyny in the music industry — has suggested in interviews promoting Love Is Dead that the album has a political edge. Along with taking up the mantle of #MeToo, she has also embraced a broader social justice platform, recently telling The Guardian, "It only takes two seconds to say: I don't agree with white supremacy." While that's an admirable stance to make in the press, the actual album doesn't come close to speaking with the same level of clarity or authority. "Where does all the good go?" Mayberry sings in the wan single "Miracles." "We're lookin' for answers in the highest of highs / But will we ever, ever know?" On the next track, "Graves," she offers another similarly callow sentiment: "If you don't have a heart I can offer you mine."
I doubt anyone listens to Chvrches expecting Gil Scott-Heron. But this album's reach for cultural profundity, simultaneous with the stab at pop enormity, exceeds Chvrches' modest grasp. Based on this record, it's possible that Chvrches has already fully explored its single dimension.
Love Is Dead is out May 25 on Glassnote. Buy it here.