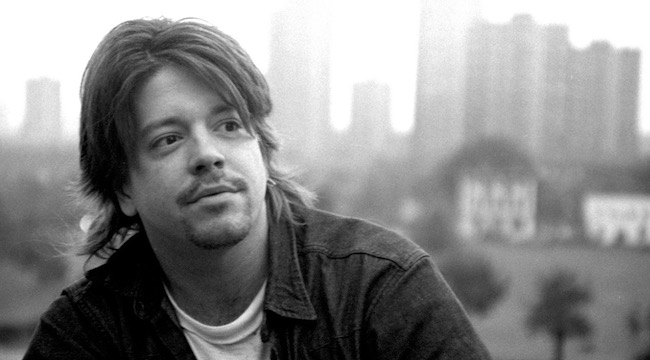 Grant Hart, the frenetic drummer and songwriter for Hüsker Dü, one of the greatest and most important bands of the American indie underground, has died at age 56. The news broke overnight via Hüsker Dü's Facebook page. Hart, who battled drug problems and health issues throughout his life, had been living with cancer, though he continued to play shows, including a recent gig in July opening up for Tobin Sprout at the 7th Street Entry in Minneapolis, the venerated downtown venue where Hüsker Dü had played many historic gigs early on in its career.
Hart's passing is tragic for any number of reasons, least of all is his relatively young age. But the sadness is compounded by the sense that Hüsker Dü seems to be on the verge of a much-needed revival. Just last week, the excellent Chicago reissue label Numero Group announced a new three-disc set, Savage Young Du, collecting previously unreleased tracks from 1979 through 1983, the period immediately preceding Hüsker Dü's breakthrough release, 1984's Zen Arcade, a landmark double-album in which Bob Mould's buzzsaw guitar duels with Hart's energetic drum fills for 70 thrilling minutes.
Even among Hüsker Dü fanatics, the band's pre-fame years remain somewhat of a mystery, given the scarcity and muddy fidelity of the early recordings. But Savage Young Du sounds amazing, portraying the young Hüsker Dü as a positively feral outfit whose youthful rambunctiousness was goosed by already-potent instrumental dexterity. From the beginning, it seems, this band could really cook.
Hüsker Dü wasn't the first band to meld ear-splitting volume with impeccable pop hooks, but few bands ever did it as well, and given that "melodic noise" is basically the blueprint for the most popular forms of indie and alternative rock in the past 40 years, the influence of Hüsker Dü on modern American music can't be overstated. Even now, Hüsker Dü remains one of the most unique rock groups of its ilk, a power trio from the Twin Cities — considered a rock 'n' roll backwater until Hüsker Dü (in tandem with The Replacements and, of course, Prince) put it on the map in the '80s — that was also among the first queer-punk bands ever.
While Hart and Bob Mould never dated, no matter rumors to the contrary, their creative partnership was intense and tumultuous, eventually turning to outright acrimony in the wake of Hüsker Dü's breakup in 1988. Hart's heroin addiction was subsequently blamed for inflaming tensions in the band, though it seems unlikely that two such talented and strong-willed individuals could've stayed together for long. Hüsker Dü's debut album title was prescient: Everything Falls Apart. At its best, Hüsker Dü rocked with a reckless verve that lingered on the precipice of outright self-destruction, and yet somehow Hüsker Dü would keep it together just long enough to make it through to the final verse.
Hart and Mould were uneasy allies from the beginning — they met at a record store where Hart was working, and Hart would sell Mould, a college freshman from upstate New York, weed. According to Michael Azerrad's This Band Could Be Your Life, Hart thought Mould was conceited, but they decided to form a band anyway with ping-ponging bassist Greg Norton, who later grew the most epic handlebar mustache in rock history.
Hüsker Dü would come to be defined by Mould and Hart's contrasting personalities. Mould was intense and fierce, typically screaming his lyrics over the howling sound of his guitar. Hart, meanwhile, specialized in highly caffeinated pop songs — on their own, they're scorching, but when played next to Mould's uncompromising anthems Hart's songs would sound warm, winsome, and welcoming.
On Hüsker Dü's most celebrated albums, Zen Arcade and 1985's New Day Rising, Mould's brilliantly combative musical finger jabs dominate the proceedings. But Hart's contributions provide invaluable relief, tempering Mould's unrelenting force with unexpected melodic sweetness. "Never Talking To You Again," "Pink Turns To Blue," "The Girl Who Lives On Heaven Hill," and "Books About UFOs" are like if Paul McCartney or Brian Wilson wrote punk tunes. As Hart's songwriting blossomed, tensions in Hüsker Dü worsened, with Hart bitterly alleging that Mould would not let him contribute more than 45 percent of the songs on any Hüsker Dü album.
I remain partial to the first Hüsker Dü album I ever heard, 1987's polarizing swan song Warehouse: Songs And Stories, in part because it's the Hüsker Dü record that feels most like a conversation between two competing rivals. Just as on 1986's Candy Apple Grey, Mould and Hart alternate songs, though because Warehouse was another double-album, it virtually functions as two solo records. Except Mould and Hart still had to play on the other guy's songs, and no matter their personal animus, you can hear Hart throw himself into the pummeling of Mould's blissful "Could You Be The One" while Mould can't help but enjoy himself as he tears through Hart's heavy riffing "Charity, Chastity, Prudence and Hope." Warehouse is the sound of two men trying desperately to top each other, and yet desperately needing each other at the same time in order to maximize their greatness.
A Hüsker Dü reunion was always an unlikely proposition, but now that Grant Hart is gone, this magnificent band truly feels over forever. Which is sad, though perhaps worth it if Hart has finally found peace. I prefer to believe that he floated away.