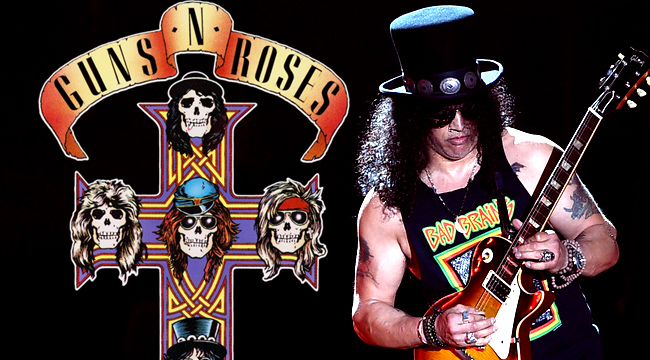 On July 21, Appetite For Destruction by Guns N' Roses turns 30. Back in the late '80s, GNR was the most polarizing rock band on the planet, both revered and reviled for its self-destructive indulgences and uncompromising (some might say obnoxious) lyrical content. But now, pretty much everyone who cares about rock music agrees that Appetite is a classic record.
What is in dispute, however, is what exactly is the greatest part of Appetite For Destruction.
Every Guns N' Roses fan has a slightly different opinion on which songs are the highlights of this record, and which songs constitute the filler. I am here to settle these arguments once and for all. Here are the songs on Appetite For Destruction ranked from great to greatest.
12. "Anything Goes"
"Welcome To The Jungle" is sometimes referred to as Appetite's "mission statement." But I would argue that this deep cut sequenced in the back half of the album is better suited for that classification. "Welcome To The Jungle" unquestionably sets the tone for the record in terms of themes (fear, danger, the exhilaration of fear and danger) and sound (Axl's screaming wail, Slash's bluesy guitar, Duff McKagan and Steven Adler's surprisingly funky backbeat). But "Welcome To The Jungle" is not about Guns N' Roses, but rather the city, Los Angeles, that GNR inhabits.
"Anything Goes," however, is a direct statement about what GNR wanted to convey about itself on Appetite For Destruction. Notice the very meta opening line: "I was thinkin' 'bout thinkin' 'bout sex" — Axl isn't doing the deed in this song, he's reflecting on doing the deed and turning those moments into art. That's Appetite in a nutshell.
"Anything Goes" is so direct that it has very little poetry. It's about as "on the nose" as this record gets. But the fact that "Anything Goes" doesn't show up until the album is nearly finished is appropriate — there's no way that GNR would deliver its mission statement promptly.
11. "You're Crazy"
I've always preferred the slower, bluesy redux of this song on GNR Lies to the amped-up, punk-rock version on Appetite. The Lies version sounds like a top five Jane's Addiction track, whereas the Appetite take is warmed-over Sex Pistols.
I'd love to hear this song from the woman's point of view. If Axl Rose thought you were crazy in 1987, chances are you were actually the sanest person in the room.
10. "Out Ta Get Me"
If you made a playlist of Guns N' Roses songs culled from all of the band's albums, "Out Ta Get Me" would be the Appetite track most likely to be mistaken for a tune from one of the Use Your Illusion records. After Appetite, Axl's paranoia became a primary driver of his songwriting muse. That's not to say that Axl wasn't always paranoid — the UYI era anti-media lament "Don't Damn Me" actually derived from the same songwriting sessions that spawned Appetite. But Axl's protestations about government persecution in "Out Ta Get Me" come across as vague and grandiose compared with "Get In The Ring." which is specific and grandiose as far as who Axl believes is out to get him.
9. "It's So Easy"
This is the song that made GNR seem like assholes to critics like Robert Christgau, who curtly dismissed Appetite with B- while quoting the infamous lyric that Axl recites as a snotty sing-song taunt: "See me hit you, you fall down." But to me the signature line of "It's So Easy" comes right after, when Axl accidentally drops the hot-sh*t rock-star act and lets the insecure Indiana kid come out. "I see you standing there, you think you're so cool, why don't you just … f*ck off!"
In that moment, "It's So Easy" is revealed for what it really is — a power fantasy for a small-town loser. Axl never stopped being the outcast who flipped off the popular kids in the Dairy Queen parking lot. This is why GNR can still fill stadiums based on the undying popularity of Appetite — there will always be a lot of small-town losers with power fantasies out there.
8. "Think About You"
Izzy Stradlin is principally responsible for this one, which explains why "Think About You" sounds like it belongs between "Red Red Wine" and "Skyway" on Pleased To Meet Me .
7. "My Michelle"
The humane flipside of "It's So Easy," an empathetic ode to a female friend (platonic even!) from a bad family. The storytelling is economical but crystal clear: Michelle is hooked on drugs, her mother is dead, and her father is working in the porno industry. But the bubblegum-y chorus offers Michelle a moment of temporary transcendence.
In Slash's autobiography, Slash, the guitarist writes about the subject of "My Michelle," a friend of the band named Michelle Young, who eventually left LA and cleaned up. According to Slash, the band even ran the lyrics of "My Michelle" by Young to make sure she wouldn't be offended. "At the time, I didn't care because I was so f*cked up," Young told Spin in 1999, "But what it says is all true: My dad does distribute porno films and my mom did die."
6. "Nightrain"
The lesson that bands like Oasis and The Strokes took from Appetite For Destruction is that rock stardom is at least 90 percent posturing. If you act like you're already hugely popular, people will assume that you actually are popular, even if you've just released your debut album and you're a dirt-poor nobody.
"Nightrain" is about a common phenomenon among dirt-poor nobody musicians — the rock dude who convinces his infinitely more responsible girlfriend to take her credit card down to the liquor store and buy the band alcohol. Somehow, all it takes is a little cowbell to make this sketchy behavior appear glamorous. "I smoke my cigarette with style," Axl brags, and you believe him.
5. "Paradise City"
Occasionally you'll see some joker online dismiss the chorus of "Paradise City," chiding Axl for singling out the color of the grass in his imaginary Valhalla. Surely there are other amenities that a theoretical Paradise City would offer: Quality public transportation, free wi-fi, sports stadiums paid for without public funding. But as someone who has driven countless hours through the colorless plains of Indiana, I get what Axl is going for. "Paradise City" is about chasing the American Dream and suspecting all the while that it might not be worth the effort. Axl refers to himself as an "urchin" who is so destitute that he lives under the street. "I'm your charity case so buy me something to eat," he snarls, a legitimately great lyric that could've fit on Kendrick Lamar's DAMN. This guy is so low that green grass feels like a ceiling.
"Paradise City" would feel like a protest song if the music weren't so anthemic. Featuring the only synthesizer on Appetite, as well as the only referee whistle, "Paradise City" sustained Appetite's blockbuster status when it was released as a single in late 1988. Today, it seems inconceivable outside of the confines of an arena or stadium. And yet, if you listen closely, you can still hear the self-described urchin with an appetite for a warm meal.
4. "Rocket Queen"
"Rocket Queen" could've very easily been the no. 2 song on this list. (The fourth through second choices are virtually interchangeable.) "Rocket Queen" is probably in my top five of all-time album closers. It has the best groove on Appetite, which McKagan has attributed to him and Adler jamming on Cameo's "Word Up!" for hours on end during the band's early rehearsals. And the final section of "Rocket Queen," in which Axl wants his intergalactic goddess to know that he cares, is some of the most purely beautiful music in GNR's catalogue.
On the negative side, Axl recorded himself having sex with Steven Adler's girlfriend and put it in the song's instrumental breakdown. And the woman, according to a 2007 Rolling Stone story, "ended up drinking and using drugs over this for a really long time, because I had this extreme shame and guilt and stuff." (The article states that she consented to being recorded.)
Once you know these factoids, it's pretty hard to unknow them. So, "Rocket Queen" gets slotted at no. 4.
3. "Sweet Child O' Mine"
2. "Mr. Brownstone"
The only valid criticism of "Mr. Brownstone" is that it's a heroin song that sounds like a cocaine song. Lou Reed would argue that no actual junkie would ever sound this funky. But considering that at least 40 percent of Guns N' Roses was on smack when this song was recorded, maybe Lou was full of it. All I know is that "Heroin" by the Velvet Underground makes me terrified of heroin and "Mr. Brownstone" has convinced me that heroin feels like drinking a dozen Red Bull and vodkas.
Forget all of the "we're just a bunch of crazy mofos who destroy everything in our path" mythology. The miracle of Appetite For Destruction is that the members of Guns N' Roses wrote amazing songs in spite of living highly chaotic and profoundly stupid lives. Just re-listen to the record without the baggage of the back story. The songs are incredible. Every single one has multiple hooks. The choruses are catchy. The verses are catchy. The bridges are catchy. The guitar solos are catchy. There's usually a cool outro that's catchy. Guns N' Roses never topped Appetite For Destruction because they dumped enough good ideas to sustain a career into these 12 songs.
No track on Appetite is more awe-inspiring than "Welcome To The Jungle." Here is an inventory of all the cool parts in this song.
1. Slash's opening guitar lick.
2. Axl's mimicking a police siren over the guitar lick.
3. The chugging riff that plays during the verses.
4. The backing vocals that kick in during the second chorus. Axl's vocals are impossible to sing with, but the backing vocals easily replicable.
5. When Axl says, "You can have anything you want, but you better not take it from me."
6. The bridge when Axl sings, "And when you're high, you never ever want to come down."
7. Slash's guitar solo.
8. The instrumental breakdown that culminates with Axl screaming, "You know where you are? You're in the jungle, baby! You're gonna die!"
9. The rising dynamics back into the song
10. When Axl says, "Feel my serpentine"
11. "Kn-kn-kn-kn-kn-knees!"
12. "It's gonna bring you down! Ha!"
That's a dozen parts that immediately lodge themselves into your brain from the first time you hear "Welcome To The Jungle." It's no wonder Appetite For Destruction sold 30 million copies worldwide. Yes, GNR personified bad-ass rock for the next several generations. Sure, they were dangerous in ways that rock bands rarely are. Of course, they benefited from an omnipresent push from radio and MTV. But they were also some of the brilliant idiots in all of rock history. Feel their serpentines.
Now Watch: The Story Of How Guns N' Roses Broke MTV