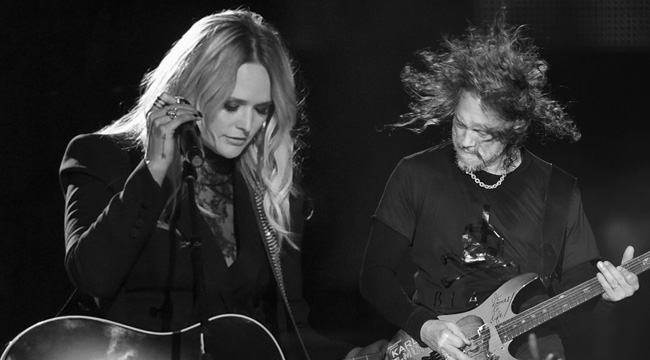 Last Friday, two of the bigger music acts in the world, Metallica and Miranda Lambert, put out momentous double-albums. While Metallica's Hardwired … to Self-Destruct and Lambert's The Weight of These Wings otherwise couldn't be more dissimilar, they have been described in strikingly similar ways — as epic, sprawling statements of purpose. This has long been the language that music critics and fans have reserved for double-albums, a signature status symbol of the classic-rock era that's stubbornly hung around in the current century.
Fifty years ago, the vinyl format largely dictated what made double-albums seem more special and profound than "single"-sized records. In the late '60s and early '70s, given the limitations of vinyl — in which songs were distributed on two sides of wax each capable of storing about 20 minutes of music — it truly did seem "epic" when albums "sprawled" over to an additional two sides on another disc.
Obviously, technology has changed a lot since then. And yet the way we talk about music hasn't kept pace. At a time when music already seems endless online, what does it mean for an album — even a long album, which nevertheless has a conclusion — to "sprawl" anyway?
The idea that a double-album can signify a major artistic statement goes back to May of 1966, when Bob Dylan released his magnum opus, Blonde On Blonde, recognized as rock's first significant double-LP, followed closely by Freak Out! by Frank Zappa and the Mothers of Invention, which came out the following month. On Blonde On Blonde, Dylan stretched out on some of his most adventurous (and longest) songs to date, mostly notably the 11-minute album-closer "Sad-Eyed Lady Of The Lowlands," which took up an entire LP side and pushed the overall album to nearly the 73-minute mark.
Double-albums signified rock's disrupting influence on pop music. In contrast with the old pop model, where artists sought to deliver what they believed the public wanted via snappy three-minute radio singles, there were now artistes who functioned as chefs, crafting indulgent, multi-course meals that the audience would have to accept on the artist's terms.

Because of Dylan's stature, and the enduring brilliance of Blonde On Blonde, the double-album came to be viewed as a vehicle for ambitious artists to get expansive, get sophisticated, and (perhaps most important) get some of that Dylanesque prestige. For the next few decades, it was almost required for major artists to make a double-album — the Beatles, Jimi Hendrix, Stevie Wonder, Miles Davis, The Rolling Stones, Led Zeppelin, Marvin Gaye, The Who, Pink Floyd, U2, the Clash, and the Kinks all put out at least one.
By the '90s, however, double-albums had a negative stigma. The era's alt-rock bands associated double-albums with '70s and '80s excess, an impression created by a proliferation of cheesy live double-LPs like Peter Frampton's Frampton Comes Alive and Kiss' Alive! (It's telling that the most popular rock double-album of the '90s, Mellon Collie And The Infinite Sadness, was made by alt-rock's least fashionable band, The Smashing Pumpkins.) Rappers, however, were just learning to embrace excess, musical and otherwise, which helped to forge hip-hop's landmark double-albums, Tupac's All Eyez On Me and The Notorious B.I.G.'s Life After Death.
The shift from vinyl to the compact disc was also crucial. On CD, the double-album lost much of its scale — now there was enough storage for a double-album's worth of content on a single disc. The "double-album" designation now either applied to very long albums (such as Nine Inch Nails' 103-minute The Fragile) or as a ceremonial tag, a self-conscious (and self-applied) distinction that an artist used when he wanted to be perceived as making a grand artistic gesture. This was the case with one of the best double-albums of the '90s, Wilco's Being There, which Jeff Tweedy insisted be housed on two discs, even though all 19 songs could've fit on a single.
Clocking in at just under 77 minutes, Being There was about as long as Blonde on Blonde. But so was Limp Bizkit's Chocolate Starfish And The Hot Dog Flavored Water, which wasn't classified as a double-album (or important or even particularly good). Fred Durst just didn't have those sorts of vinyl-era pretensions. He was a CD-era artist through and through.
Today, as most fans consume music in a non-tangible format, the double-album seems more fabricated than ever. Hell, even regular albums feel more and more like intellectual constructs that matter more to artists than to the marketplace. But perhaps artists' attitudes are also starting to shift. 2016 has been a watershed for major pop albums that don't follow the old rules of what albums are supposed to be — that, in fact, may be called "albums" only because nobody has come up with a more accurate and contemporary term for how many of us listen to music now.

One of the year's most popular releases, Drake's Views, clocks in at an unwieldy 81 minutes — it sprawls as far and wide as any double-album. But is Views really a traditional album, or is it better understood as a collection of tracks that have been crafted like a Spotify playlist, which is how many listeners now consume Drake songs? Drake himself seems to have built Views to maximize his streaming statistics — its length has as much to do with goosing sales numbers as flexing artistic agency.
If Views is a Spotify album, Kanye West's The Life of Pablo feels like a Bandcamp album — the product of an artist posting his latest work immediately to the internet, and then continuing to edit after the official release, an impossibility back in the vinyl age. Beyonce's second consecutive "video" album, Lemonade, proved that pop's most canny manipulator of social media continues to think in terms of highly GIF-able visuals that will accentuate the impact (and marketability) of her songs. Then there's Chance The Rapper, the prototypical millennial rapper, who abandoned the term "album" altogether for Coloring Book, preferring the more internet-savvy "mixtape."
We still call these releases "albums" — again, it's a catchy term that nobody has been able to replace — but they are far more fluid and interactive than the rigid, artist-controlled albums of the past.
Enter Metallica and Miranda Lambert, figureheads of the two genres with constituencies most inclined to buy physical music, metal and country. While there's an America for whom CDs are a relic of the past, there's another America for whom the compact disc remains relevant. When I stopped this weekend at Target — the closest record store to my home in suburban Minneapolis — I wasn't surprised that the latest CDs by Metallica and Miranda Lambert were among the small batch of new releases in stock. Or that the supply of CDs appeared to have already been mostly depleted. Thankfully, I was able to purchase my own copies.
Why in the world did I buy the Metallica and Miranda Lambert albums on CD, in spite of already having added them to my Apple Music library? Because I sensed that Hardwired … to Self-Destruct and The Weight of These Wings were conceived for the CD format.

Double-albums are in part about conveying meaning via packaging, and for Metallica, the message with Hardwired seems to be, "We still matter." Metallica, like Wilco, opted to put Hardwired on two discs even though the 14-song, 77-minute album could've fit snugly on one disc. (Hardwired is actually slightly shorter than 1996's Load, the controversial follow-up to 1991's Metallica, still the best-selling album of the Soundscan era.)
Perhaps alt-rock politics prevented Metallica from labelling Load a double-album — that was back when Metallica seemed eager to leave metal behind. But in recent years, as Metallica has re-trenched with the metal audience after a prolonged identity crisis, the band has favored the stability of denim-clad loyalists over the fickle pop listeners that briefly embraced Metallica during its MTV heyday. For metal fans, double-albums still mean something — along with Metallica, Iron Maiden and Dream Theater have put out successful, late-career double-albums recently.
These signals are important for a band that has aggressively positioned Hardwired as a return to "classic" Metallica, from the thrashy elements of songs like "Atlas, Rise!" and the excellent "Spit Out the Bone" to the ridiculously "metal" album cover. But while parts of Hardwired directly reference Metallica's untouchable Ride The Lightning / Master of Puppets axis — notice how the doom-y guitar lick to "Murder One" conjures "Welcome Home (Sanitarium)" — Metallica hasn't fully returned to the prog-metal of its youth. Many of the songs instead settle into the same riff-heavy comfort zone of Metallica's late-'90s period, an apparent compromise between James Hetfield's impulse to simplify and Lars Ulrich's drive toward expansiveness.
While Hardwired feels like a solid mainstream rock album in grandiose metal packaging, Miranda Lambert has made a truly classic, old-school double LP in The Weight Of These Wings. Lambert has long straddled the mainstream and underground country worlds, scoring hits and filling arenas while also acting as an early patron for insurgent figures such as Chris Stapleton and Ashley Monroe. On Wings, Lambert makes a compelling case that she play the pop-country star and the serious roots-minded singer-songwriter with equal adeptness.
Lambert has already exhibited that dexterity on previous albums, but never on the scale of Wings, which covers the full musical and thematic range of Lambert's work over the course of two-dozen songs. Lambert uses Wings to show off her versatile talents, committing herself to enjoyable trifles like "Pink Sunglasses" as fully as she does to subtle character studies like "Getaway Driver," a Thelma & Louise story in which a heist is likened to escaping a dead-end relationship.
The breakup narrative of The Weight of These Wings, set up by months of tabloid headlines in the wake of Lambert's divorce from Blake Shelton, recurs throughout the album — sometimes obliquely, oftentimes not. (One of my favorite songs, "Pushin' Time," seems to equate a relationship's dissolution with the morning after Sept. 11.) But Lambert's most forceful statement might be how the album is formatted and presented. On the CD cover, she stands thoughtfully with a guitar in a sepia-tinged photograph. On the back cover, the album is split into halves called "the nerve" and "the heart." In the liner notes, in handwritten text, is the message, "For art's sake, and for your heart's sake." The message seems clear: My ex-husband might be the bigger celebrity, but I'm the better artist. This double-album proves it.