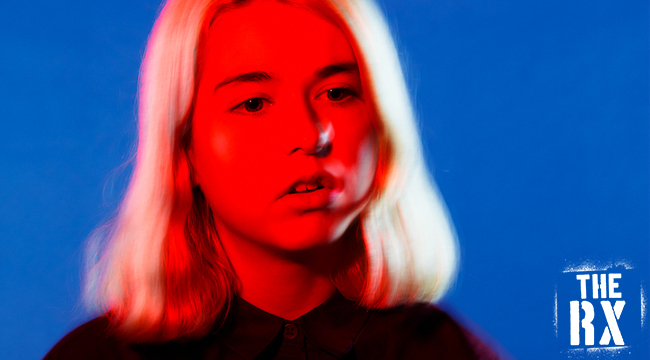 The RX is Uproxx Music's stamp of approval for the best albums, songs, and music stories throughout the year. Inclusion in this category is the highest distinction we can bestow, and signals the most important music being released throughout the year. The RX is the music you need, right now.
Earlier this week, I squeezed into a sold-out show in a small St. Paul club to watch Liz Phair play a stripped-down 75-minute set composed mainly of songs that were at least 25 years old, and yet sounded like any number of indie-rock records that have come out in 2018.
The 51-year-old Phair currently is on a short tour celebrating the release of an excellent new compilation, Girlysound To Guyville: The 25th Anniversary Box Set, packaging her landmark 1993 debut album, Exile In Guyville, with songs from the series of underground "Girlysound" tapes that preceded it. (The tour wraps Saturday in Chicago; a more extensive, full-band tour is set for the fall.) For diehards, the shows are a rare opportunity to hear pre-fame obscurities like "Fuck Or Die" and "Ant in Alaska," which Phair recorded on her own when she was an art student who made up witty, frank songs as a hobby. But it was evident at my show that the club was also filled with younger fans that hadn't even been born when Guyville was released and regarded Phair as a Gen-X icon with uncommon contemporary relevance.
Phair hasn't put out new music in eight years, nor has she toured regularly since 2010's Funstyle was largely ignored by audiences and panned by critics. She might have faded away entirely at that point as a relic of '90s indie-rock were it not for a generation of musicians, many of whom are women, that have praised her as a crucial songwriting influence, and an overall role model for how to survive in what remains a dude-heavy scene. While Phair made several good-to-great albums after Guyville — that run may even include 2003's Liz Phair, depending on your feelings about lightly trolling pop-rock numbers like "H.W.C." — those early songs have remained a blueprint for Phair's artistic offspring. Any aspiring musical diarist seeking to integrate sharply observational lyrics spiked with clever one-liners and cutting shrapnel from personal traumas into hooky, threadbare rock songs will eventually come to study Exile In Guyville.
Having safely passed the "test of time," Phair has returned to reclaim her rightful stature in modern indie. And how great it was to see that she remains every bit the consummate rock star she was in the early '90s: funny, smart, charismatic, provocative, imbued with a god-given strut, and self-confident enough to expose herself completely in her music, even the less-than-honorable parts. (Her taunting delivery of "Girls Girls Girls" is as hilarious and coquettish as ever.)
As a teenaged boy who discovered Exile In Guyville via the rock magazines that covered Phair with a mix of titillation and thinly veiled skepticism, I was raised to view her back then as a novelty, a sexually confident woman making it in a male-dominated music world historically wary of (if not downright hostile toward) femininity. While Guyville was among the most critically adored records of its time, the praise was often qualified, placing the album in the realm of "women's music," rather just regular rock and roll. Phair wasn't simply one of the best songwriters of her time, she was an "antidote," a "necessary" alternative to the norm, a cover girl for those special "Women In Rock" issues that kept female musicians pushed to the side.
Twenty-five years later, the "norm" has shifted. Women are so pervasive in indie rock now that singling them out seems counterproductive, even strange. (People still do it anyway.) What matters is that even as the world has changed in so many ways since 1993, Phair remains the same — she's a complete and utter original, and too singular to ever function comfortably as anyone's figurehead. Perhaps now, finally, she can be fully appreciated as such.
While I was at the Liz Phair show, I thought about Lindsey Jordan, the 19-year-old Baltimore native whose band Snail Mail has garnered more press than just about any indie act this year. If you haven't heard about her yet, then you probably don't read major music websites, or even mainstream outlets like The New York Times and Washington Post. Jordan has been as hyped by the media in 2018 as Phair was in 1993.
On Friday, Jordan will finally release Lush, her debut album, which arrives two years after a well-received EP, Habit, and tours with DIY scene heavyweights like Waxahatchee and Girlpool. Musically, Jordan and Phair are a study in generational contrasts. Whereas the sarcasm and deadpan aloofness of Phair's songs and the tough, bare-bones sonics of Guyville are quintessentially Gen X, Jordan's pained, earnest lyrics and the billowy beauty of her guitar-driven dream-pop epics strongly signify a millennial (or perhaps Gen Z) aesthetic. Lush isn't just an album title, it's also a descriptive adjective for Jordan's ravishing music, which sometimes evokes the melodramatic sweep of Phair's fellow Chicago '90s scenesters, Smashing Pumpkins.
Nevertheless, the line connecting Jordan to Phair is clear enough that they were recently paired together for an interview, as a kind of summit between an established icon and a budding star. Not only do Jordan and Phair share the same record label, Matador, but they similarly attracted rapturous press attention early in their careers due, at least in part, to their age and gender. Willingly or not, Jordan has been cast in the same "women in indie" figurehead role that Phair was saddled with at the time of Guyville.
When I spoke with Jordan this spring for my podcast — yes, I've also contributed to the Snail Mail hype machine — she immediately expressed frustration with this media narrative. "It gets in my head a lot, and mostly just annoys me," she admitted. "I take a lot of pride in my work. I'm just a songwriter before anything else. It's mostly the categorization of Snail Mail being this woman-centric rock outfit that has everything to do with my age, gender, and sexuality, and nothing to do with the music… [It] feels like a pat on the back that I don't want, for things I can't control."
Based on our 30-minute interview, I found Jordan to be really likable, naturally funny, and surprisingly self-possessed about her burgeoning career and how the press was already shaping her public persona. Her instinct to push back seemed healthy, not just for her art but her own sense of well-being.
The fact is, Jordan is a kid, and she's likely still evolving into the great artist she will hopefully one day become. Unlike Guyville,Lush isn't a major statement. Phair was in her mid-20s when she made that album — young by most standards, but a wizened sage compared with Jordan. At times it's apparent she still has much to learn. The two closing tracks, "Deep Sea" and "Anytime," are meandering strummers that fail to deliver satisfying payoffs, setting the back-half of the record adrift. Overall, the album could stand to be looser, less solemn, more like Jordan is in conversation.
But there's enough good on Lush to suggest that Jordan will get there on subsequent records. Her potential is immense. Jordan's affection for huge choruses pays dividends on "Pristine," which rides stunning Daydream Nation-style guitar tones to a thrashing emotional peak. Jordan goes even huger on "Stick," a low-fi romcom ballad with a soaring, cathartic climax. The jangly "Let's Find An Out" shows she can also scale-down, with a perfect early-summer, post-high school love song. "You're always coming back a little older / But it looks alright on you," she sings. "Older" for Jordan at this point is the positively geriatric age of 21. With a start as promising as Lush, it's thrilling to imagine what she'll be doing by then.
Lush is out on 6/8 on Matador Records. Buy it here. The Exile In Guyville reissue is out now. Buy it here.