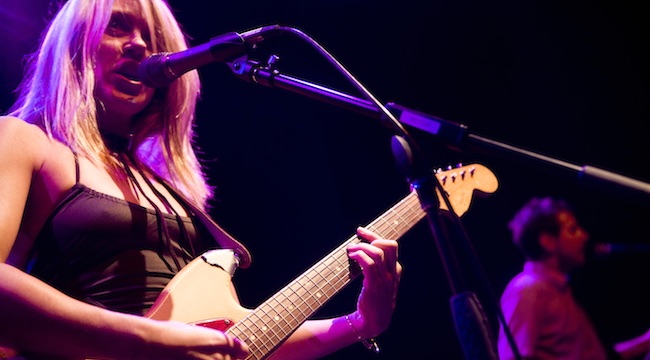 Liz Phair has announced a deluxe reissue of her debut album, Exile In Guyville, complete with a remastering by Emily Lazar, bonus tracks from the Guyville sessions and her Girly Sound demo tapes she passed around the Chicago for a year before being picked up by Matador. This isn't the first reissue of the album, though. Ten years ago, Phair reissued it for its fifteen-year anniversary. That edition is hard to find and didn't include all of the extra goodies available on the newest reissue such as a book detailing the oral history of Liz Phair, and essays about the intersection of politics and music written by Liz Phair and journalist Ann Powers.
When Phair released the unapologetically feminine focused debut album in 1993, she became an instant feminist icon. The term "Guyville" was borrowed from an Urge Overkill song and Phair would explain that it described the typical male-dominated music scenes of the Midwest — like Chicago and Seattle — which also happened to be dominating the charts at the time. As she explained to Rolling Stone:
"For me, Guyville is a concept that combines the smalltown mentality of a 500-person Knawbone, KY-type town with the Wicker Park indie music scene in Chicago, plus the isolation of every place I've lived in, from Cincinnati to Winnetka… Guyville, because it was definitely their sensibilities that held the aesthetic… This kind of guy mentality, you know, where men are men and women are learning. (Guyville guys) always dominated the stereo like it was their music. They'd talk about it, and I would just sit on the sidelines."
The Exile In Guyville twenty-fifth-anniversary box set is called From Girly Sound To Guyville and will be available for purchase on May 4th. A mini-tour will also accompany the reissue starting on May 31st in Los Angeles. Full dates below.
05/31 — Los Angeles, CA @ Masonic Lodge
06/01 — San Francisco, CA @ Swedish American Hall
06/02 — Seattle, WA @ Crocodile
06/04 — Minneapolis, MN @ Turf Club
06/06 — Boston, MA @ Sinclair
06/07 — Brooklyn, NY @ National Sawdust
06/08 — Wichita, KS @ Wichita Riverfest
06/09 — Chicago, IL @ Empty Bottle